The leather-footwear industry expects a good year in 2018 thanks to several favourable factors, according to Secretary General of the Vietnam Leather, Footwear and Handbag Association (LEFASO) Phan Thi Thanh Xuan.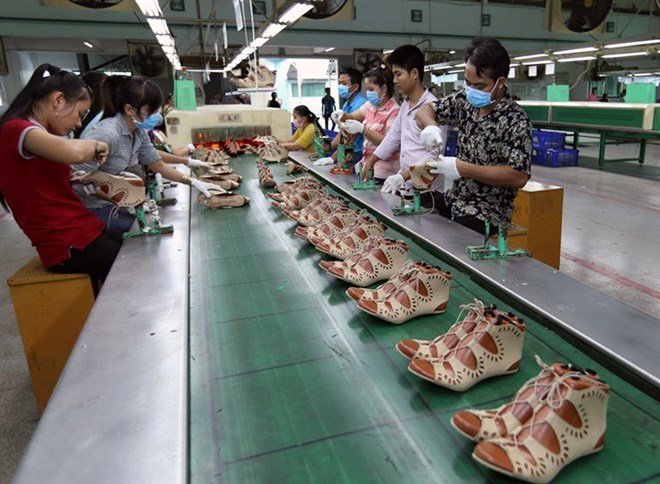 Workers at My Phong Shoe Company in the southern province of Tra Vinh produce shoes for exports.
She particularly underlined the expected signing of the Vietnam-EU Free Trade Agreement (EVFTA) in mid-2018, under which Vietnam's shoes products exported to the EU will enjoy a gap of 3.5-4.2 percent in tariff compared to other rivals.   
Xuan elaborated that when the EVFTA takes effect, the tariff on Vietnam-made sport shoes, which account for two thirds of Vietnam's footwear exports to the EU, will immediately come to zero. Handbag products will also enjoy a similar tariff rate. 
"The rules on origin remain the same as those under the Generalised Scheme of Preferences (GSP), which is a favourable condition, so I am sure that the flow of orders to Vietnam will increase," Xuan said, stressing that the question is how domestic companies work to optimize the opportunities.   
In 2017, the sector earned 18 billion USD from exports, up 10.7 percent from 2016. 
According to the latest statistics of the World Footwear Magazine in 2017, Vietnam continued to rank second among the top 10 largest footwear exporters, with 1.02 billion pairs of shoes, equivalent to 7.4 percent of the global footwear supply.
Export of Vietnam's backpacks and handbags continued to rise, putting the country in the top five exporters of these products in the world today.
Backpacks and handbags earned Vietnam an estimated at 3.3 billion USD last year, accounting for 5.5 percent of global production
Vietnam sets a target of earning between 19.5 - 20 billion USD from leather and footwear exports in 2018, up 10 percent from 2017.-VNA