Vietnam's total newly registered capital and share buying in 2017 has valued at nearly US$36 billion and implemented capital reached nearly US$20 billion. This is record growth for FDI capital in Vietnam in 10 years.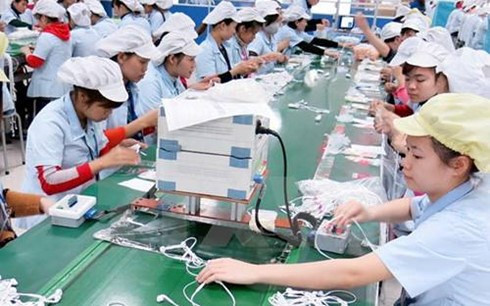 Last year foreign enterprises invested in 19 sectors with the processing and manufacturing industries attracting nearly US$16 billion, accounting for more than 44% of the total registered capital. Production, electricity distribution, and real estate drew a large amount of investment. 
Among 115 countries and territories investing in Vietnam, Japan ranks top with total capital of more than US$9 billion, followed by the Republic of Korea and Singapore.
Investment environment - key to Vietnam's success
Do Nhat Hoang, Director of the Department of Foreign Investment at the Ministry of Planning and Investment said there were many reasons for the sharp rise of FDI in 2017 against a forecast of US$30 billion. The rise was reported on both registered and implemented capital. 
In the total of US$20 billion worth of implemented capital, US$17.5 billion was disbursed, up 7.5% against 2016. Last year foreign investors spent more than US$3 billion on buying shares. 
Vietnam's improved investment environment, political stability, large population, and strong workforce are major attractions for investors.
Hirohide Sagara, the Co-Chairman of the Vietnam Business Forum Alliance 2017, said, "I think current activities of the Vietnamese government can be valued highly. We're glad to continue to work with the Vietnamese government."
Opportunity to attract FDI
Despite regional instability, Vietnam has emerged as a leading investment destination with political stability, economic potential, and sound business environment. 
Vietnam's hosting of the 2017 APEC Economic Leaders' Week created a golden opportunity for the country to boost its cooperation with other APEC member economies including Japan, the Republic of Korea, the US, China, Thailand, and Taiwan, China. Since it first hosted the APEC Summit in 2006, Vietnam has become a magnet to FDI.
Robert Moritz, Global President of PricewaterhouseCoopers (PwC) said US President Donald Trump's attendance at the APEC events last November in Da Nang created major opportunities for Vietnam and the US to boost investment cooperation.
He said, "Just like every country in terms of areas for investment, you need to have a very strong domestic growth agenda. It has been proved over the past years in Vietnam and people want to see it continuing in Vietnam. Second thing, you need to make sure that there's certainty and may be stability in rules and regulations, taxation, legal issue and again that's gonna to be sustained because people are looking for stability and security in investment areas and make sure how to invest. Last but most importantly is to make sure that you have a quality workforce."
According to PwC, Vietnam is among 5 leading countries and economies that APEC CEOs want to invest in.
VOV5