Vietnam's ambition to build a circular economy – aimed at combating pollution and achieving more sustainable development by reusing and recycling defunct products – has attracted the participation of several foreign firms. However, in order for this new economic model to grow, state support is needed.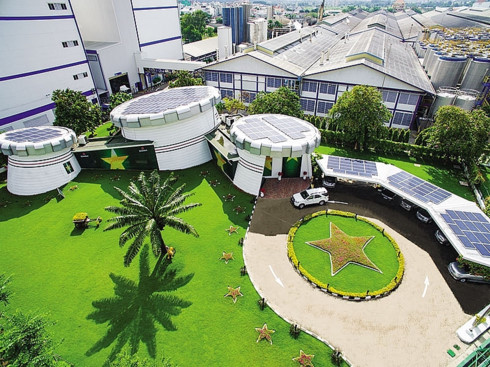 Solar panel systems on the roof of Heineken experience site
In front of hundreds of people, Ta Duy Tung, supply chain director of Coca-Cola Vietnam, raised an empty Dasani-branded plastic water bottle produced by Coca-Cola, saying that it is only 12.15 grammes in weight.
"Previously, its weight was 14.5 grammes. We have reduced its weight by 16.2%, meaning we have saved millions of dollars in material costs," Tung said.
"The reduction of plastic materials used for making these water bottles, which will be continued, is part of Coca-Cola's efforts to go green in its production in Vietnam, and contributes to the country's pursuit of green growth and a circular economy," Tung said.
Two weeks ago, hundreds of spectators who are representatives of enterprises and reporters, thronged the headquarters of the Vietnam Chamber of Commerce and Industry (VCCI) to witness its Vietnam Business Council for Sustainable Development (VBCSD) and three foreign companies – Coca-Cola Vietnam, Dow Chemical Vietnam, and Unilever Vietnam – jointly ink a memorandum of understanding (MoU) for implementing the 'Zero Waste to Nature' initiative.
This initiative is part of Vietnam's programme on supporting enterprises to materiallise the country's circular economy. The programme, the first of its kind in Vietnam and initiated by the VBCSD, includes the establishment of a centre for assisting enterprises in this endeavour.
The centre will focus on suggesting policies, incentives, and mechanisms to the government to build up secondary material markets, introduce those ideal practices of global enterprises to local firms, and then implement initiatives based on the public-private partnership format.
This will help attract further participation of enterprises in building an emissions-free economy, create greater employment prospects, and increase competition amongst enterprises.
Circular economy
Vietnam is developing quickly, leaving its low-income past behind and becoming a middle-income country. However, this rapid economic growth is accompanied by increasing pressure on the environment. Waste generated by industrial activities and urbanisation is a serious issue for Vietnam. 
In addition to increasing pollution, this has forced the country to transform its production to cleaner, safer, and more sustainable methods in order to protect both the national environment and the population's health.
"In this context, a circular economy – a relatively new concept in Vietnam – could be a good solution," VCCI's general secretary Nguyen Quang Vinh told VIR.
In a circular economy, waste from factories becomes a valuable input to other processes. Also, rather than disposing of defunct products, they are repaired, reused, or upgraded. Circular economy strategies could result in considerable cost savings, increasing the competitiveness of industries while delivering net benefits in terms of job opportunities.
"This concept is an essential solution for Vietnam to continue serving the growing energy and resource demands in the domestic market while decreasing pressure from waste, pollution, and climate change," said Vinh, who is also vice chairman of the VBCSD.
According to the Ministry of Natural Resources and Environment, the volume of solid waste discharged annually by industrial parks in Vietnam is about nine million tonnes and expected to hit 10-13 million tonnes by 2020. Waste from everyday consumption is about 17-18 million tonnes per year, 6.5-7 million tonnes of which come from urban areas.
Meanwhile, the demand for recycled waste has increased annually by 10-20%, showing the great potential of the recycling industry in Vietnam.
Foreign firms' participation
The programme on supporting enterprises to materialise Vietnam's circular economy, now joined by Coca-Cola, Dow Chemical Vietnam, and Unilever Vietnam primarily targets plastic waste, with the first activity being the 'Zero Waste to Nature' initiative, which will be piloted in Ho Chi Minh City.
In the near future, the programme's activities will target various industries, namely steel, cement, maritime, and textile.
Nguyen Hoai Son, government and public affairs manager of Dow Chemical Vietnam, told VIR that foreign firms like Dow Chemical see great opportunities in Vietnam's circular economy.
"It's a very good idea for Vietnam to develop its circular economy, and will involve the participation of enterprises. We currently have one production factory and may build another one in the future," Son said. "Dow Chemical Vietnam has grown by double digits in recent years, and will continue doing the same this year and beyond. We will continue boosting production for local consumption and export."
Beginning operations in Vietnam in 1995, the firm has been providing assorted materials for many firms and sectors in Vietnam, such as footwear, packaging, wrapping, electronics, and pesticides.
In addition to its participation in the 'Zero Waste to Nature' initiative, Dow Chemical is implementing two other green projects in Vietnam. The first is to recycle waste from paint factories into materials used to produce road-oriented brick and glue substances. The second one is to recycle plastic waste into asphalt.
Meanwhile, Coca-Cola Vietnam's Tung said that by 2030, Coca-Cola will collect and recycle all of the waste it produces in the form of bottles, cans, nylon, paper, and more.
"In the near future, we will implement pilot programmes on collecting plastic waste in Hanoi and Ho Chi Minh City," he said. "And not only are we reducing the plastic used in making water bottles, we will also continue reducing the material volume in many other products. This is to save costs and protect the environment."
Unilever Vietnam has also been implementing its own 'Zero Waste to Nature' initiative. "In Ho Chi Minh City, we have established a sustainable business model for collecting and recycling based on Solvolysis technology with CITENCO, as an example for scaling up nationwide in a later stage, and in preparation for the establishment of a Solvolysis technology waste treatment factory in 2020," said Unilever Vietnam's chairwoman Nguyen Thi Bich Van.
The three firms will continue to co-operate with partners and enterprises in Vietnam to secure material supplies and to ensure their programmes will succeed.
According to VCCI's Vinh, it is likely that many other big foreign firms, including Heineken, will also join this programme in the near future.
At Heineken Vietnam, the circular economy is currently best demonstrated by the application of biomass and biogas. Four out of six Heineken breweries in Vietnam brewed with 100% carbon-neutral biomass energy in 2017.
By 2019, the firm aims to brew with renewable energy in all of its breweries.
In need of state support
However, Vinh said, the programme will not be able to grow strongly without state support.
"Aside from support from foreign firms, the government must have incentives for enterprises applying modern technologies in reusing and recycling materials. For example, Russia has been building its circular economy for years, with participating enterprises given special incentives on taxes, fees, charges, and land," Vinh stressed.
According to him, the government should, in the short term, revise its Decree No.38/2015/ND-CP dated April 24, 2015, on management of waste and discarded materials.
"This decree has many unsuitable provisions, making it difficult for enterprises to abide by it. For example, Taiwan's Formosa project has had to obtain a licence from authorities to sell its slag. This has cost the firm much," Vinh said. "In other cases, many enterprises produce paper, but they can't use the waste to produce plastic."
According to experts, although the implementation of a circular economy in Vietnam is starting to take shape, there is still vast potential for application.
In order to take advantage of the circular economy concept and learn from pioneering companies like Coca-Cola, Dow Chemical, or Unilever Vietnam, firms should consider the whole value chain to find opportunities to revise their own business models.
"We believe that every package has value and life beyond its initial use and should be collected and recycled into beneficial use," said Tung of Coca-Cola Vietnam. "Though a bottle is small, it can contribute to building Vietnam's circular economy successfully."
VIR