Viet Nam is trying to tackle the weakness of the pig industry, including the processing and distribution of pork, to promote the export of high-quality meat products to the world market.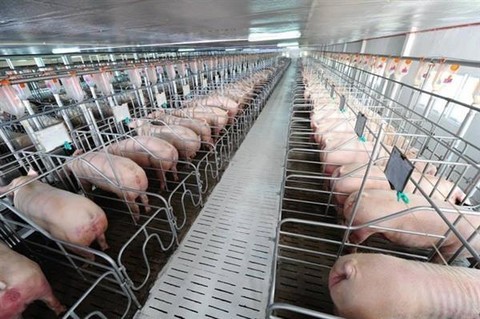 Experts believe that processing meat products for export in the direction of chain linkage is completely feasible and profitable for both producers and businesses.
The statement was made by Minister of Agriculture and Rural Development (MARD) Nguyen Xuan Cuong while attending the groundbreaking ceremony for Masan Group's meat processing complex in the northern province of Ha Nam on February 4.
This project has a total investment of more than VND1 trillion (US$44 million) and is built on 10ha. It will have the annual capacity to process 140,000 tonnes of pork.
Processing linkage
The production line in Masan's complex is in compliance with the strict standards of the US Food and Drugs Administration (FDA) to provide the market with cool meat, in a closed 3F (Feed-Farm-Food) model. The supply of pigs for the plant is guaranteed from the expanding pork production model in Ha Nam.
Another example is the clean food processing and green breeding complex of the Bien Dong Trade and Investment Joint Stock Company in Nam Dinh Province. The slaughtering plant can handle up to 250-300 pigs per hour and the company aims to export meat to Japan, Republic of Korea (RoK) and Hong Kong. This company has already agreed in principle with an RoK partner to sell 2,000 tonnes of pork per year.
Or in the case of Hung Nhon Group, in order to export the chicken to Japan in September last year, this company (with nearly 40 breeding farms in Binh Phuoc) has invested in modern equipment machinery from Germany to create a closed system of cold and automated chicken farms.
In order to promote the export of chicken meat, Hung Nhon Group has participated in a closed chain production system, which meets the strict quality standards of the Japanese market, in which this firm played the role of raising chickens at Global Gap chicken farms. Besides, three other foreign companies – De Heus (the Netherlands), Bel Ga (Belgium) and Japanese Koyu & Unitek also took part in this chain.
Experts believe that processing meat products for export in the direction of chain linkage is completely feasible and profitable for both producers and businesses.
At the same time, enhancing added value in the livestock production chain is an urgent necessity today when the free trade agreements (FTAs) enter into force.
Plenty of space for export
This approach ensures that actors involved in the production value chain can share their rights and responsibilities with one another, ensuring regulation of market supply and demand and traceability of food products.
2018 is expected to be a strong year for Vietnamese enterprises to export chicken to Japanese market. After 2018, some Vietnamese companies can export processed chicken to other potential markets such as Hong Kong, Singapore, Malaysia, Myanmar and RoK.
At the same time, Vietnamese enterprises will complete the dossiers on exporting processed poultry meat to be sent to competent agencies of countries wishing to import poultry products from Viet Nam.
For the pig industry, many international experts assess the potential of Vietnamese enterprises in pork exports. With four million tons of flesh, only 20,000 tonnes exported is a very small portion, while there is still room for supply in the global and regional markets.
According to Cuong, the export of pork is not only aimed at the Chinese market but also other markets. In addition, there should be active preparation of facilities as well as means to approach the export of sliced ​​pork, one of the requirements to help the industry recover early.
Vietnamese enterprises should step up the development of slaughtering, freezing and processing of a wide range of products up to standards, so as to meet the demand for export to foreign countries.
Smaller livestock can be reduced, but large scale livestock and high-tech investments in the chain will yield stronger growth. Vietnamese meat products are also aiming for clean food and this will also help lift the value of pork.
In terms of attracting businesses to invest in livestock industry today, Hoang Van Son, chief of VNC Law Office, said if we only attract some big corporations with large capital investment, it is not guaranteed that the livestock industry will develop sustainably and compete with other countries in the world as we open the door for them.
Sơn also emphasised that no protectionist measures can be taken to support the livestock sector as more FTAs are signed. In order to develop the livestock sector, we have to rely not only on a few strong economic groups, but also on diversifying production and adopting appropriate policies to encourage traditional livestock production to make proactive changes. — VNS