VietNamNet Bridge - As the State Bank of Vietnam (SBV) pursues a stable dong/dollar exchange rate policy, the depreciation of the US dollar in the world market will also lead to the weakening of the dong.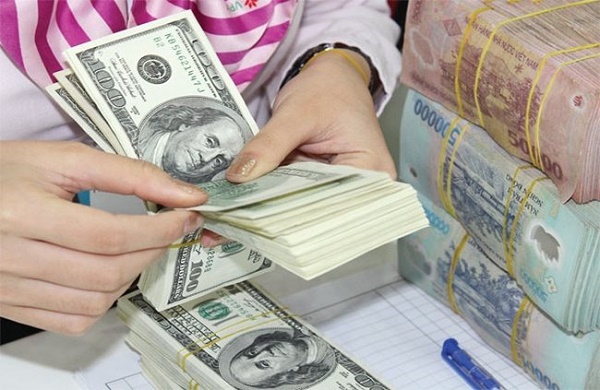 SBV pursues a stable exchange rate policy
The US Secretary of the Treasury Steven Munchkin has unexpectedly stated that a weak dollar in the short term will benefit US trade and economy. 

Soon after the statement was made, the dollar began depreciating in the international forex markets as investors believe the US was weakening the greenback to stimulate its economy.

US President Trump's 'America First' policy highlights protectionism. Most recently, the US imposed anti-dumping duties on washing machine and solar panel imports.

The weak dollar will both help encourage the US exports and have a negative impact on goods other countries export to the US.

Dien Dan Doanh Nghiep quoted economists as saying that the weak-dollar policy supports Vietnam's exchange rate stabilization policy.


The weak dollar will both help encourage the US exports and have a negative impact on goods other countries export to the US.
SBV on January 27 set the dong/dollar official exchange rate at VND22,419 per dollar, a decrease of VND6 per dollar. The prices quoted at the SBV Exchange were VND22,710 (buy) and VND23,078 (sell).

As a result of the dollar-pegged currency policy, once the dollar depreciates, the dong will also lose its value against other currencies. In principle, when the local currency weakens, it will encourage exports and cause adverse effects on imports.

This means that Vietnam will have opportunities to gain more market share in the US if other countries don't adjust their exchange rates.

Meanwhile, imports to Vietnam from the US won't receive support from the weak-dollar policy, and imports to Vietnam from non-US countries will decrease because of the weaker dong.

Regarding the inflation rate, according to Phan Minh Ngoc, an analyst, the weak dollar will have different impacts. On the one hand, a weak dollar will lead to goods' price increases in the world market and those increases will create pressure on Vietnam's inflation rate through imports. 

However, the adverse effect would be mitigated by imports reduction due to price increases.

Some business fields would be affected negatively, including ones related to IP, steel and aluminum. As the US may apply additional measures, the export of these goods to the US will be affected.

Steel has become the victim of the US policy on strengthening measures to protect domestic production against actions it considers 'trade fraud'. The country believes that Chinese steel has been exported to the US under the cloak of Vietnam's products.
RELATED NEWS
USD continue to flow into stock market
FED raise puts pressure on exchange rate
Kim Chi