ADB helps urban infrastructure development in HCM City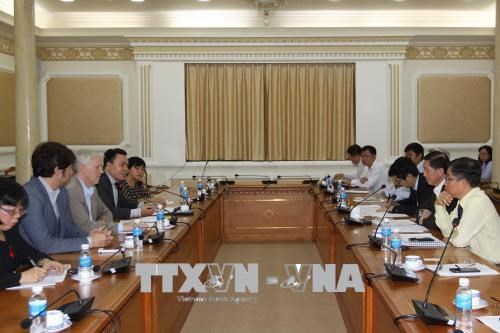 Vice Chairman of Ho Chi Minh City People's Committee Tran Vinh Tuyen on February 1 received Eric Sidgwick, Asian Development Bank (ADB)'s Country Director for Vietnam.
At the meeting, the municipal official affirmed that HCM City is committed to implementing cooperation deals with its partners, especially ADB. He added that the Vietnamese Government is revising projects using official development assistance (ODA) to ensure their effective implementation.
Regarding the four major projects between HCM City and ADB, Tuyen noted that the city has asked the Ministry of Planning and Investment to allocate funding for the metro line No.2.
It also approved the compensation plan for land clearance which the HCM City's Management Authority for Urban Railway and ADB have agreed on. In addition, HCM City has worked on ADB's recommendations on the first phase of the metro line No.5.
For his part, Sidgwick affirmed to support HCM City in urban infrastructure, contributing to the city's development.
He added that the ADB wants to be regularly updated on the pace of the two sides' joint projects, as well as to hold regular discussions on issues related to ODA management and public debt ceiling to ensure joint projects are carried out as schedule and meeting targets.
ADB, based in Manila, is dedicated to reducing poverty in Asia and the Pacific through inclusive economic growth, environmentally sustainable growth, and regional integration. Established in 1966, ADB is owned by 67 members - 48 from the region.
Nghe An aims to license 12 projects in Q1
The central province of Nghe An is finalising procedures to approve and sign investment agreements for 12 projects in the first quarter of 2018.
In January, the province licensed three projects worth 20.37 billion VND (902,391 USD). So far, the Vietnam-Singapore Industrial Park in the province has attracted 420 billion VND (18.6 million USD) from 11 investors who occupy 7.6 hectares of industrial area and 2,500 square metres of ready-built factories. Of which, eight projects have been licensed.
This year, the province will prioritise investment in its key projects, while coordinating with investment promotion agencies to lure big projects.
Along with effectively operating the provincial Centre for Investment Promotion and Support, Nghe An has launched one-door system serving investors and assisting them during their investment process.
At the same time, the province has applied information technology in processing investors' requests, thus enhancing transparency and responsibility of local agencies. Meanwhile, it has also worked to remove obstacles facing underway projects.
Currently, the province is supporting investors to speed up administrative procedures for a number of projects, including FLC eco-tourism and resort, Quynh Lap 2 thermal power plant invested by Posco Group of the Republic of Korea, and Hoang Mai 2 industrial park of Kovinet, another RoK investor.
HCM City's official hails Pou Yuen company for taking good care of workers
Politburo member and Secretary of the Ho Chi Minh City's Party Committee Nguyen Thien Nhan hailed Pou Yuen Vietnam Co., Ltd., a footwear business in Binh Tan district for the good implementation of social welfare policies for its workers while visiting the company on February 1.
He noted that since entering HCM City in 1994, the company has expanded its scale of production thanks to the application of technology while paying attention to facilities serving workers' life such as kindergartens, toilets and hospitals.
Nhan reminded the firm to anticipate the impacts of the fourth industrial revolution on the footwear sector, and build specific plans to develop a skilled workforce and support workers made redundant in line with Vietnamese law.
HCM City authorities will accompany and support the company for its long-term development, he promised.
Leaders of Pou Yuen Vietnam Co., Ltd. hoped the city will create conditions for the company to apply state-of-the-art technologies and recruit high-quality human resources.
They reported that the company has already paid Tet bonus for workers, adding that it will cover 30 percent of the travel fares for workers who go home for Tet in the central and northern regions.
Pou Yuen Vietnam has six branches across Vietnam with nearly 160,000 workers.
In 2017, the company produced over 72 million pairs of sports shoes, earning revenues of over 1.2 billion USD.
Rice export surges 74.2 percent in January
An estimated 524,000 tonnes of rice was exported in January, bringing home 249 million USD, reported the Ministry of Agriculture and Rural Development.
The figures represented rises of 56.5 percent in volume and 74.2 percent in value as compared with the same month in 2017.
A sudden rise in rice export price from 390-395 USD per tonne to 420-430 USD per tonne was attributed to the growing export value of rice in the month.
Rice exporters said the price hike is due to prospects of deals with the Philippines and Indonesia as the two Southeast Asian countries, which are Vietnam's traditional rice importers, have plans to import a large volume of rice.
The Ministry of Trade of Indonesia has recently approved the import of 500,000 tonnes of rice from Thailand and Vietnam to fix the insufficient rice supply and price hike in the domestic market. The Indonesia Logistics Bureau (BULOG) said that the country only had 950,000 tonnes in stockpile.
Earlier, the National Food Authority of the Philippines also agreed to import 250,000 tonnes of rice and planned to open rice purchase bidding right in January. The country's rice stock is enough for use in only three days while the minimum amount must satisfy demand for 15 days.
The country shipped abroad about 5.89 million tonnes of rice worth 2.66 billion USD in 2017, a year-on-year increases of 22.4 percent in quality and 23.2 percent in value, the ministry said.
Vietnamese rice is now exported to over 130 markets. However, experts are still calling for quality to be improved, to enhance competitiveness.
In October, the Ministry of Industry and Trade announced its rice export strategy for the 2017 to 2020 period, which aims to decrease export volume but increase value.
Accordingly, the country's average rice export volume was set at 4.5 to 5 million tonnes per year to 2020, at an average value of 2.2 to 2.3 billion USD.
Between 2021 and 2030, Vietnam plans to export 4 million tonnes per year on average, worth around 2.3 USD to 2.5 billion USD.
Gov't defines eight key tasks for Mekong Delta sustainable development
The Government has defined eight key tasks to help the Mekong Delta achieve sustainable development, Prime Minister Nguyen Xuan Phuc stressed in a document responding to queries from National Assembly Tran Thi Hoa Ry regarding development in the country's largest granary. 
The document said the tasks had been outlined in the Government Resolution 120/NQ-CP dated November 17, 2017 following a conference on sustainable development in the Mekong Delta in adaptation to climate change in September the same year.  
First and foremost, the government will build a master plan for agricultural development in the region in the context of climate change in combination with restructuring the agricultural sector, building new style rural areas.  
Second, the government will adjust the strategy and plans for agricultural development for the entire region to make them suit the region's sub-ecological regions in connection with the three key groups of commodities which are aquatic products, fruit and rice, and in the direction of reducing the area of rice and other crops that require large volume of water but have low commercial value. 
The government will review and fine-tune mechanisms and policies to encourage the application of science-technology, especially hi-tech and bio-technology in agricultural production along with restructuring the sector and promoting the new rural area building campaign. 
At the same time, new mechanisms and policies will be designed to the goal of developing large-scale commodity production in the region and attract investment in agriculture and rural development. There will be policies to develop agricultural value chains, promote industrialisation of agriculture and modernize post-harvest technology with a view to increasing quality and value of agro-forestry and aquatic production. 
The fisheries sector will be developed into one of the spearhead industry of the Mekong Delta, while the existing natural forests will be preserved alsong with restoring and expanding mangrove forest and protection forest. 
The Mekong Delta's planning on irrigation and natural disaster control to 2030 with a vision to 2050 will be revised to ensure readiness for the worst scenario. 
A scheme on protecting the coastline, strengthening the sea dyke system and preventing coastal erosion will be built, along with plans on river control and use of land along rivers. 
The government will work with the Ministry of Labour, Invalids and Social Affairs to develop projects on vocational training and job generation for agricultural workers and rural labourers, with a view to reducing the workforce in agriculture.  
The PM said Resolution 120/NQ-CP will serve as the basis for the Government to implement many programmes and activities in the region 
He added that the government will strive to complete the master plan for agricultural development in the region in the context of climate change as early as possible, as it will be the foundation for regional localities to design their own master plans and ministries and agencies to implement related programmes. 
According to the PM, the government will continue to study specific mechanisms and policies for the Mekong Delta and invest in large-scale transport projects with widespread impacts such as the Trung Luong-Can Tho highway and the Quan Chanh Bo canal for big ships to enter the Hau river.  
The government will soon finalise the project on establishing the Phu Quoc special administrative-economic unit and the draft law on special administrative-economic units to submit to the fifth session of the 14th National Assembly for approval, thus laying the legal foundation for the development of Phu Quoc Island as a new driver of the Mekong Delta.
Thua Thien-Hue's tourism enjoys auspicious start
The Hue Monuments Conservation Centre in the central province of Thua Thien-Hue welcomed 320,000 visitors, including 262,000 foreigners, in January, a year-on-year surge of 30 percent.
During the Calendar New Year holiday alone, the former imperial capital city of Hue received over 35,000 visitors, 80 percent of whom came from foreign countries.
This year, the locality will continue to develop "Hue-One Destination, Five World Heritages" tour (including the Complex of Hue Monuments, royal court music, woodblocks and imperial records of the Nguyen Dynasty and Chinese-script poetry on Hue royal architecture.
Local tourism sector set a target of welcoming 4-4.2 million visitors in 2018, 10 percent higher than last year. Revenue from tourism services is expected to surge 15 percent to 4-4.2 trillion VND (176.4-185.2 million USD).
Preservation will be made to a line-up of architectural works like Kien Trung palace, the Purple Forbidden City (Tu Cam Thanh) and Duc Duc tomb. The preservation centre has applied high technology to preserve landscapes at the relic sites.
Last year, more than 3 million people, including 1.8 million foreigners, visited the UNESCO world heritage site. Total revenue from tourism last year was 155 million USD.
Ten startups attracts investments in Demo Day 2018
Ten excellent startups introduced their business model to call for capital from 100 investors at the Demo Day 2018 organised in Hanoi on February 1.
The annual event, jointly held by the Lotte Accelerator and the Vietnam Silicon Valley (VSV) Accelerator, drew the attendance of leaders from the Ministry of Science and Technology and many policy makers.
It offered opportunities for startups to receive investors and experts' response to complete their business models, said Deputy Minister of Science and Technology Tran Van Tung.
The ten startups include Canets, Fresh Deli, Hue Packaging, True Juice, 689Cloud, Turiple by Cores, Roborzoid, Handfree, Winme and Peko Peko. They defeat 100 competitors to join the Demo Day 2018. Earlier, they joined the VSV Accelerator's four-month special training course to fine-tune their business models and identify markets.
"Demo Day 2018" received supports from the project 844 on Supporting National Innovative Start-up Eco-system towards 2025. 
Ho Chi Minh City posts positive economic figures in January
Ho Chi Minh City's exports-imports and industry kept thriving in January, contributing to its economic growth, as heard a meeting of the municipal People's Committee on February 1. 
During the month, the total export value hit 3.4 billion USD, up 3.8 percent year-on-year while import value rose by 62.9 percent annually to 4.42 billion USD. 
About the State budget collection, Director of the municipal Department of Finance Phan Thi Thang said the total revenue to the State budget reached 36,541 billion VND (1.62 billion USD), up 10.29 percent annually. Meanwhile, revenue to the local budget reached 7,318 billion VND, marking a 1.12 percent increase. 
The industrial development index expanded 15.04 percent in the reviewed month. 
Pham Thanh Kien, Director of the municipal Department of Industry and Trade said four key industries of mechanical engineering, electronics, rubber, plastics and food processing grew by 19.6 percent year-on-year. In particular, the garment sector struck a number of export deals, 70 percent of them were signed with US partners. 
According to the municipal Department of Industry and Trade, the city recorded 2,817 newly-established firms with a total registered capital of 19,580 billion VND, up 23 percent in volume. As many as 3,640 enterprises adjusted business registration, with additional capital tripling to 40,567 billion VND. 
There were 41 foreign-invested projects worth 81.12 million USD while 13 others adjusted capital worth 24.36 million USD. 
Chairman of the municipal People's Committee Nguyen Thanh Phong said January economic figures have signaled positive signs to realise the city's 2018 plan. 
As the traditional Lunar New Year festival is days away, he asked the municipal Department of Industry and Trade to strengthen market inspection to prevent the shortage of goods and necessities and the availability of counterfeit goods.
Phu Yen calling for more FDI projects
The authorities of Phu Yen province are calling for more foreign investors to come to seek investment opportunities in tourism and high-tech agriculture at a pre-Tet meeting with foreign businesses, experts and volunteers in on February 1.
Phan Dinh Phung, Vice Chairman of the Phu Yen People's Committee pledged that the locality will provide optimal conditions for investors to carry out their projects effectively.
In 2017, Phu Yen received 14.5 million USD in foreign direct investment (FDI) and FDI projects created jobs for thousands of local people. 
In early 2018, the province granted investment certificates to 35 foreign-invested projects.
Foreign investors present at the meeting spoke highly of potentials and advantages owned by Phu Yen, especially those in tourism, high-tech agriculture, and aquaculture.
They agreed that infrastructure and quality human resources are advantages offered by the locality.
On January 19, Phu Yen held an investment promotion conference in which Prime Minister Nguyen Xuan Phuc asked the locality to strongly reform its mindset and be creative to have more synchronous and effective solutions to draw investors.
The province was advised to improve its mechanisms and policies and ensure their openness, stability, and transparency in addition to promoting start-ups, especially of young people in rural areas, while paying attention to developing local businesses and attracting more foreign investments.
With a strategic geographical location, Phu Yen has a road system that is part of the national North-South route as well as railway, aviation, and sea routes. It also boasts diverse natural resources to develop the sea-based economy, tourism, hi-tech agriculture, mining, and renewable energy.
From 2011 to 2017, the province attracted 284 investment projects, including 19 FDI projects, with a total registered capital of over 4.74 billion USD and 28.67 trillion VND (1.26 billion USD).
Canada continues support for SMEs' development in Tra Vinh
The Mekong Delta province of Tra Vinh will splash out over 46.5 billion VND (2.04 million USD) on developing local small and medium enterprises (SMEs), with 40.6 billion VND (1.78 million USD) coming from the non-refundable aid of the Canadian Government.
The information was released at a meeting held on February 1 to carry out the 2018 plan of the SME Tra Vinh project.
This year, the project will spend 15 billion VND (660,000USD) on building and implementing plans to back local SMEs, 10 billion VND (440,000 USD) on building small-scale infrastructure for SMEs' development and over 6 billion VND (263,400 USD) on building capacity to carry out support programmes.
The remaining will be used for other activities related to environment, communications, supervision and evaluation.
During 2016-2017, the project disbursed more than 55 billion VND (2.4 million USD) to support SMEs, 6.5 billion VND, (285,000 USD) of which was from the province's corresponding funds and the rest was given by the Canadian Government.
The SME Tra Vinh project, carried out during 2014-2020, is sponsored by the Canadian Department of Foreign Affairs and International Trade with a total investment of 12.1 million CAD (9.8 million USD),  with 11 million CAD being non-refundable aid.
As many as 200 enterprises and more than 194,000 residents in 22 rural communes of Tra Vinh have benefited from the project.
Vietjet's IPO wins prestigious award for "Best Vietnam Deal" in 2017
The Vietjet Aviation Joint Stock Company (HOSE: VJC) has received the "Best Vietnam Deal" award from Asia's leading publication, Finance Asia, for its IPO held in early 2017. 
The criteria for the award not only factored Vietjet's highly successful IPO but also the airline's subsequent performance for the rest of the year, which boosted the position of Vietjet in particular but also Vietnam-based companies on the global capital market in general.
Accordingly, the ceremony for the Finance Asia Awards, one of the world's leading awards for the regional finance industry, took place at Grand Hyatt Hong Kong on January 31, 2018. Chu Viet Cuong from Vietjet's Board of Directors represented the airline to receive the award. 
Leaving "a series of successful deals" in 2017 behind, Vietjet's 164 million USD IPO was professionally conducted, involving the consultation of world-renowned law firms and financial institutions for a period of nearly 800 days (due on the listing date, February 28, 2017), and following all the international IPO standards Regulation S.
Earlier, Vietjet was also awarded for "The IPO Deal of the Year 2017" and named "The Company with Best M&A Information Disclosure" at the M&A Awards 2016-2017 Vietnam as part of Vietnam M&A Forum 2017 in Vietnam.
The airline's 2016 annual report also received a Platinum Award in early 2017 at the Vision Awards 2016 organized by the League of American Communications Professionals (LACP) which ranked Vietjet fourth out of all awardees from the Asia Pacific region and 11th out of 100 worldwide participating businesses. Themed as "the flight to the future", the 150-paged annual report received top scores for sub-categories, including First Impression, Letter to Shareholders, Report Financials and sustainable development programmes.
Nearly 850 million USD raised from G-bond in January
The Hanoi Stock Exchange (HNX) raised nearly 19.36 trillion VND (849 million USD) through 12 Government bonds auctions in January, up 63.3 percent over the previous month.
All the bonds were issued by the State Treasury with a yielding rate of 97.3 percent.
The coupon rates of five-year term bonds were 4.30 percent per year; seven-year term bonds, 4.35 percent per annum; and 10-year term bonds from 4.38 to 5.15 percent per annum. The rates for 15-year term bonds were 4.5-5.2 percent per annum, 20-year term bonds at 5.2 percent per year and 30-year term bonds at 5.4 percent per annum.
Compared to late 2017, the rates were lower for all terms ranging from 0.22-0.82 percent.
On the secondary market, the total volume of Government bonds sold by the outright method reached more than 1.06 billion, worth 118 trillion VND, up 4.3 percent in value over December 2017.
Trading volume through repurchase agreements (repos) was 1.15 billion bonds, worth over 118 trillion VND, a decrease of 2.6 percent in value compared with the previous month.
Foreign investors also made outright purchases of more than 8.9 trillion VND and outright sale transactions of 8.1 trillion VND. They made repo buys of over 220 billion VND and repo sales of over 247 billion VND in the month. 
HCM City's industrial production index rises 15.04 pct in January
Ho Chi Minh City's industrial production index (IIP) in January 2018 rose 15.04 percent compared to the same period last year.
The outcome was attributed to the city's implementation of policies and programmes to support businesses to invest in the field of industry and supporting industry, according to the municipal People's Committee.
As this year's traditional Lunar New Year falls in February, enterprises have proactively mapped out plans for goods production and storage since December 2017 to ensure sufficient supply during the holiday. 
Four key industries, namely mechanical manufacturing, electronics, chemicals-rubber-plastic, and food processing, continued to expand markets and increase investments in new equipment to produce high-quality and competitive products. The move helped the industries to record an annual growth of 19.6 percent, higher than the average level of the whole industrial sector.
Particularly, the food processing industry recorded year-on-year growth of 29 percent while the electronics-information technology sector rose by 22.85 percent.
Director of the municipal Department of Planning and Investment Su Ngoc Anh said the rapid technological development helped the electronics industry create more products at competitive prices.
Some enterprises in the city are providing spare parts for the RoK's Samsung Company, he said.
In February, the municipal Department of Industry and Trade will continue coordinating with relevant agencies to prevent counterfeit and low-quality products.
Vietnam Airlines targets 11.5 billion USD profit in European market

The national flag carrier Vietnam Airlines hopes to earn 11.5 billion USD in the European market, 1.7 billion USD higher than that of 2017. 
Director of Vietnam Airlines' branch in France and Europe Cao Anh Son revealed the target at a meeting with more than 100 partners in Paris on January 31.
He said the carrier also targets a 13 percent increase in revenue and an 8.3 percent rise in the number of passengers in 2018.
According to Son, the firm operated 180,000 safe flights in 2017, serving nearly 26.5 million passengers, up 6.7 percent against the previous year. 
The on-time performance (OTP) rate of departing flights reached over 90 percent, turning Vietnam Airlines into one of the world's leading airlines with the highest OTP. 
Vietnam Airlines also continued to affirm its position as the four-star international airlines in line with  Skytrax's standards in the second consecutive year, with the fleet of 10 Airbus A350-900 XWB  and 11 Boeing 787-9 Dreamliner. 
Representatives from Vietnam Airlines partners in Europe said the carrier has improved its services under the four-star standards, thus bringing convenient services and interesting experience to passengers. 
They hoped the Vietnamese Government will add more countries to the list of those entitled to visa exemption apart from France, the UK, Germany, Italy and Spain, adding that this will help increase competitiveness of the national flag carrier in attracting more customers. 
Airfare agents and travel agencies took the occasion to share information and seek partners, thus promoting sales of tickets and tours to Vietnam.
Vietnam, RoK partner in power, renewable energy development
Vietnam and the Republic of Korea (RoK) hold potential of long-term cooperation in energy industry, renewable energy and smart grid, said Korean Minister of Trade, Industry and Energy Paik Un-gyu. 
He made the statement during the Vietnam – RoK Electricity and Renewable Energy Forum co-organised by the Korea Trade-Investment Promotion Agency and the Ho Chi Minh City chapter of the Vietnam Chamber of Commerce and Industry (VCCI) on February 2. 
Paik said Vietnam and the RoK are looking towards sustainable development goals via reducing green house gas emission, adaptation to climate change and environment protection. 
The RoK will actively invest in power production and renewable energy development in Vietnam, he said, adding that the country will also assist Vietnam in personnel training and technological transfer in the field. 
A representative from the Korea Electric Power Corporation (KEPCO) said the RoK is strong in smart grid which could integrate with solar and wind power or power generators to ensure stable supply and minimise power wastage. 
The Korean side expressed wish to learn about Vietnam's power and renewable energy development strategy and master plan to form effective partnership in the near future. 
VCCI Vice Chairman Vo Tan Thanh said under the power development master plan till 2020 with a vision to 2030, Vietnam will develop power generation from renewable sources and scale down hydropower. 
The country will also build and upgrade power transmission and distribution systems to deal with overload as well as use smart transmission system, he said. 
To achieve the above targets, the Vietnamese government has offered preferential loans, reduced export-import and corporate income tax, waived land use fees, and funded scientific research on energy. Vietnam will also extend international collaboration to develop domestic electrical equipment manufacturing. 
Vice Chairman of the Vietnam Energy Association Nguyen Van Vy said the RoK has invested in a number of power projects in Vietnam such as wind power plants in the southern provinces of Ben Tre and Tra Vinh, and solar power plants in Binh Thuan and Quang Binh. 
As home to nearly 59 wind power plants, more than 100 solar power and other biomass energy projects, Vietnam targets raising renewable energy to 32 percent by 2030 and 43 percent by 2050.
Hoa Phat partners with Italian group to produce stainless steel
Hoa Phat Dung Quat Steel JSC of Hoa Phat Group is coordinating with Italy's Danieli – one of the world's largest suppliers of metallurgical equipment to consider a project on stainless steel (inox) production.
According to Deputy Director of the Hoa Phat Dung Quat Steel JSC Vuong Ngoc Linh, the project is designed with a capacity of 600,000 tonnes per year, which could be increased to one million tonnes per annum, and will be the first modern stainless steel manufacturing plant in Vietnam.
The plant will be located at the Hoa Phat Dung Quat iron and steel production complex area in Dung Quat Economic Zone in central Quang Ngai province to make use of the available infrastructure. 
The project, which will be completed by 2020, aims to increase the value chain of steel products, and reduce imports and dependence on foreign markets.
Preliminary statistics showed that Vietnam imported about 560,000 tonnes of stainless steel products in 2017, up 10 percent against the previous year, in service of industrial production, mechanics, and consumer products.
WB supports emission reduction programme in central region
The World Bank (WB)'s Carbon Finance Unit approved a resolution on supporting the Reducing Emissions from Deforestation and Forest Degradation (REDD ) programme in the Northern central coast Vietnam in line with the results-based payments at a meeting in Paris on February 1.
Speaking at the event, Deputy Minister of the Ministry of Agricultural and Rural Development (MARD) Ha Cong Tuan highlighted Vietnam's efforts and successes in escaping from poverty and promoting sustainable development over the last 30 years, saying that the country completed almost all Millennium Development Goals ahead of schedule, especially those regarding poverty reduction. 
Vietnam is responsibly realising its commitments to coping with climate change, reducing greenhouse emission by 8 percent, even up to 25 percent by 2030 if the country get international support and cooperation, he said, adding that the country regards the REDD as a vital measure to promote the ambitious goal.
Tuan took this occasion to thank donors and international organisations for assisting Vietnam in preparing for the implementation of the REDD in recent years.
Vietnam hopes to continue receiving assistance from international friends, and the country is willing to join hands with the international community in implementing the REDD , he said.  
While joining the meeting, the official worked with the Director of the WB's Carbon Finance Unit, and had a bilateral discussion with Deputy Minister of Land, Environment and Rural Development of Mozambique Celmira da Silva on issues of common concern. He also met with representatives Green Climate Fund (GCF) to put Vietnam's proposal for the REDD in the Central Highlands.
According to the MARD, Vietnam is the first country in Asia and the seventh in the world that is joining the Forest Carbon Partnership Facility (FCPF) managed by the WB. 
Vietnam's forest area has ceaselessly increased from 28 percent in 1990 to 41.45 percent in 2017. 
Thua Thien-Hue targets 400 million USD in FDI in 2018
The central province of Thua Thien-Hue aims to attract about 10-15 foreign direct investment (FDI) projects with total registered capital of nearly 400 million USD in 2018.
Disbursement of foreign capital is expected to reach around 95.5 million USD. Meanwhile, FDI firms based in the province are hoped to gross 900 million USD in revenues and contribute roughly 90 million USD to the local budget this year.
The provincial authorities will take measures to enable investors to speed up the implementation of projects while resolutely withdrawing licences of delayed ones.
The province will continue to consider more mechanisms and policies to attract investment from major economic groups and strategic investors such as Bitexco, Vingroup, and Banyan Tree, while reforming investment promotion methods and quickly issuing a list of key projects inviting investment in all fields from now to 2020.
Thua Thien – Hue will invest in infrastructure in areas with major projects with competitive products such as the garment-textile industrial park, Chan May – Lang Co economic zone, and Bach Ma National Park.
The province will apply the one-stop- shop model in dealing with investment and land procedures.
Nearly 800 million USD was injected into Thua Thien-Hue in 2017, showing a year-on-year increase of 9 percent.
So far, the province has attracted 97 FDI projects worth 2.6 billion USD with over 949 million USD disbursed, making up nearly 30 percent of the total registered capital.
Major foreign investors with effective operation in the province include Singapore's Banyan Tree, US HBI Company and Thailand's CP Company. Notably, the Laguna Lang Co international-standard resort complex project, which was invested by Banyan Tree with 850 million USD, has been put into operation.
The Royal Caribbean Cruises has also poured 5 million USD in upgrading the Chan May seaport to serve the world's biggest cruise ships Quantum of the Seas and Oasis of the Seas.
SHB awarded Best Domestic Bank in Vietnam by The Asset
The Saigon-Hanoi Commercial Joint Stock Bank (SHB) has recently been honoured as "Best Domestic Bank" of Vietnam in 2017 in The Asset Asian Awards (Triple A).
The annual Triple A recognition of The Asset – financial magazine for Asia's decision makers - represents the industry's most prestigious awards for banking, finance, treasury and the capital markets.
The title once again affirms the position and prestige of one of the five largest private banks in Vietnam.
It also reflects the bank's strong and sustainable development in numerous fields.
Over the past years, SHB has won a lot of prestigious international awards, including Best Information Security Bank by the IDG, and a slot in The Asian Bankers' AB500 ranking and survey of Asia Pacific's strongest banks.
As of September 30, 2017, SHB's total assets reached more than 265.3 trillion VND (11.67 billion USD), while its pre-tax profit was over 1.33 trillion VND (59.1 million USD).
The bank's chartered capital was nearly 11.2 trillion VND. The State Bank of Vietnam allowed SHB to increase its chartered capital to over 12 trillion VND.
The bank currently has 7,000 employees and 500 transaction points in Vietnam, Laos, Cambodia and Myanmar to serve some four million customers.
2018 spring trade fair to introduce Vietnamese specialties
The 2018 Xuan (Spring) Giang Vo trade fair is scheduled to be held at the Culture Friendship Palace in Hanoi from February 6 to 12. 
This year's trade fair, co-organised by the Vietnam Exhibition Fair Centre and the Vietnam Beverage Association, will feature 600 booths of more than 350 businesses nationwide, covering a total area of nearly 6,000 square metres.
On display will be specialties of various localities across the country, such as fish sauce, tea and fresh farm produce, along with such products as garment-textile, footwear, household appliances, confectionery and beverages.
In addition, the event also introduces products from other countries including Russia, the Republic of Korea, the UK, France and Belgium, among others.
An outdoor area displaying beverages will also be set up at the fair with the participation of leading businesses of the sector like the Saigon Beer, Alcohol and Beverage Corporation (Sabeco), the Hanoi Beer, Alcohol and Beverage Corporation (Habeco) and the Coca-Cola Vietnam.
The organising board said it has worked with authorised agencies to supervise products' origin and quality to ensure food safety at the event.
Many Korean goods to receive Viet Nam tax exemption
     
Many goods imported from the Republic of Korea (RoK) into Viet Nam will be exempted from import taxes in 2018, due to the Viet Nam-Korea Free Trade Agreement (VKFTA).

The Government recently issued Decree No149/2017/ND-CP, which regulates a new special preferential import tariff, as agreed upon in the VKFTA, and to be put in place between 2018 and 2022.

Under the decree, import taxes imposed on 704 types of products imported from the RoK to Viet Nam, will be eliminated in 2018. The groups of commodities that will enjoy tax exemptions this year are mainly in seafood, wheat flour, confectionery, diesel fuel, jet fuel, paint, laundry detergent, plastic, iron and steel products, power machinery and equipment, and electronic products.

In 2018, an additional 653 products imported from the RoK will also have their tax rates lowered from last year.

The preferential tax rates will be applied to commodities directly transported from the RoK to Viet Nam. The goods must also meet origin regulations, as stated in the agreement, and exporters must provide certificates of origin in a form stipulated by the Vietnamese Ministry of Industry and Trade.

This year, Viet Nam has set several new preferential import tariffs to implement bilateral and multilateral FTAs with partner countries and territories, such as mainland China, Hong Kong, Japan and RoK.

Under the Viet Nam-Japan Economic Partnership Agreement (VJEPA) and the ASEAN-Japan Comprehensive Economic Partnership Agreement (AJCEP) for 2016-19, nearly 4,000 import tariff lines for many groups of commodities imported from Japan will be also eliminated this year. 

Canada puts duties on VN pipe fittings
     
The Canada Border Services Agency (CBSA) on January 25 conducted preliminary determinations on dumping and subsidising with respect to certain copper pipe fittings, originating in or exported from Viet Nam.

The dumping and subsidy duties are 159 per cent and 4.7 per cent, respectively, for Hailiang (Vietnam) Metal Products Co Ltd while for all other exporters in Viet Nam the rates are 159 per cent and 42.4 per cent, the agency announced on its website.

By March 19, 2018, the CBSA will receive case arguments due from all parties.

A copy of the Statement of Reasons, which provides more details about these investigations, will be available on the CBSA's website, www.cbsa.gc.ca/sima-lmsi, within 15 days.

In October 2017, CBSA announced that it was launching an investigation into certain copper pipe fittings originating in or exported from Viet Nam.

The agency investigated whether these are being sold at unfair prices in Canada and whether subsidies are being applied to certain copper pipe fittings originating in or exported from Viet Nam.

The CBSA said that the investigations are the result of a complaint filed by Cello Products Inc (Cello) of Cambridge, Ontario. The complainant alleges that as a result of price undercutting from Viet Nam, Cello faced losses in sales and market share, resulting in negative financial results, reduced production and employment.

Viet Nam's copper pipe fittings under investigation were coded 7412.10.00.11, 7412.10.00.19,7412.10.00.90 and 7412.20.00.11, as well as 7412.20.00.12,7412.20.00.19 and 7412.20.00.90. The investigation period was from January 1, 2016, to August 31, 2017. 

January industrial production up 21%
     
The nation's index of industrial production (IIP) in January rose significantly by 21 per cent against the same month last year, according to the General Statistics Office (GSO).

GSO attributed the impressive IIP growth to the fact that domestic firms have concentrated on producing goods to meet increasing demands of local people for the Lunar New Year (Tet) holidays, which will be in this month, unlike last year when it was in January.

In the first month, the manufacturing and processing sector saw the strongest IIP growth at 24 per cent, followed by electricity production and distribution at 15.4 per cent, and the mining industry at 10.5 per cent.

Among the industrial products that posted high IIP increases in the month included television sets (63 per cent), powdered milk (51 per cent), cement (30 per cent) and raw steel and iron (28 per cent), as well as coal (27 per cent), paint (25 per cent) and natural gas (22 per cent).

Several other goods that recorded modest industrial production increases were seasoning powder (4.3 per cent), footwear (4 per cent) and animal feed (equal to growth of same month last year). IIP reductions, however, were recorded in some other areas, such as urea fertiliser (9 per cent) and crude oil (11 per cent).

The central city of Da Nang took the lead among localities enjoying high IIP in January with 49 per cent. Two northern localities of Bac Ninh and Hai Phong ranked second and third with 47 per cent and 31 per cent, respectively, while the southern province of Binh Duong came fourth with 24 per cent. Meanwhile, HCM City and Ha Noi witnessed IIP increases of 15 per cent and 14.7 per cent, respectively.

The number of labourers working in industrial enterprises as of January 1 was 4.2 per cent higher than a year ago, according to GSO.