PM demands data about informal sector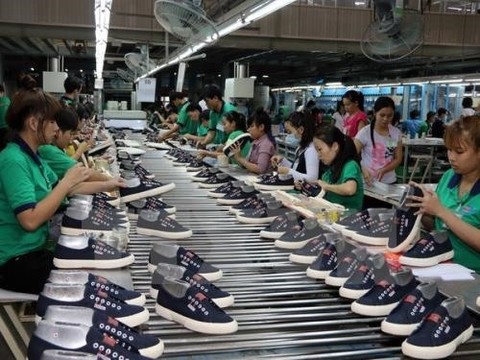 Prime Minister Nguyen Xuan Phuc has again asked the General Statistics Office (GSO) to forge ahead with the collection of data about the informal sector.

The PM said at a General Statistics Office conference in Hanoi City on January 22 that socio-economic statistics had made it possible for the Government to map out strategies and master plans at national and regional levels to fuel economic growth, the Government news website reports.

With statistics carefully weighed, the Government has been able to pinpoint issues and solve them in a scientific manner, he noted.

He said 2017 was the first year that the Government envisaged quarterly gross domestic product (GDP) growth scenarios, helped by the statistics sector.

GDP growth was a mere 5.15% in the first quarter of last year, he said, adding he asked GSO general director Nguyen Bich Lam and Minister of Planning and Investment Nguyen Chi Dung to work out scenarios in which key products and sectors should be developed in the following quarters. This explains why the Government adopted proper development directions.

Phuc said the Government had no doubt about the accuracy of data collected and analyzed by statisticians.

He said data about the underground economic sector should be collected and added to GDP this year.

The Government needs clear growth scenarios for proper management, he said. Therefore, the sector should enhance the quality of statistics and provide better analyses to support policy making and forecasting.

GSO should issue reports on the world economy so that the Government can adjust macro-economic policies in a timely way.

Vietnam Airlines to launch new service to Van Don airport

National flag carrier Vietnam Airlines (VNA) on Monday clinched a strategic cooperation agreement with the northern province of Quang Ninh to promote the province's tourism and open new air service to Van Don airport which will be operational this year.

Under the agreement, Quang Ninh will  support new flights to the airport in the initial stage to increase the number of passengers to Quang Ninh and introduce the province's image to key markets like Europe, Australia and Northest Asia.

Meanwhile, Vietnam Airlines will launch flights from and to Van Don airport in the coming time. The carrier will also coordinate with the provincial authorities to promote tourism and investment in the province and sponsor national and international culture and tourism activities in the 2018-2021 period in the province.

At the signing ceremony, Quang Ninh chairman Nguyen Duc Long said air transport and aviation supporting sectors would develop significantly in the coming time when Van Don airport is put into operation.

VNA general director  Duong Tri Thanh said the firm would join forces with member airlines of the global alliance SkyTeam and airlines in Europe to open new flights to Cat Bi and Van Don airports.

The two sides also agreed that Vietnam Airlines services will be introduced on the website and TV and in newspapers in the province. Meanwhile, Quang Ninh's image can be seen at fairs and in magazines of Vietnam Airlines.

The airline has earlier cooperated with Quang Ninh Province in many tourism, trade and investmen promotion activities by introducing Quang Ninh's tourism products and services on VNA publications, especially Heritage magazine.

The two sides have also jointly organized community support programs. In April last year, VNA grew 50,000 trees at one of the largest coalfields in Quang Ninh.

Ministry clarifies fuel pricing

Fuel prices are set according to Government Decree 83 and guiding documents and based on the principle that they are decided by market forces under State management, according to the Ministry of Finance's Price Management Department.

Nguyen Anh Tuan, head of the department, was quoted by Dan Tri online newspaper as responding to public reactions to the ministries of industry-trade and finance not announcing the new price of RON95 despite the two fuel price adjustments this month.

While the base price has not been announced by the ministries, RON95 has seen its price surging after those price adjustments.

Tuan said the base price is to regulate the domestic price, taking into account the use of the petrol price stabilization fund.

With RON92 replaced by E5 RON92 bio-fuel early this year, the ministries of industry-trade and finance have given the base price of E5 RON92 and are overseeing RON95 price adjustments of fuel trading firms, he said.

After the first two price adjustments this year, the price gap between RON95 and E5 RON92 ranges between VND1,710 and VND1,850 per liter. The main reason for this is the price of E5 RON92 has been supported by the period price stabilization fund with VND857 per liter since early this year, whereas the RON95 price is regulated by the market and adjusted in accordance with world price movements.

Fuel price fluctuations in this month's first half showed that the RON95 price in regional countries like Thailand, India, Cambodia and the Philippines is VND3,000-5,000 per liter higher than in Vietnam.

According to Tuan, the current E5 RON92 consumption accounts for an estimated 60% of total petrol consumption.

The two ministries are still supervising consumption and supply-demand of RON95 and E5 RON92 on the market to set reasonable base prices, Tuan said.

Zurich Airport AG weighs some projects in Vietnam

Zurich Airport AG is considering getting involved in some projects in Vietnam, heard a meeting between Vietnamese Deputy Prime Minister Vuong Dinh Hue and the company.

As part of his visit to Switzerland to attend the World Economic Forum's Annual Meeting 2018 in Davos, Hue on January 22 visited Zurich Airport, Switzerland's largest international airport operated by Zurich Airport AG, said a Government news website report.

The firm introduced its modern airport management systems and technologies that incorporate commercial, financial and conferencing functions into the airport.

Lukas Brosi, chief financial officer of Zurich Airport AG, said direct flights between Zurich Airport and HCMC will be launched in the next few weeks, according to the news report.

The company has also completed an initial survey of the Long Thanh International Airport project in the southern Vietnamese province of Dong Nai, Brosi said, adding the company is also interested in some public-private partnership (PPP) projects in Vietnam. It is considering cooperating with Vietnam in aviation training and airport management technology transfer.

Hue expressed appreciation of the company's interest in the Vietnamese market. Zurich Airport AG should mull acquiring shares of the Airports Corporation of Vietnam (ACV) and investing in some airport projects like Van Don, Chu Lai and Lao Cai, he noted.

By 2020, the Government's holding in ACV is planned to fall to 65%.

Hue said the Vietnamese Government is improving the legal framework for PPP to protect the legitimate rights and interests of investors.

Vietnam is forecast to rank fourth among the fastest-growing markets in terms of annual passenger growth in the 2015-2035 period, just behind China, India and Indonesia, he said.

Such strong growth will put a strain on the country's already-overstretched civil aviation infrastructure.

"The Vietnamese Government is calling for domestic and foreign firms to invest in airports and other aviation facilities in Vietnam," Hue said.

FE CREDIT signs US$50 million loan contract with Lion Asia

FE CREDIT announced that it has completed a loan procedure with Lion Asia I (RB) Limited, taking out US$50 million to continue growing its business as the market leader in Vietnam's consumer finance industry and to better meet financial demands of millions of Vietnamese people.

Lion Asia, an entity established in British Virgin Islands and 100% owned by the Lending Ark Asia Secured Private Debt Fund (The Fund, acted as facility agent for this US$50 million). The Fund has been established by Lending Ark Asia Secured Private Debt Holdings Limited, a market leader in complex, innovative secured private credit lending across the Asia Pacific region.

As one of the few pioneers in the consumer finance industry in Vietnam, after seven years, FE CREDIT has established a solid foundation to become the market leader with business practices that compare favorably with the best in the world. Currently, FE CREDIT holds nearly 50% of the market share in the consumer finance industry in Vietnam.

Kalidas Ghose, vice chairman and CEO of FE CREDIT, said: "This cooperation continues to re-affirm our brand value and the operational excellence of our business in meeting the highest level of international standards."

"This loan facilitates the growth of our business in future by providing solutions to the needs of millions of people across Vietnam, who are not currently served well by banks, with better financial products and services. Also, this cooperation demonstrates the trust that international partners have in the sustainable vision of FE CREDIT and the commitment of its shareholders as well as management going forward."

Gregory Park, a representative of Lion Asia, said it is a great honor to announce the successful completion of our US$50 million facility for FE CREDIT. With the tremendous support of State Bank of Vietnam and hard work of FE CREDIT, the entire working team was able to swiftly complete this cooperation.

"We believe that with its strong management team serving the expanding consumer finance market of Vietnam's 95 million citizens, FE CREDIT makes its business an example of a great success in the global financial markets," he said.

FE CREDIT currently provides consumer lending services such as personal loans, two-wheeler loans, consumer durable loans and credit cards. FE CREDIT has served almost seven million customers, co-operating with 7,000 partners across 10,000 Points of Sale nationwide.

VIB busts out new year promotion programme

From January 24 to April 3, Vietnam International Commercial Joint Stock Bank (UPCoM: VIB) will hold the discount programme called "New Year of Fortune with VIB" for the bank's depositors. 

In particular, each customer that signed deposit agreements or certificates of deposit (CD) at VIB as well as place a Vietnamese dong-denominated term deposit of at least a month at any branch and transaction office of VIB across the country could enjoy appealing interest rates of 5.5-8.7 per cent per year.

Likewise, the bank's depositors could earn a rare chance to enter a draw with a total prize pool of VND7.3 billion ($322,660), including a Vespa Primavera, an iPhone X 64, and a 3.75-gramme bullion of PNJ 999.9 gold.

Previously, VIB was the first domestic bank to earn the title "Best E-bank 2016" and "Best Retail Mobile Banking Experience 2016" by The Asset. Particularly, the mobile banking application enabled users to manage their account balance anywhere and anytime as well as manage their cash flows through VIB's internet and mobile banking system.

Recently, in November 2017, International Finance Corporation (IFC) and its partners announced offering the local bank $185 million assistance over a span of five years, which included $100 million from IFC's account and $85 million from three international lenders, Cathay United Bank Co., Ltd. Industrial; Commercial Bank of China Ltd. (Hong Kong Branch); and Thailand's Kiatnakin Bank Public Company Ltd.

In early 2017, Moody's Investors Service upgraded the credit rating outlook of VIB's local currency deposits and issuer ratings to "positive," signalling optimism regarding the bank's business performance. According to Moody's, VIB was rated among the banks recording the highest financial strength for three consecutive years in 2014-2016.

Founded in 1996, VIB is one of the Vietnam-based banks displaying a sustainable business strategy, transparency in the administration system, and professionalism in the working environment.

The bank is praised by both its domestic and foreign partners, such as The Banker under the management of Financial Times in London, members of the World Bank Group, Global Finance magazine, and Britain-based Banking Review.

Goods suppliers try to stabilize pre-Tet prices

Many businesses have hiked product prices in the run up to the Lunar New Year holiday (Tet) since electricity and fuel prices, and minimum wages were raised, but some suppliers have committed to stabilizing prices.

Le Thi Thanh Lam, deputy general director of Saigon Food, said that apart from the higher energy prices and wages as from this year, material prices have picked up as well. However, Saigon Food is not going to increase prices during Tet as it may affect sales, she noted. 

Though there has been no precise data about how much production costs and goods prices have climbed, she said, Saigon Food has paid an additional VND300 million for electricity bills alone.

For the forthcoming Tet, Saigon Food will supply 800 tons of products for the market, with prices to be kept unchanged, Lam said. "But after Tet, we may consider price hikes as we cannot afford to maintain such prices for so long."

Vissan has also pledged no price hikes while discounts and promotions will be made available. Deputy general director of Vissan Dinh Thi Phuong Ninh said the company will not raise product prices due to the price stabilization commitments it made earlier. 

Though the fuel price increase has impacted on production operations of Vinh Thanh Dat Food Co., the company will not adjust up prices ahead of Tet, said director Truong Chi Thien. In particular, the price will remain unchanged at VND24,000 per box of 10 chicken eggs and VND32,000 per box of 10 duck eggs.

At Big C supermarkets, prices of as many as 11,300 fast-moving consumer goods will stay stable until February 15 regardless of price changes at other retail stores. 

According to a representative of the Big C supermarket chain, if prices at other supermarkets get lower, Big C will revise its prices down also.

A source from Lotte Mart said product prices will not increase before and after Tet.

However, certain suppliers have opted for upward price revisions given the pressure from the higher fuel prices and labor costs.

As explained by Nguyen Lam Son, director of Thao Nguyen Agriculture and Foods Co., the company has suffered from the fuel price rise as fuel is needed to operate agricultural machines and transport goods. Besides, labor costs will double or treble when workers are in holiday mode. An upsurge in consumption of certain products could lead to an undersupply.

At present, according to goods producers and suppliers as well as distribution centers, goods for Tet are now available on the store shelves.

Ninh of Vissan said the company will supply more than 3,000 tons of pork and beef and 3,500 tons of processed products for the nation's biggest holiday, up 30% and 15% against last Tet respectively. Vissan's total goods volume for Tet amounts to VND650 billion, she added.

Meanwhile, Vinh Thanh Dat Food's supplies will be the same as the previous Tet, with 10 million eggs in the month before the Lunar New Year and 4-5 million eggs in the month after.

"The company is also reserving eggs for bakeries. Therefore, if the market is in need of more, we can double or treble our supplies," Thien noted.

Regarding vegetables, Thao Nguyen Agriculture and Foods provides 20 tons of vegetables daily in the final month of the old lunar year (a period between the second half of January and the first half of February), rising by 5-10 tons against other days. After that, vegetables supplies will drop to four tons a day and prices may pick up 20%, according to Son.

As for modern distribution systems, Do Quoc Huy, marketing manager of the Saigon Union of Trading Co-operatives (Saigon Coop), the owner of the Co.opmart store chain, said total goods supplies for the three-month period before and after Tet will pick up 15% year-on-year to over 130,000 tons. Of these, supplies of fresh products and products for Tet like cookies, dried fruits and beverages will grow strongly.

According to Huy, in addition to products under the price stabilization program, Saigon Co.op will offer good prices for other essential products. It will also run many promotion programs until February 14.

PwC Vietnam signed MoU with Smart Train

PwC Vietnam and Smart Train have signed a memorandum of understanding (MoU) to take their partnership to the next level.

The collaboration aims to create an environment for business interactions, information sharing, professional training, and knowledge exchange with PwC's and Smart Train's wide networks of business leaders and experts in finance, accounting, governance and management.

The signing ceremony was attended by Le Thi Tuyet Nhung, deputy head of the Accounting and Auditing Regulations Department of the Ministry of Finance (MoF), and representatives from the Ho Chi Minh City Stock Exchange (HOSE), the Ho Chi Minh City Accountants Association (HAA), the Association of Chartered Certified Accountants (ACCA), the Vietnam Banks Association (VNBA), and CPA Australia.

As Vietnamese companies gradually approach global norms and standards in professionalism and transparency, raising corporate governance capacity has become an essential requirement for all business leaders.

Both the directors and senior management teams need to keep themselves updated with comprehensive knowledge as well as an understanding of the best practices in corporate governance, management accounting, financial accounting, and risk control.

As the world's leading provider of auditing and consulting services, PwC regularly contributes expert advice at major events and specialised seminars in corporate governance, finance, risk, and cyber security, among others.

In addition, PwC has also collaborated with state management bodies in building legal frameworks, laws and decrees, contributing many crucial initiatives to enhance corporate governance and improve quality in accounting, financial management, risk management, auditing, and internal auditing.

Hoang Duc Hung, partner and Vietnam Markets leader at PwC Vietnam, said: "The partnership between PwC Vietnam and Smart Train plays an important role in creating more opportunities and an environment for interactions among businesses, and between enterprises and leading experts in the PwC network."

Speaking at the MoU signing ceremony, Pham Ngoc Hoang Thanh, managing director of Smart Train, said: "By organising seminars and conferences with practical topics, we would like to create a hub for information sharing, professional traning, and the exchange of expertise between local and international professionals in governance, accounting, and auditing on one side, and the board of directors and management teams of companies on the other side."

"It is essential to raise awareness and compliance of businesses with the requirements and regulations of state management bodies in governance, finance, accounting, auditing, risk, and control," said Nhung from MoF. "The collaboration of professional firms such as PwC and Smart Train will contribute to promoting awareness in the business community and support regulatory agencies in managing and facilitating business. 

Vinalines aims to go international

Vietnam's state-owned shipping giant Vinalines is moving towards participating in international markets by co-operating with shipping lines and owners of mines worldwide to reach its ambitious growth targets in 2018.

According to Le Quang Trung, newly-elected vice president of Vietnam National Shipping Lines (Vinalines), the company has plans to set up several international alliances, focusing on the two key business segments – shipping, and logistics.

In shipping, Vinalines will restructure its fleet, focusing on long-term contracts and key large-volume commodities such as coal, ores, steel, cement, and clinker while creating more two-way shipping services.

"We plan to set up consortiums with international shipping lines, owners of mines, and suppliers to provide shipping and logistics services to on-site works," Trung told VIR.

"For example, we are working on the possibility of setting up an alliance with owners of coal mines in East Kalimantan, a province of Indonesia, which is thought to have one of the world's largest coal reserves. We will be responsible for coal transportation and logistics to the site, while coal supply is done by the partner," he said. "Aside from Indonesia, we also worked with potential partners at the recent Eastern Economic Forum in Russia, discussing future co-operation in the field."

Vietnam now imports coal mostly from Indonesia, Australia, and Russia to feed coal-fired power projects and steel mills in the country. Therefore, Vinalines is playing leapfrog to cash in on this growing local demand.

For container goods, Trung elaborated that Vinalines will develop inland domestic transportation networks, while co-operating with international main line operators to provide cargo consolidating and feedering services for them, as well as developing intra-Asian container routes and two-way shipping routes. Forecasting a 10 per cent growth in goods of volume shipped via its ports this year, Vinalines is working on market  and logistics solutions to increase competitiveness by establishing a chain of logistics centres domestically and abroad which target commodities imported and exported from Vietnam, thus joining to the global supply chain.

"At present, we are working on the Vietnam House project in Belgium in co-operation with Belgian logistics corporation Herfurth. We have finished the business plan and have begun providing services on trial for some items such as textiles and garments and pharmaceuticals," Trung said.

Another emphasised plan is developing North-South Ro-Ro shipping services and offering one-stop package solutions  to clients by utilising the combination of shipping, port, and logistics infrastructure.

In 2017, Vinalines' logistics and port businesses showed signs of thriving amid stiffening competition, with increased profits reported. The company's estimated profit was VND515 billion ($23.5 million), nearly double that of 2016.

Despite difficulties in the global shipping market, Vinalines' shipping business saw improvements in 2017 thanks to a growing cargo trade volume. However, the firm still experienced a loss.

This year, Vinalines aims for growth in profit, revenue, and volume of goods no lower than the country's GDP growth, or that of similar regional industries. With better business performance and bright potential ahead, Vinalines has become more attractive to domestic and foreign investors ahead of its initial public offering, which is scheduled to take place in the second quarter of 2018. Many investors from Japan, the US, Singapore and South Korea have expressed strong interest in becoming strategic investors of Vinalines.

Vietnam to host Asia-Pacific Stevie Awards for first time

This afternoon, the organisation board of Stevie Awards in collaboration with the Enterprise Development Agency under the Ministry of Planning and Investment organised the launching ceremony of Asia-Pacific Stevie Awards 2018 in Hanoi, marking the first launch in Vietnam.

The launching ceremony is organised to find potential candidates for the judging panel as well as contestants for the awards.

The award aims to honour individuals and enterprises with excellent performance and encourage companies to excel, innovate, and adapt to Industry 4.0. The award will also open opportunities for small- and medium-sized enterprises to find international partners as well as expand their operations to abroad.

According to the organising board, the award will have 12 categories. Each enterprise can apply in one or various categories.

In the framework of the event, on January 24, Michael Gallagher, president of Stevie Awards and representatives of the organising board, had a meeting with leaders of Vietnam Investment Review, which has been invited to be a media sponsor of the event. Additionally, VIR's editor-in-chief Le Trong Minh has been invited to join the judging panel.

Asia-Pacific Stevie Awards, under the aegis of Stevie Awards, is an international business awards competition that is open to all organisations from the 22 nations of the Asia-Pacific region.

Asia-Pacific Stevie Awards was organised for the first time in 2014. Numerous Vietnamese enterprises were granted the award, including Viettel, Dosan Vina, and DHL. This year, Vietnam is honoured to be selected to host the event.

Vietnam supports enterprises to participate in circular economy

The Vietnam Business Council for Sustainable Development (VBCSD) has signed an agreement with three foreign-invested enterprises to implement the "Zero Waste to Nature" initiative.

It is part of a programme aimed at supporting enterprises to participate in the circular economy.

The three companies involved in the initiative are Unilever, Coca-Cola and Down Chemical.

Experts have stated that a circular economy will help reduce the risks from the scarcity of resources in the future, address environmental issues and add US$4.5 trillion to global GDP by 2030.

In a circular economy, waste will be regenerated in various forms and reused in the production process instead of being discarded and causing environmental pollution.

VBCSD Secretary General Nguyen Quang Vinh said the "Zero Waste to Nature" initiative aims to address the issues arising from plastic waste and promote sustainable business models.

At the signing ceremony, Unilever Vietnam chairwoman Nguyen Thi Bich Van pledged that all of the company's plastics packaging will be collected, recycled and reused by 2025.

Meanwhile, Coca-Cola will support the collection and recycling of all plastic bottles of its products sold to the market by 2030, said Sanket Ray, chief executive of Coca-Cola Vietnam.

The lifestyle startup that helps brands better understand their consumers in Vietnam

A mobile app developed by startup firm Wisepass and launched early last year has been making it more convenient and economical for casual drinkers and frequent diners to enjoy food and wine around Ho Chi Minh City.

The app developed by Wisepass, a company that was founded in 2014 in Ho Chi Minh City, allows users to get stuck into either 30 bottles of liquor or 30 meals per month at more than 100 different locations such as restaurants, bars and 5-star hotels in the city for VND6 million (US$260) per month. And WisePass recently secured a partnership with Starbucks which allows members to redeem any cup, any size per day.

The statistics show that initially WisePass membership covered only drinking, but later it added new options for members such as food and events. 

Since the recent partnership with Starbucks, consumers have been very interested in dining there and luxury chains besides enjoying wine.The app currently has 400 members and has been used nearly 11,680 times.

But the benefit that the app offers is not limited to its members. Beyond that, it offers a platform for brands to get closer to their consumers' needs and analyze the ways in which their produce is consumed.

This feedback allows brands using Wisepass to communicate better with its customers without being aggressive.

Lam Tran, co-founder and CEO of Wisepass, told Dau Tu newspaper in April last year that the startup has secured a growth rate of 50% per month.

"People usually think that starting a company in Vietnam is difficult, especially on the administrative side of things. It looks difficult if you don't know the procedures. But it's like this anywhere in the world, the administrative procedures are always long and complicated!," said Lam, adding that the real challenge lies in building a new type of business and executing it. 

"One needs to take time – weeks and months, to build the idea, talk about it, to then be able to sell the project. Of course, having the finances for it helps a lot too. But there's no shortcut. You have to work hard and be persistent to succeed," he said.

Lam shared that the internet is a challenging aspect he has faced, especially while working in the digital field where everything is handled online.

In terms of what was easy for startups in the country, "I'd say that the whole 'tech' part is easier in Vietnam. The cost for developers is significantly lower here than in Singapore or San Francisco as the salary range is from US$400 to US$4,000," he said.

HCM City seeks congestion solutions for Cat Lai Port

HCM City is seeking solutions to reduce traffic congestion for Cat Lai Port which receives more than half of the country's waterway and 89% of the southern region's cargo.

According to the HCM City Department of Transport, around 17,000 vehicles enter the port daily and the figure can even reach up to 19,000 - 22,000 sometimes, while the capacity of the main street leading to it, Nguyen Thi Dinh, is not sufficient 15,000. 

Last year, the port had to serve 53 million tonnes of cargo compared with a design capacity of just 36 million tonnes per year by 2020.

The large amount of traffic and unfinished road infrastructure has contributed to the traffic jams in the port area.

Bui Xuan Cuong, director of the HCM City Department of Transport, said that construction of My Thuy intersection which is scheduled for completion by April this year is expected to ease congestion.

Cuong added that authorities should crack down on illegal parking lots and traffic violations around the port area.

He, however, noted that it is more important to reduce the amount of traffic in streets near Cat Lai Port by boosting waterway freight.

But he mentioned waterway difficulties as the construction of several bridges in HCM City have not yet been completed, while some others such as Rach Doi and Rach Tom in Nha Be District need to be upgraded. According to Cuong, the city has planned to upgrade and rebuild these bridges this year.

Pham Cong Bang, head of the HCM City Department of Transport's waterway management board, the cargo through seaports in HCM City have increased by 5-10% annually since 2010. Among those, Cat Lai Port accounts for the majority of the cargo. HCM City authorities have proposed the establishment of inland container depots for serving the cargo transport by waterway, aiming to ease the pressure for road traffic.

The construction of Long Binh inland container depot in District 9 is being carried out to receive cargo from Dong Nai and Binh Duong which would then be transported by water to Cat Lai, Hiep Phuoc and Cai Mep ports.

CMC grew 30% after Q3
     
CMC Corporation, a leading Vietnamese ICT group, reached a total revenue of more than VND4.17 trillion (US$183 million) in the first nine months of the fiscal year 2017.

This was a year-on-year increase of 16 per cent and fulfilled 113 per cent of the cumulative projection.

In particular, the total pre-tax profit of the group reached VND220 billion, up 30 per cent compared to the same period last year, and completed 126 per cent of the cumulative plan.

The growth rate of CMC Group in the first nine months of the fiscal year was contributed mainly by two core areas, including technology and telecommunications.

Particularly, the technology sector gained more than VND3.042 trillion of turnover, up 17 per cent over the same period, and reached VND83 billion pre-tax profit, up 14 per cent against the same period.

Telecommunications reached over VND1.06 trillion of revenue and VND128 billion of pre-tax profit, up 13 per cent and 41 per cent over the same period, respectively.

In addition, in the third quarter, the long-term strategic investment activities of CMC also showed positive signals.

In the field of system integration, CMC promoted the development of Cloud and Security. The launch of the first Operations Centre Security (SOC) integrating artificial intelligence and automation technology in Viet Nam demonstrates a consistent investment and the group's readiness to apply and develop the latest technology in the digital era.

As regards to software and information technology services, CMC has implemented the "Go Global" strategy to expand into the international market (CMC Global, CMC Japan), meanwhile building a software development centre in HCM City.

The telecommunications sector also showed strong growth by launching the Cross Viet Nam Cable System (CVCS), which is the only system in Viet Nam directly connecting the Southeast Asia grid. With a total length of more than 2,500km, the cable system passes through 19 provinces and cities in the country from the northern Lang Son Province to the southern Tay Ninh Province. The system has a total investment of VND500 billion.

Also in the third quarter, CMC opened the third data centre in Ha Noi applying Payment Card Industry DataSecurity Standard (PCI DSS) security standards. The fourth data centre in HCM City is scheduled for February 2018.

CMC Group is expected to reach a total revenue of VND5.4 trillion in the fiscal year 2017, up 13 per cent over the same period, and fulfilling 111 per cent of the year's plan. The pre-tax profit is expected to hit VND280 billion, a year-on-year increase of 31 per cent, and fulfill 117 per cent of the plan.

Digiworld unveils 2018 business plans
     
Digiworld Corporation (DWG) has said that mobile phones and office supplies will be its main sources of revenues this year.

Mobile phone sales would jump by nearly 60 per cent to VNĐ1.2 trillion (US$52.6 million), and office supplies sales by 33 per cent to VND1 trillion ($44 million), it said.

Doan Hong Viet, the company's CEO, said this year his company would continue to restructure its mobile phone business, ceasing distribution of products with low value addition.

The main brands Digiworld would focus on are Sharp and Xiaomi, he said.

It plans to open more Mi stores in big cities and provinces to sell all Xiaomi products, and while the Chinese company's phones are not expensive they is very popular, he said.

Office supplies sales are steady thanks to the Internet of Things as well as increasing investment in information technology by companies.

For 2018 Digiworld's overall sales target is VND4.7 trillion ($206 million), a 23 per cent increase. It expects profits to rise 29 per cent to VND101 billion ($4.4 million).

Can Tho seeks industrial park investors
     
The Mekong Delta City of Can Tho's Trade and Investment Promotion Centre plans to promote investment in the Viet Nam – Japan Industrial Park this year, according to Nguyen Khanh Tung, director of the Can Tho's Trade and Investment Promotion Centre.

Agencies in Can Tho City will focus on four major projects: a logistics centre; Viet Nam – Japan Industrial Park; an information centre; and Can Tho Convention Centre, Tung said at an annual conference of the Can Tho's Trade and Investment Promotion Centre on Tuesday.

Construction of the Viet Nam – Japan Industrial Park project is scheduled to begin in April, he said.

A series of events to promote business and investments from Japanese companies will be held in Can Tho in 2018.

Can Tho will also organise a meeting with Japanese investors in Ha Noi and cultural and commercial promotion events in Can Tho later this year, Trung said.

This year, Can Tho will promote trade and investments from other countries including South Korea.

The efforts will include a campaign to attract investments from Korean companies in Can Tho's Korea – Viet Nam Incubator Park (KVIP), according to Can Tho's Trade and Investment Promotion Centre.

The city will also seek investors in the hi-tech agricultural industry.

The city this year will also host other events at the national level, including the 12th traditional southern cake festival (with 200 kiosks); the high-quality Vietnamese goods fair (with 400 kiosks); a VietBuild Can Tho for construction – building materials, properties and inner decoration (with 450 booths); and the Viet Nam international agricultural expo (with 350 kiosks).

Nguyen Kim Ngoc, head of the Trade Promotion Division at the promotion centre, said last year the centre collaborated with other agencies to promote trade and investment in major markets such as Japan and the Republic of Korea.

The promotion campaigns helped Can Tho attain sales turnover of over US$1.76 billion, 5.9 per cent higher than targets set for 2017, and an increase of 13.9 per cent compared with 2016.

In 2017, the promotion centre also hosted 10 events and fairs, with 3,000 kiosks displaying goods and products from international and local companies, attaining total sales turnover of VND700 billion.

Around 2,000 agreements and contracts were signed during these events, according to figures released by the Can Tho's Trade and Investment Promotion Centre.

Quang Ninh announces department-level competitiveness index

The People's Committee of the north-eastern province of Quang Ninh announced the Department and District Competitiveness Index (DDCI) 2017 at a conference in Ha Long city on January 24.

The committee also revealed initial research outcomes of a programme on the pilot implementation of the social network analysis (SNA).

The DCCI scores and rankings were conducted based on the survey of 1,500 businesses, including companies, cooperatives, and business households, focusing on such criteria as transparency and dynamism of the governance system, equal competitiveness, legal institutions, and heads' responsibilities.

Five top localities include Cam Pha city, Quang Yen town, Mong Cai, Uong Bi and Ha Long cities.

Meanwhile, five leading departments in the DCCI rankings 2017 were the Department of Customs, the Department of Planning and Investment, and the Department of Taxation, the Department of Education and Training, and the management board of economic zones.

Chairman of the provincial People's Committee Nguyen Duc Long reiterated the local motto of serving businesses and people and considering the private economy an important momentum in economic development.

He urged all departments and localities to push ahead with administrative reform to increase transparency and create a healthy investment environment.

Quang Ninh leaped to the third position in 2015 and the second place in 2016 from the fifth place in 2014 in the rankings of provincial competitiveness index (PCI).

Ho Chi Minh City Customs holds dialogue with US firms

The Customs Department of Ho Chi Minh City and the American Chamber of Commerce in Vietnam (Amcham) held a dialogue with the US business community in Ho Chi Minh City on January 24, focusing on export-import procedures. 

Regarding post-clearance inspection, deputy chief of the department's Management Inspection Office Nguyen Thanh Long said only firms with suspected activities and faulted goods declaration are subject to inspection, similarly to the situation in developed countries. 

In addition, other agencies than the customs office will also conduct inspections after customs clearance, such as checking on food safety and hygiene.

Long suggested firms strictly abide by legal regulations on manufacturing and trade as well as export-import in order to face less inspection. 

A representative from Tan My group, which imports stainless steel to produce goods for export, said while the import of stainless steel is exempt from tax, the examination and analysis procedures take as long as 6 months, thus affecting the group's production and prestige. 

Nguyen Quoc Toan from the department's Export-Import Tax Office said stainless steel is subject to special examination due to its connection to anti-dumping tax, adding that the company's suggestions will be submitted to the General Department of Vietnam Customs to make proper adjustments. 

Amcham Vice President Mark G.Gillin said the Ho Chi Minh City customs agency is the most active agency in the city in terms of administrative reform to improve business climate and promote trade with foreign countries, including the US. 

He wished that the department would update the US firms about customs regulations to facilitate bilateral trade.

Deputy Director of the department Dinh Ngoc Thang, for his part, pledged to cut unnecessary administrative procedures as part of support for businesses, including those from the US. 

He suggested the US firms actively join connectivity events and dialogues hosted by customs agencies to fully and promptly grasp the latest regulations as well as propose measures to modernise Vietnam's customs activities and boost Vietnam-US trade in the near future.