VietNamNet Bridge - Commercial banks say that people are converting dollar into dong and investing dong in securities.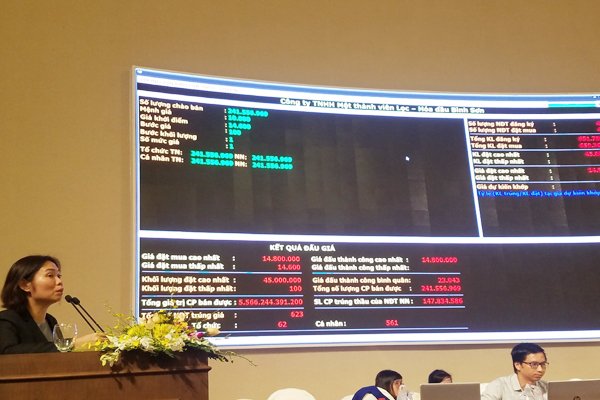 Cash is flowing into the stock market
Vietnam's forex reserves reached a record high of $54.5 billion last week as announced by the State Bank Governor. Just within two weeks, the central bank bought $2.5 billion, adding to the reserve.
Commercial banks confirmed that the foreign currency supply is plentiful with the supply not only from foreign direct investment (FDI) and foreign portfolio investment, but also from businesses and the public. Selling dollars to get dong to invest in securities is the choice of many people.
"People no longer want to keep dollars as the State Bank has curbed the dollar interest rate at zero percent, while the dong/dollar exchange rate has been stable," said deputy CEO of a HCMC-based bank. 
Savings are flowing into the stock market. It is not yet a strong flow, but a growing tendency. 
"The VN Index has increased by nearly 50 percent," he explained, noting that there is a  large gap between the zero percent profit expected from dollar deposits and the 50 percent profit expected from securities investment.
The banker said that savings are flowing into the stock market. It is not yet a strong flow, but a growing tendency. 
The total deposits at banks, according to an SBV report, has exceeded VND5,500 trillion. If just one percent of the amount of money, or VND55 trillion, heads for stocks, the VN Index will reach a record high.
One percent of savings flowing into securities is  likely to happen. While deposits are getting less profitable, profit from securities investments is very encouraging.
Therefore, analysts believe that the plan by SSC to raise the required margin ratio from 50 percent to 60 percent won't affect the capital flow to the stock market.
An SSC report showed that the total margin loans of the market had reached VND38 trillion by the end of 2017, much smaller than the market scale which is just equal to 0.69 percent of total capital mobilized by banks.
The market size has expanded weekly thanks to the sharp increase in the number of newly listed companies, while liquidity has also increased weekly.
HOSE is coming closer to the daily transaction volume of 400-500 million units and trading value of $500 million. If the current situation is maintained, analysts say, it is quite possible that the Vietnamese stock market would be exceptionally upgraded from frontier into emerging this year.
Foreign investors' net purchase value has reached VND4.482 trillion after the first two weeks of 2018.
The recovery period of the stock market began last year. However, the VN Index still has not bounced back to the 1,170 point peak set in March 2007.