VietNamNet Bridge - Just a short time after thaituancoin, a cryptocurrency trading floor, shut down, another appeared calling for people's contributions.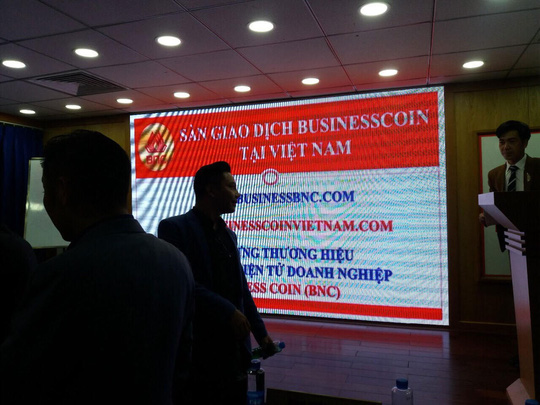 The introduction of BNC
On January 4, 2018, at Businesscoin (BNC) office, located in an office building on Bach Dang street in Tan Binh district in HCMC, many investors were present to make transactions and learn about ways to trade the cryptocurrency (BNC) via the BNC trading floor, belonging to BNI, a business with its head office registered at another location on the same street.
Investors had to pay VND50,000 each for documents to attend the meeting introducing the BNC trading floor and the plan to create BNC cryptocurrency in Vietnam. 
Duong Hong Son from BNI said to more than 100 investors that Businesscoin, or BNC, was issued by BNI on October 20, 2017.
At that time, one BNC had the value of VND1,000, or $0.0435. Meanwhile, the value of the cryptocurrency soared to $2.03 per BNC, or VND47,000, and is expected to rise to $200 per BNC.
Son also said that BNI plans to issue 100 million BNC by 2025, and that there would be 1-5 million members (individuals and businesses) by 2022. The trading floor would collect $5-10 million per day to have enough profit to pay to BNC buyers. 
For example, the investors who spend $50 to buy BNC would receive profit of $300 from the trading floor owner within 300 days, while those who invest $20,000 in BNC would get profit of $240,000 within 600 days.
According to Son, the aims of BNC floor are to build a brand for members to make transactions on BNC floor, connect with consumers directly to help popularize and boost sales for enterprises. 
Just a short time after thaituancoin, a cryptocurrency trading floor, shut down, another appeared calling for people's contributions. 
Son reassured the investors that BNI is the first company in Vietnam that guarantees  investors' purchases and transactions on BNC floor. He said once BNI comes forward and takes legal responsibility, investors won't have any reasons to be insecure to make transactions on the BNC floor.
Answering questions about liquidity, Son revealed that 20,000 investors have joined the floor, so there is no need to worry about the lack of buyers and sellers.
To attract investors, Son said BNC has software connecting other businesses, including real estate firms and investors who use BNC to buy/sell real estate.
Pham Van Tuyen, general director of BNI, said Vietnamese laws prohibit cryptocurrency trading, but don't prevent people from storing and investing in conventional cryptocurrency. This means investors can use BNC through conventions on converting BNC for dong and US dollar.
Nguoi Lao Dong reporters discovered that Pham Van Tuyen appeared in the past on the internet as the consultant for thaituancoin.com which issues TTC cryptocurrency.
RELATED NEWS
Jury still out on cryptocurrency in Vietnam
Thanh Mai