Vietnam vows to remove investment hurdles with Laos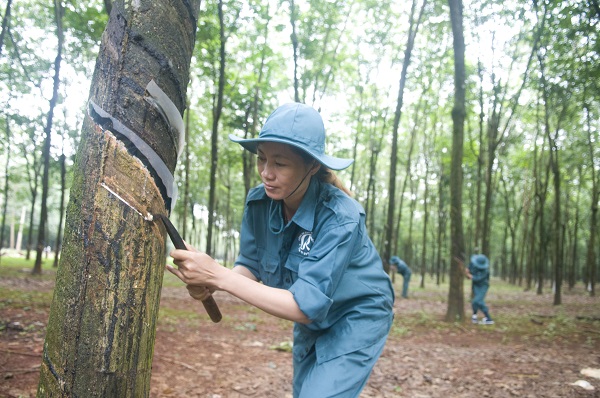 Removing all obstacles towards Vietnamese investments in Laos and the two countries' joint projects will be among Vietnam's priorities in further riveting co-operation with its western neighbour this year.
At a meeting organised a few days ago between the government and Vietnam-Laos Co-operation Committee, Prime Minister Nguyen Xuan Phuc stated that Vietnam will further its bilateral investment co-operation with Laos this year, with a focus on implementing co-operation projects about seaports, electricity, and infrastructure.
Focus will also be placed on boosting the implementation of delayed Vietnamese investment projects in Laos.
"It is necessary to review some projects in Laos so that their construction can be boosted with the highest responsibility. All enterprises and investors failing to implement the projects effectively must be strictly punished," Phuc said.
During his bilateral meeting with his Lao counterpart Thoongloun Sisoulith in Cambodia more than one week ago, Phuc committed that Vietnam will create the most favourable conditions for Laos to exploit  Vung Ang seaport.
A few years ago, the two countries inked an agreement on using this seaport, with the 2011 establishment of Lao-Viet International Port JSC in charge of using the port's wharves 1, 2, and 3 to transport goods from the port to Laos.
Wharves 1 and 2 have become operational in 2001 and 2010. Meanwhile, wharf 3 is under construction by this company and is expected to be put in operation in 2019.
Besides, wharves 4, 5, and 6 will also be constructed in the near future by local and foreign firms.
According to a document on Vietnam's investments in Laos sent to VIR by the Department of Foreign Economic Relations (DFER) under Vietnam's Ministry of Planning and Investment (MPI), Vietnam currently has 276 valid investment projects in Laos, registered at about $5 billion, $1.6 billion of which has been disbursed. If loans from Vietnam's banks are taken into account, the disbursed sum is $1.8 billion. Laos is Vietnam's biggest overseas investment destination.
Vietnam's investments in Laos are focused largely on the hydropower sector, with the total capital of $1.47 billion, or 29.4 per cent of Vietnam's total investments in Laos, followed by the services and infrastructure sector (over $1 billion or 20 per cent), the mining sector ($970 million or 19.38 per cent), the agri-forestry sector ($903.5 million or 18 per cent), and other sectors like property, finance, and banking.
According to statistics from Laos, in the hydropower sector, Laos have inked memoranda of understanding with Vietnamese firms to implement 15 projects in Laos, with the total designed capacity of over 3,000 megawatts (MW), and the total investment capital of about $5.4 billion.
Of this, MPI has granted overseas investment licences to six projects with the total capacity of 1,008MW and total capital of $1.47 billion, including Sekaman 1 (290MW), Sekaman 3 (250MW), Nam Cong 2 and 3 (total 110MW), Se Kong 3A and 3B (total 205MW), and Nam Mo (120 MW).
However, "Reviewing results showed that many [hydropower projects] have failed to be implemented as per the investors' commitments to the Lao government. Some projects' MoUs have been extended many times, while the MoUs of some projects have passed their deadlines and have been revoked by the Lao government (such as Se Kong 3A and 3B, and Nam Mo)," said the document.
In another case, Vietnam's biggest Laos-based investment project which is to exploit and process potassium salt, begun construction last year. The $522.5-million project, invested by Vietnam National Chemical Group, will use potassium salt as material to produce potassium fertiliser. However, only 30 per cent of the plant's construction has been completed, with over $74 million disbursed.
"The project is faced with difficulties due to the plummeting price of potassium in the world market, falling from $480 to only $250 per tonne, while there is no sign of it bouncing back. This has made the project ineffective and the investor cannot mobilise capital for further implementation," said the document. "The Vietnamese government and the prime minister have organised many meetings with ministries and Vinachem to alleviate the project's difficulties."
Lao firms to display products in HCM City for first time
A large-scale trade event introducing products of Lao businesses, the first of its kind, will be held in Ho Chi Minh City from January 24-28, said a Lao official.
Somxay Sanam Oune, Lao Consul General in HCM City, said nearly 140 products made by Lao enterprises will be displayed at 100 booths, including specialties, processed food, medicinal herbs and handicrafts, among others.
The Lao diplomat stressed that Lao companies consider Vietnam and HCM City in particular as an important market, and they expected that trade promotion and good exchange activities will be held more regularly in the coming time.
Pham Thiet Hoa, Director of the HCM City Investment and Trade Promotion Centre, said the event is of great significance, helping to promote trade and bring Lao products closer to Vietnamese customers.
To facilitate trade exchanges between Vietnamese and Lao businesses, HCM City-based export firms will also showcase their products at 40 pavilions, he added.
In 2017, two-way trade exceeded 900 million USD, a rise of 10 percent against the previous year. The two countries are striving to bring the bilateral trade turnover to 4 billion USD by 2020.
Seminar promotes Vietnam-India trade ties
A seminar introducing cooperation potential between Vietnam and India in the domains of agriculture and processed food was organised on January 18 as part of the ongoing Global Food & Beverage Show of India in Uttar Pradesh, India.
The event saw the participation of representatives from management agencies and food companies, and those specialising in exporting and importing ago-aquaculture products and processed food from the two countries.
Addressing the event, Santosh Kumar Sarangi from India's Ministry of Industry and Trade highlighted the recent impressive growth in two-way trade, and suddenly development of cooperation in processed food between the two nations. 
Nguyen Le Thanh from the Vietnamese Embassy in India thanked the two countries' ministries of industry and trade for organising the event, stressing that the economic and trade bond between the two countries has recorded fruitful results apart from their diplomatic and defence ties. 
Meanwhile, Do Huu Huy from the Vietnamese Ministry of Industry and Trade proposed measures to expand bilateral trade, emphasising the need to forge exchange of visits, information sharing, and organisation of trade fairs.
According to the General Department of Vietnam Customs, Vietnam-India trade hit 7.63 billion USD in 2017, up 41 percent year-on-year, and five times higher than that of 2007. 
Vietnam imports aquatic products, vegetables and animal feed from India while exporting coffee, pepper, cashew nut and seafood to the Southern Asia country.
Vietnam's export turnover to India surged by 21 times, from 180 million USD in 2007 to 3.76 billion USD in 2017. 
In the framework of the Show, a number of programmes were also arranged to introduce opportunities and potential for the development of food and beverages industry in India.
Events to promote exchange with India exporters were included, making it easy for participants to seek partners and business opportunities. 
Food and beverages industry is one of the important sectors that India gives priority to. The country is now the world leading producer of many agricultural commodities such as milk, rice, wheat, tea, cane sugar and spice. 
India's food processing industry values at 258 billion USD, and the country's food market attracted 6.82 billion USD in foreign direct investment in the period 2000-2016. India's agricultural product and food export is forecast to reach 70 billion USD in 2020. 
SCIC's pre-tax profit rises 33 percent
State Capital Investment Corporation (SCIC) expects to make a pre-tax profit of 6.6 trillion VND (290.5 million USD) in 2017, posting a 33 percent year-on-year increase.
The corporation said at a meeting on January 17 in Hanoi that it posted revenue of 7.38 trillion VND and after-tax profit of 6.3 trillion VND, up 36 percent from the set targets.
Last year, it successfully sold its stakes in 38 firms, including total share sales at 36 units and a part of shares at two others. SCIC collected 932 billion VND from its divestments, 2.2 times higher than their cost prices.
By selling a 5.4 percent stake in Vietnam Dairy Product JSC (Vinamilk), which was directly paid to the State budget, SCIC collected 21.2 trillion VND, which was 19.1 times higher than cost prices.
So far, the corporation has sold State capital in 986 companies since its establishment in 2005, collecting 28 trillion VND, 3.5 times higher than cost prices.
In November, SCIC successfully sold its 48.3 million shares of Vinamilk, equal to 3.33 percent of the dairy firm's capital, to Singaporean firm Jardine Cycle & Carriage for 186,000 VND per share in a deal worth a total of 9 trillion VND.
By the end of last year, SCIC was managing State capital worth 19.1 trillion VND in book value at 133 enterprises. SCIC plans to step up the handover of State capital ownership, strengthen management and continue restructuring as well as speed up the sale of State capital. Its financial investment activities will also be increased.
Nguyen Chi Thanh, SCIC's Deputy General Director, said SCIC met the set targets. It was not in a hurry to sell stakes in State-owned capital in 2017 as it forecast the VN-Index would be higher this year.
"We keep assets to sell them when the VN-Index increases, thus creating higher value for divestments," Thanh said.
Vietnam, Mitsubishi Motors to develop electric vehicles
The Mitsubishi Motors Corporation (MMC) has signed a Memorandum of Understanding (MoU) with the Industry Agency under the Ministry of Industry and Trade to conduct a joint research for electric vehicles development in the Southeast Asian country.
Under the agreement, the Japanese group will cooperate with Vietnam to study the effective use of electric vehicles as well as policies and programmes to support the speedy adoption of sustainable automotive technology according to Japanese automakers.
Director of the Industry Agency Truong Thanh Hoai said the joint research creates an important milestone in promoting the transition of a low carbon economy in Vietnam.
Kozo Shiraji, Mitsubishi Motors' Executive Vice President, said the company looks forward to sharing its pioneering expertise in electric vehicles and exploring how the government policy can support the adoption of this transformative technology.
HCM City aims to attract investment in support industry, high technology

Export processing zones and industrial parks in Ho Chi Minh City will prioritise attracting investment in the support industry and high technology, officials of the Ho Chi Minh City Export Processing and Industrial Zones Authority (HEPZA) told the media on January 18.
Nguyen Thi Lan Huong from the authority said that in 2018, HEPZA targets 900 million USD in investment, of which 60 percent is for the support industry and essential industries.
Huong said that that in the coming years, local export processing zones and industrial parks will focus on transforming industrial structure, improving growth quality and competitiveness of the city's economy.
She also clarified four prioritised sectors for investment, namely mechanics-manufacturing, electricity-information technology, pharmaceutical chemistry-rubber and food processing.
Meanwhile, Dao Xuan Duc, HEPZA Vice Director said that in order to lure businesses to local export processing zones and industrial parks, the authority will continue increasing activities to support new businesses, including cutting administrative procedures and removing obstacles facing them. The authority will also help connect businesses in the zones with enterprises in the city.
HEPZA will also complete technical and social infrastructure systems in export processing zones and industrial parks to meet the requirements of businesses and workers.
In 2017, HEPZA lured 840 million USD of investment, reaching 168 percent of the set target. As of the end of 2017, local export processing zones and industrial parks hosted 1,495 valid projects worth nearly 10 billion USD.
Vietnam promotes prosperous growth, sustainable environment
Minister of Planning and Investment Nguyen Chi Dung suggested completing mechanisms to facilitate smooth operation of the market economy, creating equal business environment and pushing the restructuring process in state owned enterprises as solutions to achieve prosperous growth and sustainable environment in Vietnam.
He was speaking at the Vietnam Sustainability Forum 2018 which was held in Hanoi on January 18.
Vietnam should prioritise renovation, develop key economic zones to improve regional economic efficiency while ensuring equality and social integration and taking measures to respond to climate change, he stated.
The Doi Moi (Reform) in the past three decades has created a facelift for the Vietnamese economy, Dung said, given that local livelihoods have been improved and Vietnam has become a middle-income nation.
Despite regional and global economic challenges, Vietnam enjoyed an impressive economic growth of 6.81 percent in 2017, higher than the National Assembly's set target and the highest level ever recorded in ten years.
Thanks to the country's efforts to shake up the economy, renew growth model and improve the business climate, Vietnam attracted 35.88 billion USD in foreign direct investment and its total import-export turnover reached 425 billion USD, Dung stressed. He underlined that the nation moved up 14 places to rank 68th  among 190 countries in the 15th edition of the World Bank's Doing Business 2018 Report themed "Reforming to Create Jobs".
However, economic experts said that daunting challenges for Vietnamese economy include low GDP per capita, total-factor productivity (TFP) falling short of expectations, high risks of middle income trap, and impacts of climate change, the 4th industrial revolution and global economic integration.
Andress Schfeicher, Director for the Directorate of Education and Skills, said that education and skills are important for Vietnam's sustainable development in the context of strong industrial revolution.
Meanwhile, Caitlin Wiesen, UNDP Country Director for Vietnam suggested that Vietnam draw up solutions to support vulnerable people to ensure that no one is left behind.
Hai Duong gets new animal feed plant
Hai Duong Haid Company Limited, member of Singapore's Haid Group, inaugurated an animal feed plant on Thursday at Dai An industrial extension zone in the northern province of Hai Duong.
This is a foreign direct investment (FDI) project by Haid Group with a total investment of US$15 million.
The factory is located on a 3.5ha area and started operations at the end of 2017. It specialises in producing and trading of animal feed, poultry and aquatic feed with an output of 500,000 tonnes every year.
Assessing the role of the project, Nguyen Duong Thai, chairman of Hai Duong People's Committee, confirmed that the project was completed within a year. He also hoped that the success of this project would motivate more investors from Singapore to invest in the province.
Haid Group specialises in research and supply of agricultural products such as fish feed, animal feed and animal protection products. So far, the total feed production of the group has been nine million tonnes in a year.
Haid Group has more than 200 companies worldwide.
To ensure continuous development, the group has invested in six factories in Viet Nam. These are located in Dong Nai, Nha Trang City of Khanh Hoa Province, Long An, Binh Duong and Hai Duong. These factories manufacture a variety of feeds for aquaculture, breeding and trading of high-quality fish and shrimp, as well as for farming and trading of cattle and poultry. 
A lot of meat, few veggies for Tet     
The domestic market is forecast to bear an oversupply of pork, cattle and poultry meats for the Tet festival in 2018, while it may lack vegetables in some places if the weather is cold and unusually frosty.
According to the Ministry of Agriculture and Rural Development (MARD), the price of live hogs in the country has recently fluctuated between VND28,000-34,000 per kilo.
However, Nguyen Xuan Duong, deputy director of the MARD's Department of Livestock Production, said the supply of pork this year is estimated to be plentiful enough to meet demand on the domestic market. Therefore, ahead of the Lunar New Year festival this year, there will not be a sudden increase in price of pork. Besides the plentiful supply, consumers will use high-quality pork products.
Other animal products, such as chicken, duck and other kinds of poultry, are also oversupplied. The market may lack eggs, however, due to high demand during Tet. Three years ago, there was a shortage of eggs due to strong demand, reported baotintuc.vn.
Meanwhile, Nguyen Huy Cuong, deputy director of the Department of Crop Production (MARD), said that if the weather is normal, the market will have plentiful green vegetables. However, if the northern mountainous area is hit by cold spells and frost, the market will lack vegetables in some parts of the country.
The weather is good for the development of fruit products, so there is expected to be enough supply on the domestic market for the Tet festival, Cuong said.
According to the ministry, food prices are forecasted to increase slightly due to high demand during the Tet holiday, but the market will not see a big change because of the stability in the food supply. Domestic rice supply will completely meet the local demand during the Lunar New Year 2018, which will fall on February 14.
Sugar prices are stable despite increasing demand on sugar for producing confectionery and beverages products. There is enough salt for the local demand even though salt output decreased due to storms.
Deputy Minister of Industry and Trade Do Thang Hai said the MARD should closely follow the market to properly regulate the supply and demand of agricultural commodities.
At present, the MARD and relevant offices, including the National Agro-Forestry-Fisheries Quality Assurance Department, have enhanced inspection and control of food quality, hygiene and safety as well as veterinary hygiene to ensure the supply and quality of farming products for domestic consumption and exports, especially during the upcoming Lunar New Year. 
US door opens for Viet Nam powder milk     
Viet Nam Nutrition Food JSC (Nutifood) signed a contract with Delori Foods International in HCM City on Thursday to export its milk products to the US.
It was the first time Viet Nam's milk powder have entered such a demanding market, thanks to its high quality and competitive prices.
Under the contract, Delori will distribute high quality PediaPlus dissolved milk powder for malnourished children to more than 300 supermarkets in California.
NutiFood had to meet the strict requirements of the US Food and Drug Administration (FDA) to receive an import licence.
Nutifood's plants were also independently tested by Michelson Laboratories to make sure it met export conditions.
Tran Thanh Hai, CEO of Nutifood, said it had taken the company more than a year to finish negotiations with Delori and fully comply with the FDA.
He said the FDA carried out many strict check-ups on Nutifood's plants.
"We are proud to become one of the first Vietnamese firms conquering the market," he said.
The company's export revenue to the US market in the first year is expected to reach US$20 million and increase by $100 million each year over the next five years.
Its revenue in the local market is VND10 trillion (US$) a year.
Delori intends to secure widespread distribution for its products in supermarkets across the US.
Ta Hoang Linh, director of the Department for the Europe and America Markets under the Ministry of Industry and Trade, said Viet Nam exported many key products to the US.
However, they were traditional products, such as garments and textiles, timber furniture, machines and electronic equipment.
Meanwhile, food and items relating to people's health have accounted for a small portion of Viet Nam's export structure.
Linh said Viet Nam took twelfth place in US exports and was twenty seventh among countries importing from the US. It is the sixteenth largest trade partner of the US.
Tran Quang Trung, chairman of Viet Nam Milk Association, said Viet Nam hoped to export milk products worth $120-130 million a year.
However, with the strong investment of local companies in 2017, the turnover reached $300 million.
The exports were mainly yogurt and liquid milk to the Middle East, Myanmar and Cambodia.
Vietnamese firms have also promoted their investments in world dairy farms to provide milk products to both Viet Nam and foreign markets. 
HDBank signs MoneyGram deal for funds transfer     
HDBank has signed up MoneyGram, a global provider of money transfer and payment services, to provide its customers with quick and easy international money transfer services.
Customers can use instant money transfer services, which takes only 10 minutes, to send money to 190 countries and territories around the world at reasonable cost.
The co-operation is expected to bring a lot of add-ons and important services for both sides.
Speaking at the signing ceremony, Rajendar Dhorkay, MoneyGram's regional director for Malaysia, Brunei and Indochina, said: "MoneyGram expects to see continued growth in Viet Nam and the larger Asia region due to the increased demand for money transfer services as more people pursue work and educational opportunities outside of Viet Nam.
"HDBank is a trusted and service-oriented name for Vietnamese and we are happy to be associated with one of the top banks in Viet Nam.
"We actively work with our agents in other countries to develop new and tailor-fit products.
"I am very excited to be here to witness the launch and we look forward to be able to service our Vietnamese receivers and Vietnamese senders living and working abroad."
As one of the largest banks in the country, HDBank regularly rolls out new products and services in co-operation with many major foreign partners to offer the best experiences as well as facilities to customers. 
New tourism project launched in Phu Yen     
The construction on a resort and eco-tourism complex was launched in the central coastal province of Phu Yen on Thursday.
The HCM City-based Tan Viet An House Trading and Investment Joint Stock Company has total investment of VND560 billion (US$24 million) in the complex.
Covering an area of 9.2 hectares in Tuy Hoa City, the Viet Beach project includes an eight-floor hotel, 27 villas, 106 bungalows and some entertainment facilities such as a gymnasium and club, swimming pool, children's playground and restaurants.
Tran Duy Dung, general director of the company, said that the project is scheduled to be completed in two years.
It is expected to create jobs for about 450 local workers. 
GELEX lists on HOSE
The HCM Stock Exchange (HOSE) has announced the listing and trading of shares in Vietnam Electric Equipment Joint Stock Corporation's (GELEX).
Accordingly, GELEX has listed 266.8 million shares, under the stock code GEX at a face value of VND10,000 (US$0.44) per share.
Before January 15, GELEX's shares were traded on the Unlisted Public Company Market (UPCoM) of the Ha Noi Stock Exchange (HNX) at VND28,200 ($1.25) per share.
In 2017, GELEX approved a plan to issue VND500 billion ($22 million) worth of convertible bonds with maturities of up to three years.
Between 2015 and 2017, the company's annual before-tax profit increased by 63.5 per cent, with industrial production accounting for 70 per cent of its sales.
Its current total charter capital is well over VND7.5 trillion ($333 million).
Nguyen Van Tuan, GELEX's chairman, said that the company's listing on HOSE was an important milestone in its development, helping to increase its liquidity for the benefits of shareholders and investors.
GELEX hopes to improve its production capacity and sustainable development in the fields of infrastructure and logistics as well, aiming for a 2018 before-tax profit of VND1.6 trillion.
Tuan expects the company to enhance its levels of transparency, management standards and branding to attract more capital for business investment.
Le Thi Tuyet Hang, HOSE representative, agreed and said that after listing, GELEX would strictly implement the exchange's regulations on disclosure of information transparency to investors and the authorities. 
Rong Viet Securities reports $6m profit     
Rong Viet Securities on Thursday announced it achieved pre-tax profits of VND138 billion (US$6 million) for 2017, a 125 per cent rise from the previous year.
Revenues rose to VND366 billion ($16 million), 42 per cent from securities services, a 32 per cent jump year-on-year.
Brokerage activities contributed more than 23 per cent; the rest came from proprietary investment and was up 98 per cent compared to previous year.
It said its capital had been increased to VND910 billion ($40 million) last year, and would rise to VND1 trillion ($44 million) through a bonus issue next April.
The company plans to keep looking for strategic partners to increase its capital to VND1.2-1.3 trillion ($52-57 million).
This year, it will table at the shareholders meeting a proposal for employee stock ownership of 3 per cent of the new capital.
Rong Viet Securities is one of the top 15 securities companies in Viet Nam.
It was established in 2006.
Ba Huân Company to diversify into processed foods
Ba Huân Company, which supplies fresh products and is well-known for its safe eggs in the southern region, has said that this year it will focus on processed items to offer customers more choices.
Phạm Thanh Hùng, its deputy general director in HCM City, said: "We will also attach special importance to connecting scientists and consumer clubs through seminars to apprise consumers about nutrition, food safety and use of technology in food production."
This is aimed at helping "raise food safety awareness most efficiently," he said.
The company has invested over VNĐ1 trillion (US$44,052) to create a closed production system from farm to fork, including an 18ha poultry farm for eggs in Bình Dương, a 30ha poultry farm for meat in Long An, a feed processing plant with a capacity of 20 tonnes per hour, two poultry egg packaging plants, and a food processing plant with a daily capacity of 50 tonnes all in Long An.
Its major products include chicken, chicken sausages, eggs, flans and other ready-to-eat chicken products, which are available in supermarkets, especially in Hà Nội and HCM City, as well as at traditional markets and safe food shops in large cities.
The company also supplies eggs and poultry meat to many businesses and fast food producers.
Phu Yen calls for investment in key projects

Prime Minister Nguyen Xuan Phuc, ministerial and local authorities, officials, international guests and representatives of a large number of domestic and foreign businesses attended an investment promotion conference in Tuy Hoa City, Phu Yen province on January 19.
At the conference, Phu Yen leaders hoped investors will find opportunities in the potential land.
Lying in the south-central coastal region, Phu Yen has several famous landscapes, and cultural and historical sites, and serves as a gateway to the East Sea for provinces in the Central Highlands. Its main infrastructure is completed with seaports, an airport, a north-south railway and a road network linking neighbouring provinces. Particularly, the Ca Pass Tunnel has been put into operation while the Cu Mong Pass project is expected to complete in early 2019, helping facilitate travelling on Highway 1A.
According to provincial leaders, in addition to incentives under current regulations, Phu Yen has made a great effort to accelerate administration reforms to support businesses and attracted investment in sea and island tourism, cultural, historical and entertainment tourism, infrastructure and urban areas, hi-tech agriculture, agri-forestry and aquatic processing, fishery logistics services, the application of new technologies, industrial automation technology and renewable energy.
They listed projects calling for investment like Xuan Dai Bay luxury sports and entertainment complex, Van Hoa eco-tourism complex and resort, a specialized tuna port, Phu Yen tuna market outlet, and infrastructure for an oil refinery industrial zone.
Earlier, PM Phuc attended a ground-breaking ceremony for Da Rang Bridge over Chua River in Tuy Hoa City.
Vietnam's top taxi firm fears bankrupcy in the era of Grab, Uber

Vietnam's leading taxi company Mai Linh has asked the government to ease its social insurance responsibilities, saying that popular ride-hailing apps are pushing it to the brink of insolvency.
The company has sent the request to the legislative National Assembly, Vietnam Social Security and the Ministry of Finance asking to be released from loan interest payments and penalties for social insurance debts.
As of the end of October last year, the company owed nearly VND182 billion (US$8 million) in workers' social insurance contributions, it said.
The company is asking for its interest and penalties to be frozen for the next 20 years, promising to clear the debt by then and fulfill all its insurance payments from now on.
Starting this year, businesses now face criminal responsibility for workers' social insurance contributions, according to Vietnam's revised Penal Code.
Ho Huy, chairman of the company, said "intense and unfair" competition from Grab and Uber had caused its revenue to drop by 30% from previous years.
The company, which launched its own ride-hailing motorbike taxi app last year, now only makes enough to cover daily expenses and cannot afford to clear its debts and interest payments, he said.
Mai Linh could be driven out of the market soon, leaving its 24,000 drivers jobless, he said.
"Without support from government agencies, Mai Linh will go bust very soon," Huy said in a letter obtained by VnExpress.
The company's communications officer later refused to comment on the issue.
A financial report from Mai Linh showed accumulated losses of nearly VND800 billion (US$35.2 million), 80% of its registered capital, at the end of June 2017. Its workforce has also dropped by 20% from late 2016.
These figures should raise doubts about its ability to maintain stable operations, according to auditors.
Grab and Uber arrived in Vietnam in 2014 and operate both car and motorbike taxi services. The two services have been running on a trial basis since early 2016 and will be officially authorized soon, according to a proposal made by the transport ministry earlier this month.
Since their arrival, Vietnamese traditional taxi firms including Vinasun and Mai Linh have repeatedly reported losses and sliding revenues, blaming "unhealthy" competition from the new players.
Taxi firms have accused the two of tax evasion and devaluation tricks.
Japanese auto makers halt exports to Vietnam in wake of tightened quality checks
Japanese auto manufacturers have decided to suspend exports to Vietnam following stringent quality regulations the Vietnamese government put in place on January 1 this year.
Toyota said on January 16 that it has halted all production for export to the Vietnamese market, Nikkei said in a January 17 report.
The firm manufactures auto components in Vietnam, but imports of completely built units (CBUs) from Thailand, Indonesia and Japan account for around one-fifth of what it sells in the market, said the report.
Fellow Japanese giant Honda had previously planned to consolidate all production of its SUVs in Thailand to take advantage of a new tariff rule that also took effect this year to cut import tariffs for autos built and sold within the Association of Southeast Asian Nations (ASEAN) from 30% to zero.
The company has since abandoned that plan, and production of vehicles intended for the Vietnamese market has been suspended since early January.
In a similar move, Mitsubishi Motors has suspended production in Thailand of its Pajero Sports SUV designed for the Vietnamese market, according to Nikkei.
Vietnam's new decree is aimed at protecting the local auto industry now that import taxes within the region have been eliminated, according to officials.
And it looks like the rule is doing its job and causing difficulties for both importers and exporters of CBUs by costing them more time and money.
The decree stipulates that traders are only permitted to import automobiles if they can provide valid vehicle registration certificates issued by authorities from the countries of origin.
Original quality control certificates for each vehicle and letters of authorization regarding recalls of defective vehicles from the manufacturers are also required, along with copies of quality assurance certificates provided by the countries of origin.
The decree also requires importers to have one car from each batch shipped to Vietnam to go through emissions and safety tests.
Under the previous regulation, only one certificate was required for each model of car, regardless of how many batches were imported.
Toyota Motor Thailand President Michinobu Sugata was quoted by Nikkei as saying that the company had been expecting "a big jump in 2018", but due to the non-tariff barriers, "it cannot export to the market at all".
In November last year, the Vietnam Automobile Manufacturers Association wrote to the Prime Minister urging the government to reconsider the regulation.
The association said it was extremely difficult for traders to get valid vehicle registration certificates issued by authorities from the countries of origin, and the process would take both importers and exporters a lot of time and effort.
Regarding the requirement for emissions and safety tests on every batch of imports, it said the move would raise the cost by an estimated US$10,000 per shipment because traders would have to pay for storage while the cars were checked, rather than selling them straight away.
But the Ministry of Industry and Trade claimed the decree would protect consumers and create fair competition between local auto assemblers and CBU importers.
Vietnamese spent US$2.15 billion importing 94,000 CBUs last year, down 16.8% in volume and 9.6% in value against 2016, customs data showed.
Vietnam caps promotions for prepaid mobile subscribers
Mobile carriers in Vietnam will have less freedom in their promotions to prepaid subscribers following a circular by the Ministry of Information and Communications enforcing a ceiling on how much 'free value' can be offered.
Specifically, telecom providers in the country are now only allowed to offer no more than 20% of a service's value to prepaid subscribers as a bonus during promotional campaigns.
The limit will apply to different forms of promotion, including bonus credits, in-kind benefits, and other perks.
Previously, the maximum promotional value was set at 50% for both prepaid and post-paid subscribers. This limit remains unchanged for the latter.
According to the Ministry of Information and Communications, the new promotion ceiling aims to promote post-paid subscriptions and represents a crackdown on the abuse of prepaid SIM cards to send out spam messages, a technique typically employed by advertisers and online scammers.
The regulation will also ensure fairer competition in the telecom market and better protect the rights of mobile subscribers, the ministry said.
Prepaid users who switch to post-paid subscription plans will enjoy the 50% promotion limit after the switch.
"Mobile carriers found to be in violation of this new regulation will be subject to administrative penalties and tax arrears for illegal promotional campaigns," a ministry official said.
Recently, three major providers in Vietnam – Viettel, Mobifone and Vinaphone – were forced to stop offering data plans that granted subscribers unlimited data to access Facebook and YouTube.
These plans were found to be in violation of pricing regulations for telecom services.