Vietnam's husbandry sector has felt the heat from foreign agricultural firms who are taking advantage of import tariff removal from the ASEAN Economic Community and the ASEAN-China Free Trade Agreement this year.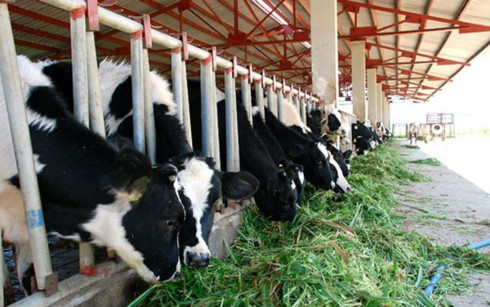 Dang Dinh Quyet, a representative of the Ministry of Agriculture and Rural Development's Livestock Production Department, told VIR that last year, the rate of foreign enterprises asking permission from the ministry for importing animal feed materials into Vietnam climbed 20-25% year-on-year.
"Foreign animal feed producers are strongly expanding their business in Vietnam. Many are working with the ministry on their upcoming projects in Vietnam," he said. "Import tariff slashes under the ASEAN Trade in Goods Agreement (ATIGA) and the ASEAN-China Free Trade Agreement (ACFTA) are the main reasons, in addition to Vietnam's great potential.
According to the Ministry of Industry and Trade, under its commitments this year, Vietnam will have to remove 669 tariff lines under ATIGA, and 588 tariff lines under ACFTA. Average import tariffs for livestock-related products will be reduced to nearly 0%.
These products include beef, pork, sheep, goat, poultry, and many types of frozen aquatic products, as well as dairy products, animal feed, and poultry eggs.
Under the ASEAN Economic Community (AEC) and ACFTA, investors may concentrate production lines in a chosen partner country, and then export finished products tariff-free to other ASEAN countries as well as to ASEAN's free-trade partners in the region (China, India, the Republic of Korea, Japan, Australia, and New Zealand).
China's New Hope Group is reported to have a plan to invest US$407 million into constructing several pig-raising complexes in Vietnam this year, with a combined annual capacity of 2.3 million pigs. Construction will likely begin in September. Currently, the firm has six animal feed mills and an egg-hatching facility in Vietnam.
Thailand's GreenFeed JSC is building its sixth animal feed mill in the southern province of Vinh Long, in addition to its five operating mills in other localities. The total annual capacity of these six mills will be 1.8 million tonnes per year.
The Republic of Korea's CJ Vina Agri Company will also officially open its sixth animal feed factory in the south-central province of Binh Dinh in this year's first quarter, after one year of construction. The factory has a capacity of 150,000 tonnes per year, and total investment capital of VND448 billion (US$20.36 million).
Presently, foreign firms hold the lion's share of the local animal feed market in Vietnam, led by Thailand's CP (18%), France's Proconco (12%), China's New Hope (10%), US firm Cargill (8%), and Thailand's Green Feed (8%).
According to a recent survey by the Vietnam Institute for Economic and Policy Research on the impacts of AEC on Vietnam's livestock sector, local livestock production will most likely decline due to fiercer competition from AEC partners.
"Consumers and importers will gain, while exporters and producers will lose out due to an increase in competition with imported goods," said the institute's head Nguyen Duc Thanh.
The survey revealed that within AEC, tariff cuts by Vietnam in the livestock sector negatively affect the total production value of the sector mainly due to higher competition from imported goods.
Animal, meat, and dairy products are the livestock sub-sectors mist affected by tariff cuts. Once the tariffs are removed by AEC, substitution for cheaper imports of meat products reduces the demand for domestically-produced meat products, and this effect is projected to result in a US$107 million loss for the livestock sector.
Under the impacts of AEC tax cuts, livestock exports-mainly in pigs and poultry-from Vietnam to other ASEAN nations are projected to drop. Decreases of 7% to the Philippines, 82% to Thailand, and 3% to Indonesia are expected.
VIR