Debate about Vietnam losing grip of its signature brands has intensified, as overseas investors continue their takeovers of leading businesses in the country.
Mondelez International took over Kinh Do Corporation's confectionery business and rebranded it Mondelez Kinh Do
Local brands in foreigners' hands
Last week, Vietnam's number-one brewery Sabeco was acquired by Thai Beverage (ThaiBev) in a $4.8 billion deal. This is the latest development in Vietnam's booming merger-and-acquisition (M&A) market, which usually sees foreign investors purchasing top domestic firms and renaming their brands.
Another recent high-profile transaction came in Mondelez International taking over Kinh Do Corporation's confectionery business and rebranding it Mondelez Kinh Do. In 2016, the Korean conglomerate CJ bought out Cau Tre Foods and changed the brand's name to CJ Cau Tre.
Some other takeovers, such as the Daesang takeover of Duc Viet Foods and the ThaiBev purchase of Sabeco, have not included any rebranding, but at the very least, foreign buyers have gained control of the market share and distribution network that these Vietnamese firms have built up throughout the years.      
This trend started in the 1990s, when the British-Dutch conglomerate Unilever took over the Vietnamese toothpaste brand P/S and brought its own brand Close-Up to Vietnam through the P/S distribution network. In a more extreme case, Da Lan toothpaste, which was a top consumer brand in the late 20th century, disappeared after being acquired by the American firm Colgate.
Some experts are concerned that, as Vietnam becomes more open to overseas M&As, the country may lose its well-established brands to foreign investors. Following the Sabeco sale, economic expert Pham Chi Lan expressed her concern that foreigners may treat long-standing Vietnamese brands as disposable vehicles for their market expansion.
"I'm sad to see Vietnamese brands, after so many years of development, being taken over by overseas buyers. I think of this as a big loss for Vietnamese pride," she said.    
Branding has also been a cause of dispute between Vietnam's Bibica Corporation and its major shareholder, South Korea's Lotte Group. Bibica refused to rebrand itself as Lotte Bibica or distribute Lotte's products in Vietnam, which has led to tension between the partners. This conflict was only resolved when a Vietnamese investor acquired enough shares to counterbalance Lotte's influence in Bibica.  
Let the market decide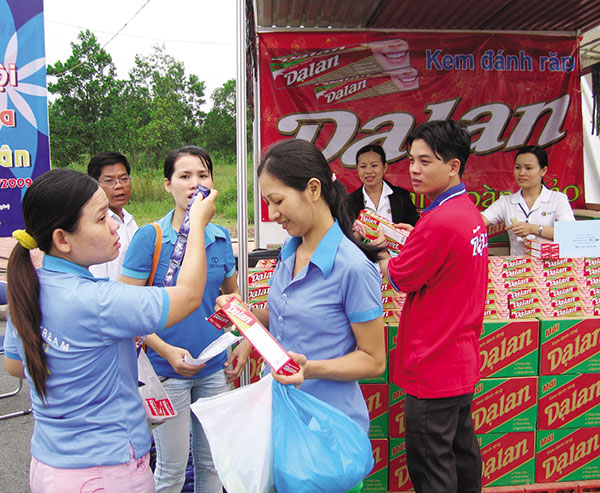 Local brand Da Lan toothpaste disappeared after being acquired by the American firm Colgate
Other experts acknowledged their concern in losing Vietnamese brands, but shared a more positive viewpoint on this sensitive matter. Kelvin Tan, CEO of HSBC Thailand, told VIR that M&As should be considered "long-term partnerships" rather than "hostile takeovers".
"Thai investors and Vietnamese companies can collaborate to provide the highest-quality products to Vietnamese consumers, as well as help Vietnamese brands expand overseas. Competition between Thai and Vietnamese products will result in more choices to consumers in Vietnam, which I believe is a good thing," said Tan.
Similarly, Tran Manh Hung, head of Baker & McKenzie's Intellectual Property Department in Vietnam, said that these M&As will force Vietnamese domestic brands to change, adapt, and comply with international rules, outweighing concerns about the brands losing out in their home market.
According to Hung, foreign investments in Vietnamese brands will make them stronger and more competitive in international markets. M&As should be seen as encouraging news as they show that Vietnam is continuing to be regarded as one of the most dynamic and attractive markets in Asia and the world.
In the Sabeco case, Thai Beverage is expected to improve the state-owned firm's productivity and efficiency, as well as helping it export products overseas.   
Nguyen Duc Hung Linh, director of Retail Research and Investment Advisory at Saigon Securities Incorporation, said that he understood the feeling of national pride attached to popular Vietnamese brands. However, he believes that the Vietnamese economy needs foreign investments to grow and help develop domestic companies. 
"Vietnamese businesses are not strong enough on their own to expand overseas, so the country still needs to woo foreign capital. Hopefully, with the help of foreign investors, we can see more Vietnamese brands in global markets in the next three to five years," Linh said.
Linh also pointed out that foreign investors should not be accused of "mistreating Vietnamese brands" if they conducted the M&As according to market rules and help to improve efficiency.
In some cases, according to Linh, domestic investors are more likely to be guilty of exploiting companies for their own gain, without contributing to corporate governance or market expansion. This practice is usually called "group interests" in Vietnam, in which domestic investors partner with dishonest government officers to buy out firms via questionable transactions.
VIR