VietNamNet Bridge - Vietnam Airlines, Vietjet, Petrolimex, VP Bank and Vincom Real were the five 'blockbusters' that significantly increased the capitalization of the stock market.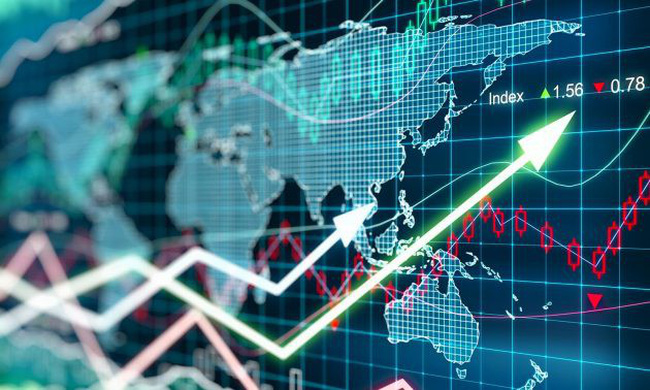 The VN Index is approaching the 1000 point threshold
With the strong rise of shares with high capitalization value such as VNM, VIC, GAS, HPG, SAB, VCB and ROS, the VN Index in early December witnessed the sharpest hike of 43 percent compared with the same period in 2016. 

This helped Vietnam become one of the fastest-growing markets in the world. The market liquidity exploded with trading value of over VND5 trillion per session, much higher than VND3 trillion in 2016.

The capitalization value of the total market climbed to VND3.36 trillion, an increase of 73 percent over 2016, equal to 74.6 percent of GDP. 

Tri Thuc Tre estimated that VP Bank, Petrolimex, Vietjet and Vincom Retail, the four enterprises which debuted on HOSE in 2017, helped the market capitalization value increase by VND300 trillion.

Airlines take off

The availability of 1.23 billion HVN shares of Vietnam Airlines on UpCom on the first day of 2017 with the reference price of VND28,000 per share contributed $1.5 billion to the market's capitalization value.


The capitalization value of the total market climbed to VND3.36 trillion, an increase of 73 percent over 2016, equal to 74.6 percent of GDP. 
With HVN closing price at VND38,000 per share on December 22, 2017, the HVN price increased by 36 percent compared with the starting price, thus raising the capitalization value of the oldest air carrier in Vietnam to over $2 billion.

The State still holds a 86 percent stake of Vietnam Airlines but plans to divest 430 million shares to reduce the ownership ratio to 51 percent in the next three years.

Vietjet, the other air carrier, also stirred up the bourse when it debuted in late February. With the starting price of VND90,000 per share, its capitalization value was VND27 trillion, or $1.2 billion. 

After nearly one year, VJC share price rose by 54 percent to VND140,000 per share. Together with the share issuance to raise charter capital, Vietjet's capitalization soared by 130 percent to $2.8 billion just within 10 months.

Petroleum distribution giant

Petrolimex, the petroleum distributor which holds 50 percent of market share, entered the bourse in April. With PLX starting share price at VND43,200 per share and capitalization value of VND55.892 trillion, or $2.5 billion, PLX was among the top 10 enterprises with the biggest capitalization value on the Vietnam bourse.

With a steady increase, PLX price rose by 60 percent and capitalization value reached $3.5 billion.

VPBank – emerging bank

2017 was a prosperous year for bank shares. VPBank began listing shares on the bourse later than other banks but it gained the most impressive results with the highest capitalization value among private banks, which rose from VND52 trillion to VND60 trillion, or $2.65 billion.
RELATED NEWS
Three scenarios for Vietnam stock market in late 2017
Kim Chi