Pangasius fish export tops $1.75 billion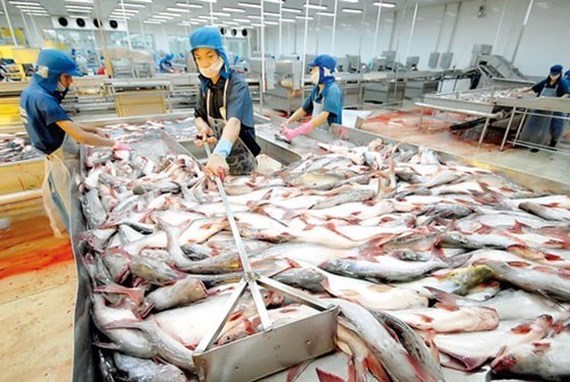 Vietnam Pangasius Fish Association said that pangasius fish export turnover this year exceeds US$1.75 billion and the fish farming area has increased back in the Mekong Delta region.

Specifically, new farming area is 3,299 hectares, up 14 percent while harvest area reaches 3,415 hectares, up 7 percent.

Large farming provinces are Dong Thap with 1,200 hectares, Ben Tre 753 hectares and An Giang 589 hectares.

The fish output and export turnover have strongly increased because of advantageous consumption from Chinese market which has replaced the US to become the largest import market of Vietnamese pangasius fish.

Pangasius price now approximates VND28,000 a kilogram in the Mekong Delta, the highest level this year and the record high for the last ten years.

Lam Dong eyes more high-quality foreign investment

A conference was held by the People's Committee of the Central Highlands province of Lam Dong on December 26, discussing ways to draw in more "high-quality" foreign investment in the locality.

The conference on investment, trade and tourism promotion took place within the framework of the 7th Da Lat Flower Festival that is underway in Da Lat city. 

The event gathered representatives from about 50 domestic and foreign companies in the province alongside a number of experts and scholars from ministries and state agencies.

Foreign investors have poured about 528 million USD into 103 projects in Lam Dong while the province has attracted approximately 115 trillion VND (5.06 billion USD) in 820 domestic projects, said Vice Chairman of the province's People's Committee Nguyen Van Yen, noting most of the projects are run by small- and medium-sized enterprises (SMEs).

Yen voiced his concern over ineffectiveness of many foreign investment projects while many foreign investors have taken advantages of local investment promotion policies to occupy land for illegal purposes, like transfer of land use rights without permit. 

To solve the issues, Lam Dong should give priority to big firms with good financial capability and sustainable investment, instead of SMEs, said Director of the Vietnam Institute of Economics Tran Dinh Thien. SMEs have limited funding so most of them want to earn profit at any cost, leaving severe impacts on local environment and economics, he explained.

Delegates to the conference suggested that the province should also further accelerate public administrative reforms and put more efforts to unleash its potential in tourism, hi-tech agriculture and biotechnology.

NFSC: Bad debts down to 9.5%

The 2017 Financial Market Overview Report released on December 26 by the National Financial Supervision Commission (NFSC) noted that bad debts have been cut from 11.5 per cent of total credit as at August to 9.5 per cent now, primarily due to the recent implementation of the National Assembly's resolution on bad debt settlement.

Local banks, thanks to quicker debt resolution, have managed to clear VND70 trillion ($3 billion) in bad debts over the past year, while the rising property market has boosted credit growth, the report said.

Return on assets (ROA) and return on equity (ROE) in the banking sector have both reached their highest levels in five years, the report noted. The NFSC estimated credit growth of 19 per cent this year amid an increase of 17.3 per cent in the sector's total assets.

State Bank of Vietnam (SBV) Governor Le Minh Hung told a plenary session last month that non-performing loans (NPLs) in the banking system, if fully calculated, were estimated at VND566 trillion ($24.93 billion) as at the end of September, accounting for 8.61 per cent of total credit.

NPLs registered on Vietnamese banks' balance sheets, mostly incurred due to a slowdown in the country's real estate market in the early 2010s, had been cut to 2.34 per cent of the total by the end of September, down from 2.46 per cent at the end of last year, according to SBV Governor Hung. The central bank set up an institution to deal with toxic loans, the Vietnam Asset Management Company (VAMC), in late 2013.

Credit ratings agency Moody's in October upgraded its outlook for Vietnam's banking system from stable to positive for the next 12-18 months, reflecting the country's strong economic prospects and the positive outlook for most rated banks.

Together with cutting bad debts, quicker debt resolution could also reduce the burden on banks, which would better position them for the scheduled implementation of the Basel II standards in January 2020. As it stands, banks' reported capital adequacy ratios (CARs) meet minimum requirements, but these are based on official NPL ratios that understate problem loans in the banking sector.

"Capital adequacy in the banking system is poor because rapid credit growth is already outpacing internal capital generation and sources of external capital are limited," Moody's lead analyst Ms. Daphne Cheng told VET, adding that the government intends to rely on banks' earnings to close their capital shortfalls, given its lack of fiscal resources to inject fresh capital.

Technology ecosystem for restaurants introduced

Dcorp R-Keeper, a management solutions provider for the restaurant industry, has recently introduced the latest technological solutions for restaurants and coffee shop owners to stay abreast of development in the fourth industrial revolution (Industry 4.0), improve the customer experience, and increase business efficiency. A seminar was held recently in Ho Chi Minh City to review the technology ecosystem for the food & beverage (F&B) industry.

As a pioneer in providing POS solutions and management solutions for restaurant, coffee shop, or other franchise chains, it has nearly ten years of history in the field of providing management solutions to the restaurant industry.

In the face of a developed F&B industry and the explosion of technology around the world, restaurants continually need to adopt new strategies, optimize operations, and have a powerful management system that can minimize costs and increase profits.

A the briefing event on its technology ecosystem, the company introduced its most advanced technologies being delivered to the market in the near future, such as ordering on any device (tablet, mobile phone, website, scanning QR codes, or a chat bot), convenient billing and processing of bills (mobile payment, e-wallet, e-receipt), food omni-chanels, and customer service Interaction (e-vouchers, e-coupons, membership management apps, etc.).

"More and more F&B companies are joining the market, putting great pressure on the structure of existing restaurants and coffee shops," said Mr. James Duong Nguyen, General Director of Dcorp R-Keeper Vietnam. "In Vietnam, many problems must be resolved regarding the optimization of operations, costs, and revenue management, increasing the quality of food and, especially, providing top utility tools to increase the customer experience, shorten ordering and waiting times, using the mobile apps of customers, and gradually removing the need for paperwork."

Dcorp R-Keeper also officially launched its marketplace for developers and technology companies to contribute apps and features to the R-Keeper POS system and the development of high tech gadgets and utilities for restaurants.

Dcorp R-Keeper is a partner of more than 2,000 restaurants and hotels, including leading brands such as Golden Gate, Red Sun, QSR, Wrap & Roll, NISO, and the Hoang Yen Group.

Real estate & construction enterprises up sharply

The number of real estate and construction enterprises rose sharply in 2017, by 62 per cent against 2016, with registered capital rising 66.5 per cent.

The total number of newly-established enterprises and enterprises returning after suspending operations were 153,307 in 2017, according to the Ministry of Planning and Investment, of which 126,859 were newly-established enterprises.

Total registered capital was VND3.2 trillion ($140.9 million), including registered capital of VND1.3 trillion ($57.2 million) at newly-registered enterprises and additional registered capital of VND1.8 trillion ($79.2 million).

Wholesale retail, repair, automobiles and motorbikes saw 45,411 newly-established enterprises, accounting for 35.8 per cent of the total, manufacturing and processing 16,191 enterprises, or 12.8 per cent, and construction 16,035 enterprises, or 12.6 per cent.

Wholesale, retail, and motor vehicles had the largest number of registered enterprises. In terms of growth, real estate lead the way, with numbers increasing 62 per cent.

Registered capital in real estate businesses reached VND76.7 billion ($3.37 million) on average in each enterprise, electricity, water and gas distribution VND65.7 billion ($2.8 million), arts and entertainment VND18.2 billion ($801,472), and natural resources exploitation VND17.6 billion ($774,934).

Eight component projects of North-South Highway await investment capital

The total investment capital of the eight component projects under the eastern North-South Highway is estimated at VND104.1 trillion (equivalent to $4.6 billion) during 2017-2020.

The Ministry of Transport has just issued Decision No.3535/QD-BGTVT announcing the portfolio of component projects constructing certain segments of the eastern North-South Highway in the 2017-2020 period.

These build-operate-build (BOT) projects will meet the transportation demand at some urgent segments, building the eastern North-South Highway with high capacity, safety, and high speed way.

These projects will connect political-economic centres, especially three major economic zones, economic parks, and industrial parks, contributing to the completion of a synchronous infrastructure system, the promotion of socioeconomic development, ensuring national defense-security, and improving economic competitiveness.

These projects have started preparations since earlier this year and are expected to be finished by 2021.

Deputy PM approves adjustments to inland container depot master plan

Deputy Prime Minister Trinh Dinh Dung has approved adjustments to the master plan for Vietnam's inland container depot development to 2020, with a vision to 2030. 

The adjustments aim to help inland container depot systems meet the increasing demand of export-import transport, increase sea ports' capacity for goods clearance, ensure the safety of goods and reduce traffic congestion in urban areas.

Inland container depots will be developed into centres for organising goods transport and providing logistics services. 

By 2020, Vietnam's inland container depot systems are hoped to clear at least 15-20 percent of the volume of goods containers, with a total capacity of 4 - 6.84 million TEU/year. The figures is expect to reach at least 25-30 percent and between 12 - 17.6 million TEU/year, respectively by 2030. 

According to the plan, 15 inland container deports will be built across the country, including six in the north, six in the central and Central Highlands and three in the south. 

Total investment capital for the plan to 2020 is estimated at 9-15 trillion VND (396.9 -661.5 million USD), while for 2020-2030 funding will be about 20-22 trillion VND (882-970.2 million USD). 

In the next three years, the work will focus on developing inland container deports along transport corridors connecting to large seaports in the north and the south, with priority given to ports close to industrial clusters and parks, export processing zones, logistics centres and international border gates. 

The plan will also focus on measures to enhance State management of the development of inland container deports, logistic centres and the involvement of railway and internal waterway sectors in container transport.

Tien Giang star-apple fruit breaks into US market

Vietnam has become the first country allowed to export star apple to the US after 10 years of negotiations, with the first batch of the fruit from the Mekong Delta province of Tien Giang exported to the market on December 26.

In preparation for the shipment of one tonne of star apples to the US, local enterprises inked consumption contracts with cooperatives in My Long, Huu Dao and Long Hung communes (Chau Thanh district) and Ban Long communes (Cai Lay district). 

Some 56.34 hectares of star apples in Tien Giang province have been designated for growing fruit for export to the US.
 
Together with litchi, longan, rambutan and dragon fruit, star apple is the fifth Vietnamese fruit allowed to be sold in the market.

Vietnam has about 5,000 hectares of star apples, mainly in the Mekong Delta province of Tien Giang (3,100 hectares) and Can Tho city (1,200 hectares). Fruit productivity is about 18-22 tonnes per hectare. Total annual output exceeds 60,000 tonnes.

Van Phong petroleum bonded warehouse expects no losses in 2018
     
The Van Phong petroleum bonded warehouse in Khanh Hoa Province expects to not have accumulated losses, returning to normal business in 2018, according to an official of the National Petroleum Group (Petrolimex).

Petrolimex chief accountant Luu Van Tuyen said in 2017, Van Phong petroleum bonded warehouse achieved pre-tax profit of VND160 billion. However, according to the monitoring report of Petrolimex, the warehouse has currently experienced accumulated losses of some VND120-130 billion after minusing net profit of 2017.

Tuyen said with the positive prospects for the warehouse business next year, it expects to not incur accumulated losses in 2018.

Tuyen said at present, Petrolimex has increased its shares at the Van Phong Petroleum Bonded Warehouse Joint Stock Company to 85 per cent from 51.4 per cent after Petrolimex Singapore Pte Ltd transferred its capital amounting to $14 million at the warehouse company to Petrolimex.

The Ministry of Industry and Trade approved this transaction under current regulations.

The Van Phong petroleum bonded warehouse began operations in June 2012 with total investment capital of $125 million and total capacity of 505,000cu.m.

However, according to Petrolimex, in 2012 alone, Van Phong Petroleum Bonded Joint Stock Company suffered a loss of VND170 billion. Since it was a new warehouse, the leasing did not reach the designed capacity. Leased capacity reached 20 per cent in 2013 and 43 per cent in the first half of 2014. 

Auto market posts slow growth

Vietnam Automobile Manufacturers' Association (VAMA) reported that auto market sales in November reached 24,752 products, up 13 percent over the previous month after many consecutive months of reduction.

The sales hit 244,670 automobiles during the first 11 months this year, down 10 percent over the same period last year. Of these, passenger cars dropped 12 percent, commercial automobiles slid 5 percent and specialized vehicles fell 15 percent.
During the 11 months, the sales of domestically assembled products reduced 19 percent while import items increased 9 percent.
Automakers' price cut by tens to hundreds of million dong stimulated demand in November, experts said.
VAMA forecast that it is infeasible for auto consumption to post a year on year increase of 10 percent in 2017 because the year 2017 will end in only a week.

Garment, textile export turnover expected to reach $31 billion

HCMC Textile, Garment, Embroidery and Knitting Association (AGTEX) forecast that the industry's export turnover will reach US$5.27 billion in November and December and $31 billion this year, a year on year increase of 10.23 percent.

2017 is not an advantageous year but garment and textile has obtained satisfactory growth, said the association.
Besides traditional markets such the US, the EU, Japan and South Korea;  China, Russia and Cambodia have posted good growth rates.
Export items have been diversified with high added value products including cloths, fiber and materials.
At present, businesses are sprinting to complete signed contracts and set plans. In addition, many large firms have got orders for the first quarter of next year.
AGTEX forecast that 2018 will be better than 2017 for the garment and textile industry with growth rate remaining at two digit numbers.

Pineapple price falls, farmers filled with despair

Pineapple farmers in the Mekong delta are filled with despair because fruit price dropped drastically
 
The Mekong delta province of Tien Giang, the biggest pineapple area in the region, has expanded the growing land of pineapples in Tan Phuoc district to 16,000 hectares, and is expecting to produce over 260,,000 tons annually for domestic consumption and export.
However, this year, fruit price dropped sharply. Farmer Dang Van Hoa who works in 20 hectares of the fruit in My Phuoc commune looked unhappy because traders proposed buying a ripe first-grade pineapple at VND4,000 - 4,500 while the second-grade and third-grade at VND2,000 - 2,500 and VND1,500 a fruit. With such price, farmers almost have made no profit.
Farmers in districts Go Quao, Vinh Thuan and U Minh Thuong in Kien Giang Province also moan about the miseries of falling price.
Head of the Department of Agriculture and Rural Development in VInh Thuan District Vo Hoang Nguyen said before the district grows the fruit in the area of over 5,000 hectare yet because of its fluctuating price plus fields of pineapple are not invested by enterprises any more, farmers chopped down the fruit to grow other tree or raise shrimp.
At present, the district has approximately 1,500 hectare of fruit; worse, the area is predicted to shrink if the price continues falling.
Cau Duc pineapple in Hau Giang Province is well-known nationwide yet farmers here also suffered the same fate when price is down drastically. People's Committee in Hoa Tien commune said farmers grow pineapple in 1,000 hectare accounting for 75 percent of its total agricultural land. The commune's pineapple farm is the biggest one in the province.
For years, the fruit is the major tree in Hoa Tien Commune; accordingly, residents' earnings is affected seriously when the fruit price is down.
Explained the falling price, trader Nguyen Van Lam blamed for bumper harvest in the Mekong delta while demand of domestic consumption and export is not high resulting in low price. The supply exceeds the demand. Before, farmers can make profit of VND30 - 50 million a hectare per year, they can not make the same this year even some suffered loss, Lam said.
Deputy director of the Department of Agriculture and Rural Development in Hau Giang Le Van Doi said the province has 1,800 hectare of pineapple-growing land. Experts warned farmers to apply technique to avoid mass harvest at the same time to curb dropping price. Furthermore, authority encouraged farmers to join in cooperative which firms invest in infrastructure and buy all products.
Thanh Thang Cooperative in Hoa Tien Commune with 75 members cultivates in the area of 160 hectare supply 3,000 tons annually to the market. Participation in cooperative is inevitable trend in the future for farmers.

Vietnam needs VND9-15 trillion to develop dry port system

Deputy Prime Minister Trinh Dinh Dung has signed a decision to adjust Vietnam's dry port system plan in which the country needs VND9-15 trillion (US$397-661.48 million) to develop dry ports by 2020.

According to the plan, the northern region will build dry ports in coastal economic areas; Hanoi-Lao Cai, Hanoi-Lang Son and Hanoi-Thai Nguyen-Cao Bang economic corridors; Northwest and Southeast Hanoi economic areas.

Central region and Central Highlands will build six works in Road 9, 8 and 12A economic corridors; Da Nang-Thua Thien Hue, Road 14 and Nghi Son economic areas and the Central Highlands.

The southern region will implement the plan in Northeast and Southwest HCMC economic areas and the Mekong Delta.

No quality tests for polluting diesel autos

Vietnam Register will not conduct quality tests on diesel-fueled automobiles if they fail to meet emissions requirements as provided in the Prime Minister's Decision 49/2011/QD-TTg as from next year, Hai Quan newspaper reports. 

The agency has recently told auto manufacturers, assemblers and importers to strictly observe the roadmap for sticking with the auto emissions standards in Decision 49.

Enterprises have to review all plans to manufacture, assemble and import diesel autos that meet Euro 2 emissions standards and ensure their plans to be done before the year-end. 

As the Ministry of Transport reviewed earlier, as of this month, there are 47 enterprises continuing with plans to import and manufacture Euro 2 diesel autos.

To ensure the effective implementation of the roadmap concerning Euro 4 emissions standards, Vietnam Register has been asked to examine the operation plan of each and every firm, report auto quality testing results to the ministry before the end of each month, propose solutions and simplify procedures so that enterprises can market their products before December 31.

Forthcoming Labor Code amendments help cut business costs

Forthcoming amendments to the Labor Code will help reduce business costs but still guarantee the rights of employees, heard a conference in Hanoi City on December 21.

Vu Tien Loc, president of the Vietnam Chamber of Commerce and Industry (VCCI), was cited by An Ninh Thu Do news website (anninhthudo.vn) as saying that creating new jobs is a decisive factor behind economic growth.

Micro, small and medium enterprises play a crucial role in job creations, he noted. Vietnam has around 120,000 startups a year, with each hiring 10 people, and this means they generate 1.2 million new jobs. That is not to mention the companies that expand operations also increase employment.

A survey by VCCI shows around 70% of local enterprises intend to expand production in the coming time. Therefore, the annual target for 1.8 million new jobs is attainable.

Tran Thi Lan Anh, director of VCCI's Bureau of Employer Activities, said the upcoming amendments to the Labor Code aim to protect the fundamental rights and responsibilities of citizens in the fields of labor, labor relations and labor markets by institutionalizing the provisions of the 2013 Constitution.

Labor Code revisions, if any, should allow employers to terminate labor contracts unilaterally if their employees are absent from work for more than five days without proper reasons. The code should also recognize the textile and apparel industry as a labor sub-leasing one, according to a representative of the Vietnam Textile and Apparel Association.

The association proposed increasing overtime hours to no more than four hours a day, and no more than 400 hours a year.

Mai Duc Thien, deputy head of the Department of Legal Affairs, said the Ministry of Labor, Invalid and Social Affairs would submit draft Labor Code revisions to the National Assembly in 2019.

Cash payments targeted at below 10% in 2020

The proportion of cash payments in all transactions is to be brought down to below 10% as per the non-cash payment scheme towards 2020 announced by the Government, Thanh Nien newspaper reports.

The entire market will have at least 300,000 POS terminals with the number of transactions to reach 200 million a year. All supermarkets, shopping malls, modern distribution facilities and State Treasury offices will be equipped with POS terminals.

As shown in a report of the central bank, the ratio of cash to total means of payment dropped from 19.02% in 2005 to 14.02% in 2010 and 11.45% last August. Thus, the target to reduce it to less than 10% looks achievable.

In addition, the use of bank cards is on the rise, with stable growth in card issues, volumes and transaction values. As of last September, the accumulated number of cards exceeded 127 million (up 5.5 million cards against last June), while there were 17,396 automated teller machines (ATM) and 260,187 POS terminals nationwide. The market has 76 suppliers of payment service via the Internet and 39 suppliers of mobile payment.

Some regulations to become effective in the coming time require payments via bank accounts such as the central bank's draft document concerning capital disbursement at credit institutions.

But in reality, some enterprises still shy themselves away from bank transfer due to transfer costs. As for restaurants and shops, they are not yet interested in having POS terminals due to the fact that they have to pay a fee of 1.5-2.5%.

According to financial experts, there should be policies encouraging non-cash payments, especially low card and POS fees for both users and those accepting cards.

Bui Quang Tin, a financial expert, was cited by Thanh Nien newspaper as saying that the target of having cash payment below 10% of total payments in 2020 is attainable thanks to increasing numbers of POS terminals and ATMs. However, certain individuals and enterprises do not want to make payments via banks for fear of having their information known to management units.

The use of cash out of total payments in Southeast Asian countries ranges between 11% and 17%. Meanwhile, a much lower proportion is recorded in European countries, such as below 1% in Sweden and Norway.

Seafood exports grow sharply

Vietnam had exported US$7.6 billion worth of seafood in the year to end-November, up 18.9% over the same period last year, Nguoi Lao Dong newspaper quoted a report of the General Department of Vietnam Customs.

Although the U.S. market posted a mild decline of 1.7%, four other large markets, namely the EU, Japan, China and South Korea, registered growth of over 20%. Therefore, total export turnover of seafood may exceed US$8 billion in all of this year.

Last year, China spent US$860 million importing seafood from Vietnam, but the number surged to more than US$1 billion in January-November this year, making China one of Vietnam's seafood importers with turnover of over US$1 billion. Among other major markets were the U.S. with US$1.3 billion, the EU with US$1.25 billion and Japan with US$1.19 billion.

Tran Van Linh, chairman of Thuan Phuoc Seafood and Trading JSC, said China's demand has surged, offering more opportunities for local exporters when Vietnamese tra fish exports to traditional markets such as the U.S. and the EU have faced difficulties.

Despite many obstacles in traditional markets, Vietnam can generate US$1.8 billion from tra fish exports, and the robust growth is mainly attributed to more shipments to the Chinese market.

Hang Van, deputy director of Truong Giang Seafood JSC, said China is Vietnam's biggest tra fish buyer now with a market share of 23%. Tra fish price is forecast to remain high in the next three months as the neighboring country has high demand for the product.

According to the Export-Import Department under the Ministry of Industry and Trade, seafood shipments via Mong Cai border gate have increased significantly as exporters are shipping high-quality products to China to meet the demand of Chinese consumers at the end of the year.

However, some Chinese traders have bought poor quality seafood from Vietnam and supplied to their market with fake certificates, negatively affecting Vietnamese seafood exporters' prestige. Therefore, authorities should take measures to tackle the problem, ensuring the sustainable development of the sector.

Material tra fish price has hit a record high of VND28,500-29,000 a kilogram, resulting in a profit of VND5,000 per kilogram for farmers.

Meanwhile, prices of tiger and white-legged shrimp in Ca Mau Province, which is the country's largest shrimp producer, have increased considerably since early September to VND210,000-215,000 (US$9.25-9.47) and VND104,000-105,000 per kilogram respectively. 

Besides, the shrimp farming area has also expanded, leading to high seafood output to supply processing plants and higher income for farmers.

Ngo Thanh Linh, general secretary of the Ca Mau Association of Seafood Exporters and Producers (CASEP), said most shrimp processing plants in the province are in dire need of material as farmers could meet only 40-50% of the demand. Due to high prices, enterprises find it hard to import material shrimp from other countries.

As of November, Vietnam had exported nearly US$3.5 billion worth of shrimp, up nearly 22% year-on-year. The figure may reach US$3.8 billion this year, rising 20% over last year.

Vietnamese shrimp exports to the EU have grown nearly 22% this year as shrimp of India, which ships a large volume of the product to the bloc, was found contaminated with banned antibiotics, said Tran Van Linh.

Management of consumer finance companies to be tightened

The State Bank of Vietnam (SBV) will closely monitor and inspect the operation of consumer finance companies to ensure a transparent and healthy consumer credit market.

Data of SBV shows consumer credit has grown strongly in Vietnam in recent years. The total amount of consumer credit has seen a six-fold increase since 2011 to VND960 trillion (about US$42.3 billion), accounting for 15.7% of total outstanding loans, Thanh Nien newspaper reports.

For finance companies alone, the total amount of consumer credit has increased 10 times since 2011 to VND74 trillion, making consumer credit the fastest growing segment with average outstanding loan growth rate of 40% per annum in the last three years.

According to a report of the National Financial Supervisory Commission, consumer loans will maintain the high growth momentum in the coming time. The country's total outstanding consumer loans in the year to end-November had soared by an estimated 59% compared to end-2016.

Loans for purchasing and repairing apartments, and transferring residential land account for 52.9% of the total, up from 49.5% against late last year. Loans for buying home appliances make up 15.3% while car loans account for 8.3%.

At present, there are 16 consumer finance companies in Vietnam, including dominant players such as FE Credit and Home Credit.

Nguyen Tri Hieu, an economic specialist, said foreign investors have boosted investment into consumer credit in Vietnam. Therefore, SBV has decided to closely monitor consumer finance companies to ensure that they operate properly and comply with law.

SBV urged to amend regulations to back real estate market

The HCMC Real Estate Association (HoREA) has written to the State Bank of Vietnam proposing the issuance of new regulations and amending the current rules to support real estate market growth, according to Dau Thau newspaper.

HoREA petitioned SBV to amend Circular 36/2014/TT-NHNN and Circular 06/2016/TT-NHNN in a way that allows credit institutions and branches of foreign banks to continue using parts of their short-term deposits to make long-term loans for homebuyers and developers.

HoREA put forth two proposals.

In the first proposal, the central bank is asked to continue allowing credit institutions and branches of foreign banks to use 50% of their short-term funds for making medium and long-term loans next year. The policy will help support the growth of the economy as well as the property market.

As for the second proposal, HoREA agreed with a maximum ratio of 45% of short-term funds being used as medium and long-term loans between January 1 and December 31 next year stated in a draft circular amending and supplementing Circular 36/2014/TT-NHNN.

Besides, HoREA made proposals relating to the implementation of supporting policies for those purchasing affordable commercial and social housing.

HoREA proposed SBV launch housing credit packages to support buyers of social and commercial houses valued at some VND1 billion each according to Resolution 46/NQ-CP of the Government.

The central bank should allocate VND1 trillion to four credit institutions, namely Vietcombank, Vietinbank, Agribank and BIDV, to offer preferential loans for customers in need of social houses.

HoREA also proposed the National Assembly, the Government and SBV annually offer credit lines totaling VND1-2 trillion until 2020 for buyers of social houses with an annual interest rate of 4.8%.

The plan should be implemented by Vietnam Bank for Social Policies and four above-mentioned banks to effectively implement social housing policies.

In addition, incentives should be offered for investors of social housing projects in line with the Housing Law, especially social houses for rent, to reduce costs of such homes.

Banking stocks to drive market higher, experts say

Most bank stocks are entering a short-term correction after their recent strong rallies, but securities experts still expect such securities to continue advancing in the first months of 2018.

Nguyen Hong Khanh, head of analysis at Sacombank Securities Company (SBS), said on tinnhanhchungkhoan.vn website that the market has resumed its uptrend. After the correction, the VN-Index is poised to rise to new highs again.

Notably, the market saw no negative impact from recent quarterly rebalancing by exchange traded funds and the U.S. Federal Reserve's interest rate hike.

However, Tran Anh Tuan from Vietcombank Securities Company (VCBS) said the VN-Index would miss the 1,000-point level in the last week of 2017. Though the main index still sees a positive outlook in the short term, the market will be obstructed by poor cash flow.

Securities enterprises may fail to improve margin lending as large banks have met their credit growth targets. However, in the first quarter of 2018, the main index is expected to beat new highs as listed firms will announce their 2017 financial reports and banks will continue boosting lending activities, Tuan said.

The VN-Index traded in the green for almost the entire session last Friday, closing up 0.66%. After starting on Monday with the best day of the year, up 2.5%, trading during the rest of the week was choppy, with the index up 1.9% for the week, breaking a two-week losing streak.

Lender VCB jumped to a record high, extending a 15% surge over the last seven days amid investor speculation the bank will announce strong earnings in the last quarter.

According to Khanh from SBS, the banking sector reports the biggest market capitalization on the stock market and causes significant impact on the economy. More banks are going to list on the market next year while their operations will be strengthened to meet higher standards and deal with bad debts.

Besides, bank stocks are attractive to both foreign and domestic investors. Though many lenders have increased sharply, banks remain the key drivers in the upcoming index rises early next year, the expert said.

According to Tuan from VCBS, the banking sector has made positive contributions to the recent rallies. In 2018, bank stocks will be shining thanks to better credit growths, focusing on the retail segment.

Furthermore, the bad debt handling process will go smoothly given supportive policies from the Government and the State Bank of Vietnam. The banking system is projected to run healthy operations and make quality growth in the future, Tuan said.

Can Tho builds industrial park for Japanese investors

The Vietnam-Japan Friendship Industrial Park is being built in the Mekong Delta city of Can Tho to serve Japanese enterprises operating in the city.

The industrial park is in fact a section covering 43 hectares inside Hung Phu 1 Industrial Park in Cai Rang District six kilometers from the city center. It is developed by Can Tho City's Development Investment Fund (Cadif).

The developer has completed construction of Cadif-Hung Phu 1 tenement with 170 apartments some four kilometers from the industrial park to provide accommodation to Japanese experts.

Can Tho Chairman Vo Thanh Thong and Abe Masayuki, director of the Vietnam Agricultural Information Centre (VAIO), last weekend visited the industrial park.

Abe Masayuki said the industrial park is suitable to mechanical engineering, precision engineering, and electronic projects. He proposed the investor divide the land into smaller lots corresponding to the diverse scales of Japanese firms, and build some model factories to serve the immediate operations of some enterprises.

Can Tho Chairman Thong asked Cadif to quickly complete the construction of infrastructure facilities to put the industrial park into operation in April next year.

According to statistics of the Foreign Investment Agency under the Ministry of Planning and Investment, the Mekong Delta has attracted more than 170 foreign direct investment (FDI) projects, but only six projects worth US$12 million have been licensed in Can Tho. However, more Japanese investors have come to sound out opportunities in the city, so the city has launched Japan Desk, a service to assist current and potential Japanese investors.

New FDI approvals highest since 2009

Fresh foreign direct investment (FDI) approvals in Vietnam this year have hit US$35.88 billion, a rise of 44.4% and the highest since 2009, according to the Ministry of Planning and Investment's Foreign Investment Agency.

As of December 20, Vietnam had licensed 2,591 new projects whose combined capital is US$21.27 billion, picking up 42.3% year-on-year. Besides, as many as 1,188 projects obtained approval to revise up their investment capital with an additional US$8.41 billion, up 49.2%, and 5,002 deals of capital contribution including mergers and acquisitions with foreign investors' involvement with a total value of US$6.19 billion, up 45.1%.

Such figures are not the final ones, as certain deals might have not been updated. For example, the transfer of a huge stake of Sabeco to a company with Thailand's involvement worth US$4.8 billion has not been included in the data provided by the Foreign Investment Agency.

As the ministry estimated, FDI projects have disbursed US$17.5 billion in the year, the highest ever.

Of the 19 areas that foreign investors have invested in, the processing-manufacturing sector attracts the largest amount with US$15.87 billion, accounting for 44.2% of total registered capital. It is followed by electricity production and distribution with US$8.37 billion (23.3%) and real estate with US$3.05 billion (8.5%).

Foreign investors in Vietnam come from 115 countries and territories. Japan has ranked first when registering US$9.11 billion (25.4%), South Korea second with US$8.49 billion (23.7%) and Singapore third with US$5.3 billion (14.8%).

FDI capital has been injected into 59 provinces and cities nationwide. However, HCMC has made up the highest proportion of registered capital, 18.1% and US$6.5 billion. Other localities with large FDI pledges are Bac Ninh with US$3.4 billion (9.5%) and Thanh Hoa with US$3.17 billion (8.8%).

Among the major projects licensed this year is the Japan-invested BOT Nghi Son 2 thermal power plant worth US$2.79 billion in Thanh Hoa Province.

Other BOT thermal plants getting approved are Van Phong 1 in Khanh Hoa Province having registered capital of US$2.58 billion and Nam Dinh 1 in Nam Dinh Province worth US$2.07 billion. The two projects are invested by Japanese and Singaporean investors respectively.

In addition, Samsung Display Vietnam adjusted up its investment in Bac Ninh Province by US$2.5 billion.

HCMC raises VND2 trillion from bond issue

The HCMC government has raised VND2 trillion (US$88.07 million) from a municipal bond issue to fund its urgent infrastructure development projects, Tuoi Tre newspaper reports.

The city has successfully issued 20-year bonds with an annual coupon of 6.5%. Bonds with a tenor of 15 years came with an annual interest rate of 6.35%.

A representative of HCMC Finance and Investment Company (HFIC), which conducted the bond auction, hailed the 20-year bond issuance as this was the first time the city had successfully sold such debt.

Principles will be paid once when the bonds fall due while interest will be paid annually. If bond holders do not receive interest punctually, the amount will be reserved excluding compound interest.

At the most recent National Assembly session in Hanoi, the Ministry of Finance said HCMC's outstanding loans are estimated at VND22 trillion as of December 31, equivalent to 40% of the permitted level.

If the level is raised to over 90%, the city's total outstanding loans would be VND70 trillion next year, up VND15.7 trillion, or 0.3% of gross domestic product (GDP).

The city government has proposed relevant ministries allocate official development assistance (ODA) loans from the State budget for its projects this year and next, and support investors to complete necessary procedures to speed up disbursements of ODA and preferential loans.

The city also asked for more capital for the Ben Thanh-Suoi Tien metro line, and the second phase of a project to improve the water environment in the basin of Tau Hu-Ben Nghe-Doi-Te canal and the city's environmental hygiene project.

The city also urged ministries to ask the Government for permission to adjust the Ben Thanh-Suoi Tien urban railway project, officially known as Metro Line No. 1.

Eight BOT highway projects require over VND104 trillion

The Ministry of Transport has announced a list of eight build-operate-transfer (BOT) projects to construct the North-South Highway in the east in the 2017-2020 period, with a total investment of over VND104 trillion (US$4.57 billion).

The eight projects include the Mai Son - National Highway 45, National Highway 45 - Nghi Son, Nghi Son - Dien Chau, Dien Chau - Bai Vot, Nha Trang - Cam Lam, Cam Lam - Vinh Hao, Vinh Hao - Phan Thiet, and Phan Thiet - Dong Nai.

The total investment of the eight projects is estimated at over VND104 trillion, including over VND40.3 trillion funded by the State budget in order to conduct land clearance and the resettlement of affected households.

The project on building the 106km of Vinh Hao - Phan Thiet segment is expected to require the highest investment at over VND19.6 trillion, including VND8 trillion worth of State budget, while the Nha Trang - Cam Lam project with a total length of 29km is estimated to need the lowest investment at over VND5.1 trillion.

According to the Ministry of Transport, it is an urgent need to invest in these projects to meet the increasing transport demand of the related localities and to connect key national economic regions.

The report on the feasibility study of these projects is being completed and these projects are scheduled to be finished in 2021.