Viet Nam's Housing Development Bank (HD Bank) will be the fifth bank to list its shares on the country's stock exchanges after VIB, Kienlongbank, VPBank and LienVietPostBank.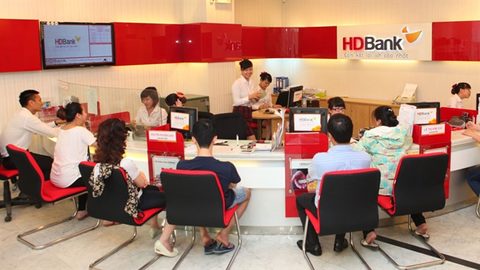 The HCM Stock Exchange announced it had on Monday received HD Bank's application to list on the bourse. — Photo HD Bank
The HCM Stock Exchange (HoSE) announced that it had on Monday received the bank's application to list on the bourse.
Accordingly, HD Bank will officially list nearly 883 million shares, equal to its charter capital of VND8.83 trillion (US$388.9 million), on HoSE after it completes a share sale to foreign investors. The Saigon Securities Incorporation (SSI) is the adviser for the listing.
Previously, HD Bank announced that it will offer 20 per cent of its shares to foreign investors. The initial public offering (IPO), or pre-listing share sale, is expected to raise $300 million for the bank.
Assessing on the HD Bank's IPO plan, Moody's Investors Service has said that the bank's upcoming $300 million IPO will strengthen its capitalisation and loss-absorbing buffers amid rapid credit growth and prompt more banks to follow suit.
Similar to other Vietnamese banks, Moody's believes that rapid loan growth and dividend payments to shareholders are exerting pressure on HDBank's capital buffers. The bank's large dividend payout in 2016 against strong loan growth of 45 per cent, well beyond the industry average of 26 per cent, led to an approximately one percentage-point drop in its Tier 1 ratio to 10.8 per cent at the end of 2016 from 11.8 per cent a year earlier.
"This capital ratio is modest in the context of the bank's asset quality challenges and modest loan-loss reserves," Moody's noted.
Using HD Bank's capital as at December 31, 2016, Moody's estimated that the capital increase will raise its Tier 1 ratio by nearly four percentage points to 14.8 per cent, thereby becoming one of the best capitalised banks among the Vietnamese banks the credit ratings agency rates. The additional capital will support the bank's solvency amid continued balance sheet expansion.
HDBank's Deputy CEO Le Thanh Trung said with a plan to list on the HoSE, the bank's profit is expected to grow about 25 per cent annually in the coming years.
HDBank currently has 4.5 million individual customers and around 25,000 SME clients, Trung said, adding that the bank has access to a pool of 20 million people that are clients of Vietjet Air and HD Saison, its customer finance joint venture with Japan's Credit Saison Co.
The bank expects pre-tax profit of VND2.4 trillion this year, an increase of nearly 110 per cent against 2016. — VNS