Buyer-seller conference to be held in HCM City     
A buyer-seller conference to link businesses in HCM City with those in other cities and provinces will be held in the city from Friday to Sunday.
It will include a seminar to connect producers with modern and traditional distribution channels in the city.
There will be a seminar to connect supply and demand in the manufacturing and supporting industry sectors on Friday. The sellers will be from both HCM City and elsewhere while the buyers will mainly be from HCM City.
Another will discuss measures to achieve greater efficiency in the connection programme and improve tracing of origins of farm produce and food products.
A buyer-seller conference on Saturday will connect businesses in the city with those in other cities and provinces.
The event will also feature 450 booths displaying regional specialities, supporting industry products, those with high export potential, and well-known products from HCM City and other cities and provinces.
According to the city Department of Industry and Trade, the event this year will be larger and last longer than in previous years and have new features to meet the increasing demand for link-ups between city and provinces.
Besides helping find outlets for new products and products not sold in the city so far, this year's conference would also focus on resolving difficulties in the transaction process, thereby helping streamline supply chains, it said.
The event, which usually focuses on farm produce and traditional specialities, would this year be expanded to bring together sellers and buyers of supporting industry products, typical rural industrial products and products meeting export standards, it said.
The conference will also help link credit institutions with businesses.
With the active participation of many large distributors in the city such as Saigon Co.op, Satra, Central Group, Lotte, MM Mega Market and export companies, the organisers believe the conference could become an effective channel to take some of Viẹt Nam's unique products to the global market.
This year producers, distributors and businesses can also link up online at www.ketnoicungcau.vn.
At the conference, distributors have set up information booths to apprise suppliers about consumers' demands with regard to quality, packaging and taste.
More than 2,760 businesses from 39 cities and provinces have registered to participate, the department said.
Being held since 2011, the annual programme has greatly helped improve product quality and meet consumer demands.
It has also helped the city identify firms for its market stabilisation programme.
Businesses in the city and other cities and provinces have co-operated to implement 75 projects worth VND27.4 trillion (US$1.2 billion) in various sectors.
The programme has helped small production units improve their technologies, enabling more and more products to enter modern distribution systems in the city. 
REE and Vingroup acquires Vinaconex subsidiary in US$50-million deal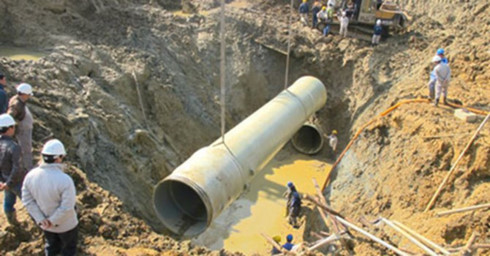 Refrigeration Electrical Engineering Corporation (REE) and Sinh Thai LLC—a 100-per-cent-owned subsidiary of Vingroup—spent VND1.07 trillion ($47.1 million) acquiring 25.5 million shares, or 51 per cent stake, in Vinaconex Water Supply JSC (Viwasupco) from Vinaconex.
Vinaconex JSC (Vinaconex) on December 4 officially announced the plan to divest its entire 25.5-million shareholding in Viwasupco through an auction. As the result, Sinh Thai LLC bought 17.3 million shares and REE 8.2 million shares at the price of VND39,904 ($1.76) apiece. After the purchase, Sinh Thai LLC and REE increased their holdings in Viwasupco to 50.4 and 34.7 per cent, respectively.
According to the commitments in the sales contract, REE and Sinh Thai LLC will have to support Viwasupco's handing over Song Da water project-phase II to Vinaconex.
Previously, Viwasupco completed the construction and put Song Da water project-phase I into operation with a capacity of 300,000 cubic metres per day. The second phase is expected to increase this to 600,000 cubic metres per day.
This is not the first time that Vinaconex has attempted to divest from Viwasupco. Previously, in October 2016, Vinaconex planned to put its entire holding in Viwasupco on sale. However, the divestment was not implemented and no specific information about the deal had been published to date.
Established in 1977, REE is a publicly-traded diversified business group operating in the primary fields of mechanical and electrical engineering services (M&E), manufacturing, assembling and sales of Reetech air-conditioner systems, real estate development and management, and power and water utility infrastructure construction. 
At present, the largest automotive group from Singapore, Jardine Cycle & Carriage Limited Company (JC&C), owns 22.87 per cent stake (63.7 million shares) at REE.
Sinh Thai LLC joined the Song Da water project by acquiring 43.06 per cent stake in Viwasupco from Singaporean Acuatico Pte., Ltd. The purchase was completed in March 2016.
Viwasupco is the Vinaconex subsidiary posting the best business results. However, it became infamous after the Song Da water pipe broke 21 times in seven years, impacting households across Hanoi.
Japanese Kids Corporation interested in Vietnam's kindergarten market

Kids Corporation, a pre-school education company in Japan, wants to enter Vietnamese market through franchising, targeting high-income families who are willing to pay more for their children to get the Japanese-style modern education.
According to Nihon Keizai Shimbun – a leading economic newspaper in Japan, the company will provide its franchise partner with business strategy, management and education methods. 
Its Vietnamese partner is a company operating in real estate and automobile import which has not invested in education sector. The two sides will ink contract in 2017 and work on procedures and construction with the aim of putting their kindergarten into operation in July, 2018.
The first school, which will receive 100 children from 1-5 years old, will be located in a high-end urban area in Hanoi.  
Kids Corporation currently owns 120 kindergartens in Japan and targets to increase the number to 150 in 2018. The corporation also plans to expand its kindergarten network in Asia and Vietnam is expected to be a potential destination.
Garment exports likely to hit 31 billion USD in 2017

The garment-textile industry expects to rake in 31 billion USD in exports by the end of 2017, a year-on-year rise of 10.23 percent.
The Vietnam Textile & Apparel Association (VITAS) revealed the information at a press conference in Hanoi on December 4.
Vice Chairman of VITAS Truong Van Cam said 2017 was a challenging year for the sector due to the halt of the Trans-Pacific Partnership – which has been renamed the Comprehensive and Progressive Trans-Pacific Partnership.
However, with determination, the garment-textile sector has overcome difficulties to reap encouraging outcomes, he said.
The industry has applied technologies to develop corporate governance and business production, creating products with better quality and high added values.
Notably, the VITAS has built trade promotion programmes, professional training courses, and shared experience with businesses to increase productivity and adopt smart production models.
The association has proposed the Government simplify administrative procedures for garment-textile firms.
A conference to review the sector's performance will be held on December 15 in the central city of Da Nang, Cam said.

Apparel exports in the last two months of this year are expected to reach 5.27 billion USD, increasing the total exports to more than 30 billion USD.

Over 400 million USD raised from G-bonds in November

The Hanoi Stock Exchange (HNX) announced it had mobilised more than 9.15 trillion VND (403 million USD) from 31 Government bond auctions in November.

This marked an increase of 21.8 percent compared with the previous month, of which the State Treasury mobilised over 2.93 trillion VND, Vietnam Development Bank raised 4 trillion VND and Vietnam Bank for Social Policies more than 2.22 trillion VND.

The coupon rates of five-year term bonds sold ranged from 4.5 to 5 percent per year, seven-year term bonds from 4.85 to 4.88 percent per annum and 10-year term bonds from 5.41 to 5.91 percent per annum. 15-year term bonds were at 5.75-6.2 percent per annum, 20-year term bonds at 5.82 percent per year and 30-year term bonds at 6.1 per cent per annum.

On the secondary market, the total volume of Government bonds sold by the outright method reached more than 800 million, worth 88.6 trillion VND, marking a 15.2 percent decrease in value over October.

Trading volume through repurchase agreements (repos) was 1.105 trillion bonds, worth over 110.5 trillion VND, up 4.1 percent in value compared with the previous month.

Foreign investors also made outright purchases of more than 4.3 trillion VND and outright sale transactions of over 5.6 trillion VND. They made repo sales of over 247 billion VND and no repo buys in November.

THACO becomes Mitsubishi Fuso's general distributor

The Mitsubishi Fuso Truck and Bus Corporation (MFTBC), part of Daimler Trucks Asia, has announced that the Truong Hai Auto Corporation (THACO) will be its general distributor in Vietnam, replacing Mercedes-Benz Vietnam (MBV) as the wholesale distributor and local assembly partner for FUSO products.

The signing ceremony between MFTBC and THACO took place on December 1 in Hanoi, with the two companies represented by Mr. Michael Kamper, Senior Vice President, Head of Sales and Marketing at Daimler Trucks Asia, and Mr. Tran Ba Duong, THACO's Chairman.

"Vietnam is one of the most important markets for our FUSO growth strategy in Southeast Asia," said Mr. Kamper. "Daimler Trucks choosing THACO as a partner was a logical choice for us. With their experience and dedication, THACO will help us to exceed customer expectations and further increase market share."   

"We are very excited that, with FUSO, we can integrate a prestigious Japanese brand that fully complements our existing portfolio," said Mr. Duong. "Our aim is a long-term partnership with Daimler in the spirit of respect, equality, sharing, and mutual interests in a transparent and sustainable way to jointly develop and increase the commercial vehicle business in Vietnam."

Back in 2014, MFTBC shifted its FUSO business activities from general distributor Vinastar to its subsidiary Mercedes-Benz Vietnam, to further increase performance. 

Over the following three years, MBV relaunched the FUSO brand in the Vietnamese market and introduced a new line of robust trucks that are specifically developed for growth markets like Vietnam. 

The current product portfolio ranges from the light-duty FUSO Canter and the medium-duty FUSO Fighter truck through to heavy-duty trucks such as FJ, FZ, and FV, as well as the FUSO Rosa LDT bus. 

With these products, FUSO was able to double its market share from 2014 to 2016 and received positive customer feedback.

At the same time, Daimler has started to globally separate its passenger car and van and its commercial vehicle businesses to better focus on different target customers. 

In 2016, it started to introduce commercial vehicle-dedicated regional sales centers in all major regions, to be closer to customers and markets, and has recently announced it will evaluate strengthening its divisional structure by creating legally independent entities for Mercedes-Benz cars and vans and Daimler trucks and buses in addition to the existing Daimler financial services unit.

In line with this strategy, MFTBC has looked into opportunities to optimize its sales and production setup for FUSO in Vietnam. 

The aim was to source a partner with vast experience in commercial vehicles and who is willing to invest resources and manpower to further develop the FUSO business and to better serve local customer needs. 

THACO is the leading truck and bus distributor and manufacturer in Vietnam with a well-established distribution network across the country.

Mitsubishi FUSO therefore made the strategic business decision to transfer its business in Vietnam to THACO.

Established in 1997, THACO engages in the manufacturing of components and the assembling of vehicles at its state-of-the-art production facilities. It is currently Vietnam's leader in commercial vehicles with a vast distribution network of 97 wholly-owned showrooms and 59 independent dealers, and sold more than 47,000 commercial vehicles in 2016.

After the shift, Mercedes-Benz Vietnam will entirely focus on the Mercedes-Benz passenger car business. Existing FUSO dealers will be transferred to the THACO dealer network, provided they agree and perform accordingly, in order to ensure uninterrupted customer service.

MBV employees that currently work for the FUSO brand will receive job offers in other areas of the company where possible. THACO also offers jobs to employees who want to continue to work for FUSO.

Brand Finance announces Top 50 most valuable Vietnamese brands

The Mobile World Investment JSC (MWG) is the strongest Vietnamese brand in Vietnam according to the latest report from Brand Finance, the independent valuation and strategy consultancy.

Brand Finance recently announced its Top 50 Most Valuable Vietnamese Brands 2017, based on brand value and Brand Finance's Brand Strength Index (BSI) in Vietnam.

MWG has a BSI of 82 and a brand rating of AAA-, followed by Vinamilk (77.4 and AA+), Vincom Retail (74.4 and AA), Dien may Xanh (74.2 and AA), and Vietnam Airlines (73.8 and AA).

The company ranked 15th among the 50 most valuable Vietnamese brands in 2017, with its value increasing 20 per cent compared to the list for 2016.

Viettel topped the list of most valuable brands in 2017 with a brand value of $2.5 billion, followed by Vinamilk with $1.36 billion, VNPT with $726 million, Vinhomes with $604 million, and Sabeco with $598 million.

The total brand value of the Top 50 stands at $11.2 billion, an increase of 32 per cent against last year. The Top 10 brands make up 68 per cent of the Top 50's brand value.

"We are seeing more and more unpredictable behavior from brands and customers alike," said Mr. Samir Dixit, Managing Director of Brand Finance Asia Pacific. "Loyalty has been put aside for discounts. Brand equity has been put aside for sales. 'Short term', 'quick results', and 'sell and move on' are some of the new mantras. So the only thing that remains a constant is the brand and that's why it is the most critical business asset."

Shareholders invest for the intangible value increasing the share price, he added, mostly driven by brands. Business managers, however, seldom look at it that way, giving their undivided focus to sales, balance sheet performance, and cost cutting.

A strong external brand must be effectively managed internally first. Internal brand management therefore is more critical than external brand management.

Consistency is the single largest brand value driver and that comes from everyone inside the organization being on the same page, having the same brand understanding, its messaging, its application, and so on. In Brand Finance's assessment, 10-15 per cent of the total brand value is influenced by how well the brand is managed and understood internally. 

"This is the challenge that we address in our 2017 Brand Forum and our report," Mr. Dixit said.

2018 will be an unpredictable year. There will be new challenges emerging each day, some that global economies are used to and some that will come out of nowhere and surprise everyone. "Being in ASEAN markets with a growing consumer base isn't enough," Mr. Dixit said. 

"Business growth is getting more and more unpredictable. Forecasting is impossible. This will be the new norm for everyone. And brands will not be immune to it either."

This is the third time Brand Finance has conducted a brand valuation in Vietnam.

NFSC: 11M credit growth at 15.3%

Credit growth during the first eleven months of this year has come in at 15.3 per cent, up from 13.5 per cent in the first ten months, the National Financial Supervisory Commission (NFSC) wrote in a monthly report.

Lending by banks increased 2.8 per cent between October and November, the commission added, noting that lending in foreign currency grew 12.3 per cent from the end of 2016; more than doubling the growth of 5.8 per cent in the same period last year. Loans in Vietnam dong increased 15.6 per cent during the period; lower than the 16.6 per cent increase in the same period last year, and accounted for 91.8 per cent of total credit.

Lending to the agricultural sector accounted for 8.1 per cent of total credit while that to real estate and construction made up 15.5 per cent, down from 17.1 per cent in 2016. Consumer lending continued to soar at a rapid pace, with growth hitting 59 per cent in the eleven-month period, driven mainly by home loans.

The NFSC said that mobilization growth slowed to 13.5 per cent between January and November, compared to 16.6 per cent a year earlier.

Liquidity in the banking system remained stable, buoyed by the State Bank of Vietnam (SBV) net injecting VND124 trillion ($5.46 billion) since the start of the year via foreign currency purchases and open market operations.

The average loan-to-deposit ratio (LDR) in the banking system stood at 86.9 per cent, up from 85.6 per cent at the end of 2016.

Interest rates increased by 70-80 basis points in the interbank market while major banks revised deposit rates upwards, the commission said.

Since August, Prime Minister Nguyen Xuan Phuc has called for an increase in credit growth to 21 per cent from the SBV's target of 18 per cent this year to help the country hit its economic growth target, potentially adding to concerns over the pace of new lending.

In July, the SBV sprang a surprise on markets by reducing the refinancing rate, rediscount rate, overnight electronic interbank rate, and the rate of loans to offset capital shortages in clearance between the central bank and domestic banks by 25 basis points.

The cuts, which come three years after the previous move, reduced the refinancing rate to 6.25 per cent and the rediscount rate to 4.25 per cent and were aimed at stimulating the pace of economic growth towards the 6.7 per cent target for 2017.

Moody's: HDBank's planned IPO credit positive

The Ho Chi Minh City Development Bank (HDBank)'s upcoming $300 million initial public offering (IPO) will strengthen its capitalization and loss-absorbing buffers amid rapid credit growth and prompt more banks to follow suit, Moody's Investors Service has said.

Similar to other Vietnamese banks, Moody's believes that rapid loan growth and dividend payments to shareholders are exerting pressure on HDBank's capital buffers.

The bank's large dividend payout in 2016 against strong loan growth of 45 per cent, well beyond the industry average of 26 per cent, led to an approximately one percentage-point drop in its tier 1 ratio to 10.8 per cent at the end of 2016 from 11.8 per cent a year earlier. 

"This capital ratio is modest in the context of the bank's asset quality challenges and modest loan-loss reserves," Moody's noted.

Using HD Bank's capital position as at December 31, 2016, Moody's estimates that the capital increase will raise its tier 1 ratio by nearly four percentage points to 14.8 per cent, thereby becoming one of the best capitalized banks among the Vietnamese banks the credit ratings agency rates. 

The additional capital will support the bank's solvency amid continued balance sheet expansion.
HDBank, whose Vice Chairwoman is Ms. Nguyen Thi Phuong Thao, the billionaire founder and Chairwoman of Vietjet Air, Vietnam's largest private airline, said last week that it is holding an IPO to foreign investors for up to 20 per cent of the company.

With each foreign investor being offered a less than 5 per cent stake through the IPO, HDBank's Deputy CEO Mr. Le Thanh Trung told local media last week that the share sale would involve a mix of new and old shares, generating $150 million of new equity for the bank. Following the transaction, new shareholders are estimated to own 21.5 per cent of the bank.

With a plan to list on the Ho Chi Minh Stock Exchange (HoSE) in early 2018, HDBank has been focusing on individuals and small and medium-sized enterprises (SMEs) to help grow its profits by an average of 35 per cent a year in the past five years, while profits are expected to grow about 25 per cent annually in the coming years, Mr. Trung said.

HDBank currently has 4.5 million individual customers and around 25,000 SME clients, Mr. Trung said, adding that the bank has access to a pool of 20 million people that are clients from Vietjet Air and HD Saison, its customer finance joint venture with Japan's Credit Saison Co.
The bank expects pre-tax profit of VND2.4 trillion ($105.66 million) this year, an increase of nearly 110 per cent against 2016.

Hospitality property in short supply

Millennials have been shaping a completely new lifestyle that is presenting challenges in creativity and adaptation for real estate developers in Vietnam, particularly for the future of the local hospitality industry, according to Savills Hotels. Its third series of the "Meet the Experts" event held recently was again well received.

Hospitality experts share valuable insights with local hotel developers at the regular event, on matters such as emerging industry trends and market conditions, and also present new development approaches.

Mr. Morris Sim, Chief Marketing Officer at Next Story Group, discussed the impact the sharing economy and digital media have had on hospitality and presented the Next Story Group's new brand Kafnu, which blends living, working, learning, playing, and relaxing and is set to launch in Ho Chi Minh City during 2018.

The key points presented by Mr. Mauro Gasparotti, CEO of Savills Hotels, showed how the sector has experienced strong global growth in 2017, with a remarkable 6.6 per cent increase in the first eight months of this year. Sector growth is expected to continue from cheaper flights, improving travel technologies, relaxed visa policies, falling language barriers, and ever-increasing traveler appetites for discovering new countries and destinations.

Hotel and resort performance this year has been strong, especially in Hanoi and Ho Chi Minh City, where occupancy growth has been outstanding, with levels averaging 81 per cent and 73 per cent, respectively. Da Nang and Nha Trang saw large increases in arrivals, which improved year-on-year occupancies and, despite more new openings this year, a slight increase in average room rates.

"2017 was a particularly good year for hotels in the two main cities," said Mr. Gasparotti. "The combination of growing demand from leisure and business guests and a supply shortage has lead hotels to run at high occupancy levels; well above budgets set at the start of the year. As there will be relatively limited new supply entering in the next few years in Ho Chi Minh City and Hanoi, this should lead developers to consider hotel developments with potential for higher yields and to diversify real estate portfolios."

He also warned, however, that the majority of new supply is concentrated in beach destinations and unfortunately condotel volumes are now higher than resort units. With that comes a higher risk of a category price war, especially in the case of a demand slowdown. 

Often developers fail to carefully consider hotel or resort developments' positioning and appeal and how to add value to the area itself, rather than simply planning high rise buildings with limited value for the destination besides adding inventory. A more complete development approach will be the only way Vietnam's hospitality sector will properly evolve with sustainable growth that benefits provinces and communities.

It was also noted that Vietnam lacks product variety compared to more mature tourist destinations like Thailand and Bali. Wellness resorts, spa destination resorts, senior living communities, poshtels and co-working hubs, design and art boutique resorts, high-tech hotels, and selected services hotels are examples of products not in the local market but with a strongly growing global demand.

Mr. Sim explained how the collaborative economy has made sharing resources commonplace, and monetization of sharing is now acceptable to consumers. Additionally, Generations Y and Z have new demands for working, living, playing, and learning. 

He presented market research the Next Story Group conducted across APAC that shows how hotels must evolve to remain competitive. By connecting real estate with local and transient consumers, and pricing via a membership model rather than by use, Kafnu reinvents urban spaces for the new generation.

Strengthening competitiveness of Vietnamese coffee

Vietnamese agro export items, such as rubber, tea, cashew nuts and pepper, have registered growth so far this year, both in terms of volume and value , in comparison to the same period of 2016. However, coffee saw respective annual declines of 22.5% and 3.8%, by 1.27 million tonnes and US$2.9 billion in the first 11 months of 2017, according to the Ministry of Agriculture and Rural Development (MARD).

These figures are not surprising, as they are an inevitable implication of the numerous shortcomings and weaknesses that have existed for years in the coffee industry. In the manufacturing and processing section, old coffee accounts for a high proportion, seriously affecting the productivity and quality of products. Furthermore, there is a lack of professionalism regarding coffee harvesting, preliminary processing and processing technologies in a number of key specialised cultivation areas, including the Central Highlands and Southeastern regions. Although known as the second largest coffee exporter in the world, Vietnam mainly exports raw coffee at low prices.

Over the past few years, Vietnam's coffee industry has made use of its outputs to create a competitive advantage. However, with the falling productivity and lower yields at present, that competitive advantage is decreasing as a result. Meanwhile, the replanting of coffee to improve productivity and product quality is not an easy task. In 2013, the MARD kick-started a coffee replanting programme, but the re-cultivation area is now only 40%, which is mainly due to the lack of investment capital and limited access to preferential loans.

In recent years, coffee prices have seen many fluctuations against the producers, while domestic coffee growers are not very interested in re-cultivation investment in the context that various other crops generate higher incomes. Even, in many places, people have cut down their coffee trees and switched to other crops. The risk of a sharp decline in the coffee cultivation area is threatening the development of the entire industry.

In order to develop the coffee industry sustainably, the functional sectors need to be more drastic in removing any difficulties for the growers, as well as the businesses involved in processing and exporting coffee, alongside the provision of special support mechanisms in terms of capital, science-technology and re-planting facilitation. Particularly, focus should be put on removing the any obstacles in accessing the State's support policies.

Firms need to incorporate deep processing into their development strategies, whilst gradually moving from the export of raw coffee beans to the export of roasted, ground and instant coffee. As the export value improves, it will have a positive impact on people's lives, therefore enhancing the producers' awareness of the improvement of product quality. At the same time, it is necessary to set up organisations in charge of input and output services, in order to support the people, create a linkage chain in the coffee sector, as well as support export companies in trade promotion activities and the search for consumer markets.

FPT Retail to list on HOSE in late April 2018

FPT Digital Retail JSC, or FPT Retail, has announced it will list on the Hochiminh Stock Exchange (HOSE) in late April next year.

Nguyen Viet Anh, deputy general director of FPT Retail, said the company will focus on developing its existing brands, including FPT Shop and F.Studio by FPT, and at the same time expanding operations.

Particularly, FPT Retail has plans to open 100 stores selling a full line of Apple products such as iPhone, iPad, Macbook and Apple Watch, according to Nguyen Bach Diep, general director of FPT Retail.

The company will coordinate with mobile network operators to offer the F-Friends program that accepts installment payments and promotional mobile packages for buyers.

HCMC Securities Corporation (HSC) forecast FPT Retail will achieve growth of more than 27% in revenue and 32% in pre-tax profit thanks to 95 shops having been opened this year. The company would have 480 retail shops nationwide by the end of this year, up nearly 25% year-on-year.

Tariffs on auto parts cut to 0% next year

Imports of auto parts will enjoy a zero duty next year as stated in the Government's Decree 125/2017/ND-CP.

According to the decree, benefiting from the preferential tax policy are auto manufacturers and assemblers who satisfy the Government's requirements for auto production, assembly, import and trading. 

Enterprises have to ensure that autos that they manufacture and assemble meet Euro 4 emission standards in 2018-2019 and Euro 5 standards from 2022 onwards.

If enterprises meet preferential tax requirements and make tax payments for already imported auto parts higher than required, the customs will refund the surplus in accordance with the law on tax management and guiding documents.

In case enterprises are disqualified from the preferential tax program, they will be informed by the customs.  

Tuoi Tre newspaper quoted Dr. Huynh The Du as saying that he was in favor of the policy. He said the erection of technical barriers would foster the domestic auto industry and benefit consumers.

Online Friday shoppers complain about unsuccessful orders

Many consumers have complained about the Online Friday 2017 sale event, saying the ratio of successfully placed orders was low.

It was hard to access the website http://store.onlinefriday.vn, especially on smartphones, and find promotional products on the websites of retailers or distributors.

Mai Quynh in District 1 said a 43-inch Sony TV was offered at VND14.4 million on the website of Online Friday 2017 while the price on other websites is only VND11 million.

Le Quang in Binh Thanh District said websosanh.vn, a price comparison website, did not work effectively as it provided prices of other products than Bitis Hunter shoes which he was searching for. In addition, some consumers could not buy promotional products by scanning QR codes.

Due to a sudden surge in traffic, the website failed to work properly, participating e-commerce firms explained.

Online Friday 2017 put on sale 100,000 products last Saturday.

HCMC's 2017 GRDP growth put at 8.25%

Gross regional domestic product (GRDP) of HCMC is estimated to amount to over VND1,060 trillion this year, up 8.25% against last year, according to the city's 2017 socio-economic performance report presented last Friday.

According to statistics provided at the 15th meeting of the HCMC Party Committee, growth of the service sector is projected at 8.2%, industry and construction at 7.8%, and agriculture at 6.3%. Consumer prices have been stable and international tourist arrivals have increased almost 23% with 6.4 million.

This year, exports and imports of HCMC are forecast to total around US$35.2 billion and US$43.1 billion, up 15.1% and 13.2% against last year, respectively.

Capital mobilization by credit institutions in HCMC is estimated to rise 15% to VND2,044 trillion, and total outstanding loans are estimated at VND1,746 trillion, up 18.5%. Incoming remittances are projected to reach around US$5.2 billion in the year-end, with 71% of it going to business activities.

Tran Vinh Tuyen, member of the HCMC Party Committee and vice chairman of the city's People's Committee, said the city's investment environment has improved. Total investments this year have amounted to VND365.7 trillion, representing 35% of GRDP and rising 18% against 2016.

The city has attracted an estimated US$5.81 billion in fresh investments this year, up 68%. The number of newly established enterprises this year has gone up 13.4% year-on-year to 41,217.

As for next year, the city government looks to GRDP growth of 8.3-8.5%, total investments accounting for 35% of GRDP, and 46,000 startups.

Vietnam's manufacturing output stagnates in November

The rate of improvement in Vietnamese manufacturing business conditions continued to soften in November, with the stagnation in output putting an end to a 12-month sequence of growth, according to a report launched last week.

The headline Nikkei Vietnam Manufacturing Purchasing Managers' Index (PMI) dipped to 51.4 in November from 51.6 in the previous month. Although continuing to signal an improvement in the health of the manufacturing sector, the rate at which business conditions strengthened was the weakest since March 2016.

In addition, the rate of new order growth eased for the second month running in November, with slower increases in both total and export orders. New business has now risen on a monthly basis throughout the past two years.

While new orders continued to rise, the weaker expansion resulted in manufacturers holding production volumes broadly steady.

There were some reports that material shortages had affected production. With output broadly unchanged, stocks of finished goods decreased for the fifth month running.

Andrew Harker, associate director at IHS Markit, which did the survey, said in the report that the final quarter of 2017 has been somewhat disappointing for the Vietnamese manufacturing sector.

After growth eased in October, there were further signs of weakness in November as new orders rose at a weaker pace and output stagnated. Manufacturers continued to increase staffing levels and purchasing activity at solid rates, however, suggesting that the current soft-patch is expected to be only temporary.

The slowdown in new order growth enabled firms to work through backlogged work over the month. Outstanding business decreased for the first time in five months, and at a solid pace that was the fastest since June 2016.

In spite of the stagnation in output and slower growth of new orders, manufacturers continued to take on extra staff at a solid pace. The rate of job creation was broadly in line with that seen in October.

Firms also remained confident regarding the 12-month outlook for production, with predictions of new order growth central to positive forecasts. A further sharp increase in input costs was recorded during November amid higher prices for raw materials.

The rise in input costs led firms to raise their own selling prices, the third month running in which this has been the case.

Difficulties in sourcing raw materials were also reportedly a factor behind a drop in stocks of purchases. Pre-production inventories decreased for the first time in 17 months despite a further solid increase in purchasing activity.

Input buying has risen on a monthly basis throughout the past two years, with panelists partly linking the latest expansion to efforts to support inventory levels.

Deputy minister: Power price hike carefully weighed

The Government, the Ministry of Industry and Trade and Vietnam Electricity Group (EVN) took careful consideration before they decided to hike power tariffs, according to Deputy Minister Do Thang Hai.

In reply to queries about the price hike despite EVN making profit from power production, Hai said power prices had been kept unchanged since March 2015 though coal and other costs had been soaring.

Hai was quoted by local news site Doanh nghiep Viet Nam as saying at the Government's press conference last Friday that issues such as how a power price spike would affect gross domestic product (GDP), consumer price index (CPI), enterprises and prices of essential commodities had been thoroughly weighed by the Prime Minister. 

Regarding the transparency of power price rises, according to Hai, the Government has set up a working team consisting of representatives of the ministries of industry, finance and labor, the Vietnam Electrical Engineering Association, the Vietnam Standards and Consumers Association, the National Assembly Economic Committee and the Vietnam Chamber of Commerce and Industry.  

Power prices began to rise by VND100 per kWh to VND1,720 from early this month.

The prices of RON 92 and E5 petrol and kerosene remained unchanged in the regular price review on December 5 while diesel prices increased slightly by 150 VND per litre as of 3:00 pm the same day.

The Ministry of Industry and Trade and the Ministry of Finance conduct a price review of fuel prices every 15 days to adjust the price in accordance with fluctuations on the world market. 

Accordingly, RON 92 and E5 petrol is sold at no more than 18,580 VND and 18,243 VND per litre while diesel 0.05S and kerosene are priced at no more than 15,169 VND and 13,617 VND per litre, respectively.

From the beginning of this year, petrol retail prices have been adjusted 23 times, including nine hikes and nine drops.-

Deputy PM approves Hapro's equitisation plan
     
Deputy Prime Minister Vuong Dinh Hue has approved the equitisation plan of Ha Noi Trade Corporation (Hapro).

The trade company has been valued at over VND2.8 trillion (US$122.8 million) and has a charter capital of VND2.2 trillion, equivalent to 220 million shares.

Under Hapro's equitisation plan, the State would divest entirely from the trading company.

More than 1 million shares, or 0.49 per cent of its charter capital, would be sold to its employees and 143 million shares, or 65 per cent of the charter capital, to strategic investors. The rest would be sold to the public.

The initial price was set at VND12,800 per share.

Hapro operates in import and export, commercial services, domestic trade and trade infrastructure development.

In 2016, the company earned a revenue of nearly VND4.1 trillion and a pre-tax profit of VND65 billion.

Northern Phu Tho Province seeks for Korean investment
     
People's Committee of Phu Tho joined hands with the Vietnamese Embassy in South Korea to organise a conference in Seoul on Monday to promote investments into the northern province.

Hoang Dan Mac, Secretary of the provincial Party Committee cum Chairman of the People's Council, said that Phu Tho had significant untapped potential for foreign investors.

Phu Tho Province was open to foreign investment, especially investment from South Korea, Mac said, adding that the province was creating favourable conditions in terms of policies and procedures for investors.

"Phu Tho Province will always support investors," Mac said.

The province is hastening its administrative reform, increasing dialogues with businesses to remove their difficulties, together with providing incentives to investors.

Nguyen Vu Tu, Vietnamese Ambassador to South Korea, said that the Viet Nam–Korea free trade agreement, in effect since 2015, had opened significant opportunities to boost the bilateral investment cooperation.

Tu hoped that more Korean enterprises would study investment opportunities in Viet Nam, specifically in the Phu Tho Province, for their future projects.

To date, Phu Tho has attracted 150 foreign-invested projects with a total registered capital of nearly US$1.1 billion, of which, 120 projects worth $793 million came from South Korea.

Statistics from the Viet Nam Foreign Investment Agency showed that South Korea was the largest investor in Viet Nam with a registered capital of $57.5 billion, as of November, making up 18.1 per cent of the country's foreign direct investment.

Viet Capital Bank shifts transaction office in HCM City
     
Viet Capital Bank on December 4 relocated its transaction office in HCM City's Binh Thanh District from Dinh Bo Linh Street to Bach Dang Street.

To mark the move, the transaction office is offering hundreds of attractive gifts to the first customers.

Next year the lender plans to open three branches and 12 transaction offices nationwide. 

Real estate takes lead in FDI attraction in HCMC

Real estate took the lead in the foreign direct investment (FDI) attraction during the first 11 months this year with US$984.4 million, accounting for 50.8 percent and triple the value in the same period last year, reported HCMC Statistical Office.

The field was followed by processing and manufacturing with $479.65 million accounting for 24.7 percent. Wholesale, retail, auto and motorbike repair lured $212.79 million making up 11 percent.

FDI capital reached $5.57 billion increasing 96.6 percent over the same period last year.

In November, 757 projects received investment certificates with the total registered capital of $1.94 billion and 203 projects raised investment capital by $0.9 billion.

In addition, the city permitted 2,031 investors to contribute capital or purchase shares with the total value of $2.64 billion.

Vietnam brings variety of traditional craft creations to Italian fair

Some 30 Vietnamese enterprises have brought a variety of traditional handicrafts to L'Artigiano in Fiera 2017, an international craft exhibition running in Milan, Italy from December 2-10.

Popular Vietnamese hand-crafted items like brocade garments and clothing, rattan- and bamboo-made furniture, lacquer paintings, souvenirs, and farm produces, alongside the country's traditional foods are on display at Vietnam's pavilion at the fair. 

Vietnam launched its 1,500-sq.m pavilion with an opening ceremony featuring lion dances and traditional "Vovinam" martial arts. 

Speaking at the event, Vietnamese Trade Counsellor in Italy Nguyen Duc Thanh said the 22nd edition of the event gathers more than 3,000 businesses from more than 100 countries and territories. It provides an opportunity for Vietnamese firms to learn the demands of foreign markets, promote their products, learn from others' experience in production and expand networks of overseas consumers, he noted.

Thanh also noted bilateral relations between Vietnam and Italy have seen significant progress over the past four decades after the two countries established diplomatic ties in 1973. Two-way trade rose more than four-fold from 1.13 billion USD in 2006 to 4.7 billion USD last year, the trade counsellor said. 

Trade revenue between the two countries exceeded 3.76 billion USD in the first ten months of 2017 with Vietnam's exports to Italy hitting 2.4 billion USD. Vietnam exported about 4.5 million USD worth of handicraft products, such as rattan- and bamboo-made items, to Italy during the period while Vietnam's shipments of garments and clothing exceeded 186.8 million USD, he added.

L'Artigiano in Fiera, the world's biggest international handicraft trade fair, was first held in Italy in 1996.

US allows import of VN mangos

The United States Department of Agriculture's Animal and Plant Health Inspection Service (APHIS) has given permission to fresh mango fruit imports from Vietnam to the US, which will be effective from December 29. 

According to the Vietnam News Agency Television (Vnews), after analysing the potential plant pest risks, APHIS scientists determined that mangos from Vietnam can be safely imported under a "systems approach".

APHIS defines the systems approach as a series of measures taken by growers, packers and shippers that together minimise pest risks prior to import into the United States.

In this case, APHIS explained that the systems approach for mangos from Vietnam included orchard or packinghouse requirements, irradiation treatment and port of entry inspection, to protect against the introduction of plant pests and diseases.

The agency is also requiring these mangos be imported in commercial shipments and accompanied by phystosanitary certificates verifying the fruit was produced under these conditions. These certificates must include an additional declaration stating the fruit was inspected and found free of black mango spots.

Ca Mau targets 1.2 billion USD from exports

The southernmost province of Ca Mau aims to earn 1.2 billion USD from exports in 2018, up 100 million USD against 2017.

To realise the goal, various measures have been implemented, with attention paid to improving administrative procedures to help export enterprises expand their business. 

For the key export sector of frozen shrimp, local authorities have focused on managing and planning environmentally friendly shrimp-farming models with high-productivity and quality, satisfying international standards and demand.

Trade promotion activities have also been enhanced, aiming to expand the locality's export markets. 

According to Chairman of the provincial People's Committee Nguyen Tien Hai, Ca Mau's export turnover is estimated to hit 1.1 billion USD in 2017, a year-on-year increase of 12 percent. 

Advantages in import markets, stable price of raw materials for processing, close cooperation among local seafood export enterprises, and efforts to build brands have helped boost the locality's export turnover.