V
ietNamNet Bridge - Large companies considered leaders in their fields are being sought after by buyers, mostly from Asia.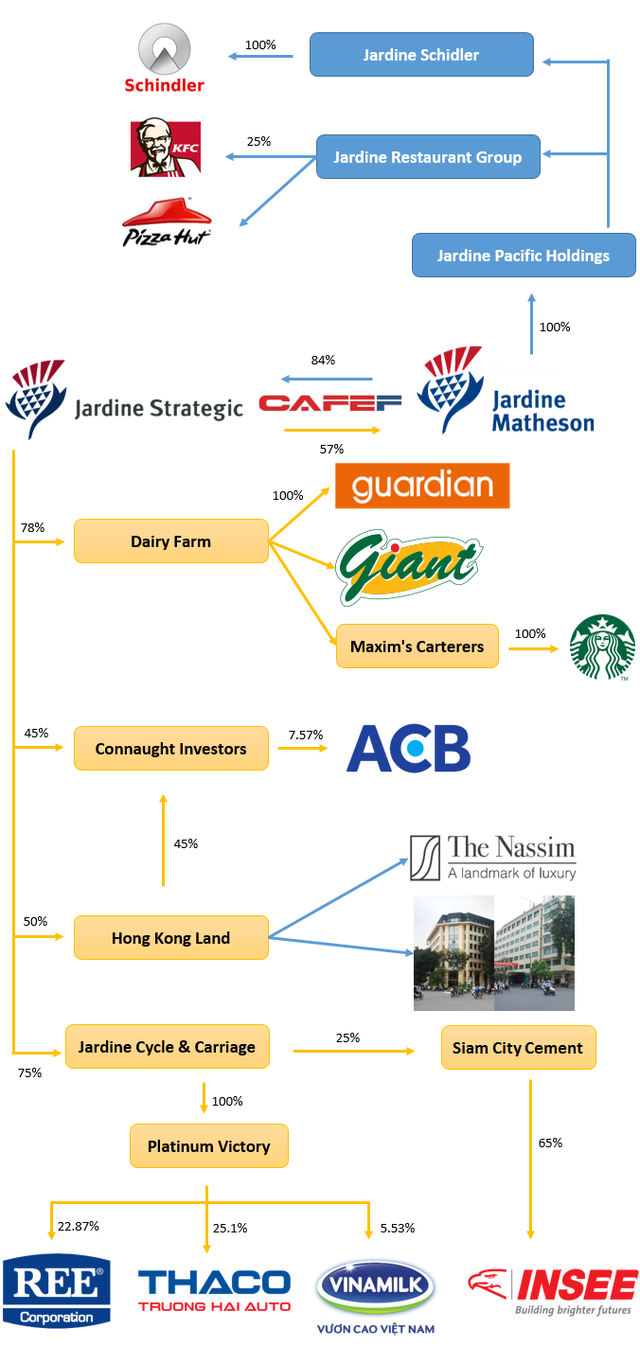 Jardine Matheson Group, emerging player
Having been present in Vietnam for many years in real estate and restaurant chain projects, Jardine Matheson Group's JC&C, one of its subsidiaries, spent $1.15 billion to acquire a 10 percent stake in Vinamilk.
JC&C is also the holder of a 25.1 percent stake of the largest local automobile manufacturer Thaco, and 23 percent of REE, a refrigeration engineering enterprise.
CafeF estimates that the three investment items of JC&C have market value of $2 billion. 
Other subsidiaries of Jardine Matheson, including Hong Kong Land, Jardine Pacific Holdings and Dairy, are developing a series of projects such as KFC, Pizza Hut restaurant chains, Guardian (cosmetics retail chain) and Schindler (lift), and real estate projects in Hanoi and HCMC.
TCC Group targets Vinamilk and Sabeco
Charoen Sirivadhanabhakdi, Thai billionaire and the owner of TCC Group, shows his interest in Sabeco, the largest brewer, and Vinamilk, the dairy producer.
TCC Group, through its subsidiaries, owns huge assets in Vietnam, including a 18.7 percent Vinamilk stake, worth $2.3 billion; MM Mega Market Vietnam (retailer) which it bought at $710 million; a 65 percent stake in Phu Thai Group and a 65 percent Melia Hanoi stake.
Central Group targets retail chains
It has acquired a number of retail chains in Vietnam, including Big C, Nguyen Kim and Zalora. It paid more than $1 billion to take over Big C.
Central Group is also developing Robins shopping centers located at large complexes such as Royal City in Hanoi and Crescent Mall in HCMC.
SCG Group: the big player in plastics & building materials 
In Vietnam, SCG has 23 operating companies with 8,300 workers. In the first half of 2017, its revenue reached $530 million, an increase of 17 percent compared with the same period last year.
SCG purchased Prime Group, a tile manufacturer, at $240 million, and StarCemt at $156 million.
The biggest investment deal in Vietnam is the Long Son refinery complex, capitalized at $5.4 billion.
CJ Group: from cinemas to food and logistics
The South Korean conglomerate has invested in a wide range of business fields.
CJ bought Megastar, a cinema network and renamed to CJ CGV Vietnam. It also acquired Gemadept Tower, Cau Tre Food and Minh Dat Food.
Not only M&A deals, CJ has also made direct investment in many projects, including Tours le Jours, a bakery chain, K-Mart retail chain, Korea Express (logistics) and CJ Vina Agri (animal feed).
RELATED NEWS
Wealthy Asian investors hunt for Vietnamese stocks
Overview: 25 years of Korean investment
Mai Thanh