VietNamNet Bridge - Vietnam is witnessing the strong expansion of small supermarket and convenience store chains applying high-tech solutions in sales, storage and customer management.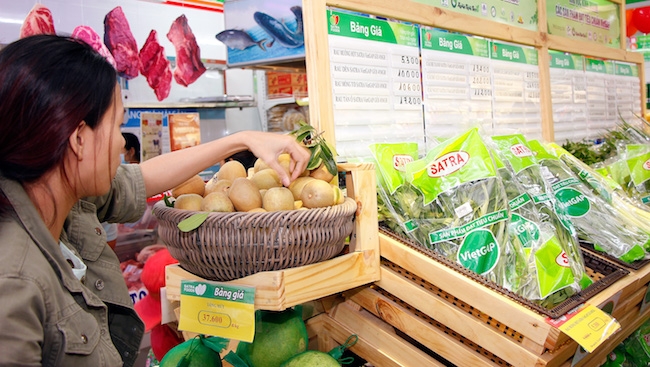 Vietnam is listed among the 30 attractive retail markets
Vietnam is listed among the 30 most attractive retail markets and has returned to the sixth position in GRDI (global retail development index) as announced by AT Kearney.

There are 800 supermarkets, 150 shopping malls, nearly 9,000 traditional markets and 2.2 million retail households throughout the country.

According to A.T. Kearney, small supermarket and convenience stores are the fastest growing segment in the retail market. 

To date, FamilyMart chain has 100 stores and it plans to have 800 by 2020. 7-Eleven plans to open 100 shops within three years and 1,000 within 10 years. Meanwhile, Vinmart+ hopes to raise the number of shops from 1,000 in 2016 to 2,500 by the end of 2017.


There are 800 supermarkets, 150 shopping malls, nearly 9,000 traditional markets and 2.2 million retail households throughout the country.
A survey by Kantar Worldpanel found that one-third of Vietnamese households bought things at small supermarkets and convenience stores at least once and 10 times a year on average. 

Nielsen reported that the growth rate of the modern retail channel was 7.7 percent in the months from April 2016 to March 2017, higher than the 6.1 percent of the traditional retail channel.

Meanwhile, a report from the Ministry of Industry and Trade (MOIT) shows that the modern retail growth has slowed down, now accounting for 25 percent of total retail revenue. High retail premises rent, higher retail prices and the Vietnamese habit of going to traditional markets are the major reasons for the slower growth.

The Leader quoted Nguyen Huy Hoang from Kantar Worldpanel as saying that the market share of FCMG at convenience stores has increased from 2-3 percent in 2015 to 4 percent.

Hoang predicted that the figure would continue to increase and reach 8-10 percent by 2022.

The expert noted that convenience stores with the area of 200 square meters which sell FCMG and food is the choice of many retailers because it doesn't need large retail premises, while it can satisfy demand from busy urban consumers.

"Convenience stores have been expanding. They appear in residential quarters, jostle among supermarkets, hypermarkets and street front shops," he commented.

A report of the HCMC Industry & Trade Department showed that by the end of September, the city had 1,079 convenience stores, including stores specializing in food and FCMG. The average growth rate of convenience stores was 15 percent in 2014-2016.

According to Do Quoc Huy from Saigon Co-op, the retail chain has opened 177 food convenience stores bearing the brand Co.op Food, and 70 modern groceries called Co.op Smile.

By the end of February, Satrafoods had 100 food convenience stores, while the figure has risen to 150 in HCMC and 50 in Can Tho.
RELATED NEWS
Vietnamese retailers pay more to attract online buyers
Logistics FDI rises in the face of retail expansion
Chi Mai