VietNamNet Bridge - The Vietnamese street food market, with estimated value of VND47 trillion, is now attracting big food supply chains and retailers.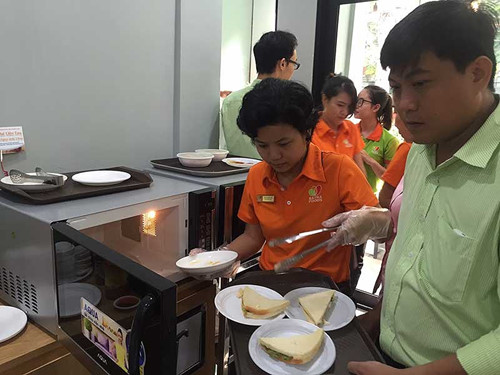 The Satrafoods shop run by the Sai Gon Trade Corporation (Satra) in district 10, HCMC, is busiest when school hours finish as it receives students from Tran Nhan Tong School nearby. The students buy sausage, milk tea and ten-ingredient fried rice.  
"The price here is affordable from VND5,000 to VND30,000 per portion. We often buy food here because the shop is near our school, and we can reheat the food in the microwave," a student named Trang told reporters.
A representative of Satra said the corporation decided to put street food on sale at its convenience store chain in order to improve competitiveness with other retailers.
"The shops not only are convenience stores, but also serve fast convenient meals," he said. 
The street food market in Vietnam is valued at VND47 trillion and has annual growth rate of 2 percent per annum.
Le Ngoc Nga, an office worker in Tan Binh district, said in the past, she usually bought nosh from vendors or kiosks on pavements, but now, she goes to the Vinmart+ near her office.

"The price here is a little bit higher than street shops. However, the food is safer because there is sufficient information about suppliers and manufacturing dates," she said.

7-Eleven, the giant from Japan, also is earning money from street food. It offers 100 fresh meals for breakfast, lunch and dinner, including Vietnamese streamed glutinous rice, sweetened porridge and braised pork with eggs.

Le Thi Thanh Lam, general director of Saigon Food, said previously convenience stores did not intend to sell fresh meals and street food. But they changed their business strategy when 7-Eleven targeted the market segment.

Expert on franchising Nguyen Phi Van quoted a report of Euromonitor as saying that the street food market in Vietnam is valued at VND47 trillion and has annual growth rate of 2 percent per annum.

The figures explain why not only vendors and street shops but big suppliers and retailers have also joined the market.

Nguyen Huy Hoang from Kantar Worldpanel commented that the sale of meals and nosh will help convenience stores attract more customers and stimulate demand.

Dao Xuan Khuong, a consultant on distribution and retail, noted that all convenience store chains target specific groups of customers. 7-Eleven, for example, mostly sells sweets, food and drinks and 'ready to eat' products, while Vinmart+ mostly sells 'ready to cook' products such as meat and fish.

However, Hoang doesn't think convenience stores will replace street shops because convenience stores are too small.
RELATED NEWS
Large corporations compete for market share in food sector
Vietnamese manufacturers 'forget' food market for Muslims
Thanh Lich