Supermarkets launch promotions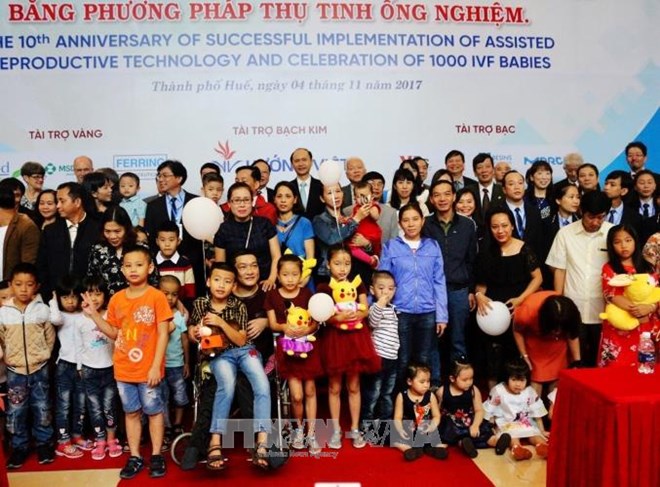 Supermarkets and electronics stores in Ho Chi Minh City have launched a slew of promotion programs to attract buyers from now to the end of this month.

Co.opmart and Co.opXtra supermarkets across the country have kicked off their promotion programs, giving out mobile phones and other gifts to customers. Buyers can also enjoy discounts on around 200 products every week.

From November 21-26, Co.opmart and Co.opXtra will pilot a "Black Friday" program to give special discounts on 50,000 products such as food, home utensils, fashion items and Co.opmart-brand goods. 

Other retail stores of Saigon Co.op such as Co.op Food, Co.op Smile, Sense City, Sense Market and HTVCo.op are cooperating with suppliers to provide discounts, reward points and gifts to consumers.

For the first time, the Big C supermarket system is coordinating with the Nguyen Kim home appliances store chain to give gift vouchers for Big C shoppers with bills of VND300,000 or above. The program runs till November 21.

At Lotte Mart supermarkets, consumers benefit from discounts from 5% to 49% on nearly 1,000 food products such as ready-made food, dairy products, confectionery and cereals.

Thien Hoa electronics centers offer discounts of up to 50% on thousands of products while offering installment payment plans and gifts to buyers. The program lasts till December 31.
Dong Nai exceeds 2017 target in FDI attraction

The southern province of Dong Nai has attracted US$1.02 billion in foreign direct investment (FDI) so far this year, exceeding its target for the year.

According to the provincial Department of Planning and Investment, as of early November, 58 FDI projects were approved with total capital of US$350 million, while 90 other projects received an additional US$670 million.

So far, the province has exceeded its 2017 target by 2%.

Some major projects the province has hosted include US$60 million Powerknit Vietnam company invested by the British Virgin Islands, the US$55 million Pou Phong Vietnam company, also from the British Virgin Islands, US$38 million Seah Vietnam steel company, and the US$25 million Saite Power Source Vietnam company from Hong Kong (China).

Meanwhile, US$80 million was injected into Pou Sung Vietnam company, US$50 million was poured into Full Way company, and US$40 million was added to Powerknit Vietnam company.

The department reported that so far, Dong Nai has attracted 1,724 FDI projects worth US$31.12 billion, including 1,285 valid ones with total capital of US$26.2 billion.

The projects are owned by investors from 45 countries and territories, with most from the Republic of Korea, Taiwan (China) and Japan.

More opportunity for Vietnam rice to enter Sri Lanka, Philippines

Sri Lanka and the Philippines have opened more international bids to import rice. This is an opportunity for Vietnamese businesses to win the bids and ship their rice immediately in this November.

According to the Import-Export Department under the Ministry of Industry and Trade (MOIT), the Sri Lanka Embassy in Hanoi informed the MOIT about the bid to be opened by the Sri Lanka Business Association to buy 200,000 tons of rice.

Meanwhile, the Philippines as the second largest importer of Vietnamese rice planned to import more rice in the remaining months of this year.

The National Food Authority of the Philippines (NFA) will open a bid to buy around 250,000 tons of rice in November. However, it is also said that the Pilipino Government may raise the import quantity to 500,000 tons.

Vietnam exported 5.05 million tons of rice in the first 10 months of this year to fetch US$2.25 billion, up 22.3% in volume and 21.1% in value against the same period last year.

The two remaining months will be favourable for rice export as key markets like China and the Philippines all need to increase their imports.

It is estimated that rice exports will reach 5.7 million tons this year, higher than last year's volume of 4.9 million tons.

Labour export companies have licences revoked

Forty-six labour export companies have had their licences revoked, according to a report by the Department of Overseas Labour (DoLaB), under the Ministry of Labour, Invalids, and Social Affairs (MoLISA).

Of the firms, 19 are based in Hà Nội, 10 in HCM City, while the rest are headquartered in the northern city of Hải Phòng, the central provinces of Nghệ An, Hà Tĩnh, and Quảng Nam.

A DoLab representative said most of the revocations were due to changes in operation scale, or the companies are no longer involved in labour export.

However, some companies had their licences revoked due to violations of the Law on Vietnamese Guest Workers (issued in 2006) such as sending workers overseas without signing labour supply contracts and allowing other individuals and organisations to use their licences to illegally recruit workers and collect fees, among others.

Despite having their licences revoked, according to the Law on Vietnamese Guest Workers, these companies still have to fulfill their responsibilities in the labour supply contracts as long as contracts remain valid.

The companies also are obliged to report to the DoLab on the number of active contracts, the number of labourers working overseas, the number of workers recruited for overseas jobs and plans for active contracts.

There are currently 290 active labour export companies throughout Việt Nam.

Labour export policies aim to fight unemployment at home and bring economic benefits, but the service has been sullied with negative issues, including low awareness of laws of workers and recruitment agencies, illegal residence of workers in host countries, as well as scams and fraudulent recruitment activities.

Farm co-ops target int'l links

Viet Nam wants to enhance co-operation with international organisations to promote the development of agricultural co-operatives, especially in supporting market access and management capacity, participants said at a seminar in HCM City on Monday.

Dang Van Thanh, vice director of Co-operative Development Department under the Ministry of Planning and Investment, said Viet Nam's legal framework for co-operative development had contributed to increasing the number of co-operatives and their improvement in scale, technology and markets.

As of the end of last year, the country had 19,569 co-operatives with more than 6.25 million members. Of these, 10,726 were agricultural co-operatives.

But agricultural co-operatives are facing difficulties, including a shortage of capital, lack of consultancy from staff and post-harvest preservation systems, and weak linkages among farmers, co-operatives and enterprises.

There was also limited management capacity among co-operatives' leaders, according to Thanh.

Most of the co-operatives supply inputs to household farmers' production, and only 12 per cent of co-operatives were active in processing and consumption of farm produce, while many operate moderately, which has not brought about practical benefits for members. Some are on the verge of dissolution.

Tran Thanh Nam, the Deputy Minister of Agriculture and Rural Development, said that agricultural co-operatives needed to learn from local and international experience to enable them to improve their performance and build new co-operative models to serve their members better and help them face challenges in the market.

In the past, Vietnamese and international organisations have had good co-operation in developing agricultural co-operatives, he said.

Through the seminar, the ministry wanted to provide international organisations with more information about agricultural co-operative development in Viet Nam and at the same time to enhance co-operation with them, he said.

JongHa Bae, representative of the Food and Agriculture Organisation in Viet Nam, said: "Viet Nam agriculture has demonstrated remarkable growth in terms of production in the last three decades, but farmers' income is still low. So right now, we should focus more on how to improve farmers' livelihood."

Co-operatives provide an opportunity for small-scale farmers to improve their productivity, add value to their produce, and increase their access to national and international markets, Bae said.

Nguyen Ngoc Bao, President of Viet Nam Co-operative Alliance (VCA), proposed that the ILO, FAO, UNDP, JICA and other international organisations sponsor advise the VCA to improve its communication capacity, modernise its information system, its investment and trade promotion centre, and train human resources in the co-operative sector and others.

"The importance of co-operatives is especially significant in the context of restructuring of agriculture and new rural construction," Le Duc Thinh, vice director of Department of Co-operative Economics and Rural Development, said.

The country targets having 20,000 agricultural co-operatives by 2020, of which 15,000 operate efficiently.

About 50-60 per cent of farmer households are members of agricultural co-operatives, with at least 1,000 safe agricultural product chains by then.

He also listed eight priority missions in agricultural co-operative development, including raising awareness of the role, effective model of co-operatives, improving policies for agricultural co-operative development, and providing training and capacity building.

Promoting linkages in the value chain, transferring science technology, and strengthening capacity of financial management and capital mobilisation are also considered important.

The sector wants to co-operate with international organisations to promote the development of agricultural co-operatives, according to Thinh.

At the event, a memorandum of understanding was signed to form the Network of Agricultural Co-operative Development Partners (NETCOOP) to promote the development of agricultural co-operatives, sustainable economic growth and the prosperity of the agricultural sector in Viet Nam.

The main partners in NETCOOP are: Ministry of Agriculture and Rural Development, Ministry of Planning and Investment, the VCA, the School of Management for Agriculture and Rural Development, the Department of Co-operative Economics and Rural Development, the Institute of Policy and Strategy for Agriculture and Rural Development, FAO, the German Agency for Development Co-operation (GIZ) and Canadian Co-operation Society for International Development (Socodevi), together with many other Vietnamese and international organsiations.

The seminar was organised by MARD, GIZ and Bayer Viet Nam in the framework of the Better Rice Initiative Asia.

Viet Nam to promote cashew sector at international conference in Phu Quoc

The ninth Vinacas Golden Cashew Rendezvous will be held in Phu Quoc Island from November 13 to 15 to promote trade, and expand markets for cashew products as well as help cashew growers and processing firms raise their incomes, and develop the cashew sector in a sustainable manner.

Co-organised by the Viet Nam Cashew Association (Vinacas) and the Viet Nam Trade Promotion Agency, the largest event in the Viet Nam's cashew sector is expected to attract about 400 domestic and international delegates from 40 countries and territories, said Dang Hoang Giang, Vinacas's deputy chairman.

Under the theme "Talk about cashew nuts, think about Viet Nam," the event will feature discussion sessions on strategies to develop the cashew sector in a sustainable manner, on cashew kernel and raw cashew nut global markets, a seminar on the role of woman in the cashew sector, a conference on international co-operation in the sector, a cashew products exhibition and other activities.

In addition, a Cashew Caravan Tour (from HCM City to Long An - Can Tho - Phu Quoc) to be held on November 12 and 13 will enable delegates to visit one of the country's largest cashew processing hubs, fruit orchards and rice paddies as well as enjoy the unique shopping activities at Cai Rang floating market, he said.

According to statistics of the Viet Nam Industry and Trade Information Centre, Viet Nam exported 294,000 tonnes of cashew nuts worth US$2.98 billion in the first 10 months of the year, an increase of 0.4 per cent in volume and 25.6 per cent in value over the same period last year.

The US, EU and China was the largest importers of Vietnamese cashews, accounting for 35 per cent, 25 per cent and 15 per cent, respectively, of the country's total export revenue.

Nguyen Duc Thanh, Vinacas's chairman, said the sector is expected to ship abroad 330,000 tonnes of cashew nuts this year, earning more than $3.3 billion, the most ever.

Viet Nam will retain a market share of more than 50 per cent in the global cashew nut market, which is estimated at $5.5 billion, the association said.

Viet Nam has been the largest cashew nut exporter in the world since 2006. 

Finnish firms ready to partner Hanoi in clean water, energy sectors

Finland is transferring modern technology to provide clean water and renewable energy solutions for Hanoi, Finnish Deputy Minister of Economic Affairs and Employment Petri Peltonen told a Hanoi official on November 6.

At a working session with Vice Chairman of the Hanoi People's Committee Nguyen The Hung, Peltonen said with the two countries' 45-year diplomatic relationship, there are opportunities for Vietnam and Finland to enter a new stage of cooperation.

Large cities play a crucial role in a country's development, he said, noting that Finland hopes to contribute to the development of Hanoi and Vietnam by giving support in clean water supply, renewable energy development and smart city building.

Highlighting similar development targets, Peltonen said Hanoi and Finland can enhance cooperation. With their experience, companies operating in the energy and environment sectors in Finland are ready to become partners of Hanoi.

For his part, Vice Chairman Hung said cooperation between the two countries' governments and between Hanoi and Finnish cities has brought encouraging outcomes. Since the 1990s, the Finland-built Mai Dich water plant has been one of the best water plants in Hanoi.

However, clean water is still an urgent issue in the Vietnamese capital city, which has a population of about 10 million, he noted, adding that Hanoi is mobilising resources to ensure clean water, about 180 litres each person per day, for all residents. It is also working to end groundwater exploitation.

The city welcomes investors who can provide effective clean water solutions, and it hopes for more Finnish investment, Hung said.

Hanoi also wants Finnish investors to participate in waste-to-energy projects since Finland is a leading country with clean energy. About 6,000-8,000 tonnes of waste are released in the city every day, with most of it still buried.

Hung noted that Hanoi is taking the first steps to turn it into a smart city, and it also looks forwards to Finnish investment in this field.-

Dong Nai exceeds 2017 target in FDI attraction

The southern province of Dong Nai has attracted 1.02 billion USD in foreign direct investment (FDI) so far this year, exceeding its target for the year.

According to the provincial Department of Planning and Investment, as of early November, 58 FDI projects were approved with total capital of 350 million USD, while 90 other projects received an additional 670 million USD.

So far, the province has exceeded its 2017 target by 2 percent.

Some major projects the province has hosted include 60 million USD Powerknit Vietnam company invested by the British Virgin Islands, the 55 million USD Pou Phong Vietnam company, also from the British Virgin Islands, 38 million USD Seah Vietnam steel company, and the 25 million USD Saite Power Source Vietnam company from Hong Kong (China).

Meanwhile, 80 million USD was injected into Pou Sung Vietnam company, 50 million USD was poured into Full Way company, and 40 million USD was added to Powerknit Vietnam company.

The department reported that so far, Dong Nai has attracted 1,724 FDI projects worth 31.12 billion USD, including 1,285 valid ones with total capital of 26.2 billion USD.

The projects are owned by investors from 45 countries and territories, with most from the Republic of Korea, Taiwan (China) and Japan.

450 firms to attend Vietbuild 2017

Nearly 1,500 booths of 450 firms in real estate, interior-exterior decoration, construction and building materials will be organised during the Vietnam International Construction Exhibition (Vietbuild) 2017 that is slated for November 10-14 in Hanoi.

According to the organising board, the event will attract 273 domestic firms, 117 joint ventures and 60 foreign enterprises from 22 countries and territories, including the US, the UK, France, Spain, Germany, Australia, Sweden , India, Italy, Japan, Singapore, Thailand and Indonesia.

Nguyen Tran Nam, President of the Vietnam National Real Estate Association, said that the event will introduce diverse products of real estate and construction sectors, along with various activities.

The exhibition has become a huge trademark accompanying the growth of construction sector, while serving as a playground for domestic and foreign firms, creating chances for them to seek partnership, he said.

According to the organising board, major products showcased at the event include real estate, smarthome system, electronics, door and accessories, interior-exterior decoration, construction materials, solar energy solutions, water filter and construction meter devices.

A business forum and customers' meeting will also be held on the sidelines of the event.

Minh Long ceramics on display during APEC 2017 Economic Leaders' Week

Nearly 40 collections of ceramic products from Binh Duong-based Minh Long 1 Ceramics Limited Company are on display at the International Media Centre during the APEC Economic Leaders' Week from November 6-11 in the central coastal city of Da Nang. 

The products are also introduced to APEC delegates at an exhibition at the Ariyana Convention and Exhibition Centre from November 7. 

The most outstanding products exhibited are bowls and plates with decoration patterns inspired from marine living creatures, lotus flower and drawings from Vietnamese ancient bronze drums. 

In addition, officials from Minh Long 1 will attend the Vietnam Business Summit (VBS), to be held for the first time within the framework of the APEC 2017 on November 7. The summit aims to boost business exchanges, networking, and trade promotion of all 63 cities and provinces across the country during the APEC Economic Leaders' Week.

Through such activities, Minh Long wishes to promote the quintessence of Vietnamese ceramic products to APEC delegates.

The company's participation in the APEC Economic Leaders' Week also represents the commitment of Vietnamese enterprises to contributing to the success of the event-

Assoc targets cashew exports of US$3.5-3.7 billion

The Vietnam Cashew Association has set a new export target of US$3.5-3.7 billion this year for the cashew industry, US$200-400 million higher than earlier forecast.

The association said in a press release that the industry is expected to ship 330,000 tons of cashew nuts worth more than US$3.3 billion.

The association forecast Vietnam will continue making up over 50% of global exports of cashew nuts predicted at around US$5.5 billion.

If this comes true, Vietnam will remain the world's largest cashew nut exporter for 12 consecutive years.
Data of the Vietnam Industry and Trade Information Center shows the country shipped about 294,000 tons of cashew nuts abroad worth US$2.98 billion in the January-October period, up 0.4% and 25.6% year-on-year respectively.

The United States, the European Union and China remain the three largest consumers of Vietnamese cashew nuts, accounting for 35%, 25% and 15% of Vietnam's export earnings.

Local processors exported over 348,000 tons of cashew nuts worth US$3.1 billion last year.

The Vietnam Cashew Association and the Vietnam Trade Promotion Agency will hold the 9th Vinacas Golden Cashew Rendezvous on Phu Quoc Island off Kien Giang Province from November 13 to 15. The event is expected to attract 400 domestic and international delegates from 40 countries and territories across the world.

Seafood export revenue may reach US$8.2 billion this year

Total export turnover of seafood may amount to a staggering US$8.2-8.3 billion in all of this year, according to the Vietnam Association of Seafood Exporters and Producers (VASEP).

Outbound sales of seafood products in the year to October had totaled US$6.73 billion, a year-on-year rise of around 18%. The result prompted VASEP to adjust up its July forecast of about US$8 billion.

Vietnamese exporters are finding it tough to ship their tra fish (pangasius) products to the United States, and seafood products to the European Union. However, shrimp exporters have seen strong growth in their sales.

The sector in the January-September period experienced sharp rises in seafood exports to China (up 66% year-on-year), the Netherlands (43%), the United Kingdom (roughly 30%), South Korea (28%), Japan (25%), and Canada (23%). However, Asia was still the main market for Vietnamese seafood.

Earlier in 2014, seafood products brought in US$8 billion in outbound sales. However, the figures for the two following years were around US$7 billion a year.

Đồng Nai's FDI attraction surpasses annual target

The attraction of foreign direct investment (FDI) in the southern province of Đồng Nai has, so far, this year surpassed the US$1 billion target set for the entire 2017.

According to the provincial Department of Planning and Investment, the province attracted US$1.02 billion in FDI in the first 10 months of 2017.

In the period, 58 newly-registered projects totaling $350 million were licensed, while $670 million was added to 90 existing projects.

The Republic of Korea, Taiwan and Japan remained the largest investors in the province.

Some typical projects in the first 10 months included the $60 million Powerknit Vietnam Co., Ltd project of British Virgin Islands, the $55 million Pou Phong Vietnam Co., Ltd project of British Virgin Islands and the $24 million Phu Lam Plastic Industry Joint Stock Company project of Taiwan.

The provincial Department of Planning and Investment estimated Đồng Nai would attract FDI worth $1.5 billion in 2017.

The province is currently home to more than 1,720 valid FDI projects worth more than $31.1 billion by investors from 41 countries and territories.

Taseco Airs files for HOSE listing

Thang Long Air Services Corporation (Taseco Airs) has filed for listing on the HCM Stock Exchange, the country's major stock market.

The listing portfolio is in consideration of the southern market exchange.

Taseco Airs became a public company in September 2017 with VND360 billion (US$16 million) in the charter capital.

The company was established in September 2015, operating in the air service business with a focus on restaurants, cafeterias, souvenir stores, advertisements, foreign currency exchange and the supply of on-board meals at international airports across Viet Nam.

Taseco Airs recorded VND480 billion in revenue in the first nine months of 2017, a yearly increase of 139 per cent. Its nine-month post-tax profit rose four-fold from the previous year, to VND135 billion.

On October 24, the Danish private equity company, PENM Partners' investment fund Private Equity New Markets IV K/S (PENM IV), purchased 3.6 million shares or 10 per cent of Taseco Airs to become the major shareholder.

PENM IV is a fund established in June 2015 with a first closing of approximately $120 million, and a final closing expected in 2016 with a target size of $150-175 million.

Besides PENM IV, the Denmark-based private equity firm PENM Partners is running three other funds with a total $400 million under its management. 

ACAPR proposes measures to reduce expenditures for enterprises

The Government's Advisory Council for Administrative Procedure Reform (ACAPR) has proposed a number of measures to reduce procedures and expenses for enterprises.

The council has requested the State to continue cutting, reducing and simplifying specialised inspection procedures and business conditions. The State should review and reduce charges for transport, logistics, use of infrastructure and public services and facilities in the areas of land border gates and seaports in some localities which have border gates.

It should continue to reduce and simplify administrative procedures in general, and reduce rates or abolish certain unnecessary charges.

According to the council, the state needs to study, abolish and simplify procedures relating to business registration stipulated in the Decree 78/2015 on registration of enterprises and to change of business license.

The state should study and simplify requirements in the process of seeking approvals for developing projects.

It needs to study and adjust regulations on the period of contributing charter capital from shareholders/investors as stipulated in the Law on Enterprises. At present, the period is 90 days from the date of issuance of the certificate of business registration. However, as most banks have strict regulations on risk management, many enterprises do not meet this requirement for 90 days to open direct investment and capital contribution accounts.

Tax, customs reform needed

Taxation and customs general departments must simplify their administrative procedures and eliminate unnecessary licences to attract more overseas Vietnamese investors, experts said.

"Vietnamese taxation and customs policies were reformed in recent years to create favourable conditions for local and foreign enterprises to do business," Peter Hong, deputy chairman of the Business Association of Overseas Vietnamese, said.

"However, Vietnamese taxation and customs policies change regularly, which makes it difficult for Vietnamese to have information. Also, the overseas Vietnamese business community does not receive much information about incentive projects and fields," he added.

Hong said overseas Vietnamese send a huge number of remittances every year to Việt Nam, but only a small amount of the money was used to invest and conduct business.

For the first 10 months of the year, a total of US$2.7 billion of remittances were sent to HCM City, of which only $260 million were channelled into investments.

"It means that most remittances have been spent for individual purposes and they haven't created any new value at a time when the city lacks huge capital for socio-economic development," he said.

Châu Bá Long, general director of Minh Nguyên enterprise, said the Government had given priority to supporting industries, but machinery imports for these industries had not received preferential taxes and customs procedures as several other industries had.

"More importantly, import licenses for secondhand machinery are out of date," he said.

The law stipulates that enterprises cannot import 10-year-old machines, but in reality many machines have operated over 10 years and retain their quality and efficiency better then many new-tech domestically made machines.

David Ngô, a businessman, cited the example of automated and engineering machines from Germany, France and Sweden.

"Such machines operate for a long time and their precision is still much better than brand-new ASEAN products," he said. "Furthermore, Vietnamese authorities regulate old and new technology based on the amount of time, which is inappropriate. Such regulations have restricted many overseas Vietnamese from importing machines."

Many overseas Vietnamese businesspeople have also complained that their vehicles such as cars and motorbikes could not be brought into Viet Nam because of regulations on equipment, machinery and private vehicle imports that require time of usage rather than certain levels of efficiency and environmental protection.

They are also concerned about financial regulations which do not limit the amount of money that overseas Vietnamese can bring into Việt Nam, but limit the amount that can be sent out.

"The regulation allows us to bring the same or less amount of money than we brought to the country. But if the time period is more than one year, we must have a licence from the State Bank of Việt Nam. How can we benefit over the long term?" David Ngô asked.

Bùi Việt Cường, an overseas Vietnamese from Switzerland, said: "Regulations are very necessary to ensure State management in every aspect of life. The knowledge of overseas Vietnamese in finance is great, and relevant authorities should issue proper policies to encourage them to invest and promote the country's development."

Nguyễn Hữu Nghiệp, deputy head of the HCM City's Customs Department, said that authorities had tried to reform administrative procedures, especially online services, to reduce cumbersome procedures for overseas Vietnamese and investors, and have regularly organised forums to hear complaints.

"We will submit all proper and practical complaints to relevant ministries for adjustment in order to create the most favorable conditions for investors," he added.

14 listed firms honoured for investor relations
     
Fourteen listed companies on the HCM City Stock Exchange and Ha Noi Stock Exchange on Friday were honoured with the IR Awards for having the best investor relations in 2017 after being voted for by investors and financial institutions.

The awards this year were divided in three groups based on market capitalisation (large, medium and small and micro cap).

Winners of IR Awards voted by investors were Coteccons Construction JSC, Hau Giang Pharmaceutical Company, Viet Nam Dairy Products JSC (in large capital), Hoa Sen Group, Khang Dien Investment and Trading House JSC, Sai GonThuong Tin Real Estate JSC (in mid cap) and Digital World Corporation, Son Ha International Joint Stock Company and Construction Joint Stock Company No 3 (in small and micro cap).

While awardees for having IR activities highly evaluated by financial institutions were Coteccons Construction JSC, Hau Giang Pharmaceutical Company, Viet Nam Dairy Products JSC (in large cap), Binh Minh Plastics JSC, PetroVietnam Fertiliser and Chemicals Corporation, HCM City Securities Corporation (in mid cap), and Digital World Corporation, Hang Xanh Motors Service JSC, Duc Thanh Wood Processing JSC (in small and micro cap).

Held by the online newspaper Vietstock and the Viet Nam Association of Financial Executives (VAFE), the awards seek to raise awareness among listed companies of complying with disclosure requirements and relations with investors, especially shareholders, to develop an open, transparent and effective stock market. 

Concern over Vinawaco capital loss
     
Three years after an initial public offering (IPO), Viet Nam Waterway Construction Joint Stock Corporation (Vinawaco) has not transferred the State's capital from the transport ministry to the State Capital Investment Corporation (SCIC).

The largest problem for the company is its losses and debts, which reached VND138 billion (US$6.13 million), local media reported in August. The problem has stirred public concerns over the chance of the Government suffering losses when selling its stake in the company.

According to company chairman Ngo Van Tuan, the losses and debts included VND66 billion worth of bank loans and VND38.2 billion in construction costs for 25 unfinished projects that were launched before 2013.

The largest bank loan was the VND53 billion borrowed from Vietcombank's HCM City branch 22 years ago. The loan began at VND12 billion and had generated VND40 billion in interest after 22 years.

Tuan said that the losses and debts were not covered in the company valuation when it prepared its IPO, thus, the actual numbers must be larger than the recorded figures.

"The State is holding 30 per cent of Vinawaco, equal to VND109.8 billion. If those losses and debts are counted in the valuation, the State's capital will be reduced to a negative VND30.3 billion," Tuan said.

The situation has become worse for Vinawaco, as the company has been sued by its own shareholders, suppliers and partners, while its bank accounts have been frozen after being declared non-performing loans by local lenders, Vinawaco said in a statement sent to the transport ministry.

At the company's annual shareholders meeting held in late July, Vinawaco reported VND440 billion in revenue and only VND1.8 billion in post-tax profits – the lowest in three years – resulting in a dividend payout rate for shareholders of only 0.6 per cent.

The company also reported that receivables and inefficient financial investments consumed 56 to 59 per cent of the total payables, while bank loans have tripled the firm's owner-equity capital.

To sort out solutions for Vinawaco, the Ministry of Transport had asked the company to compile and submit a report on its debts and losses by September 30, Vietnam News Agency reported on Friday, citing deputy transport minister Nguyen Van Cong.

The report must cover Vinawaco's loans from Vietcombank's HCM City branch and other businesses, such as Transport Investment Cooperation and Import and Export Joint Stock Company (Tracimexco), as well as the company's receivables and long-term financial investments, he said.

The ministry will seek solutions to deal with the firm's financial losses and debts, and seek charges against individuals and groups that had led to this situation, Cong said. "The ministry will report any issues that are beyond its authorisation to the Prime Minister."

Vinawaco was founded in 1982 and has been operating as a joint-stock company since June 2014. The company launched its IPO in late March 2014, selling nine million shares, offered at the IPO for an average VND10,100 per share.

The transport ministry has remained a shareholder of the company on behalf of the Government with a 30 per cent stake, equal to VND109.8 billion. 

Fair promotes wooden furniture
     
The Viet Nam Furniture and Home Furnishing Fair (VIFA Home 2017) will return to HCM City this month, promoting locally-made wooden furniture, home decor and handicraft products in the domestic market.

VIFA Home 2017, to be held in District 11's Phu Tho Sport Centre from November 23-26, will feature 487 booths set up by 87 local and foreign firms involved in wood processing, interior decoration, handicrafts, sanitation equipment and supporting services for the wood processing industry. The fair will offer opportunities for customers to shop for furniture and interior and exterior furnishing items that meet export standards, according to the Handicraft and Wood Industry Association of HCM City (Hawa).

To be held by Hawa in collaboration with Hawa Corporation, the fair offers designers, manufacturers and distributors a good chance to co-operate and provide the market with the best quality products at reasonable prices.

Huynh Van Hanh, Hawa's standing deputy chairman, said consumption of wood products in the domestic market has enjoyed a growth rate of 6-10 per cent per year and is expected to reach US$2 billion this year. 

Vietnamese girl inspires Facebook COO Sheryl Sandberg with bike tour startup

A Vietnamese entrepreneur has inspired Sheryl Sandberg, chief operating officer of Facebook, by her vision to empower women with a startup company that offers city tours led by female bikers.

Nguyen Thi Huong Lien's name was brought up by Sandberg as the executive addressed a crowd of thousands of world business leaders and diplomats at the APEC CEO Summit in Da Nang on November 10.

Lien was the founder of the 'I Love Hue' tour, which operates motorbike tours that introduce visitors to the Vietnamese lifestyle in and around Hue City in the central region.

"Guests ride on the back of motorbikes, expertly (and safely) driven by the Hue Lady Riders," an introduction on the company's official site reads, highlighting its focus on women.

Sandberg had met with Lien the day before, where the Facebook executive listened to the young entrepreneur's business ideas as well as her expectations for improvements to gender equality in Vietnam and worldwide.

At the summit, Sandberg told the audience about Lien's startup story to demonstrate her point that when women decide to run a business, they are able to achieve big things.

In 2014, Lien founded her travel startup in Hue City at the age of 20 with only US$100 in her pocket.

"I like to meet people to learn and share experiences. I dream to be a young leader and to take ownership of my life," she writes in her self-introduction posted on the company's site.

The dream had led Lien to hire mostly women, and until how she has employed as many as 75 female bikers who have become the soul of the company.

In June, Lien's travel startup was honored with the WISE Women's Leadership Awards, which offered mentoring through Vietnam's Women's Initiative for Startups and Entrepreneurship (WISE) to help launch the company on a larger scale.

According to the young business leader, a team from Facebook had got in touch with her in Hue a few months back to film a document about her startup.

The clip was later viewed by Sandberg, who said she was immediately inspired by Lien and wanted to meet her in person for further discussions.

On November 9, Lien was invited to Da Nang for a private meeting with the Facebook COO together with four other Vietnamese entrepreneurs.

"Sheryl Sandberg thought my startup was a good business model," Lien said. "She told me that if the goal of my tour was to help people, especially women, travel safely then it would deserve to be duplicated in other parts of Vietnam as well as in other countries."

The female founder said she had even received a personal email from Sandberg, in which the Facebook executive gave words of encouragement to Lien to keep her passion burning.

Sandberg also presented Lien with a signed copy of her book Lean In.

Cooperation to enhance animal feed supply chain management

A memorandum of understanding has been signed between the Business Association of High Quality Vietnamese Products and the Netherlands-based GMP International and Business Support and Application Services Limited Company (BSAS).

The agreement is aimed at enhancing the capacity of managing the animal feed supply chain for Vietnamese firms.

This was among several efforts to help Vietnamese food companies produce safe meat products by using safe animal feed, association chairwoman Vu Kim Hanh said.

Accordingly, GMP International will provide support to the association and BSAS to enhance capacity for the Vietnamese animal feed supply chain, which will contribute to ensuring food hygiene and safety in animal husbandry.

Nguyen Van Ngoc, deputy chairman of the Southeastern Animal Husbandry Association, said hygiene and safety remained a headache in Vietnam.

GMP International is an international non-profit organisation that promotes safety in feed production.

Its GPM Feed Certification has more than 16,940 participating companies worldwide.

Women come up with creative ideas in response to climate change

Vietnam is facing severe impacts of environmental pollution and climate change. Efforts to reduce greenhouse gases and slow climate change have received a strong response from the general public including women.

Trinh Thi Hong of Da Nang city has found ways to make useful products out of waste. Hong has created liquid cleaners, dishwashing detergents, and fertilizers from organic waste, helping her save money while protecting the environment.

Hong's method is quite simple. Fruit and vegetable waste is washed, dried, and put into a plastic bucket with 300 grams of sugar and 10 liters of water. The mixture is kept for 30 days and then filtered to get 2 liters of finished liquid. The liquid is mixed with organic matter extracted from coconut flesh to create viscidity, suds, and a pleasant aroma. This method of making dishwashing detergents and household cleaners has been popularized across Da Nang city. Now 90 local households are earning US$220 a month from the cleaning products they produce.

Hong said "I failed many times because of a lack of knowledge and experience. Many customers have asked for more new products such as hand washing liquids and laundry detergents. I want other women to get involved in this project to protect their family's health and the environment."

A growing shortage of clean water for daily use as a result of climate change has worried scientists. Nguyen Thi Hau, a lecturer with the Environment and Resource faculty of Da Lat University, is concerned about safe water for people in flooded regions and areas affected by salinity intrusion.

Hau says that during her studies abroad she learned about something called endosmosis filter membrane technology, which can turn polluted water into drinking water.                            
"This filter bag can counter the temporary water shortage caused by flooding and salinity intrusion. The technology is already widely known around the world but the cost remains high. 

My plan is to produce cheaper bags. I'm working with the National Taipei University of Technology to make endosmosis filter membrane bags which can be reused to minimize costs. If a filter membrane is reused, it will cost as low as 70 US cents per year instead of US$3.6 currently," Hau said.

The innovations of Trinh Thi Hong and Nguyen Thi Hau are just 2 of the 9 ideas that have been honored by the Vietnam Women's Union for contributing to disaster risk reduction and climate change mitigation.

Nguyen Thi Minh Huong, head of the Union's Communications and Education Department, said "We are cooperating with the disaster prevention authorities to improve the public's understanding of the important role women can play in disaster risk reduction and climate change response. 

At the grassroots level, we will promote communications activities to raise the awareness of women and help them outline a family plan based on four things that are needed 'on-the-spot' to minimize environmental impacts on their family: leadership on-the-spot, human resources on-the-spot, means on-the-spot, and logistics on-the-spot."

H&M welcomes over 2,000 customers on official opening day

In the morning of November 11, the H&M fashion store in Hanoi welcomed more than 2,000 visitors and shoppers to celebrate its first official opening day.

A long line of fashion lovers have been waiting since 10.00 PM the previous night to become the first buyers of H&M's fashion products.

Customers had the opportunity to join a music party with a countdown and lively performances from famous DJs as well as typical music and dancing perfermances of H&M's staff. Besides, the first 1,000 customers were given three vouchers valued at VND6 million, VND3 million, and VND2 million, respectively.

"Simultaneously, we received a fantastic welcome to Vietnam in general and Hanoi in particular, thus H&M confirms to bring customers high-quality products, catching the fashion trend," said Fredrik Famm, H&M's country manager for Southeast Asia.

The store will showcase the latest menswear, women's clothing, footwear, undergarment, and accessories product lines, as well as products for kids.

Located in Vincom Mega Mall Royal City in Hanoi, H&M's second store in Vietnam targets the same market segment of affordable fashion as the first one in Ho Chi Minh City. On the first opening day, H&M opened from 10.30 AM to 10.00 PM, and regular opening hours will be from 9.30 AM to 10.00 PM.

3.33 per cent of state stake in Vinamilk to be sold this afternoon

State Capital Investment Corporation (SCIC) will offload 3.33 per cent state stake at Vietnam Dairy Product JSC (Vinamilk), the leading producer of dairy products in Vietnam, at 2 PM today at the Ho Chi Minh City Stock Exchange. 

Le Long, manager of SCIC's Strategy and Planning Department, made the statement at today morning's Vietnam-Korea M&A seminar.

"The value of the divestment is expected at over $300 million. As of 4 PM yesterday, around 19 domestic and foreign investors have registered to buy the state's stake at Vinamilk. Around 48.3 million Vinamilk shares will be sold this afternoon," he added. 

According to Long, Vinamilk is among the firms named in SCIC's divestment plan in the 2017-2020 period.

Vinamilk now has the chartered capital of VND14.5 trillion ($659 million). The state capital is VND5.7 trillion ($259 million), or 39 per cent.

Previously, in mid December 2016, F&N Beverages Manufacturing Sdn., Bhd. and F&N Dairy Investments Pte., Ltd., the two 100-per-cent-owned subsidiaries of Fraser & Neave Ltd. (F&N), spent VND11.3 trillion ($499.56 million) buying a total of 78.38 million shares, equalling a 5.4 per cent stake in Vinamilk. The share volume bought was equal to 60 per cent of the shares put on sale.

Ford Vietnam records rising October sales despite incoming tax policy
Ford Vietnam announced October retail sales that rose marginally from the prior month to 2,282 vehicles, amidst a slowdown in industry sales as customers increasingly delay purchases ahead of the new tax policy slated for January.

Ford Vietnam records rising October sales despite incoming tax policy

Led by the Ranger, Transit, and EcoSport, Ford's year-to-date sales have risen slightly versus last year to 23,634 vehicles, representing a market share of 10.4 per cent.

"Our sales remained steady in October as overall sales continued to slow down ahead of the new excise tax policy," said Pham Van Dung, managing director of Ford Vietnam.

The segment-defining Ranger delivered an exceptional month with retail sales rising by 13 per cent against the prior month to 1,425 vehicles. The 'Built Ford Tough' Ranger continues to lead Vietnam's pickup segment with year-to-date sales increasing by 7 per cent to 12,159 vehicles.

The popular Transit continued to lead the bus and van segment with October sales of 360 vehicles and year-to-date sales of 4,929 vehicles. The Transit's durability, versatility and value proposition continue to be appreciated by business owners across a variety of industries.

Both the EcoSport compact SUV and Explorer premium SUV continued to lead their respective segments. The EcoSport delivered October sales that rose 5 per cent on-month to 280 vehicles, driving year-to-date sales up to 3,205 vehicles. The Explorer recorded sales of 75 vehicles in October with year-to-date sales reaching 981 vehicles.

The year-to-date sales of the sporty Focus have increased by 21 per cent to 874 vehicles, including October sales of 74 vehicles.