Asia-Pacific executives are increasingly looking at Vietnam as a market and means as they see the population is increasing but the economy is growing, and people have more income.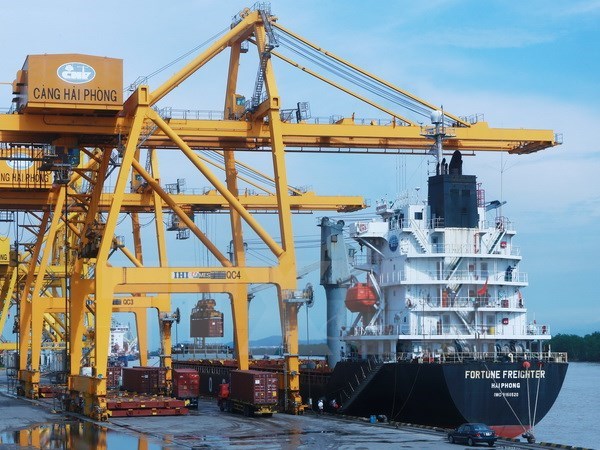 Containers are loaded onto a ship at Chua Ve Port in Hai Phong city
James Fatheree, Vice President of Asia of the US Chamber of Commerce (AmCham) made the remark while giving an interview to Vietnam News Agency on the sidelines of the APEC CEO Summit 2017 held in the central city of Da Nang on November 8-10.
"Now they see opportunities to make more investment in the country in order to serve the local population but also American companies investing in here and employ a lot of Vietnamese so it's a win-win," he said. 
He cited an ASEAN business survey that the US Chamber of Commerce has conducted. The key findings show that executives who are based in the ASEAN countries identify Vietnam as the country that they would most want to do business with, other than the ones they are currently operating. So someone who is based in Indonesia when they were asked which country would you like to do business and they said Vietnam.
"I think that the point to the excitement that executives have about Vietnam and the opportunities here is the growth. People speak very highly of people of Vietnam and their work level and so forth," he said.
However, he noted that there are still some challenges in Vietnam. "I think what we want to do is working together to overcome the challenges," he said. 
According to him, there are still concern of corruption, concern of certain regulations and how the government is regulating specific industries whether it's health care or electronic payments or other things. 
"So we need to work together in order to find ways that allow those kinds of industries to operate in Vietnam so that they can contribute to the country's economic growth," he stressed. 
He also said he is impressed with the progress Vietnam has made in the last few years in terms of opening the economy. 
"We are very encouraged by Vietnam's participation in the TPP and the commitments that were made in the deal to reform the state and enterprise sectors to open the market more in order to provide more certainty for investors to open up services market and also the rules on digital economy," he said.
If Vietnam continues those commitments, that will send a really powerful and positive signal to foreign investors and they will see that Vietnam is a place where they want to do business, he added.-VNA