Vietnam offers many land and tax incentives to attract foreign direct investment (FDI) but the sector's contribution to the economy is still limited, National Assembly (NA) delegates have said.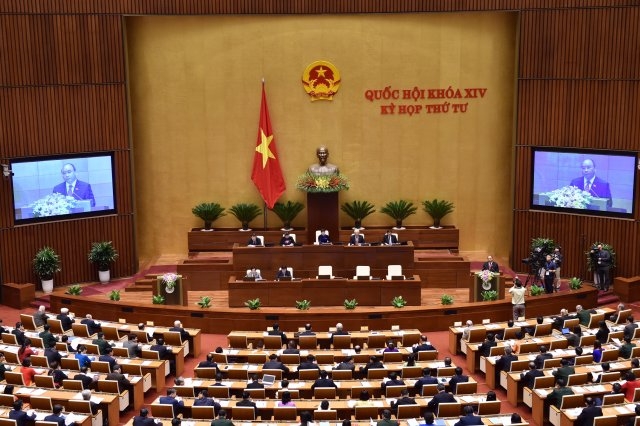 Despite accounting for more than 70 per cent of total export revenue, the sector's contribution to State coffers is estimated at 15-17 per cent, delegate Mr. Pham Trong Nhan told the ongoing NA session on October 31.
He was also concerned about transfer pricing by foreign enterprises, which hurts the State budget. Even though business is booming in Vietnam, up to half of foreign-invested enterprises announced losses between 2007 and 2015.
According to Oxfam, a global charity that fights inequality, Vietnam faces annual losses of $170 billion due to transfer pricing, Mr. Nhan said, stressing that the country should review existing policies, slash overly generous incentives for foreign investors, and offer local private firms equal treatment.
In Vietnam, foreign investors are exempt from corporate income tax and get to use thousands of square meters of land at industrial parks for many years for free. Meanwhile, local firms find it hard to even secure 100 sq m for their workshops.
"Why do we make it so difficult for local firms?", Mr. Nhan asked, adding that FDI should support the development of Vietnamese products instead of overwhelming local firms.
Earlier, NA delegate Mr. Truong Trong Nghia warned against the undue dependence on overseas investors. Under international norms, FDI should account for only 5 per cent of gross capital formation, but in Vietnam it now makes up 25 per cent, which may pose risks to the economy.
"Economic development cannot rely on foreign firms, only local ones," Mr. Nghia said. Foreign investors, he explained, could leave Vietnam for other markets when the country no longer has a competitive advantage. Echoing him, Mr. Nhan added: "It is worrisome when GDP growth depends on FDI enterprises."
NA delegates are also concerned about the low rate of technology transfer in FDI projects, to the detriment of Vietnam, because most are labor intensive.
In the 22 years since it arrived on Vietnam's shores, Samsung has almost single-handedly helped turn the country into an electronics manufacturing hub, with over $17 billion in investment. Mr. HyunWoo Bang, Vice President of Samsung Vietnam, told VET in an earlier interview that more than cheap labor costs, which are unavoidably increasing, it is the workforce that will play a crucial factor for Vietnam during the time to come.
This means that Vietnam should have new tax policies and a new labor code to maintain the competitiveness of its workforce. Besides, for Vietnam not to lose its appeal, "the government should decide to focus on specific industries," Mr. Bang believes. "Labor cost incentives do not work best for high technology investment projects, while corporate tax exemptions may not be as beneficial for textiles and garments."
Official data shows Vietnam received an estimated $14.2 billion in FDI in the first ten months of this year, up 11.8 per cent year-on-year. FDI pledges for new projects, increased capital, and stake acquisitions jumped 37.4 per cent from a year earlier to $28.24 billion, according to the Ministry of Planning and Investment's Foreign Investment Agency.
FDI inflows this year are expected to hit $16 billion.
VN Economic Times