Livestreams have proven to be an effective method of reaching out to customers.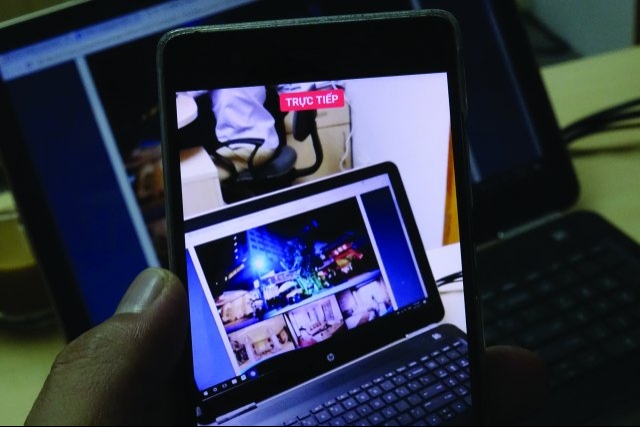 Three days a week at 8pm, the 33-year-old owner of the Style shop, Ms. Nhu Hai Ha, goes online to introduce her new clothing lines. Her livestreams usually attract 15,000 views and hundreds of comments. 
With five years of experience in the online business, she applies many tools on Facebook and websites but prefers using livestreams to sell her products. 
"Since using the livestream function on Facebook, I've found it's the best way to sell products and see great results," she said.
Like many other Vietnamese people doing business online nowadays, Ms. Ha has changed from posts and videos on Facebook to livestreams in order to attract and interact with customers. Her revenue has grown since adopting the new trend.
Trendy advertisements
More than 100,000 people now sell online in Vietnam, in particular on Facebook, Zalo, YouTube, Google, and Instagram, according to Vinalink Media's Vinalink Survey, and livestreams are considered to be the latest and best method for online retailing. 
Between 10,000 and 40,000 livestreams are broadcast each day on fanpages and personal Facebook accounts. Livestream has been around for a few years and has changed the advertising activities of both private shops and large enterprises.
The Binh Tien Joint Stock Company (Biti's) is a perfect example. It has used livestreams since conducting the first Dream Practice Campaign in 2016 and found they attract a substantial audience. 
"The number of followers of the Campaign has risen significantly," Mr. Le Tang Gia Phu, Brand Manager at Biti's KID, emphasized. After realizing the positive effects of livestreams, Biti's continues to use the method to introduce new products, with Biti's Hunter being clear evidence of the impact livestreams can create, with sales of the shoes exceeding expectations and marking a breakthrough for the company.
A popular cosmetic brand from South Korea, Laneige has used livestreams to promote its new produces since January. Each receives around 4,000 comments and sales can nearly double within 24 hours of broadcasts and up to 413 per cent the following day, according to Ms. Nguyen Quynh Chi, Digital Marketing Associate at the Amore Pacific Group in Vietnam. 
Along with Laneige, MobiFone, one of the largest telecoms companies in Vietnam, has used the function to launch new products or broadcast press conferences. The company achieved great success in its livestreams for the Samsung J7 Pro Hunter with actor Viet Anh. 
Total views reached 152,000 and comments 6,818, with nearly 2,000 shares. Because livestreams are so fruitful, MobiFone now uses them for almost all its events, especially those targeting younger customers.
Livestreams not only work with products, with singer Noo Phuoc Thinh, marketing agencies like Ho Ngoc Ha, as well as Heineken Green Room, Gala Vietnam Top Hits, and the Gala Wechoice Awards using it to advertise events, boosting their exposure. 
"We approach and advertise to an audience numbering in the millions, which is many more than by using traditional advertising methods," said Ms. Nguyen Thi Thuy Tinh, Marketing Manager at the ST Communications Joint Stock Company.
Key factor
Livestreams were initially only Facebook users recording videos and posting them to trigger discussions among their friends, but then large companies gave the practice a professional touch. In preparing for livestream, most companies create a detailed plan on content. 
Key Opinion Leaders (KOLs) - people who influence customers and purchasing decisions and are stars, hot Instagrammers, beauty bloggers, or vloggers - are a necessary factor in successful livestreams.
Based on the product and the customer segment, a company's marketing team will choose the right KOL for each livestream. Laneige has set certain criteria for its KOLs, the most important, according to Ms. Chi, being a sound knowledge of cosmetics and make up. 
As almost all of Laneige's livestreams introduce and review products, its KOLs must have specific knowledge about the product as well as those of similar brands.
In addition, because KOLs represent the brand's image, they must have an appearance compatible with the product and be able to interact with customers. High interaction helps KOLs attract a wider audience and make a strong impression on customers, hopefully resulting in higher sales. 
Laneige, however, only uses KOLs in brand identification campaigns and real interaction events, with Ms. Chi saying its marketing team needs a reasonable plan to use KOLs in order to save on costs while still having the desired impact.
In talking about its latest livestream campaign, which launched Biti's Hunter shoes, Mr. Phu said it invited Son Tung MTP, a famous young singer in Vietnam, to be it's KOL. He had a great effect on Biti's customers, he said, especially young people, who are the main customer segment for Hunter. 
Thanks to Son Tung MTP and good preparations, Biti's accessed his huge fan base and established a new brand identification, making it easier for it to stay abreast of trends among young people and change views about the Biti's brand. 
One of the biggest strengths KOLs possess is their huge following, so most brands are keen to use them to advertise their products. The cost of having a KOL, Mr. Nguyen Tuan Ha, CEO of Vinalink Media, told VET, usually represents 5 to 10 per cent of an event. "Sometimes the KOL receives a bonus if he or she attracts a large audience and sales increase sharply," he added. 
The "Switzerland Watch Week" of Calvin Klein and Tissot, he went on, which was a major event of Vinalink Media, invited Vietnamese actor Manh Truong to take part in the event and conduct a livestream, which attracted 100,000 viewers over 30 minutes.
A better bet
Compared to other adverting methods used nowadays in Vietnam, livestreams are a much better option. First and foremost, they are cheaper, which is behind their increasing presence over the last year, according to Mr. Ha. 
"It can cost VND5 to 10 million ($220 to $440) to generate 5,000 likes on a Facebook post," he noted. "Livestreams are free for users at present and the greatest cost of a livestream is its KOL." 
Livestreams also helps vendors more easily interact with people and secure customer trust, more so than other advertising tools. "Selling products, especially clothes, via Facebook was easy in the early days, but now too many people are doing it and there can be a big gap between the image appearing on Facebook and the actual product," Ms. Ha said. 
"Livestreams are the quickest and simplest way to reach customers, because of the interaction with customers." Positive comments on products from those who have already purchased it are especially valuable. 
Explaining why agencies are now moving to livestreams, Ms. Nguyen Huu Vinh Hanh, CEO of POPS Worldwide, said they have more control over content as well as publishing time. "Rather than relying on a media outlet's schedule, agencies can choose the best time to broadcast and decide for how long," she said. "Livestreams also don't require any licensing, which saves time and money."
But there is no rose without thorns. As livestreams don't require licensing, there is room for content considered offensive to be broadcast, while ignorant comments can have a negative effect on a product's image. 
"It is necessary to carefully control interaction and set up standard criteria for each event," Ms. Hanh warned.
As an experienced brand manager, Mr. Phu pointed out that KOLs can actually create problems for the brand if they become embroiled in some type of scandal. It can also be quite difficult to decide who is a "suitable" KOL. "Brands must think carefully about who they engage as their KOL," he said. 
"The best choice is not necessarily a famous person." Another limitation of livestreams, he added, is that they can't reach all customer segments and tend to only work with young people, so other advertising strategies may also be needed.
Mr. Ha believes that livestreams will continue to be the best method of advertising in Vietnam. The function will be upgraded in 2018, to multi-media livestreams. 
"This means that livestreams can be carried out using many cameras or fly cams, instead of just one camera, as now," he said. "There will also be professional livestream apps to meet demand." 
With the strong development of technology and the internet in Vietnam, and with 4G on the way, livestreams seem certain to become more popular in the country. 
In tandem with the development of livestreams, breakthroughs in image transfer technology will also bring about a raft of changes in digital content marketing, and many technology experts predict that, by 2019, nearly 85 per cent of content on the internet will be videos.  
VN Economic Times