Vietnam's packaging, printing industries grow fast to meet demand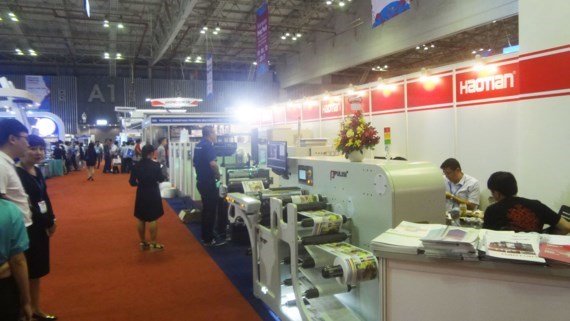 Vietnam's economy develops fast leading to huge demand of consumption; subsequently, packaging and printing industries have become one of the most developed sector in the country.

With average growth of 15 – 20 percent a year, the packaging industry for processed food in Vietnam is relatively attractive to foreign machinery providers in the field.
On the contrary, experts warned today's biggest challenge which the packaging industry is facing, is technology innovation because customers have increased demand for smarter packaging such as slight packages, environmentally friendly packaging, eye-catching design.
As per the Vietnam Printing Association, the packaging and printing industries in Vietnam have grown significantly with average growth rate of 15-20 per cent annually
Especially, the packaging industry for processed food soared by 38 percent for 2015 while demand of material and machines in the industry also hiked by 25 percent.
One more challenge for the industries is that the design is simple; accordingly, enterprises is less likely to actively participate in the value chain and create sustainable profit meanwhile domestic demand have risen for consumer goods, processed food and for packing exporting commodities.
The solutions advised by experts are the application of new technologies in manufacturing, using new materials, investing in advanced production lines to increase efficiency and assuring quality of products.
Statistically, in Ho Chi Minh City, packaging and printing share in the city account for 60-65 percent of the whole country and it has seen growth rate of 15 percent annually.
At present, of over 1,000 packaging factories in the country, 70 percent of them are located in the Southern Vietnam (mostly in HCMC)
Chairman of the Vietnam Printing Association Nguyen Van Dong said that the packaging and printing industries' growth rate is 55 percent in Asia generally and Southeast Asia particularly within ten recent years.
Though Vietnamese enterprises have advantages of low labor cost and high domestic demand, they are encountering fierce competition from Chinese counterparts and not many of them can afford new technologies. 
Hence, government should provide financial aid to them to improve their competitiveness as well as buy environmentally friendly machines.
The Ministry of Industry and Trade said the industries play an important role in industrial production especially processed food industry which is inclined to printing technologies and automatic packaging to have smart packages; accordingly, demands of advanced equipment are raised resulting in the packaging and printing industry's technology innovation.

Promotional programs launched for Vietnamese Women's Day

Supermarkets, commercial centers, restaurants and e-commerce websites have launched promotional programs on the occasion of Vietnamese Women's Day (October 20) in HCMC.
 
Big C supermarket system has applied 50 percent discount on 1,000 beauty care products of 200 famous brand names and offered gift boxes for women with reasonable prices.
Similarly, Lotte Mart supermarket chain has organized a string of promotional and beauty care programs with prestigious cosmetic products.
Customers also have a chance to buy over 150 essential products best-selling at Lotte Mart such as food, beverage, home appliances and fashion items at preferential prices.
In addition, a lot of fashion shops of various brand names at commercial centers in the city have started many promotional programs with the discount of 20-30 percent a product or presents for women.

Japan's travel conglomerate to join hotel project in Khanh Hoa

Hideo Sawada, Chairman of H.I.S, a leading travel conglomerate in Japan, has recently confirmed the group will take part in a hotel and resort project in Cam Ranh city, the central coastal province of Khanh Hoa.

Cam Ranh, only an hour from Ho Chi Minh City by air, is blessed with beautiful ports and beaches, Hideo told Japan's Nikkei newspaper.

He said H.I.S will work with a Vietnamese group to develop a 1.8-billion-USD resort complex with 5-6 hotels, one or two of which to be built by the Japanese firm.

The main investor in Vietnam will build a large-scale theme park inside the complex similar to Huis Ten Bosch Park in Nagasaki prefecture in Japan, he noted, adding that the Huis Ten Bosch attracts about 3 million visitors and generates 89.5 million USD in revenue every year.

In many developing countries, rising incomes result in more demand for major entertainment centres. The project will be a success if there are at least 10 million people living in the neighbourhood, because local residents normally account for 60 – 70 percent of visitors to such a park, he explained.

Quang Ninh to host Vietnam-China trade fair

The 2017 Vietnam-China International Trade Fair will take place in Mong Cai city, Quang Ninh province, northern Vietnam from December 1-7, according to the organisers.

The event, the 12th of its kind held on a rotational basis by Quang Ninh and Guangxi of China, is expected to host have 400 pavilions, including 300 of Vietnamese businesses and 100 Chinese ones.

It will feature products from Vietnam and China, including agricultural and aquatic products, machines, equipment, electronic appliances, and handicrafts.

Tourism, trade and investment promotion workshops will be held to introduce Mong Cai city's potential to domestic and foreign investors.

Exhibitions, art performances, sports exchanges will also take place on the sidelines of the event.

Vietnam, Singapore bolster economic connectivity, trade cooperation

The 13th Vietnam-Singapore Connectivity Ministerial Meeting opened in Hanoi on October 17, aiming to strengthen economic connectivity and trade cooperation between the two countries. 

Speaking at the meeting, Minister of Planning and Investment Nguyen Chi Dung said Singapore is a significant trade partner of Vietnam in Asia and Southeast Asia. The meeting offers a chance to review bilateral investment on several fields such as education, information, transportation, finance-banking and tourism services. 

Recently, Vietnam has been more active in improving business and investment climate, and raising the confidence of international businesses, the minister added.

He voiced his hope that the two countries will expand cooperation in the coming time, raising the efficiency of bilateral investment. The two sides will also exchange information and address difficulties of Singapore's firms in Vietnam. 

For his part, Singaporean Minister for Trade and Industry Lim Hng Kiang affirmed that Vietnam is a major economic partner that has attracted the increasing number of foreign investment, including those from Singapore. 

At the meeting, the two sides evaluated the implementation of bilateral cooperation agreements in the six connectivity areas, namely investment, finance, information technology and communications, education and training, transportation, and trade and services. 

To boost economic connectivity and investment cooperation, the two sides proposed both countries' State management agencies bolster cooperation, information exchange and experience sharing on management policies and knowledge in various fields such as communications, education-training, tourism-services, urban transportation planning and management, road transport development and export-import.

Vietnam-Singapore trade has been thriving with an average growth of 12 percent a year. Singapore is the sixth biggest trade partner of Vietnam while Vietnam is currently the 11th largest trade partner of Singapore.

In the first seven months of 2017, two-way trade between Vietnam and Singapore hit five billion USD, up 16.4 percent year-on-year.

Singapore currently has more than 1,910 valid investment projects in Vietnam, with total registered capital of over 41.38 billion USD, making it the third leading foreign investor in Vietnam. 

In the January-August period, Singapore poured 3.93 billion USD of registered capital into Vietnam. Of the sum, 2.84 billion USD came to newly-approved projects, while 718 million USD was added to existing projects.

Bosch, Vingroup join hands in vehicle production

Vingroup and Bosch, a global supplier of technology and services, signed a memorandum of understanding (MOU) last week on cooperation in the Vinfast car and e-scooter manufacturing project.

Within the framework of the MOU, Bosch and Vingroup will consider comprehensively cooperating in the field of manufacturing cars and e-scooters, including providing hardware and software solutions, and services for Vinfast, a new member of Vingroup which has been known as a leading property developer in the country.

Regarding hardware, Bosch will provide Vinfast with components and equipment in conformity with the production process. Bosch also supports and gives advice to Vinfast to develop and apply software for automotive and solutions for the operation and management of its factory, such as design and user experience services and customer solution development.

Both sides will jointly research and put into application technological solutions for Vinfast cars, aiming to introduce car models with modern features and bringing an outstanding experience to users. Moreover, Bosch will provide smart campus solutions for the Vinfast plant, including smart security and safety, connected mobility, smart operation, energy management, connected industry consultancy and deployment.

Bosch will also give Vinfast advice on establishing a vocational training center. Bosch is the suitable partner for this activity because of its experience of investing in the Bosch Technical Industrial Apprenticeship training center, aiming to develop a high-skilled local technical workforce in Dong Nai Province.

Vinfast plans to establish a mechatronics vocational training center based on German standards to build up its own qualified technicians to operate modern production lines and gradually receive technology transfer from foreign partners.

Speaking at the signing ceremony, Guru Mallikarjuna, managing director of Bosch Vietnam, said: "The MOU signing ceremony is a critical milestone in the cooperation between Bosch and Vingroup. With our expertise in technology for automotive, including software, hardware solutions and services, Bosch is committed to support Vingroup in implementing this project successfully."

Vingroup CEO Duong Thi Mai Hoa, meanwhile, asserted the cooperation with Bosch and other world leading technology partners is "a part of our strategy to proactively attract and apply the most modern technologies in Vinfast car and e-scooter projects."

Joining the automotive manufacturing sector on September 2, Vinfast has conducted strategic steps. Within 40 days, it has organized the ground-breaking ceremony, recruited high profile international management, and introduced a collection of 20 concept cars from the four well-known design studios.

VNITO 2017 attracts 400 firms

The Vietnam Information Technology Outsourcing (VNITO) Conference 2017 slated for October 19-20 in HCMC will be attended by more than 250 local information technology (IT) enterprises and 150 international hi-tech firms.

Organizers have made a VNITO Conference 2017 app available on App Store and Google Play. Guests participating in the conference can download the app to have information about the schedules of the conference and sideline activities, business matching programs of domestic IT enterprises, the list of speakers in the VNITO 2015, and contact information of organizers.

At VNITO 2017, experts will present reports on trends of IT outsourcing services in the future, connections to the Silicon Valley technology ecosystem, Vietnam's human resources for global creativeness and assessments of Vietnamese IT service market conditions and prospects.

The event also includes seminars on Vietnamese IT manpower, competitiveness enhancement thanks to new technologies and solutions, and prospects of the Business Process Outsourcing (BPO) sector. IT experts and VNITO Alliance's consultants will share their experience in market development and field queries from participating businesses.

At the conference, VNITO Alliance and trade promotion and startup support organizations will sign cooperation agreements to connect Vietnamese organizations with experts overseas.

VNITO 2017 set to take place at GEM Center at 8 Nguyen Binh Khiem Street in District 1 will be jointly held by VNITO Alliance, Quang Trung Software City (QTSC), and the Investment and Trade Promotion Center of HCMC (ITPC) with the support from the HCMC Computer Association (HCA), and Vietnam Resource and IT Development Group (VIDG).

Japan's Hosui pear shipped to Vietnam

Hosui pear from Japan's Miyagi Prefecture has been introduced to consumers in HCMC for the first time after Vietnam lifted a ban on fruit import from Japan in January.

The farm produce has been on sale at the supermarket systems of Aeon mall Tan Phu Celadon, and some stores in HCMC since last Saturday.

Kiyoshi Asana, representative director of JA Myagi Sennan Agricultural Cooperative in Miyagi Prefecture, said the first batch of Hosui pear weighs 5,000 kilograms. If local consumers are in favor of the fruit, it will be widely sold at more supermarkets and stores.

He said the fruit has met a variety of quality criteria before being shipped to Vietnam. Each fruit weighs 250-300 grams at VND248,000 (US$11) a kilo.

He added the prefecture is home to some specialties and agricultural products like seafood, strawberries, rice and pears. The locality has three types of pears with a total area of around 50 hectares, with Hosui pear covering half of the plantation area and an output of about 700 tons each crop.

A source from the Japan External Trade Organization said Vietnam's lifting a ban on Japanese pear exports in January has paved the way for other fruits to Vietnam.

Japanese partners have plans to ship two kinds of pear to Vietnam in the rest of the year. As such, apple and pear have become two Japanese fruits to be shipped to the country.

SaigonBank celebrates 30th anniversary of establishment

Saigon Bank for Industry and Trade (SaigonBank) will continue to restructure its operations to improve business performance, enhance financial capacity, expand network and distribution channels, and enhance human resources to prepare for a new stage of development, heard the 30th birthday anniversary of SaigonBank on Saturday.

Founded in 1987 by the HCMC Party Committee, several banks, State-owned enterprises and individuals, SaigonBank is the first joint stock bank in Vietnam.

When announcing the system-wide restructuring years ago, the State Bank of Vietnam has chosen SaigonBank as one of the healthy credit institutions and allowed for self-restructuring.

By late 2015, the bank had basically completed a restructuring plan to begin a new stage of development.
At present, SaigonBank has total chartered capital of VND3.08 trillion (US$135.54 million) and total assets of VND20.2 trillion, with 1,500 employees and 90 branches and transaction offices. The bank has the lowest bad debt in the system, with about VND300 billion, and has earmarked full provisions for the bad debt.

Danang seeks investors for infrastructure, tourism projects

Danang City's government organized two conferences to lure investors for the central coast city's infrastructure and tourism projects under the framework of the Invest Danang 2017 Forum taking place on October 14-15.

In the infrastructure sector, local authorities continued attracting investment, especially from the private sector, into key projects in the coming time.

According to city vice chairman Nguyen Ngoc Tuan, the conference aimed to introduce important projects to international and domestic investors, donors and overseas organizations. The city wished to draw attention, feedback and suggestions from potential investors to complete the projects.

Specifically, the city is seeking investors for huge projects such as Lien Chieu Port which is able to handle 100,000 DWT ships and container vessels from 6,000 to 8,000 TEUs, and Danang railway station relocation.

To secure connectivity with neighboring localities, authorities of Danang and Quang Nam Province approved in principle to develop a tramway project linking Danang with Hoi An City.

In addition, local government is preparing a solid waste treatment complex and a water environment improvement project. The two projects are expected to deal with urban and beach pollution in the central city.

Given the importance of information technology application, Danang is calling for private investors to take part in its smart traffic management project and media and information technology development project.

The conference is a forum to exchange experiences in official development assistance project implementation and public-private partnership, helping partners and investors learn about key infrastructure projects in Danang. Many international financial organizations committed to give capital support for the city's projects.

At the tourism conference, enterprises said the city has large potential for tourism development. However, slow-moving port and yacht wharf projects have dampened waterway tourism growth.

Besides, the city is short of incentives for investors of entertainment services, especially night entertainment spots, shopping and cuisine centers, large-scale art performance programs and distinctive tourism products.

In the coming time, Danang will launch programs and plans to assist investors, speed up promotion activities, develop tourism products and call on investment for the manpower and technology sectors.

According to the tourism department, the city will concentrate on three main groups of products including sea tourism and high-class leisure, shopping and meeting-incentive-conference-exhibition (MICE) tourism, and cultural, historical and ecological tourism. There will be auxiliary products such as spiritual, culture-culinary, healthcare and sports tourism.

The city will also focus on manpower training for the tourism sector and strengthen regional connection to promote advantages of coastal central localities.

Singaporean firm wants to make master plan for Bach Dang Park

Singapore's Surbana Jurong Private Limited has shown keen interest in making a master plan for the riverside park of Bach Dang in downtown HCMC into a vibrant commercial hub for the city.

Eng Cheong Teo, CEO for international business at Surbana Jurong, shared his ideas for making the master plan for the park at a working session with the municipal government last Thursday.

Teo said the company has achieved success in transforming industrial port areas into vibrant commercial and communal spaces in Singapore, and such experiences can be used for bringing into play the potential of the park by the Saigon River.

His proposed plan focuses on pedestrian connectivity, cultural, commercial and communal activities, and iconic works of the city.

In particular, the plan includes a museum at the intersection between Ham Nghi and Nguyen Hue streets, a commercial center or a dining complex, a central market between Me Linh and Ton Duc Thang squares, and especially two circling pedestrian bridges connecting District 1 and District 2.

The bridges will become not only an important walkway but also a communal space for significant events to be held on the Saigon River, according to the CEO.

He added that the company will also include infrastructure facilities like pedestrian overpasses and vehicular tunnels which are listed in the city's scale 1/2000 master plan in order to improve traffic flow along Ton Duc Thang Street.

HCMC vice chairman Tran Vinh Tuyen said the municipal government attaches great importance to planning for the central area, and has hired consultants for planning its underground spaces. He spoke highly of the company's proposed master plan, saying the city aims to lure investors into conducting the project.

Wooden products export projected at US$8.5 billion in 2020

The Ministry of Agriculture and Rural Development has set a target of earning US$8.5 billion from wood and wooden product exports by 2020, up US$700-900 million over the target set for this year.

At an online meeting held Saturday on "enhancing forest protection and management in the coming time," Minister of Agriculture and Rural Development Nguyen Xuan Cuong said the forest development strategy in the coming time is aimed at boosting the productivity, quality and value of each type of forest, mitigating impacts of natural disasters, protecting the environment, and responding to climate change.

Specifically, the sector expects to obtain an average forestry production growth rate of 5.5-6% per year, raise the forest coverage to 42%, equivalent to 14.4 million hectares of forest, and annual output of 20 cubic meters of wood per hectare of replanted forest.

According to the Vietnam Timber and Forest Products Association (VIFORES), the country fetched revenue of US$5.9 billion from wood and wooden product exports in the first nine months of the year. VIFORES expects the number to hit US$8 billion this year, up 16% versus last year.

Despite such figures provided by VIFORES, Minister Cuong said the export turnover of wood and wooden products had been forecast to reach US$7.6-7.8 billion this year, growing US$300-500 million over 2016.

According to the minister, the strategy also targets to maintain 25 million jobs in the sector, thus helping reduce poverty and improve livelihoods for forestry workers.

Although the online conference was meant to discuss forest protection and development, targets to this effect are deemed as low.

The sector will decrease the area of forests illegally destructed by 30-35% compared to the 2011-2015 period, recover 360,000 hectares of forests a year and upgrade 90,000 hectares of thin forest into thick forest.

In order to reach the foresaid targets, law enforcement should be promoted to cut down violations on forest protection.

Results of a survey into forests nationwide last year showed that Vietnam had 14.3 million hectares of forest, increasing 316,000 hectares versus 2015. The forest coverage was 41.19%, rising a mere 0.35 percentage point against 2015.

In the Central Highlands, there was 2.5 million hectares of forest in 2016, decreasing 3,200 hectares over the previous year. In which, the natural forest area shrank by nearly 11,500 hectares to 2.2 million hectares while the planted forest area grew by over 8,300 hectares to 324,200 hectares. Localities with vast areas of forest destructed include Dak Nong with some 3,300 hectares, Gia Lai with 1,200 hectares, Kon Tum with 184 hectares and Dak Lak with 180 hectares.

According to a report of the Ministry of Agriculture and Rural Development, competent agencies detected nearly 13,200 cases of forest protection violations in the first nine months of 2017, down more than 3,400 cases or 21% against the year-ago period.

Nearly 3,900 cases were detected in the Central Highlands alone, decreasing 10% year-on-year. However, the forest area logged down increased by 5%, accounting for 53.7% or 1,300 hectares of the country's total forest area destructed.

FDI firms contribute 72% to Vietnam's export revenue

Foreign direct investment (FDI) firms contributed 72% to Vietnam's export revenue in the first nine months of the year, according to the Ministry of Industry and Trade.

Vietnam shipped over US$154 billion worth of products abroad in the period, up 19.8% year-on-year, of which US$43.16 billion came from local firms and US$110.86 billion, inclusive of crude oil, from foreign-invested companies, up 16.8% and 21% respectively.

January-September exports of manufactured goods reached US$123.9 billion, up 20.2% over the same period last year and representing 80.44% of the total. Shipments of computers, electronic accessories and mobile phones amounted to US$49.45 billion, with mobile phones and phone components alone making up US$31 billion.

The ministry forecast exports of cell phones and phone parts would continue picking up as major manufacturers, especially Samsung, are performing well.

At a meeting with Prime Minister Nguyen Xuan Phuc in Hanoi City last week, Jong-Kyun Shin, president of Samsung Electronics, which have phone manufacturing facilities in Vietnam, said the group is looking to obtain export revenue of more than US$50 billion this year, accounting for over 20% of Vietnam's total.

Computers, electronic appliances and accessories generated US$18.46 billion in export revenue in January-September, a year-on-year surge of 40.8%. This impressive export growth resulted from enterprises promoting their exports to South Korea, ASEAN, Canada, Taiwan and Russia and at the same time maintaining traditional markets such as China, the U.S. and Japan.

HCMC calls for investment in infrastructure

The government of HCMC has rolled out hundreds of projects, including six in Thu Thiem New Urban Area, which will need local and foreign investors to get involved in.

City vice chairman Tran Vinh Tuyen told an investment promotion conference on October 11 that the city would develop a comprehensive traffic system to fuel socio-economic development and ease the pressure of high population growth on infrastructure.

The conference was attended by 500 investors, and representatives of municipal agencies and departments.
There are 64 traffic infrastructure development projects, five urban rehabilitation projects and seven flood control projects requiring private sector capital. Eleven national-level projects will be implemented in the city, including nine for traffic improvement.

The city looks to become one of the biggest economic, financial, commercial and science-technology centers in Southeast Asia. Therefore, in its development plan by 2020 with a vision towards 2025, the city will need private investment in services including finance, banking-insurance, tourism, transport-warehousing, post-telecom, information technology, real estate, consulting, science and technology, healthcare, and education.

The four priority groups of industries are mechanical engineering, electronics-information technology, chemical-rubber-plastic and food-foodstuff processing, and urban infrastructure, environment, healthcare and manpower.

Tuyen said the city would promote domestic and international investments in these sectors so that it can become a modern, friendly and livable place.

According to a construction plan until 2020 and after 2025, the city will be expanded towards four directions – east, south, northwest and southwest, said a representative of the Department of Zoning and Architecture.

The city is working on eight metro lines, three tram lines and a monorail line with a combined length of 220 kilometers. The Saigon Hi-Tech Park in District 9, and new urban areas like Thu Thiem, Saigon South, Thanh Da South, Tay Bac and Hiep Phuoc are underway, offering lots of opportunities for investors.

Vo Van Hoan, office manager of  the HCMC People's Committee, said the city would need a staggering US$40 billion to fund projects in seven breakthrough programs until 2020. But the city alone cannot afford to raise such a huge amount, so capital from domestic private and foreign firms would have to be sought, he said.

The city also said huge private capital would be needed for upgrading 500 old and deteriorating apartment buildings, and developing new housing blocks.

HCMC hotel room rates steady despite high occupancy

Although hotel room occupancy in HCMC has stayed at high levels this year, helped by strong growth in international tourist arrivals, room rates have remained unchanged or even dropped.

A report of real estate management service and consulting firm Savills Vietnam said the average room rate at four to five-star hotels in HCMC is US$76 per night, down 5% over the same period last year. The room rate fall reflects fierce competition among hotels in the city.

Speaking to the Daily, hoteliers said most hotels in the city center have posted occupancy of more than 80% but the competition has become tougher.

Years ago, room rates would surge when more tourists came to the city. But it is different now; hotels will have to add more services if they want to hike room rates.

"Room occupancy would be immediately affected even if room rates inch up a mere US$2 per night," said the manager of an up-market hotel in downtown HCMC.

He said the mushrooming of privately-owned three to four-star hotels with attractive room rates on Ly Tu Trong, Le Thanh Ton and Pham Hong Thai streets has made the market more competitive.

Lam Quang Huy, deputy general director of Grand Hotel on Dong Khoi Street in the commercial business district, said the hotel's occupancy had reached 87-90% recently but its room rates had barely changed. "We have had to improve services, such as upgrading breakfast and the gym, but have kept our room rates unchanged," he said.

Room rates are significantly different between State-owned and privately-held hotels, and between locally and foreign-invested hotels. Room prices of domestic hotels range from US$90 to US$120 per night while those of foreign-invested hotels of same level are as high as US$125-140.

Currently, the city has 2,128 hotels and other lodging facilities with more than 50,000 rooms, of which 1,941 are star-rated hotels with nearly 49,000 rooms, and 185 are hostels with more than 1,000 rooms.

According to data of the HCMC Department of Tourism, the average room rate at three to five-star hotels in HCMC was VND1.9 million (US$84) per night in the first half of 2017, 11.3% lower than in 2014, as more hotels were put into service.

A report of the HCMC People's Committee said the city welcomed 4.2 million international tourists in January-September, up 16% year-on-year. Revenue from tourism increased 10% to VND84.6 trillion (US$3.72 million).

The city expects to serve six million international visitors this year.

Vietjet in codeshare deal with Qatar Airways

Vietnam's low-cost air carrier Vietjet and Qatar Airways have inked a codeshare agreement.

Qatar Airways passengers can now fly with Vietjet to destinations in Vietnam and other countries where the local airline is present while Vietjet customers will be able to fly to 150 global destinations of Qatar Airways.

Qatar Airways CEO Akbar Al Baker said the deal with Vietjet would provide passengers with smooth and easy connections in HCMC or Hanoi before they transfer to Qatar Airways flights.

Nguyen Thi Thuy Binh, deputy general director of Vietjet, said the partnership would make it easier and faster for its passengers to take connecting flights. Vietjet would cooperate with other foreign airlines to benefit their customers.

Qatar Airways operates two non-stop flights a day from Hanoi to Qatar's capital of Doha and 10 weekly flights from HCMC to Doha.

Earlier Vietjet and Japan Airlines had reached a codeshare deal on flights between Japan and Vietnam, domestic flights and those between Vietnam and other Asian countries.

Vietjet currently has a fleet of 45 A320 and A321 aircraft and operates 350 flights a day.

France's farm exports to Vietnam expected to maintain strong growth

French officials and business leaders have expressed optimism that France's exports of agricultural products to Vietnam will continue strong growth given the increasing Vietnamese demand for imported products of high quality.

France saw an increase of 25% in farm exports to Vietnam in 2015-2016, Alexandre Bouchot, agriculture affairs counselor at the French Embassy in Hanoi, told a press conference held in HCMC on October 11 to introduce a series of events aimed at promoting French products and gastronomy in Vietnam next month.

France obtained 200 million euros from agricultural exports to Vietnam last year, Bouchot said, and major export earners included wines, dairy products and fruit. Among the fruits shipped to Vietnam is apple, of which about 3,000 tons is sold a year to the Southeast Asian market.

France is looking to export more fruits to capitalize on high local demand for quality fruit.

Bouchot said Vietnam's demand for imported products and especially safe food is rising. The prospect for trade between France and Vietnam is positive, he noted.

His view was shared by Guillaume Crouzet, general director of the French Chamber of Commerce and Industry in Vietnam, and Gregoire Debre, regional manager of international communication and marketing agency for food, drink and lifestyle Sopexa in Southeast Asia and Taiwan.

Crouzet told the Daily that he believed trade between France and Vietnam and cooperation between companies of the two countries would expand in the years to come. France exported 1.5 billion euros worth of goods to Vietnam and spent 4.5 billion euros on imports from Vietnam last year, Crouzet said.

Opportunities abound for France to step up exports to Vietnam, particularly produce, Debre said.

French Consul General in HCMC Vincent Floreani told the press conference that Vietnam had invited France to Vietnam Foodexpo 2017, which is slated to take place at the Saigon Exhibition and Convention Center in HCMC from November 15 to 18.

French agencies and partners in Vietnam will promote French products and share how to improve food safety at Vietnam Foodexpo 2017 and supermarket chains across the country, Floreani said.

Thua Thien-Hue: Businesses play crucial role in economy

The central province of Thua Thien-Hue is now home to over 6,500 enterprises, which play a significant role in manufacturing, job creation, and local budget collection, according to Chairman of the provincial Business Association Duong Tuan Anh.

As of early October 2017, Thua Thien-Hue had nearly 500 newly-registered businesses with registered charter capital of VND4.8 trillion (US$211.2 million). The province granted licenses to 50 domestic projects worth VND5.6 trillion (US$246.4 million) and three foreign invested ones.

Businesses contributed nearly VND2.8 trillion (US$123.2 million) to the State budget. The export turnover reached over US$558 million, of which the State economic sector made up over US$96 million while foreign invested firms accounted for more than US$330 million.

Anh said the Thua Thien-Hue Business Association has held a number of dialogues to remove difficulties for businesses in terms of tax, credit, land, administrative procedures, and technology access.

It has also actively worked with relevant sectors to provide maximum support for businesses via trade promotion activities, human resources training, credit aid, trade connectivity, and sales of products, in addition to increasing e-commerce capacity and reducing time for tax payment and customs clearance.

Additionally, the association held workshops and training courses on international economic integration and encourage businesses to join domestic and foreign trade fairs and create supply chains of products and services, he added.

Permanent Vice Chairman of the provincial People's Committee Phan Ngoc Tho said the province will focus on developing industry in the coming time, prioritising infrastructure investment at industrial parks and economic zones, transport system, and seaports.

The province will increase investment through connection with major groups to join global value chains while speeding up equitisation and divestment in State-run businesses in tourism, as well as selecting strategic and competent investors in this field and pushing ahead with administrative reform.

Hanoi works to attract more investment

Hanoi hopes to attract US$110 billion in an investment capital in the next few years to boost its growth. Hanoi is working hard to improve its investment environment because the state budget can only supply fifth of what the city needs.

Hanoi has attracted US$5.2 billion in the last two years thanks to its strengthened investment promotion activities. So far this year, investment for development has totaled US$8.6 billion. 

On October 10, Hanoi debuted a startup portal at Startupcity.vn as a platform to connect startups and mobilize resources from domestic and foreign investors. 

Chairman of the Hanoi Municipal People's Committee Nguyen Duc Chung said "Hanoi has improved its business environment to promote startups and entrepreneurship. Tourism investment programs have been boosted. Hanoi's Provincial Competitiveness Index has increased 10 levels to 14th out of 63 cities and provinces."

In the next three years, state budget allocations for Hanoi will shrink while the cost of needed infrastructure increases. Hanoi has asked the government and ministries to work out a specific mechanism to enable it to mobilize resources, improve its business environment, and increase its competitiveness. 

Hanoi has modernized its administrative system to reduce time and costs for enterprises and moves towards its goal of becoming a smart city. 

Mr. Chung said "Municipal leaders will help solve problems for all sectors. Hanoi will strengthen administrative reforms, exports and production."

Hanoi is welcoming investment in socio-economic development to become an economic hub of Vietnam.

Businesspeople contribute to Vietnam's global integration

Vietnam now has 610,000 operating businesses. On Vietnam Entrepreneurs' Day on October 13, VOV will look at how Vietnamese businesspeople are promoting their trademarks to the world.

Private businesses contribute 40% of Vietnam's annual GDP each year and employ millions of jobs. 
Creating best conditions for businesses

In the past 9 months, 94,000 new enterprises were established, 15% higher than in the same period last year. Their total registered capital is US$39 billion, 43% year-on-year higher. 

 Thanks to the government's incentives, the number of enterprises is on the rise. In Ho Chi Minh city, 30,000 start-ups were reported in September. 

Chu Tien Dung, President of the Municipal Business Association, said the investment environment has improved significantly.

 "The whole political system is keen on entrepreneurship and economic development. So, business operations are progressing well. Their contributions to the State budget and the number of newly-established enterprises are both on the rise in Ho Chi Minh city," said Mr. Dung.

Vietnamese enterprises, fueled by the government's preferential policies, have established strong trademarks. Vinacafe, a famous coffee brand and company based in Bien Hoa city, has dominated the domestic market and is exported to 30 countries. 

Nguyen Tan Ky, Director General of Vinacafe Joint Stock Company, said "We believe that the company's core value lies in its strong trademark. So we have concentrated on building and developing our trademark, which is known by 80% of Vietnamese consumers. We will work to make Vinacafe a world-class brand."

Nguyen Lien Phuong, Director of the LP Group, said his company is targeting more export markets: "We are targeting the markets in Vietnam, China, and the Middle East and expanding to other East Asian markets. We hope to create an aloe wood perfume line next year."

Vietnam's macro economy has been stabilized and this year's national GDP is predicted to grow 6.7%, much of it due to private businesses. Prime Minister Nguyen Xuan Phuc said recently that the government is committed to creating a fair and friendly business environment. 

"The government continues to review regulations and take steps to ease the burdens on enterprises like taxes, customs, licensing procedures, BOT fees, and the costs of logistics and public services. 2017 should be a year of reducing fees for enterprises", PM Phuc noted. 

The government and private businesses are working closely together to achieve the goal of 1 million operating business by 2020.

Hong Kong businesses keen on investment opportunities in Vietnam

Hong Kong Trade Development Council (HKTDC) has announced that it will send two business delegations to Vietnam, from now until January 2018, to seek investment opportunities in the country.

A new wave of investment is taking shape in Hong Kong as speculators seek opportunities to invest in projects on transport infrastructure and wastewater treatment. 

Tina Phan, Director of Indochina at Hong Kong Trade Development Council, said at a recent conference on trade promotion in Ho Chi Minh City that she hoped when the ASEAN-Hong Kong Free Trade Agreement takes effect, it will open up huge opportunities for Hong Kong businesses to increase trade and investment in Vietnam.

Apart from traditional fields such as clothing, real estate, agro-forestry and fisheries, investors are looking to fund infrastructure and waste treatment in the form of the Public-Private Partnership (PPP) model.

Hong Kong investors are currently seeking investment opportunities in HCM City's Metro Line No. 2 project, road construction and wastewater projects in cities.

Tina Phan expressed hope that the HKTDC will dispatch more delegations of Hong Kong businesspeople to learn about investment opportunities in Vietnam after the ASEAN-Hong Kong FTA comes into effect.

Vietnam is the sixth largest exporter to Hong Kong and a major trading partner. Hong Kong is consistently listed among the top 10 countries and territories having the biggest sources of FDI poured into Vietnam. At present, FDI capital flowing from Hong Kong into Vietnam ranks sixth with a total registered capital of US$17.6 billion across 1,239 projects.

In the first nine months of the year, Vietnam's export turnover to Hong Kong surged 23.4% to US$5.5 billion, while Vietnam's imports from Hong Kong  increased 25% to US$1.3 billion against the same period last year. In 2016, Vietnam earned US$6 billion from exporting goods to Hong Kong while its imports from Hong Kong reached US$1.5 billion.

Hong Kong importers are showing their keen interest in Vietnam's consumer market for products such as phones, computers, and electronics.

Professionalization improves competitiveness for Vietnam's tourism sector

Vietnam's tourism sector has been working hard to improve its tourism products and services to attract more visitors and establish Vietnam as a popular tourist destination.

In the last nine months, approximately 9.5 million international visitors have visited Vietnam, 28% more than last year. In September alone, the number of international visitors to Vietnam was 1 million people, bringing Vietnam's tourism a revenue of US$16.5 billion .

Following successful tourism promotion programs in key markets, Vietnam expects to realize its target of a 30% increase in foreign arrivals in the near future.

The rise in the number of international visitors from July to September reflects Vietnam's attraction.

Nguyen Van Tuan, Director General of the Vietnam National Administration of Tourism, said that the number of international visitors will continue to increase till the end of the year but more should be done to compete with other regional markets.

"Vietnam's tourism has grown but not sustainably. Although it has enjoyed a relatively high growth, its competitiveness has not improved much.

According to the World Economic Forum, between 2015 and 2017 Vietnam's tourism competitiveness remained in the middle level, ranking 67th among 136 economies though it improved 8 places. Challenges remain. They include poor tourism infrastructure, weak government spending on tourism, and more restrictive visa requirements than other members of ASEAN," Tuan noted.

Tourism experts say that to increase its tourism competitiveness, Vietnam needs to professionalize all jobs, not just the ones under the sector's control.

Truong Thi Hong Hanh, Deputy Director of Da Nang's Tourism Department, said "We need to improve professionalism in all areas, from vendors and cyclo drivers who are the first people to serve tourists, to state agencies. The hospitality sector at all levels needs to work closely with security forces at the airport and other relevant forces to create comprehensive effects."

Vietnam needs to focus more on advertising and promotional programs, more open visa requirements, and a safer environment.

Tran Trong Kien, President of the Thiên Minh Group said, "The tourism sector should set up a council to promote Vietnamese tourism following an international model that mobilizes private and state companies to jointly develop different approaches to different markets. 

Our markets should be segmented so each can offer targeted products. In addition, we should find the most effective channels to advertise our tourism products. Our group will prioritize digital channels to access the greatest number of customers at the lowest possible cost."

Localities have improved their environment to attract more visitors. Tourism products have been diversified to include the exploration of culture and history and the organization of conferences, seminars, and other large-scale events.

KPMG's service arm eases local business

In response to the increasing enterprise-wide need for quality professional services, KPMG Vietnam has recently launched a new service arm to support the local business community.

"We strive to offer clients comprehensive, business-focused, and practical advice by bringing together in one team our experts across assurance, tax, legal, and advisory services," said Warrick Cleine, chairman and CEO of KPMG Vietnam.

"We believe there is no substitute for seamless and efficient business operation. Applying our specialized knowledge and best practices, we are confident that our Corporate Services will satisfy any enterprise-wide needs, ensuring compliance with a number of governance obligations and improvement of corporate policies, procedures, and outcomes," he added.

Nguyen Quang Phuc, director of KPMG Corporate Services, said, "Our team has been fully operational since September 2017.

Whether you need someone to help you set up your accounting system, open a bank account, prepare administrative reports, or pick up a company seal, we are there to assist."

Following the "Client at the Heart of our Thinking" principle, KPMG Vietnam has expanded and improved its service coverage to meet its client demand in recent years.

In early 2015, KPMG was among the first of the "Big Four" companies to establish a legal practice in Vietnam. The practice has since grown to over 50 staff members across offices in Hanoi, Danang, and Ho Chi Minh Citỵ

In 2016, KPMG launched KPMG OnDemand, a new service that provides corporations and organisations personnel for short-term secondments.

KPMG OnDemand quickly resolves major concerns that many businesses have nowadays when it comes to seasonal work and unexpected business demands, which cannot be effectively managed through the regular recruitment process.

"We are very excited about the new Corporate Service offerings," Cleine said. "We have moved another step further to become a true one-stop shop for solutions for business needs that companies may struggle to meet, irrespective of their size and complexity. Doing business in Vietnam has never been easier."

KPMG is now the firm with the best geographical coverage and the most comprehensive suite of services delivered by highly-trained professionals to support clients entering into and doing business in Vietnam.

According to Vietnam's Ministry of Planning and Investment, Vietnam's foreign direct investment (FDI) capital in the past nine months reached almost US$25.5 billion, up 34.3% from 2016. 

A recent report by the World Bank showed that Vietnam moved up nine places from last year, ranking 82nd in the world for ease of doing business. Not only does this figure prove that foreign investors see Vietnam's economic prospects favourably, but it also demonstrates the country's efforts to support its ongoing commitments to attract foreign investors.

Cleine is chairman and CEO of KPMG in Vietnam and Cambodia. He has lived in Vietnam since 1998, playing a pivotal role in driving KPMG's success as the leading professional services organisation in the country, with 36 partners and over 1,200 employees, providing audit, tax, legal, and advisory services.

Nguyen Quang Phuc is recognized as one of Vietnam's leading corporate advisors. 

He has over eight years of experience working as a professional consultant to support clients on various aspects of FDI in Vietnam, including business structure advisory, incorporations, licensing, corporate secretarial assistance, accounting solutions, payroll, and tax compliance services.

Reference exchange rate down by 2 VND at week's beginning

The State Bank of Vietnam set its reference VND/USD exchange rate at 22,451 VND/USD on the morning of October 16, down by 2 VND from the end of last week.
 
With the current /- 3 percent VND/USD trading band, the ceiling exchange rate is 23,125 VND per USD and the floor rate is 21,777 VND per USD. 

Major commercial banks kept their rates quite stable.

Vietcombank offered its buying and selling rates at 22,680 VND and 22,750 VND, per USD, down by 5 VND compared with the end of last week.

Vietinbank and BIDV set 22,685 VND (buying) and 22,755 VND (selling), per USD, unchanged from the end of last week.

Vietnam Airlines to increase Hanoi – Sydney flights

The national flag carrier Vietnam Airlines will increase flights between Hanoi and Sydney, Australia to seven per week, from the current three, in the near future. 

Passenger volume between Vietnam and Australia grew nearly 4 percent on average from 2012-2016. In the first seven months this year, the number of passengers neared 213,000, nearly 23 percent of them departed from Vietnam and the remaining from Australia. 

Vietnam Airlines launched flight service between Ho Chi Minh City and Sydney and Melbourne cities of Australia in 1992, using wide-body Boeing B777 and Airbus A330. 

In March 2017, the carrier offered Hanoi – Sydney route with three flights per week on Boeing B787. 

It has also partnered with Quantas, Jetstar Airways and Virgin Australia to operate Australian routes such as Sydney/Melbourne – Adelaide, Canberra, Brisbane and Australia-New Zealand.

Ariyana Da Nang convention centre inaugurated

The Ariyana Da Nang Exhibition and Convention Centre was officially inaugurated and put into use in the central city of Da Nang on October 15 in the presence of Prime Minister Nguyen Xuan Phuc. 

The centre is a key project to serve the Asia-Pacific Economic Cooperation (APEC) Leaders' Week scheduled to take place from November 6-11. 

Construction of the centre started in March 2016 and was completed ahead of schedule after 22 months. 

Covering an area of 12,000 sq.m, the Ariyana centre is connected with the Furama Da Nang International Convention Palace. It  is the largest conference and workshop complex in Vietnam, accommodating up to 5,000 seats and 15 functional rooms, with a grand ballroom alone offering 2,500 seats. 

The two centres will be the hosting venues for most of the events held within the framework of the APEC Economic Leaders' Week 2017, including the APEC CEO Summit. 

Leaders from 21 APEC member economies, together with around 10,000 domestic and foreign delegates, including corporate executives in the region and the world, are expected to attend events during the week.

Deputy PM affirms farmers' role in changing agriculture

Deputy Prime Minister Vuong Dinh Hue has affirmed that farmers play a decisive role in changing the face of Vietnam's agriculture in the future. 

He was speaking at the second national farmers' forum themed "Farmers are ready for agriculture 4.0" co-hosted by the Vietnam Farmers' Union (VFU) Central Committee, the Ministry of Agriculture and Rural Development, the Ministry of Industry and Trade, and the Ministry of Science and Technology in Hanoi on October 14. 

The Deputy PM asked concerned ministries and agencies to deal with obstacles regarding capital, human resources, market and technology and devise specific policies in support of farmers and agribusinesses. 

VFU Chairman Lai Xuan Mon said the event served as a chance for scientists, speakers, managers, scientists and farmers to discuss impacts of the fourth industrial revolution on Vietnam's agriculture, farmers and rural areas; the current situation and future trends; opportunities and challenges arising from the fourth industrial revolution. 

Prof. Dr. Nguyen Van Bo, former Director of the Vietnam Academy of Agricultural Sciences, suggested that the State should create a transparent and easily-accessible legal corridor for producers, ramp up infrastructure and build a database compatible with sectors and markets. 

Participants shared a view that farmers not only need capital and markets but should also prepare human resources to operate modern equipment and seek suitable technologies used for agricultural production. 

They urged the government, ministries, agencies, localities, and VFU to offer more training courses to farmers so that they could grasp opportunities and overcome challenges. 

The same day, a competition "I am farmer 4.0" was launched in the capital city. 

The six-month competition, the first of its kind, is open to Vietnamese individuals and groups of individuals that adopt technological solutions to farming production. 

The awards ceremony is scheduled for late May 2018.

Mid-priced flats in vogue in HCM City

The mid-priced apartment segment in Ho Chi Minh City is developing strongly with demand and supply and liquidity all looking up, especially in the eastern part, experts said.

A report from market researcher CBRE Vietnam said the segment, with prices ranging from 800 USD to 1,500 USD per square metre, accounted for 60 percent of third quarter launches.

The HCM City Real Estate Association had predicted at the beginning of this year that the property market would see a strong restructure, with developers switching from luxury to mid-priced apartments.

It had explained that the rebalancing would take place to resolve the mismatch between demand, which was overwhelmingly for cheaper units, and supply, which was skewed in favour of high-priced ones.

Dau Tu newspaper (Vietnam Investment Review) quoted Vinh Kiem, an investor in HCM City, as saying that mid-range apartments built by prestigious developers bring solid returns to buyers.

Since prices are not high, an investor can buy several at a time, according to Kiem.

Last May, he bought two apartments in District 9 at around 1.7 billion VND each and now they have both appreciated by 300 million VND. But he is waiting for the prices to rise even further.

For people looking to buy houses to live in them too, mid-priced apartments are a good choice since many are in good locations and offer many amenities.

To meet the growing demand in this segment, several major developers like Vingroup, Hung Thinh and Him Lam Land have launched many projects.

But projects in the eastern part of the city, in places like districts 9 and 2, are customers' favourites and are thought to bring profits of 20-50 percent to buyers.

Investors said apartments here are in high demand thanks to the excellent and constantly developing infrastructure, including the city's first metro route.

The news that authorities are planning to build the Rach Chiec Sports Centre in District 2 for SEA Games 31 has sparked off even more interest in the area.

Investors now expect the market to remain strong for the next two years.

Ngo Quang Phuc, general director of Him Lam Land, said the improved infrastructure and the Rach Chiec Sports Centre would be factors in pushing up prices in the area.

MoIT's new decision benefits gas producers

Gas and oil power plants are expected to benefit from the new decision of the Ministry of Industry and Trade (MoIT) that has suspended the operation of the competitive electricity generation market.

The competitive electricity generation market (CGM) was launched in July 2012 to diversify power sources, reduce the country's dependence on hydropower plants and make the power market more competitive.

MoIT Decision No 3698/QD-BCT that took effect on October 1 suspends the CGM operation to maximise the consumption of gas-based power production, thus benefiting gas power producers at least in the fourth quarter, according to HCM City Securities Co (HSC).

Until now, the Electricity of Vietnam (EVN) bought power from plants through bidding competitions based on the plants' costs. EVN will now buy power from the plants based on the prices stated in the power purchase agreements (PPAs) it signed with power producers.

For thermal power producers, the PPA price is calculated on the fixed cost plus operation and maintenance costs, varying cost and material transportation cost.

The PPA price for thermal power plants would be higher than the average CGM price. However, the volume of power EVN purchases from those plants will be lower once EVN gives priority to gas power products, thus making earnings of those producers decline, HSC said.

For hydro and gas power plants, the PPA price is calculated by the fixed cost plus operation and maintenance costs.

Of the two types of power producers, HSC assumes hydro power plants would suffer as they have the lowest production cost, pulling the PPA price below the CGM average price by 20-30 percent. EVN will also buy less from hydro power plants, therefore, their income will be badly affected, HSC said.

The gas power producers that could benefit from the decision are PetroVietnam Power Nhon Trach 2 JSC (Nhon Trach 2), Ba Ria Thermal Power JSC and PetroVietnam Power Company (PV Power), HSC added.

Nhon Trach 2 is running a gas power plant with capacity of 750 megawatts (MW). The decision could increase the plant's fourth-quarter production by 25 percent year on year to 1.5 billion kWh.

Vietnam's biggest operator of gas power plants, PV Power, is managing the operation of three gas power plants. Two of its plants - Nhon Trach 1 and Nhon Trach 2 plants - used to sell 15-20 percent of their production on the CGM.

Nhon Trach 2 contributed 60 percent of post-tax profit in 2016 for shareholders of the parent company PV Power. PV Power earned 1.6 trillion VND (71 million USD) in net profit last year.

Ba Ria Thermal Power Company is running a gas power plant with capacity of 388.9 megawatts. Shares of those companies are expected to rise in the near future.

Ba Ria Thermal Power Co and Nhon Trach 2 are listing their shares on the HCM Stock Exchange under code BTP and NT2, respectively.

BTP stocks rose 1 percent in the last two sessions to end October 12 at 10,700 VND (47.5 US cents) per share and NT2 has jumped 25 percent in the last one month to close at 29,000 VND per share.

In addition, PV Power is expected to make its initial public offering (IPO) in December 2017 and the prospects of higher earnings could make PV Power's shares more attractive, HSC said.

Vietnamese firms told to improve oversight of RPTs

Vietnamese public companies, especially listed ones, should have clear policies and procedures governing related party transactions (RPTs) and an effective oversight mechanism that complies with the laws and follows best international practices, a recent forum on corporate governance heard in Ho Chi Minh City.

Titled 'Handling Conflict of Interest and Related Party Transactions,' it was attended by 100 regulators, board members and senior executives from large public and listed companies.

It aimed to address concerns and issues related to best practices in governing conflicts of interest and RPTs for sustainable performance and growth.

Chris Razook, head of corporate governance for East Asia Pacific, International Finance Corporation, said definitions of related parties vary from place to place and across various sources of standards.

A good definition of related parties broadly covers all persons and entities that, by virtue of their positions, authorities, ownerships, have scope for direct or indirect influence on banks' decision making with regard to RPT's.

An RPT is a transfer of resources, services or obligations between related parties, regardless of whether a price is charged, according to international accounting standards.

Delegates said RPTs are common in most businesses across industries and sectors in Asia.

Though they do not necessarily affect the company negatively, the risk of shareholder abuse is potentially present in non-arm's length transactions involving sale or purchase of goods, transfer of intangible items and even establishment of joint ventures, they said.

Abusive RPTs have led to significant corporate failures destroying shareholder value and eroding investors' confidence in the integrity of capital markets, they said.

In fact, over the last few years abusive RPTs have become one of the biggest challenges facing the Vietnamese business landscape, they said.

Chris Razook said: "RPTs are always viewed as situations which are open to possible conflicts of interest and should be subject to rigorous review."

The conflict of interest regulation index in Vietnam (4.3), though improved in recent years, remains lower than the regional average (5.6) and far lower than EU and OECD averages, according to the expert.

It is a recommended practice that a company should outline its RPT policy as part of its governance policy framework and ensure that any conflicts of interest inherent in RPTs are strictly addressed.

"In the absence of a strict RPT policy at the company level, RPTs could be easily abused, significantly weakening the competitive edge of many companies, thus increasingly posing a challenge to the integrity of Vietnam's capital markets," Tran Van Dung, chairman of the State Securities Commission of Vietnam, said.

Vietnamese public companies, especially the listed ones, should do more to enhance efficient governance, applying good governance practices to stand firm against challenges in regional integration, to maintain competitive capacity, increase shareholders' confidence and attract foreign investment, he said

According to Dinh Thi Quynh Van, CEO of PwC Vietnam, independent directors have a central role in assisting the board in overseeing RPTs.

A healthy RPTs environment and leadership at the top is important and it empowers internal gatekeepers of the company.

"Corporate governance reform is a top priority for regulators, institutional investors and boards," Dominic Scriven, chairman of Dragon Capital Group, said.

"Good corporate governance, including attracting qualified independent board directors, and transparency in RPTs are absolutely critical," he added.

The forum was the first annual event hosted by the Vietnam Corporate Governance Initiative founded by the International Finance Corporation, the Ho Chi Minh Stock Exchange and the Hanoi Stock Exchange.-

Experts urge organic fertiliser use

It is time to increase the production and use of organic fertilisers to foster organic farming, according to the Vietnam Fertiliser Association.

Speaking at a national conference on development strategies for the organic fertiliser industry and organic agriculture in Ho Chi Minh City on October 13, Nguyen Hac Thuy, general secretary of the association, said: "Consumers around the world pay increasing attention to food safety and farm produce quality, while importing countries scrupulously check imported agricultural produce, especially for residues of plant protection chemicals, antibiotics, and heavy metal content.

"Many countries have shifted to organic agriculture to ensure sustainable agriculture, food safety and people's health."

Vietnam's agriculture has made great strides in recent decades, with productivity shooting up to not only meet domestic but also export demand.

But its challenges are increasing in the form of natural disasters, saltwater intrusion, droughts, flooding and soil exhaustion due to overuse of fertilisers.

Luong Quoc Doan, Vice Chairman of the Vietnam Farmers Association's executive committee, said: "It is time for Vietnam's agriculture to have new directions to enable it to develop more sustainably and efficiently, and organic agriculture, through eliminating the use of chemical fertilisers and enhancing the use of organic ones, is among the new directions.

"Organic fertilisers are among the important factors in pushing Vietnam's agriculture towards organic farming.

"But domestic supply of organic fertilisers is still very modest compared to demand."

Thuy said Vietnam produced more than 1.2 million tonnes of organic fertilisers a year, accounting for a tenth of total fertiliser demand.

"Statistics provided by the Ministry of Agriculture and Rural Development reveal that the agricultural sector annually produces around 40 million tonnes of straw, corn and sugarcane refuse and over 25 million tonnes of animal and poultry waste, which are potentially raw materials for marking organic fertilizers, but for a long time we did not take advantage."

"With such volumes of agricultural by-products, we can produce 5-6 million tonnes of organic fertilisers," he said.

Using the agricultural by-products to produce organic fertilisers would also help reduce pollution and improve soil fertility and farm produce quality, he added.

Doan said promoting the use of organic fertilisers remained difficult since to fertilise a similar area a larger volume of organic fertilisers is needed compared to chemical fertilisers, making transportation harder and costs higher.

Besides, their impact is not as quick as that of chemical fertilisers, he said.

"Despite facing difficulties in developing the organic fertiliser market, it is a vital trend and the Government should offer support through appropriate policies and technologies," Doan said.

At the conference, the Crop Production Department issued Decree No 108/2017/ND-CP on fertiliser management to encourage legitimate producers and eradicate fake products, a widespread problem.

Hoang Trung, head of the department, said the new decree was expected to address the shortcomings of the previous decree, in which many provisions have become outdated and not impracticable.

The new decree would improve oversight to crack down on fraudulent companies, he said.

Under the former decree, both the Ministries of Agriculture and Rural Development and Industry and Trade managed fertilisers, causing an overlap, he said.

"The new decree resolves this issue since the agriculture ministry becomes the only agency in charge," he said.

The department also solicited contributions for a draft decree on dealing with violations in the fertiliser sector, which envisages increasing fines for certain violations.

The department would continue to seek feedback from relevant agencies and businesses to complete the draft before sending it to the Government for approval in December, Trung added.

Entrepreneurs Day honours 57 firms

Fifty-seven businesses operating for more than 30 to 40 years were honoured for their contributions to the country's socio-economic development on the occasion of Vietnam Entrepreneurs Day in Ho Chi Minh City on October 13. 

More than 800 delegates and representatives from state agencies and local and foreign business associations participated in the ceremony to celebrate the 13th Vietnam Entrepreneurs Day, organised by the HCM City Business Association.

Of the honoured businesses, which were shortlisted from 400 businesses by the association, 23 have been operating for more than 30 years and 34 more than 40 years.

In addition, 79 products and services from 79 companies were also awarded as excellent products and services in 2017 during the ceremony. The selections were made by the HCM City Business Association, Department of Industry and Trade, Department of Science and Technology and the Vietnam Standards and Consumers Association.  

The businesses were honoured for their excellent observance of state policies and achievements in production and business and constant improvement in the quality of their activities.

Chu Tien Dung, President of the HCM City Business Association, said the fourth industrial revolution was posing opportunities as well as challenges for businesses, requiring them to take initiative in renovation and apply cutting-edge technologies to increase productivity and product quality.

Many businesses had established their brands which satisfy customers in terms of quality and service, he added.

The businesses also contributed to creating more jobs while ensuring sustainable development, environmental protection and corporate responsibility.  

The HCM City Business Association had worked with agencies to provide timely assistance to businesses to ensure their smooth business operations, Dung said.

The Gross Regional Domestic Product (GRDP) of the city reached 7.97 percent in the first nine months of the year, while the city's budget collection rose by 10.7 percent compared to the same period last year, according to Dung.

Nearly 30,000 new firms had been established so far this year, while 1,372 household businesses had been transferred to businesses in the first nine months, Dung said.

Vietnam calls for UN's poverty reduction support

Vietnam has called on the United Nations to assist the country in poverty reduction via resources supply, policy consultation and offering linkage with international financial institutions. 

A representative of the Vietnamese Mission to the UN made the call at the meeting of the UN General Assembly's Economic and Financial Committee (Second Committee) held last week. 

The Vietnamese side highlighted achievements and challenges in poverty reduction, including economic restructuring, seeking sustainable development models, mitigating impacts of climate change, and dealing with social inequality, especially vulnerable groups such as ethnic minorities and those living in remote and mountainous areas. 

Participants shared the view that poverty elimination is the most inclusive and decisive goal among other Sustainable Development Goals. 

They underscored the need to devise a proper development strategy on economic-social-environment pillars, as well as design social policies to ensure welfare, provide basic public services and promote gender equality. 

They called attention to strengthening developed countries' resources support to developing ones via technological transfer.

Tien Sa wharf in Da Nang to be inaugurated in November

Tien Sa wharf of Da Nang port in the central city of Da Nang city will be completed and put into operation in late November, four months ahead of the plan, said the Vietnam National Shipping Lines (Vinalines).

The wharf will be able to receive container ships of 50,000 DWT and bulk carriers of up to 70,000 DWT.

According to statistics, nearly 6 million tonnes of cargo went through the Da Nang port in the first nine months, equivalent to 80 percent of the yearly plan.

The port is estimated to handle about 8.5 million tonnes of cargo in 2017, surpassing the yearly plan by 5-10 percent.

Da Nang hopes for open conversations with investors

Chairman of the Da Nang city People's Committee Huynh Duc Tho has called on enterprises and investors both at home and overseas to have open conversations with the city's government about investment cooperation opportunities.

The city is always willing to listen to and stand side by side with businesses, Tho said in a meeting to mark Vietnam Entrepreneurs' Day (October 13).

According to the chairman, enterprises are a driving force of the economic growth amid the global integration; hence improving their capacity continues to be the city's key task.

Local authorities have provided all possible conditions and support for companies and investors to do business in the city, particularly in terms of administrative reform, he noted.

The central city has organised a number of government-business meetings and carried out projects to support the development of startups by 2020, receiving positive responses from enterprises and business associations.

Foreign companies contributed approximately 21 trillion VND, or about 39 percent, to the city's Gross Regional Domestic Product (GRDP) and created nearly 70 percent of the local jobs last year.

Tho revealed that a business event gathering over 1,000 leading businessmen and senior officials from Vietnam and other countries will be held during the APEC Economic Leaders' Week from November 6-11.

Workshop promotes Vietnam-South Africa investment

A workshop was held in Johannesburg city on October 12 to promote investment between Vietnam and South Africa.

Vietnamese Ambassador to South Africa Vu Van Dung said South Africa is one of the biggest economies in Africa while Vietnam is a dynamic economy with a lot of potential.

Therefore, it is necessary to step up the bilateral cooperation in economics, trade, and investment as well as increase information exchanges and connectivity among businesses, he said.

The diplomat called on enterprises from South Africa and Johannesburg city in particular to boost investment in Vietnam, including the northern province of Vinh Phuc.

He cited the fact that two-way trade is estimated at over 1.2 billion USD at present.
Chairman of the Vinh Phuc People's Committee Nguyen Van Tri highlighted the local advantages in geography, natural conditions and transport system along with potential to develop industry, services, construction and infrastructure, simple administrative investment procedures and abundant labour resources.

As of September 2017, the province received more than 253 foreign direct investment (FDI) projects from 16 countries and territories with total registered capital of over 3.8 billion USD, he noted.

He welcomed investors from South Africa and Johannesburg city to invest in the local strong manufacturing fields and pledged to create the best conditions for businesses to expand investment.

President of the Johannesburg Chamber of Commerce and Industry Herman Breedt hailed the cooperation potential between South African and Vietnamese enterprises, including those from Johannesburg city and Vinh Phuc province.

He added that the workshop creates an opportunity for Johannesburg firms to understand better the economy and trade situation in Vietnam and Vinh Phuc province, through which seeking to boost cooperation in the areas of their strength.

CPI to grow by less than 4 percent this year: steering committee

Members of the Steering Committee on Price Management shared the view that the consumer price index (CPI) will grow by less than 4 percent this year, citing the positive outcomes of the first three quarters and price forecast for the last quarter.

At a meeting on October 13, the steering committee's aides reported that prices were controlled in line with the target set by the Government and National Assembly. The figures were basically stable in the past nine months.

The CPI growth rate declined month on month with a nine-month average increase of 3.79 percent compared to the same period of 2016. However, it grew by only 1.83 percent against last December.

The CPI hike between January and September was mostly attributable to the scheduled augmentation of medical and educational services prices, which are under the State's management, along with the five consecutive rises of petrol prices in recent months. The increases of minimum wage at the year's beginning and construction sand prices since the second quarter are also contributors to the CPI growth.

Meanwhile, CPI was hampered by falling food prices, especially pork prices in mid-2017, strong price management moves taken by the Government and sectors, and a flexible monetary policy that has helped stabilise exchange rates and interest rates, according to the aides.

Applauding inflation control efforts, Deputy Prime Minister Vuong Dinh Hue said inflation rate must be kept at below 4 percent while core inflation must be at 1.6 percent this year so as to help minimise expenses for businesses and achieve the targeted economic growth rate of 6.7 percent.

Regarding the last quarter of 2017, he asked ministries and sectors to pay attention to the rising trend in petrol, gas and pork prices. 

He also told the Ministry of Agriculture and Rural Development to update information about damage caused by the recent storm Doksuri and floods in order to manage prices of agricultural products. Meanwhile, the Ministry of Industry and Trade needs to continue coordinating with the Ministry of Finance to use the petrol price stabilization fund appropriately, helping to control petrol prices' subsequent impacts on other goods.

The State Bank of Vietnam was ordered to adjust credit growth to inflation and ensure capital is channeled into prioritised fields.-

Vietnam's tea exports likely to increase in coming months

Vietnam's tea exports are forecast to increase in both volume and value in the remaining months of 2017 due to growing global demand and limited supply.'

The reduction of output in major tea exporting countries such as Kenyan, India and Sri Lanka, will push up tea prices, benefiting Vietnamese enterprises in the short term.

According to the Ministry of Industry and Trade, Vietnam exported 103,000 tonnes of tea worth 164 million USD in the first nine months of 2017, representing year-on-year rises of 12 percent and 11.2 percent respectively.

Pakistan, Taiwan and Russia were the biggest importers of tea from Vietnam, accounting for 51.5 percent of Vietnam's total tea export turnover in the January-August period.

Besides opportunities, Vietnamese tea exporters are facing a number of challenges related to production costs, processing technology, quality standards, and marketing.

In the context of global economic integration, apart from tariff reduction, businesses have to suffer pressure from technical barriers, especially regarding food hygiene and safety.

To ensure sustainable growth of tea exports, local exporters need to join global value chains, promote tea production models meeting Good Agricultural Practice (VietGap) standards, build up brand names and invest in technology to penetrate into such choosy markets as the US and European Union (EU).

Vietnam has exported tea products to 110 countries and territories worldwide, with the Vietnamese tea brand names registered for protection in 70 countries and regions.

Vietnam is now the world's seventh largest tea producer and fifth biggest tea exporter with 124,000 hectares under tea farming and over 500 facilities which produces more than 500,000 tonnes of dried tea per year.

Steel sector grows 24 percent in nine months

The local steel sector saw a high growth rate in the first nine months of the year, despite difficulties, said the Vietnam Steel Association (VSA).

The VSA's data showed that from January to September, the country's steel output was 15.4 million tonnes, posting a 24.2 percent year-on-year increase. Steel consumption also rose by 20.5 percent from the same period last year.

The steel output in September alone reached 836,624 tonnes, increasing 19 percent from the corresponding period last year and 18 percent from the previous month.

The steel consumption last month dropped 6.5 percent from the previous month to 740,565 tonnes, but represented a 16.5 percent year-on-year rise. Therefore, steel inventories in September rose 28 percent from the previous month to 579,342 tonnes.

Prices of steel billet for production fluctuated at 525-530 USD per tonne, reducing 15 percent from the beginning of last month. In the third quarter of the year, the steel billet price rose 90 USD per tonne in comparison with the second quarter.

However, the construction steel price did not increase, remaining stable at 12.5 million VND (550USD) per tonne in the north and 13.5 million VND (594 USD) per tonne in the south.

The average capacity of the domestic steel sector has been at 70 percent to avoid high inventory.

Vietnamese steel producers are still facing pressure from imported steel. In the first eight months of the year, imported steel reached 13.5 million tonnes worth some 7 billion USD, reducing 22 percent in terms of quantity but reporting a 3.8 percent increase in terms of value, in comparison with the same period last year.

The decreasing import amount was mostly seen at cold rolled steel coil, as Formosa Ha Tinh Steel Plant has been able to produce the steel.

In addition, the trade defence measures on some steel products of coated steel, alloyed steel and steel bar have helped reduce imports.

Producers of construction steel and others are still facing fierce competition from imported products to maintain their market shares.

Local steel producers, therefore, need to keep a close control on the quality of imported steel to make the market healthy.

Many domestic steel producers have been actively investing in modern technologies and expanding markets to improve their products' quality to attract foreign customers. 

Gov't projects 6.7% GDP growth in 2017

The Government projects GDP growth of 6.7 per cent in 2017 in a report submitted to the National Assembly Standing Committee on Thursday during the committee's 15th session in Hà Nội. But many legislators expressed doubt about the feasibility of that figure.

According to the Government's report, the macro-economy has stabilised while inflation remains below 4 per cent. The gross domestic product (GDP) is estimated at VNĐ5 quadrillion or nearly US$225 billion. Based on the socio-economic development plan for 2016-20 adopted by the legislature, the projected performance of the economy in 2017 and the domestic and international situation, the Government expects GDP to expand by 6.5-6.7 per cent in 2018.

Many NA Standing Committee members expressed concern that gains in productivity and economic competitiveness remain slow and below expectations, and doubts about the feasibility of the 6.7 per cent GDP growth goal. They say that there is not much grounds for expanding domestic consumption, the foreign sector's exports, manufacturing and processing in the remaining months of the year.

The Government report also says the consumer price index would rise by an estimated 4 per cent and the total social investment would account for 33-34 per cent of the GDP next year, according to the projection.

The majority of NA Standing Committee members shared the Government's view that most major socio-economic development targets would be achieved this year, noting that the economy remains stable and the business climate continues to improve.

NA Vice Chairman Uông Chu Lưu said it is the first year that all 13 socio-economic criteria would be met or surpassed.

He asked the Government to explain to the legislature the factors it expects to ensure a 6.7 per cent growth.

The Vice Chairman also requested the Government to clarify why it is confident that State budget collection will meet its 2017 target when the domestic revenue only rose 2.1 per cent and  revenues collected from State-owned, foreign-invested and non-State enterprises failed to meet Government estimates.

NA Vice Chairman Đỗ Bá Tỵ said that in order to achieve a 6.7 per cent growth this year, the figure for the fourth quarter must hit 7.4-7.5 per cent, which is a challenging task. Moreover, disasters and floods still pose challenges to farming sector.

On the socio-economic development plan for 2018, Tỵ asked the Government to identify factors that can affect domestic production and free trade agreements' impacts on growth.

Pork prices set to rise as year-end supply dwindles

As the number of pig breeding households continues to drop, a shortage of live pigs could result in high pork prices later this year, according to the Ministry of Agriculture and Rural Development (MARD).

The ministry estimates that pig herd numbers have declined by 10 per cent year on year as of September this year. Pork production in the third quarter was 522,000 tonnes, down 2.3 per cent compared with the previous year.

The situation has resulted out of a long-term plunge in pork prices. The foot-and-mouth disease outbreak in a number of northern provinces was also a reason for many farmers deciding to stop breeding pigs.

According to the MARD's Department of Livestock Production, pig farmers are also not interested in expanding their pig due to unstable pork prices.

The department estimates that the number of pig breeding households is predicted to reduce by a third, or between 800,000 and 900,000 by the end of this year.

After nearly 4,000 pigs were found injected with sedatives at the Xuyên Á Slaughter House Complex in HCM City recently, pork prices fell to VNĐ25,000-27,000 (about $1.1) per kilo in Đồng Nai, he said.

A similar situation has happened in pig farming areas in Hà Nội, with many households going bankrupt or shifting to other businesses.

Trần Văn Minh, a breeder in the capital city's outlying Đan Phượng District, is among them.

He was among the bigger breeders in the district, but his farm stands empty now. Over the past two years, the household business has operated at a loss as pork prices continued to fall. They even sold valuable property to continue investing in pig farming. Now they are bankrupt and hundreds of millions of đồng in debt, owing money they spent on feed, veterinary medicines and other things.

"We've lost everything. We are too old to be employed by companies so we look forward to receiving assistance from the government," Minh said.

Nguyễn Kim Đoán, vice chairman of Đồng Nai Poultry Association, warned that the high number of households quitting pig breeding would result in rising unemployment in rural areas, with most of the people affected being those too old to work in companies or enterprises, and incapable of doing hard work.

"About 40 per cent of small scale big breeders, amounting to tens of thousands of households, have gone bankrupt. This has created difficulties for local authorities in generating employment and in ensuring social security and order," Đoán told the Nông thôn ngày nay (Countryside Today) newspaper.

Nguyễn Đức Trọng, Deputy Director of Department of Livestock Production, said they haven't got the exact number of households who've quit pig breeding or correct figures from big businesses like the CP (Charoen Pokphand) Group that have large number of sows and pig herds.

He said it was normal that prices go up and down in livestock breeding sector.

For example, pork prices increased constantly from 2011 to early 2016. There was a time it reached VNĐ52,000 ($2.3) per kilo. The prices started dropping from the end of last year, he said, adding that it has affected a lot of farmers.

"I assume that the pork prices will increase from now until the year-end if the number of pigs herds keeps dropping. However, the increase will not be as steep or sudden as before," said Trọng.

Several breeders have turned to exports because of low consumption and prices in the domestic market. Trọng said the ministry would try its best to create favourable conditions for exporters.

"At present, we export about 40,000 tonnes of pork per year, via eight enterprises from Hải Dương Province and Hải Phòng City."

"The ministry plans to establish disease-free zones to reduce production costs and facilitate pork export to markets like Europe. This is an urgent matter so the ministry is determined to do this," he said.

Business innovation to drive success in fourth industrial revolution

Innovation in business plays an important role in an increasingly competitive and changing economy, experts said at an international conference held on Thursday in HCM City.

Nguyễn Đình Thọ of the International School of Business at the University of Economics HCM City said that innovation was particularly crucial in transitioning economies like Việt Nam and that firms incapable of innovating would find it difficult to compete with other companies.

Innovation includes the generation, development and implementation of new ideas, products or processes that improve companies'competitive advantage and performance, Thọ explained.

Dr Bahaudin Mujtaba of the US's Nova Southern University described innovation "as the process and outcome of creating something new which is of value."

Outcomes of innovation include new products, new ways of organising, new markets, new processes and new sources of supply. "Innovation can be a better way of doing things or an improvement to an existing product or invention," he said.

Innovation requires creativity and the ability to see a problem in several dimensions and to truly understand the problem at hand, Mujtaba said.

Process innovation is achieved through the creation of a new means of producing, selling or distributing an existing product or service, while technical innovation is simply the creation of a new product or service, such as a new line of automobiles or the introduction of cellular telephones.

Administrative innovation is the creation of a new organisational design which supports the creation, production and delivery of services or products, such as a virtual team meeting without all members being in the same room or even working at the same time.

Most companies see the importance of innovation, Mujitaba said, adding that innovation success is a consequence of creating a culture in which it can take place.

"The key to their success has been to create the conditions in which innovation can arise from any one of a number of directions, including lucky accidents, and there is a deliberate attempt to avoid putting too much structure in place, because this would constrain innovation," he added.

One way to spur creativity and innovation is to allow employees to work on their own and in their own time on innovation projects, accessing resources in a non-formal way, he said. 

The one-day international conference served as a platform for researchers and practitioners to debate recent insights on innovation in various industries.

The conference was organised by the HCM City Open University in co-operation with the United Nations Industrial Development Organisation, Berlin School of Economics and Law, and other foreign universities.

Hong Kong business eye VN opportunity
     
The Hong Kong Trade Development Council (HKTDC) will send two delegations to Viet Nam between now and January 2018 to explore investment opportunities.

In addition to traditional fields, such as clothing, real estate, agro-forestry-fishery, Hong Kong investors are looking to fund infrastructure and waste treatment in the form of Public-Private Partnership (PPP) models, the Voice of Vietnam cited Tina Phan, Director of Indochina at HKTDC, as saying.

The director said she hoped when the ASEAN-Hong Kong Free Trade Agreement goes into effect, it will open up huge opportunities and her council will send more business delegations to Viet Nam to study opportunities.

Viet Nam is the sixth largest exporter to Hong Kong and a major trade partner. Over the past nine months, Viet Nam exported US$5.5 billion worth of goods to Hong Kong, up 23.4 per cent year-on-year, while its imports rose 25 per cent to $1.3 billion.

Hong Kong is also among Viet Nam's leading sources of foreign direct invesment (FDI). From January to September, FDI capital from Hong Kong ranked sixth with a total of $1.19 billion. 

Vinh Phuc aims to charm SAfrican investors
     
Officials from Vinh Phuc Province on Friday made their case to potential investors at a conference in Johannesburg, South Africa, organised by Vinh Phuc and the Johannesburg Chamber of Commerce and Industry.

During the event, chairman of the Vinh Phuc People's Committee Nguyen Van Tri highlighted his province's advantages in geography, natural conditions and transportation infrastructure along with its potential to develop industry, services, simple administrative investment procedures and abundant human resources.

The chairman encouraged investors from South Africa and Johannesburg to invest in the locality and pledged to create the best conditions for businesses to expand investment.

Vietnamese Ambassador to South Africa Vu Van Dung called on enterprises from South Africa and Johannesburg in particular to boost investment in Viet Nam, including the northern province of Vinh Phuc.

On his speech, president of the Johannesburg Chamber of Commerce and Industry Herman Breedt spoke highly of the co-operation potential between South African and Vietnamese enterprises, including those from Johannesburg and Vinh Phuc Province.

He described the event as a good opportunity for Johannesburg firms to better understand the economy and trade situation in Viet Nam and Vinh Phuc Province, and then seek to boost co-operation in the areas of their strength. 

Finance sector discusses application of Industry 4.0
     
The fourth industrial revolution (Industry 4.0) will have a significant impact on all aspects of socio-economic life in all countries around the world, said Vu Thi Mai, deputy minister of finance, at a workshop on Thursday.

The workshop discussed the importance of Industry 4.0, and especially its impact on the finance sector.

Reviewing the application of information technology in the finance sector, Mai said that in the past the sector had maintained rapid and steady development and mobilised financial resources efficiently for the country's socio-economic development.

"In order to continue these achievements, the contribution of information technology to the sector must be significant," she said.

Until now, information technology has been applied deeply and extensively in almost all financial activities, becoming an indispensable part of key activities such as State budget management, e-payment and government bond management, implementation of e-taxation, e-customs, national and ASEAN one-stop mechanisms and public debt management. The period from now until 2030 is important for the implementation of strategic breakthroughs in the development of the digital finance sector in line with the Government's orientation.

Mai affirmed that the sector would be the leading unit among governmental agencies in the e-Government roadmap to 2020.

The role of information technology is important, as the application of IT aims to modernise the finance sector. Systems will manage, develop and provide modern public finance products, serving people and businesses, based on the technological achievements of the industrial revolution 4.0, Mai noted. Mai also highlighted major hurdles that the finance sector must be overcome.

These include successfully developing e-finance by 2020, establishing an open finance sector by 2025, and striving to complete the goal of fully converting to digital finance by 2030. The sector, with the support of advanced technology, will also strive to meet international standards and reach the level of modernising the governmental financial sector in the leading group of countries in Southeast Asia. At the workshop, experts also said that the inevitable shift from simple digitisation (the third industrial revolution) to innovation based on technology (the fourth industrial revolution) means each sector will have to adapt.

For the financial sector, to be ready and proactive in the 4.0 industry, it is imperative to have breakthrough solutions, said experts.

According to Dang Duc Mai, director of the Department of Financial Informatics and Statistics, in the future, the Ministry of Finance should continue to step up and successfully build e-finance, an open financial database and apply data analysis tools. 

Viettel leads VN 4.0 industrial revolution
     
Viet Nam's leading telecommunication service provider Viettel group opened an exhibition in HCM City last Saturday to display its achievements and preparation for the 4.0 industrial revolution.

With the theme of "Viettel and the 4.0 industrial revolution", the exhibition displayed Viettel's network infrastructure and solutions for State management offices, enterprises and households.

To prepare for the 4.0 indsutrial industrial revolution, Viettel has strongly invested into researching and developing equipment for its telecommunication network. The most important achievement is the 4G base transceiver station, which is made by Viettel.

At present, Viettel has around 340,000 km of fibre-optic cable, 36,000 4G base transceiver stations with the most modern technology covering 95 per cent of the population.

The company owns five data centres with cloud computing technology meeting international standards.

"A strong telecommunication network foundation is the most important factor to create a 4.0 industry and a 4.0 society where all electronic equipment can connect," said Nguyen Manh Hung, Viettel general director.

At the exhibition, Viettel offered a series of digital solutions for electronic government and smart cities including: public service solutions, traffic surveillance system, security surveillance, automatic traffic fee collection and solutions to improve the management of important industries such as healthcare, education, agriculture and tourism. 

Vingroup and Bosch team up over automotive production
     
Vingroup and Bosch Vietnam signed a memorandum of understanding (MoU), over the VinFast automobiles and electric motorcycles project on Thursday, marking an important milestone between the two sides.

According to the MoU, the two sides will consider comprehensive co-operation in the field of automobile and electric motorcycle production, including hardware solutions, software and services for VinFast.

In terms of hardware, with the advantage of being one of the world's largest suppliers of technology and automotive components, Bosch will provide VinFast with parts that will be of top quality, compliant with the manufacturing process. As for software, Bosch will support and advise VinFast to deploy software for automobiles, motorcycles, and corporate management software, such as design solutions, and user experience and customer development.

In particular, Bosch and Vingroup will jointly research and apply the world's leading advanced technologies for VinFast models, aiming to roll out modern vehicles. In addition, the MoU also mentions a smart campus solution for the VinFast Automobile Factory Complex, including security solutions, intelligent security, connected mobility and intelligent operation, as well as energy management, consulting and deploying of a connected industry.

In addition, Bosch will advise VinFast on the establishment of a vocational training centre. With experience in investing over US$1 million in vocational training in the industrial sector and training highly qualified local workers, Bosch is expected to be a suitable partner to meet the needs of VinFast.

As planned, VinFast will establish a training centre of mechanical and electronic engineering in accordance with German standards to gather qualified staff to operate modern and advanced manufacturing lines and gradually receive the transfer of technology from foreign partners.

Speaking at the signing ceremony, Guru Mallikarjuna, General Director of Bosch Vietnam, said the signing ceremony of this MoU marked an important milestone in the co-operation between Bosch and Vingroup. With comprehensive expertise in vehicle technology, Bosch was committed to supporting Vingroup to successfully implement this project, he said.

General Director of Vingroup Duong Thi Mai Hoa, said the co-operation with Bosch and other leading technology partners in the world was the main part of VinFast's strategy to move up and apply the most modern technology for manufacturing automobiles and electric motorcycles. "We will provide our customers with products that are not only high quality and safe, but also made using excellent technology," said Hoa.

Even though VinFast announced its entry into the automobile industry only on September 2, within 40 days, VinFast kicked off construction of an auto manufacturing plant. It started recruiting senior international personnel, introduced a collection of 20 car models from four prestigious design studios for public selection and successively signed co-operation agreements with Bosch and Siemens.

This proves Vingroup's determination in achieving the target of engaging in motorcycles after 12 months and cars after 24 months, which will be modern in style and quality, of international standards, yet suitable to Vietnamese tastes. 

CEOs to mull ways to develop Mekong delta at annual forum
     
The third annual CEO Forum Mekong Connect, which focuses on developing the economy of the Cuu Long (Mekong) Delta and investment opportunities there, will be held in Ben Tre Province this month.

Its organisers, the Business Association of High Quality Vietnamese Goods, told a press conference in Can Tho city on October 10 that this year the event would have the theme, "Developing local resources in combination with technological strength."

The forum will help connect the participating CEOs with local and foreign partners and international investors with delta authorities.

There will be nearly 30 international experts speaking about how to develop the delta's resources through the use of technology, potential of renewable energy sources in the fight against climate change effects.

Vu Kim Hanh, chairwoman of the Business Association of High Quality Vietnamese Goods, said this year the forum would have around 500 Vietnamese and 100 foreign firms and 20 international business organisations.

At two-day event on October 25-26, there will be meetings and group discussions related to the main local resources -- such as coconut in Ben Tre, rice in Can Tho, fisheries in An Giang, and lotus in Dong Thap.

Each locality in the delta has various strengths but they have not been tapped properly due to shortcomings in processing and preservation capabilities and poor trade promotion, Hanh said.

Nguyen Huu Lap, deputy chairman of the Ben Tre People's Committee, said his province has more than 70,000ha under coconut, and Tien Giang, Tra Vinh and Vinh Long too are large producers.

It is necessary to create links between delta provinces and enterprises to strengthen the coconut processing industry to make it more competitive and capable of taking on rivals from other countries in the region, he added. 
VN Index ends positive on bank stocks
Share increased strongly on the HCM Stock Exchange on October 17 as investor confidence rose for companies that were expected to release good quarterly earnings reports.
The benchmark VN Index increased by 1.08 percent to close at 828.29 points. It was down 0.19 percent on October 16.
More than 177.2 million shares were traded on the southern bourse, worth 3.91 trillion VND (rough 174 million USD).
The figures were up 4.8 percent in trading volume but down 3.6 percent in trading value compared to the previous session.
Foreign investors returned as net sellers, posting a net sell value of 24.8 billion VND in comparison to their net buy value of 221 billion VND made on October 16.
The market breadth was positive with 146 gaining stocks against 128 declining one and 49 stocks ending flat.
Large-cap stocks performed well with 19 of the top 30 listed companies by market capitalisation and trading liquidity in the VN30 Index advancing.
On the Hanoi Stock Exchange, the HNX Index grew 0.50 percent to end at 109.84 points, extending its gains for a third session and posting total growth of 1.3 percent.
More than 127.6 million shares were traded on the northern bourse, worth 3 trillion VND. The figures soared nearly 173 percent in volume and 465 percent in value, compared to October 16.
The sharp increase in the northern market's liquidity was attributed to foreign trading for shares of the Asia Commercial Bank (ACB). More than 74.6 million shares of the bank were traded by foreign investors, worth 2.44 trillion VND.