VietNamNet Bridge - Ministries have been proposing many solutions to develop the automobile industry, but no official decision has been made.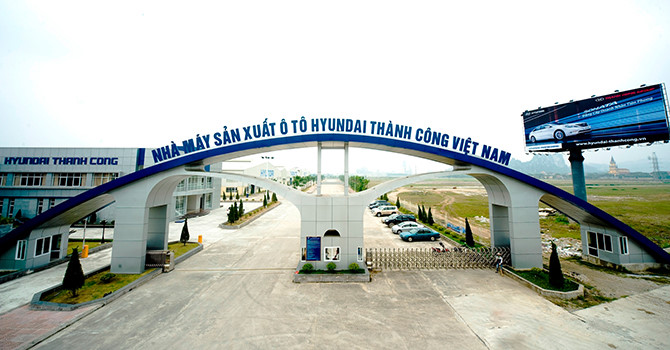 HTCV, a joint venture between Thanh Cong Group and Hyundai Motor, presented itself before the public some days ago. The company will manufacture, assemble and distribute Hyundai commercial vehicles with capacity of 12,000 passenger vehicles and buses and 30,000 trucks a year.
HTCV's factory is located in the large-scale automobile manufacturing complex in Ninh Binh province.
Not only Thanh Cong, but Truong Hai Auto has also taken steps to expand production and assembling of cars. The largest Vietnamese-invested auto enterprise has nearly completed a factory to make Mazda cars. It has the capacity of 100,000 products a year, slated for March 2018.
The localization ratio of cars with up to nine seats is 7-10 percent only, much lower than the 65-70 percent in other regional countries.
Most recently, VinGroup, a real estate developer, started construction of an automobile factory in Hai Phong City. The factory, once operational, will make Vinfast cars with the capacity of 500,000 products a year.

While Vietnamese enterprises are moving ahead with investment activities to scale up production, foreign invested enterprises will not make any move at this moment.

Workers at the enterprises said they don't know if the assembly factories will keep working in the future as they have heard that the enterprises will import cars instead of assembling cars in Vietnam.

An MOIT (Ministry of Industry and Trade) report on the status of the automobile industry in Vietnam showed that the localization ratio of cars with up to nine seats is 7-10 percent only, much lower than the 65-70 percent in other regional countries. The ratio is 80 percent in Thailand. It is estimated that 80-90 percent of major materials for making car parts must come from imports.

Pham Van Tai, deputy CEO of Truong Hai Auto, said Vietnamese automobile manufacturers are facing big difficulties.

"To successfully localize production, the output needs to be large enough. In order to have output, manufacturers need to lower the selling price to boost sales. However, they can only lower the selling price if they have a high localization ratio. And to have high localization ratio, the output needs to be high enough," he said.

"This is a vicious circle," he said, adding that the development of Vietnam's automobile industry not only depends on manufacturers but also on the state's policies.

Sources said that new tax policies have been drafted and put on the table of appropriate agencies. However, there is no new policy to date, three months before January 1, 2018, when Vietnam has to cut the import tariff to zero percent.

The decree stipulating conditions for manufacturing and assembling cars has not been issued, though it was initially planned to take effect in July 2017.
RELATED NEWS
Auto sale down 6 percent in seven months
Industry Ministry admits failure in developing auto industry. So what's next?
Kim Chi