Senior managers in consumer goods sector receive salary of $13,203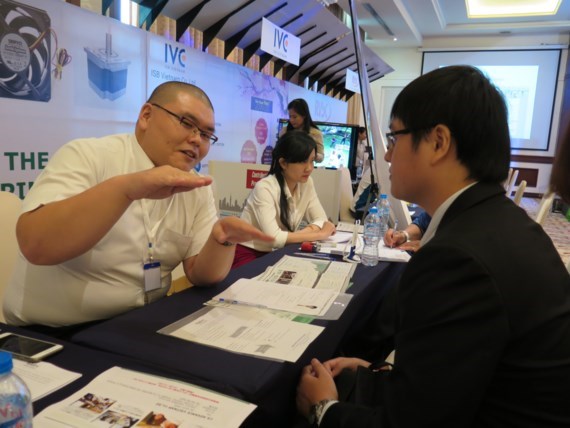 As per Navigos Group's salary survey of high-ranking employees in the field of consumer goods in Vietnam released on October 10, in the third quarter, maximum salary of these people is up to VND300 million ($13,203) a month. 
Meanwhile their counterparts in realty, banks, IT and production receive wages from VND100 million to VND220 million per head monthly.
When it comes to recruitment trend, demand of employees in high- and medium ranking position increased strongly with year-on-year rise of 19 percent, especially in financing- banking, consumer goods, retail, IT, production and service.
Salary of senior managers in retail enterprises is high because Viet Nam is on the way to becoming one of the most developed retail markets in Asia and the retail market is attractive. Foreign retail enterprises continued to pout capital into Vietnam. The boom of foreign fashion outlets in the country has brought employment opportunities for Vietnamese people at all level.
In retail sector, mergers and acquisitions continued to take place especially large corporations from Japan and Thailand which acquired companies with available leading brand names.
An increase in M&A activity has opened up job opportunities for Vietnamese employee to get access to professional work environment as per chain model and system.
Additionally, M&A also offered attractive employment for experienced managers in building and developing new markets and in E-commerce.
To attract good managers, enterprises in consumer goods sector are ready to pay bonus to new staffs; yet they are still facing difficulties in recruiting managers especially multinational companies in consumer goods in the mountainous North Vietnam.
Navigos also predicted personnel market in renewable energy will soar in the next time because Vietnam has potential for solar energy.
Lately, the government has adopted mechanism to encourage investment in solar energy which is attractive for investors. Many investors have applied for investment projects to produce solar battery and solar electricity in provinces across the country.
Besides, coal-electricity industry is predicted to escalate to meet local increasing demand. With strong potential of development in next year, labor market in electricity and energy will be promising after a long pause.
Vietnam to facilitate gas exploitation from Blue Whale
The Vietnamese Government will facilitate gas exploitation from Ca Voi Xanh (Blue Whale) field in order to receive the first flow of gas in 2023, pledged deputy Prime Minister Trinh Dinh Dung yesterday while receiving Mr. Paul Greenwood, deputy chairman of Exxon Mobil Corp. 
At the reception, Mr. Dung affirmed that Vietnam appreciated the company's participation in developing and exploiting gas at Blue Whale field and implementation progress for the last past.
The project plays an important role in specifying and deepening the cooperation relationship between Vietnam and the US, he said. 
Mr. Greenwood affirmed that the project plays a significant role to the group in intensifying cooperation with Vietnam in oil and gas exploitation and processing.
In the upcoming time, the group together with Vietnam will study implementation of oil and gas exploitation projects in Vietnam.
The Blue Whale locating at 100 kilometers east off the coast in Vietnam's central region, is considered as the largest one in Vietnam at present.
One being exploited, the project will supply an especially important source of natural gas for electricity generation demand and petrochemical industry. It will be the motive power to develop local industries, contributing in ensuring energy security for the country and creating jobs for the central region.
Recently, the Prime Minister has approved the plan of building four gas fired power plants with the total capacity of 3,000MW. The plant will use gas from the Blue Whale.
Of these, two will be built in Tam Quang commune, Nui Thanh district, Quang Nam province and two in Dung Quat Economic Zone, Binh Son district, the neighboring province of Quang Ngai.
Previously, the PM had approved the policy of setting aside a volume of gas from the Blue Whale to develop petrochemical industry.
HCMC approves two $88mil waterway infrastructure projects
The HCMC People's Committee has approved two river dredging projects to improve cargo transport capacity by waterway and reduce the pressure for overloaded road system with the total capital of VND2 trillion (US$88 million). 
That was announced by the HCMC Department of Transport, saying that the two projects will be implemented in District 9 from 2017-2019.
The first project will dredge Mon canal-Kinh river and Ba Da canal-Giang canal, build Cay Me and Dinh bridges in Long Thuan street under BT (Build-Transfer) form with the capital of VND868 billion.
The second project will dredge Tac river, build new Truong Phuoc bridge to replace the old bridge in Long Thuan street under BT form. Total investment capital will approximate VND1,174 billion.
After being built, the two projects will contribute in completing the traffic system in HCMC, connect with waterway transport network, shorten cargo transport route between eastern HCMC and Dong Nai province and reduce the travel density of vessels in the Saigon river.
The city People's Committee has proposed the Ministry of Transport to adjust the detail plan of seaport group in the southeastern region including HCMC, Ba Ria-Vung Tau, Dong Nai and Binh Duong provinces by 2020 to reduce pressure for Cat Lai seaport.
Specifically, it suggested giving priority to developing seaports in Hiep Phuoc area, Nha Be district and not investing in seaports in Cat Lai, District 2.
In addition, road system should be developed synchronously to connect with seaports, dry ports, goods distribution centers and logistics centers in the region.
HCMC calls on investors to 133 projects
HCMC called on investors to 133 projects including 116 projects calling for social investment, 11 national projects and six new others in Thu Thiem new urban area at an investment promotion conference hosted in the city yesterday. 
The conference was hosted by HCMC Investment and Trade Promotion Center (ITPC), chaired by deputy chairman of the HCMC People's Committee Tran Vinh Tuyen with the attendance of 500 domestic and international delegates.
Among the 116 projects calling for social investment are 64 ones in traffic infrastructure field, five urban technical infrastructure, five anti flooding, three agriculture, one industry, four commerce and service, 21 urban planning and resettlement, six education, one health and four sports and culture.
The 11 national projects comprise six traffic infrastructure, one education and training and one health.
Six projects in Thu Thiem new urban area include one hotel and urban resort, four international standard primary schools and one general theatre.
Stating at the conference, deputy chairman Tuyen said that HCMC has become a super city with about 13 million residents. The municipal authority has determined to develop a traffic infrastructure system synchrous with social and economic development speed and resident density, make the city an ideal place attractive to domestic and foreign people.
The city does need the assistance from businesses and financial organizations to do that, Mr. Tuyen said.
According to the city People's Committee, in 2013 the Government approved an overall social economic development plan by 2020 with the point of view of developing HCMC on a sustainable foundation, maintaining high growth rate and improving residents' awareness of environmental protection.
To obtain the above targets, HCMC has focused on calling investors to nine groups of services namely finance, banking, insurance; tourism; transport, ports-warehouse-yard; post-telecommunications, information and communication; consultancy; science and technology; health; education and training and four key industries namely mechanics; electronics-information technology; chemical-plastics-rubber; food and foodstuff processing.
In addition, the city has changed economic structure in agricultural field towards urban agriculture.
Businesses, domestic and overseas organizations made lot of questions for city leaders at the conference. For instance what HCMC has done to assist foreign investors and startups, the human resource in Vietnam has many problems so there is any way for businesses to invest in Vietnam but do not spend much time and costs on training; what are solutions for Tan Son Nhat Airport overloading; if the city considers setting aside a specific area to test environmental friendly production models.
In reply, office chief of the HCMC People's Committee Vo Van Hoan said that HCMC needs over $40 billion to invest in projects especially infrastructure ones by 2020. That is a too big investment amount for the city so through the conference, it invites businesses, domestic and foreign financial organizations to invest in these projects.
The city can create the best conditions for businesses to invest in the city, he affirmed.
At present, HCMC is establishing two working groups on investment and construction to implement one door policy for investors. Within its jurisdiction, the city will focus on solving difficulties in investment procedures for businesses.
So far, the city has prepared clean land fund to hand over to investors, approved priority policies for hi-tech, not labor intensive and high added value projects and encourage businesess to develop environmental friendly production models.
HCMC is also ready to provide high quality human resource through training programs locally and abroad and residents' awareness of self training to meet jobs' requirements has strongly developed. Therefore businesess can set their mind at rest to invest in the city, said Mr. Hoan.
Deputy director of the Department of Transport Vo Van Tam said that HCMC has combined many solutions to tackle traffic jam in Tan Son Nhat Airport area by building flyovers and Nguyen Thai Son intersection to improve traffic connectivity to the airport. In the upcoming time, the city will broaden Lang Cha Ca intersection, upgrade Hoang Hoa Tham street to connect directly to the airport, broaden Cong Hoa, Truong Chinh and Au Co streets.
The airport's expansion is still waiting for an adjustment which will be approved by the Prime Minister, said Mr. Tam.
Dragons lose to Catfish, set dubious record
With eight defeats so far, Danang Dragons have shown no signs that they are the defending champions of the Việt Nam Basketball Association League.
They suffered the eighth defeat yesterday, losing 99-105 to Cantho Catfish in Cần Thơ City.
The reigning winner seemed to have got back on track after beating HCM City Wings 63-60 last Sunday, their first win of the season. However they came down to earth losing to Hanoi Buffaloes 60-66 on Tuesday and yesterday's loss kept them firmly at the bottom of the league.
It was the third time the Dragons lost to the Catfish in their three meets this year. However, the result of the match made a record of highest points in VBA history.
With their sixth win, the Catfish rank third, behind Thang Long Warriors and Saigon Heat.
In the next fixture, the Catfish will visit Thang Long Warriors and the Heat will welcome the Buffaloes on Saturday.
Hội An resort wins luxury award
Hội An Beach Resort has won a world luxury hotel award for 2017. 
Vatthanachai Tony Phipatthongpanta, manager of the resort, said the resort received a confirmation email from World Luxury Hotel Awards on Tuesday.
Vatthanachai said the official announcement and other details would not be released until December 2 at a gala ceremony at the Kulm Hotel St. Moritz in Switzerland.
The Hội An Beach Resort, which was built in 2006, includes 174 bungalows and 140 five-star villas facing the sea, as well as an 18-hole golf course on 120ha, 5km north of Hội An town.
In 2013, An Bàng Beach, 3km east of Hội An, was voted one of the top 100 beaches in the world by CNN Summer Travel, while two resorts in Hội An – Life Heritage and Nam Hải  – were included in the top 15 resorts in Asia by the US magazine Conde Nast Traveler's Readers Choice Awards in 2012.
In 2016, An Bàng Seaside Village, a home-stay complex in An Bàng beach of Hội An, received the ASEAN Homestays 2016 award from the Việt Nam National Administration of Tourism (VNAT).
Fortuna offers virtual reality tour
Fortuna Hanoi Hotel is the first hotel in Hà Nội to utilise the cutting-edge technology of 360-degree video to entice potential visitors.
Guests can take a 3D Virtual Hotel Tour through guest rooms, the Capital Lounge, spa, fitness centre and swimming pool. These videos give guests more information and, industry-wide, are changing the way they select hotels.
"Before even stepping foot on the property, guests will be able to view guest rooms, VIP lounge, and amenities, as if they were there in person," said Albert Leong, General Manager of Fortuna Hotel Hanoi. "Fortuna is the first mover in this effort, and we know our guests and our hotel will benefit from this game-changing technology."
While impressive on desktop, tablet and mobile, the full effect of the 3D format is best realised with a VR headset. When seen in this way, 360-degree video can deliver the kind of immersive experience that has been promised by decades of hype.
To experience this latest technology experience, please visit fortuna.vn.
Vinamilk ads among most viewed on YouTube
Vietnam's largest dairy producer Vinamilk said its advertisement on YouTube was among the top 10 most watched ads on the channel in the Asia – Pacific region from July 2016 – July 2017 recently released by Google.
Vinamilk led the four Vietnamese brands listed in the top ten. 
The YouTube Ads Leaderboard not only honours the agencies behind the outstanding ads but also shows the boom in the creative industry in the Asia – Pacific region, particularly in Vietnam.
According to Google's analysis, what makes the ranked ads successful is they are about telling stories rather than selling products. They also have attractive music and actors.
The long video advertising Vinamilk's Dielac Alpha baby powder milk features a three-generation family, whose members care for each other, therefore racking a massive view counts.
The ranking is determined by an algorithm that factors in paid views, organic views, and click-throughs. The higher the rate between organic and paid view is, the better, according to a representative of Google Asia.
The ranking proves the attraction of the Vinamilk brand name and its ads video.-
Bosch becomes VINFAST's supplier of automotive parts
Bosch Vietnam, a German multinational engineering and electronics firm, will be a supplier of technology and services for VinGroup's automobile and electrical motorbike project VINFAST.
VinGroup and Bosch signed in Hanoi on October 12 a Memorandum of Understanding which noted down the German-based group's commitments to providing its Vietnamese partner with automotive parts and software and other software for design, virtual interaction, and customer development.
The two groups will together develop global cutting-edge technologies for VINFAST to produce car models with advanced functions and bring outstanding experience to customers.
The MoU includes Bosch providing smart campus solutions for Vietnam's first automobile manufacturing complex, namely safety solution, smart security, connected mobility and connected industry.
Invested by Vinfast manufacturing and trade company - an affiliate of Vingroup – the 335-hectare complex is expected to roll out a five-seater sedan model, a seven-seater sports utility vehicle model and an electric motorbike meeting European standards during the first stage.
The designed capacity is estimated at 100,000 – 200,000 vehicles per year. Its first product in the next 12 month will be electric motorbike model while automobiles will be made in the next 24 months. 
Bosch will also help VINFAST establish a German-standard human resources training centre to develop skilled workers capable of operating advanced manufacturing lines and receiving transfer of technological know-how from other countries.
VN-Index extends gain on large caps
Shares continued to rise on the Ho Chi Minh Stock Exchange on October 12, fueled by the growth of several major large caps, while the Hanoi Stock Exchange closed in the negative zone under high selling pressure.
On the southern bourse, the VN-Index ended up 0.24 percent to land at 815.87 points, lifting the four-day rally to 1 percent.
High selling pressure pushed down many large-cap stocks in HCM City as 17 of the top 30 largest shares by market value and liquidity lost value and 12 advanced.
After a strong rally, bank stocks reversed course to decline on Thursday when six of seven listed lenders tumbled, including the Big Four (the four biggest banks by market value and total assets). Vietcombank (VCB), Vietinbank (CTG), BIDV (BID) and Military Bank (MBB) dropped by less than 1 percent. Only VPBank (VPB) rose by 1.4 percent.
Also, the two biggest listed steel companies – Hoa Phat Group (HPG) and Hoa Sen Group (HSG) – decreased 0.1 percent and 1.2 percent, respectively.
Insurance, technology and real estate companies were the main supporter of the market on the day. Bao Viet Holdings (BVH) was the biggest gainer, up 3.5 percent; FPT Corp (FPT) increased 2.2 percent; and Masan Group (MSN) was up 3 percent.
Property firms like VinGroup (VIC), Novaland Investment Group (NVL) and FLC Faros Construction rose by less than 1 percent.
"In general, cash flow is still likely to look for large-cap stocks and the market is hoped to go higher… However, the current cash flow is very risky as it only focuses on the basic stocks with positive earnings prospect," analysts at Sai Gon-Hanoi Securities wrote in a note.
On the Hanoi Stock Exchange, without the backing of large caps, the HNX-Index decreased 0.25 percent to close at 108.38 points.
The HNX30 which tracks the top 30 largest shares by market value and liquidity here also dropped 0.37 percent to 199.23 points.
October 12's trading volume decreased 13.3 percent from the previous session, totaling 198 million shares in the two markets, but the trading value increased 6.8 percent to reach 4.7 trillion VND (207 million USD).
Reference exchange rate stays stable
The daily reference exchange rate for VND/USD on October 13 was kept unchanged from the previous day at 22,453 VND/USD.
With the current trading band of  +/-3 percent, the ceiling rate applied to commercial banks during the day is 23,127 VND/USD and the floor rate 21,779 VND/USD.
The opening hour rates at major commercial stayed stable, with major banks keeping their rates unchanged from the day ago.
The greenback is being bought at 22,685 VND and sold at 22,755 VND per USD at Vietcombank and Vietinbank and BIDV
Vietnam's exports to Algeria grow 17 percent in nine months
Vietnam's exports to Algeria were estimated at nearly 240.9 million USD in the first three quarters of 2017, an increase of 17 percent from the same period last year, according to the Trade Office of Vietnam in Algeria.
Coffee continued to be the largest earner with export value exceeding 91.7 million USD, up three percent year on year. Exports of rice jumped 145 percent during the period to exceed 13.3 million USD.
Meanwhile, shipments of mobile phones and parts declined eight percent to about 58.77 million USD.
Despite the growth, Vietnam's exports to the North Africa nation will be unlikely to reach the target of 300 million USD this year, said Vietnamese Trade Counsellor Hoang Duc Nhuan.
This was largely due to recent tighter Algerian import policies. Vietnam only exported 13 million USD worth of commodities to Algeria in September, a significant decrease from previous months. Notably, mobile phones and parts saw dramatic falls in June and July and reported no orders in the next two months, he noted.
Nhuan said that the Trade Office of Vietnam is working with authorities in Algeria to help Vietnamese exporters resolve difficulties and boost exports in the final quarter of the year.
Vietnam's shipments to Algeria were estimated at 271.42 million USD in 2016, a year-on-year increase of 37 percent with most of the revenue coming from coffee and rice.
HCM City wants French investment in transport, urban development
Ho Chi Minh City wants to cooperate with France in transport infrastructure and urban development projects, said Secretary of the municipal Party Committee Nguyen Thien Nhan.
He made the statement while meeting French Consul General in Ho Chi Minh City Vincent Floreani and Director of the French Development Agency (AFD) in Vietnam Fabrice Richy on October 12.
Vietnam and France have enjoyed ties in various fields, Nhan said, noting that Ho Chi Minh City has been home to many cooperation projects between the two countries, including HCM City Financial Investment Company, Hiep Phuoc port and Franco-Vietnamese Hostpital.
Ho Chi Minh City wants the AFD to continue its efforts to promote relations between France and the Vietnamese southern hub, he added.
Nhan said that the city is in need of support in transport infrastructure planning for socio-economic development of a special urban area of 10-15 million people.
The city is prioritising investment in ring roads connecting with neighbouring provinces, metro lines, Tan Son Nhat International Airport and other transport projects to ease traffic jams.
In addition, floods, fresh water for local people and the preservation of historic relic sites are also challenges for the city, Nhan said, expressing his hope that the AFD will support the city with both finance and skills.
According to the French Consul General, Ho Chi Minh City is home to 80 percent of French investment in Vietnam and houses a lot of French architectural works.
He said that French Government wants to work with Ho Chi Minh City in infrastructure development and cooperate with local businesses to branch out economy and trade.
Meanwhile, Richy stated that the AFD and French investors are interested in the second stage of the metro line No.2 Ben Thanh- Tham Luong and sustainable and green public transport system in the city.
Along with French resources, the AFD will mobilise others from the EU to help HCM City develop infrastructure and handle other issues in urban development, he said, adding that the move will help consolidate relations between the two nations.
3 expos open in HCM City venue     
Advanced metalworking solutions, electronics assembly technologies and industrial grade parts are on display at three exhibitions that opened at a single venue in HCM City on October 12.
Metalex Vietnam, Vietnam Electronics Assembly and Industrial Components and Subcontracting Vietnam feature over 500 brands from 25 countries and territories, and 10 international pavilions from China, Germany, Japan, Korea, Singapore, Taiwan and Thailand. 
Metalex Vietnam 2017 brings a new experience for Viet Nam's manufacturers with its "Universal Robots Chef & Barista" and "The Drone Racing Technology Showcase", which are organised in Viet Nam for the first time.
"The Drone Racing Technology Showcase" will display the latest models of drones by Furious FPV. In addition to seeing the exhibits, visitors can also learn about components and drone assembly, along with experiencing "Virtual Reality Drone Racing Competition" and dance performances.
Other activities such as a "Koma Taisen" competition and "Engineer Master Class" to provide experiences to enterprises in the process of developing the local manufacturing and supporting sectors and connect businesses will be held on the sidelines of the three events.
Suttisak Wilanan, deputy managing director of Reed Tradex Co Ltd, said to stay ahead of the competition in the 21st century during the Industry 4.0 era, "Manufacturers must improve their business to be more efficient, collaborative and agile than ever so they could secure a competitive edge."
The events will be a good chance for Vietnamese enterprises to learn about advanced machine tools, solutions and services, and to keep pace with current manufacturing trends.
Speaking at the opening ceremony, Ureerat Ratanaprukse, the Thai consul-general in HCM City, said: "Metalex Vietnam 2017 will serve as one of the important bridges to connect and advance the state of manufacturing and supporting industry as well as a platform to showcase and foster science, technology and innovation, which are fundamental to sustainable economic growth."
Iku Hara, director for overseas market development, commerce and industry division, at the Tokyo Metropolitan Government, said 15 SMEs from the Japanese capital are displaying a wide range of technologies and products from level sensors to parts for aircraft at the Tokyo Pavilion.
"It is our hope that everyone will take advantage of this opportunity to directly experience these products and technologies and truly feel the capabilities of SMEs in Tokyo, and that this will be a catalyst for starting business with Japanese companies." 
The exhibitions, at the Sai Gon Exhibition and Convention Centre, will run until October 14. 
HR managers discuss ways to retain talent     
More than 600 CEOs and human resource managers at local and global companies discussed the latest trends in building an engaged, efficient and loyal workforce at a workshop yesterday in HCM City.
The event, titled "Driving sustainable growth through happier workforce", was a forum for leaders and managers to share advanced methods for human resource management, Thanh Nguyen, CEO of Anphabe, an agency that offers solutions for employer branding, said.
Twenty five speakers discussed five topics: happiness trends, happiness essentials, happiness and business, happiness leadership, and happiness innovation.
Nguyen Thi Bich Van, chairwoman of Unilever Vietnam, which employs more than 1,700 employees, said companies need to transform in the new setting in terms of human resource management.
"Know-it-all leaders no longer exist. Servant leadership is the new norm."
Managers need to empower their employees, recognise their value and take more time to talk with their employees to build trust and improve employees' engagement, she said.
"The best place to work is where people leave milestones of life, where their heart and mind belong, and where they can grow."
Le Quy Don, human resources director at Heineken Vietnam, said not only human resource executives but also all other leaders and managers should be involved in building and improving employee engagement.
"CEOs and managers should regularly meet and have a straight talk with their employees to understand their concerns and address their problems in a timely manner.
"It is one of the important factors to build employees' trust as well as their engagement."
Phillippe Richart, general director of Siam City Cement Vietnam, agreed that communicating is very important.
"We spend a lot of time communicating with employees. When employees meet their managers, they are able to express their concerns. [It helps] build trust and transparency.
Human resources should be part of business models and strategies in every department, he added.
Stephen James Clark, country head & CEO, Prudential Vietnam, said: "It is always challenging in today's fast moving world. We have to recognise that younger people have different views to careers.
"In Viet Nam, it is not unusual to see people move within two or three years from one organisation to another."
"We need to provide skills that allow people to develop and make a contribution to the success of their organisation. That is win-win.
"We need to recognise that a city like HCM City is very stressful. Things like work-life balance are also important.
"We should be honest and transparent, and be humble and respect other people when we take the position of leaders."
Viet Nam 'Best Place to Work' survey
At the workshop Anphabe launched the "Viet Nam Best Places to Work" survey.
This year the survey will focus on jobs, workforce and the working environment in the world of Industry 4.0.
The annual survey conducts in-depth measurements of employer brands and employee happiness at working for the top 500 businesses.
Based on assessments by employees in 26 industries, the 100 best places to work list will be drawn up.
The research methodology and rankings will be audited and advised by INTAGE Vietnam, a market research company.
The survey will be out in March next year. 
Hưng Yên creates more favourable conditions for enterprises
Authorities of Hung Yen will continue to create favourable conditions for enterprises' production and business activities to ensure high efficiency and sustainable development in business.
Chairman of the People's Committee of the northern province of Hung Yen Nguyen Van Phong said this at a meeting held on October 10 between provincial authorities and more than 300 entrepreneurs in Hung Yen Province on Viet Nam Business Day.
At the meeting, Nguyen Xuan Duong, chairman of the Hung Yen Business Association, said enterprises in the province have made important contributions towards improving economic structure and development of the province.
Tran Quoc Van, director of the Hung Yen Department of Planning and Investment, said to support and develop the business and improve the business environment, the provincial authorities have directed departments and agencies to regularly review and simplify administrative procedures, reducing time to process these procedures for people and enterprises.
As a result, time was reduced by 50-60 per cent for handling administrative procedures and by 30 per cent for solving administrative procedures in the land and environmental protection areas. Departments and local authorities are continuing to implement programmes on supporting enterprises.
Meanwhile, Phong highly appreciated efforts of local enterprises in renovating management method and technology, raising the efficiency of operation, obeying regulations, fulfilling financial obligations and actively participating in social security activities.
He said that with regard to the proposals of the business community, Hung Yen People's Committee has asked the departments and localities to receive proposals from businesses and come up with solutions to support them. They should hold dialogues to get information and remove difficulties of enterprises, along with proposing policy changes to central State offices.
For enterprises, Phong said they should speed up the construction of approved projects, use land economically and effectively, and realising commitments on environmental protection.
Enterprises should also enhance further renovation of technology to increase productivity and reduce production costs, he said.
In another development, the northern province of Hung Yen attracted 182 investment projects in the first nine months of 2017, up 44 per cent year-on-year, according to local authorities.
During the period, registered capital of domestic and foreign projects reached more than VND12 trillion (US$528.12 million) and more than $145 million, respectively.
The province is currently home to 1,619 projects, with total registered capital exceeding $8.44 billion. 
Ha Tinh green lights 76 investment projects     
Central Ha Tinh Province approved in principle 76 projects over the past nine months, including three foreign-invested projects, with combined investment capital of over US$330 million, local authorities said.
Among these projects is a $55.3 million-maritime tourism complex, developed by An Giang Dragon Ha Tinh Co; a $54 million hotel and trade centre complex, financed by Viet Trung Investment Co; and another eco-tourism project, valued at $13.4 million.
So far, the province is home to 740 projects, capitalised at $4.38 billion. Of them, 69 were financed by foreign investors from 15 countries and territories with capital totaling more than $11.63 billion.
Japan, South Korea, Brunei and Australia, as well as the US, Thailand, Philippines and Laos, along with Singapore, Taiwan and Hong Kong, are the province's leading sources of foreign investment.
Under this year's investment promotion programme, the province plans to lure potential investors from Japan, South Korea and Germany with the help of those currently investing in the province.
The province is calling for investment in hi-tech farming, support industries, tourism and services, as well as high-quality personnel training projects and waste and wastewater treatment projects.
The Thien Cam and Xuan Thanh tourism sites and Ke Go Lake eco-tourism spot are also seeking foreign investment.
To attract more investors, the province will continue to speed up administrative reform, perfect infrastructure facilities, accelerate land clearance and foster investment promotion activities.
Provincial authorities will also hold dialogues with entrepreneurs and investors in the locality to get recommendations and help resolve problems.
SHS replaces SSI on HNX     
Sai Gon-Ha Noi Securities Co (SHS) has displaced Saigon Securities Inc (SSI) to be the leader among the 10 brokerage firms with the highest third-quarter market share on the Ha Noi Stock Exchange (HNX).
SHS's market on the HNX increased by 3.78 percentage points to 14.05 per cent in the past quarter compared with 10.27 per cent in the second quarter.
Meanwhile, SSI's market share lost 2.59 percentage points to 11.08 per cent from the previous 13.67 per cent.
VNDirect Securities (VNDS) and MB Securities (MBS) remained at the third and fourth positions, respectively.
Also on the list of the top 10 brokerage firms with the highest market share, ACB Securities Co (ACBS) and FPT Securities Co (FPTS) switched places, with the latter rising to the sixth position from the previous eighth place.
In addition, VietCapital Securities (VCSC) replaced VPBank Securities (VPBS) at the ninth position, while Vietcombank Securities (VCBS) stayed in tenth place.
On the Unlisted Public Company Market (UPCoM), VNDS topped among the 10 firms with the largest market share in the third quarter.
VNDS increased its market share by 7.72 percentage points quarterly to 16.09 per cent in the previous quarter.
The companies that followed included MBS, SSI, BIDV Securities (BSC) and SHS. 
Ambassador: Vietnam welcomes Washington firms
Vietnam welcomes enterprises from Washington State, like Boeing and Microsoft, to do business in the Southeast Asian nation.
The statement was made by Vietnamese Ambassador to the US Pham Quang Vinh during his recent working visit to the state to meet local leaders, aiming to boost Vietnam – US relations.
During his meeting with Washington Governor Jay Inslee on October 9 Vinh detailed progress in Vietnam – US ties, saying the two sides agreed to deepen the multifaceted relations within the framework of their comprehensive partnership, including in economics, trade, investment, security-defence, education-training, and people-to-people exchange.
For his part, Inslee briefed Vinh on local development and policies to expand international trade towards Asia, including Vietnam, which has several cooperation agreements with the state.
Vinh expressed his hope that the locality will continue creating favourable conditions for Vietnamese enterprises and people to operate, live and study in the state.
The Vietnamese diplomat later visited the Boeing headquarters, where he was provided with the group's plan on expanding cooperation with Vietnam, including aircraft supply, spare part production, personnel training assistance, enhancement of aviation safety standards.
Vinh highly valued Boeing's effective cooperation in recent times and pledged to facilitate cooperation projects with Vietnam.
The Vietnamese diplomat also attended a seminar with the local business community hosted by the Trade Development Alliance of Greater Seattle and the US National Center for APEC.
He briefed the attendees about Vietnam's socio-economic situation and Vietnam – US economic – trade relations, and answered questions raised by local firms on investment and business opportunities in Vietnam.
Leaders of participating firms expressed their wish to accelerate the supply of goods and services to Vietnam, as well as expand investment and cooperation with Vietnam in various fields, including finance-banking, manufacturing, infrastructure development and real estate, hi-tech agriculture, health care and education.
Washington State serves as an important gate of the US to the Asia – Pacific region, with 75 seaports, 139 airports, and 3,666km of railroads. It is the fourth biggest US exporter, with one third of local jobs related to exports.
In 2016, the state exported and imported 79 billion USD and 47 billion USD worth of products, respectively.
Vietnam is the eighth biggest exporter of the state, with shipments valued at 983 million USD in 2016.-
Workshop spotlights green infrastructure in Can Tho
Authorities of Can Tho and the World Bank held a training workshop on green infrastructure in the Mekong Delta city on October 12.
Ignacio Ortinez from the Thailand Environment Institute detailed an example of covering concrete walls in Thailand with various plants.
He suggested Can Tho build more parks in urban areas, which can serve as entertainment zones in the summer and reduce flood risks during the rainy season. 
Nguyen Nguyen Minh, a research at the Commonwealth Scientific and Industrial Research Organisation, said green infrastructure means a network that connects green space with the infrastructure system to function as a natural ecosystem.
He noted alongside planting trees on the surface, attention should also be paid to underground drainage systems.
Marcel Marchand from Deltares, an institute researching the field of water and subsurface, recommended several popular green infrastructure models worldwide, including rainwater harvesting systems using underground tanks and swamp-like public flower gardens.
He also stressed that careful research is needed to select suitable models.
Vice Chairwoman of the municipal People's Committee Vo Thi Hong Anh said the city will study all recommendations collected at the workshop and soon turn them into practical plans.
Can Tho has implemented various projects to adapt to climate change, particularly in flood prevention. Green infrastructure solutions are important, as the city is going to build a 54-hectare new residential area in Ninh Kieu district's An Binh ward.
Seminar seeks to promote Vietnam's brands to RoK
A seminar held by the National Brand Programme's Secretariat on October 12 in Hanoi discussed promoting Vietnamese brands in the Republic of Korea (RoK).
The event aimed to help Vietnamese enterprises make use of their advantages, understand more about the RoK market and pay more attention to brand development to increase their competitiveness.
The seminar is expected to open up more export opportunities for participating businesses and promote Vietnam's brands.
Deputy head of the Vietnam Trade Promotion Agency Do Kim Lang said that the two countries' Governments have paid much attention to tightening their partnership.
The RoK is currently Vietnam's largest investor and second largest trade partner, while Vietnam is the RoK's third biggest trade partner, following the US and China.
At the seminar, participants analysed opportunities and challenges facing Vietnamese products in the RoK, and discussed issues related to intellectual property and brand registration in the country.
According to Le An Hai, Deputy Head of the Asian-Pacific Market Department under the Ministry of Industry and Trade, Vietnamese enterprises are supplied with sufficient information about the country's preferential policies and mechanisms so as to expand exports to the Asian-Pacific region and the RoK.
Enhancing role of Vietnamese entrepreneurs in new stage of development
Today is Vietnamese Entrepreneurs Day, an occasion to review the six years of implementing the Politburo's resolution on promoting the role of entrepreneurs in the period of deepening industrialisation, modernisation and international integration.
According to official figures, Vietnam currently has more than 496,000 active enterprises, of which small and medium-sized enterprises (SMEs) make up 97%. Since the start of the year, nearly 94,000 new enterprises have been established, with registered capital totalling VND902 trillion (US$39.7 billion), up 15.4% in enterprise number and 43.5% in terms of capital over the same period last year. In addition, 21,100 have resumed their business, while those dissolving and suspending their operation number 8,736 and 49,345 respectively.
The general trend is that Vietnamese enterprises are growing in both number and quality. If Vietnam can maintain the rate of 100,000 new enterprises established each year, then Vietnam's target of one million active enterprises by 2020 is highly probable. 
Strong development investment and GDP growth is significantly bolstered by SMEs which are present in all industries and areas in the country, creating jobs for 60% of the workforce and contributing 40% of the economic output. However, there are still a small number of dishonest entrepreneurs who are involved in fraudulent activities, making fake goods and appropriating funds.
In order to further promote the key role of enterprises in national development and international integration, it is necessary to bring the Law on Support for SMEs, adopted by the National Assembly last June, into operation as soon as possible.
Meanwhile, measures must be taken to push through administrative reform, and cut bureaucracy and red tape in order to maintain the entrepreneurial spirit and encourage enterprises to expand their business.
Vietnam also has a strong contingent of hundreds of thousands of household businesses which could quickly switch themselves into enterprises if the relevant government agencies work with them in this process.
The close cooperation between the government agencies and the business community, represented by trade associations, is highly significant in helping enterprises to grow in both number and quality, towards the goal of one million healthy, highly competitive, enterprises by 2020.
PM Nguyen Xuan Phuc works with PetroVietnam
Prime Minister Nguyen Xuan Phuc attended a working session with the key leaders of the Vietnam National Oil and Gas Group (PetroVietnam) in Hanoi, on October 12.
Speaking at the session, PM Phuc urged PetroVietnam to continue upholding its role and build on its momentum in order to maintain its standing in the national economy.
The Government leader emphasised that PetroVietnam has played an important role in the national economy over the past few decades as a leading group that has contributed significantly to the state budget.
Every one million tonne of oil contributes to 0.25% of the GDP, he noted, adding that through oil and gas cooperation, Vietnam's international relations have been extended and strengthened.
The PM also called on the group's leaders and staff to exert further efforts to overcome any challenges and difficulties and to further contribute to the national economy.
According to a report presented by the group at the session, PetroVietnam is striving to reach a total revenue of VND471 trillion, exceeding 7.4% of the annual plan, and contribute VND89 trillion to the State budget in 2017.
The group has also set a target of exploiting at least 13,28 million tonnes of crude oil this year.
HCMC honors successful entrepreneurs
On behalf of the city authorities, Deputy Chairman of the Ho Chi Minh City People's Committee Tran Vinh Tuyen congratulated businesspersons on the Vietnamese Entrepreneur Day , expecting them to have strategic vision and plans as well as close cooperation with city leaders to carry out seven breakthrough programs in the city's socio-economic development.
HCMC honors successful entrepreneurs
At a meeting in HCMC Hall today, the city authorities honored over 800 representative attending the Vietnamese Entrepreneur Day.
Chairman of the HCMC Union of Business Associations (HUBA) Chu Tien Dung said Huba would organize a program to honor entrepreneurs and encourage them to overcome difficulties for further growth and international integration, contributing in building up the city and the country.
This activity receives much attention from city authorities and warm response from entrepreneurs.
This year is the first year Huba has organized a vote for best products and services with the aim of promoting good quality products and services and honor businesspersons and give incentives for them to surmount barriers during growth process.
The jury board has selected 79 products amongst 264 entries from 125 companies.
Additionally, Huba selected and honor 57 outstanding entrepreneurs, 23 of them have developed over 30 years and 34 of them have operated for over 40 years.
Company proposes to collect auto fee in downtown HCMC
The HCMC Department of Transport said that Tien Phong Technology Services and Development Joint Stock Company has submitted to the city People's Committee a fee collection project to automobiles in downtown areas to limit traffic jam. 
According to the proposal, fee collection time will be from 6 a.m. to 7 p.m. every day. The fee will be VND40,000 a private car, VND30,000 a taxi cab registered in HCMC and VND50,000 a truck or commercial bus.
The project will be built under Public Private Partnership (PPP) or Build-Lease-Transfer (BLT) models with the total capital of VND1,797 (US$79 million), including 36 multi-lane nonstop toll gates and a management center.
Fee collection gates will be arranged in streets surrounding the downtown area including Hoang Sa, Nguyen Phuc Nguyen, Cach Mang Thang 8 (August Revolution), 3 Thang 2 (February 3), Le Hong Phong, Ly Thai To, Nguyen Van Cu, Vo Van Kiet and Ton Duc Thang. Two gates will be installed in Bach Dang and Truong Son streets in the gateway to Tan Son Nhat Airport.
Implementation is expected to be from 2018-2019 and fee collection will start from 2019-2034. The project will bring the city a revenue of VND700 billion (US$30.81 million) a year within 15 years.
APEC to discuss U.S. protectionism and Brexit
Delegates from the 21 member economies of the Asia-Pacific Economic Cooperation (APEC) forum will discuss U.S. protectionism and Brexit during the APEC Leaders' meeting in Vietnam, Dan tri news website reports.
At a press conference on the APEC Vietnam Week 2017 slated to take place in the central coastal city of Danang in November, Vu Tien Loc, president of the Vietnam Chamber of Commerce and Industry (VCCI) and chairman of the APEC CEO Summit 2017, expressed concern over growing protectionism in America which has made it more difficult for developing economies to keep pace with developed ones.
The U.S. initiated globalization at APEC 2006. However, the world's largest economy has been steering towards trade protectionism, affecting the trade liberalization and globalization processes. Therefore, the APEC member economies should join in the fight against protectionism to keep underdeveloped countries from lagging further behind, he noted.
Vietnam is a member of the Association of Southeast Asian Nations (ASEAN), the World Trade Organization (WTO), and many bilateral and multilateral trade agreements. It has made some achievements in the globalization process thanks to its open-door policy.
Business events with 1,200 senior executives of leading corporations in the region and in the world will make up 50% of the high-level meetings and activities of the APEC Vietnam Week 2017.
APEC seminars will delve into topics such as development of micro, small and medium enterprises, and firms operated or owned by females. APEC meetings will come up with policies to support micro businesses and those led by women.
These enterprises will gather to discuss trade liberalization, startup movement and the Fourth Industrial Revolution, Loc said.
VNA/VNS/VOV/SGT/SGGP/TT/TN/Dantri/VNEVET