VietNamNet Bridge - Bank shares, called 'king shares', have seen prices escalate to record highs after a period of decline.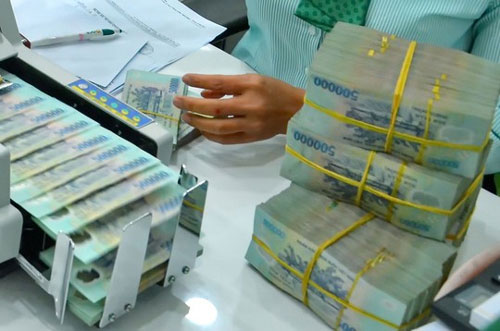 Analysts say the time of the king share has returned.
Nearly 650 million shares of LienVietPost Bank (LPB) have been put into transactions on UpCom market since October 5. With the reference price level of VND14,800 per share, the bank has capitalization value of VND9.5 trillion, ranking 10th among listed banks.
LienVietPost Bank is the bank with the largest network in Vietnam with 130 branches and transaction points in 63 provinces/cities and 1,000 post transaction offices. 
Bank shares, called 'king shares', have seen prices escalate to record highs after a period of decline. 
President Nguyen Duc Huong now holds 4.95 percent of the bank's capital.
Prior to that, in mid-August, the investors' attention was drawn to the listing of 1.3 billion VP Bank shares (VPB) on the HCMC bourse at the starting price of VND39,300 per share.
The listing has brought new billionaires to the stock market. VB Bank's President Ngo Chi Dung, his wife and mother, who hold hundreds of millions of shares worth nearly VND10 trillion in total have been added on the list of the richest stock billionaires.
In mid-June, 300 million shares of KienLong Bank were put into transactions on UpCom market with the reference price of VND10,000 per share.
Bank shares are one of the major driving forces that have driven the stock index to a 10-year peak.
Tran Khanh Hien from VNDirect Securities said bank shares saw prices increasing by 27 percent in the first six months of the year, much higher than the VN Index's average increase.
Investors are now hunting for bank shares again because of the impressive performance of the banking sector. Bank shares have been backed by new policies, including one on bad debt settlement. Meanwhile, the credit growth rate is expected to reach 16-18 percent in the next two years.
By August 31, 2017, LienVietPostBank had total assets of VND150 trillion, mobilized VND138 trillion worth of capital, lent VND96 trillion and had pre-tax profit of VND1.289 trillion. It predicted the pre-tax profit of over VND1.5 trillion and planned to pay the dividend of 12 percent in cash.
Other banks have also reported satisfactory profits for the first half of the year. ACB, for example, had profit of VND1.26 trillion, a sharp increase of 52 percent over the same period last year. VietinBank reported the 12 percent of pre-tax profit increase to VND4.8 trillion, Vietcombank 20.5 percent to VND5.054 trillion. 
With the good business performance, bank share prices have been increasing steadily. LBP, which had the initial price of VND14.800 per share, is now wanted at VND16,000. Meanwhile, MBB share price increased by 1.5 times just within several months. 
US$1=VND22,000
RELATED NEWS
As bank share prices soar, investors make more deposits at banks
Banks pay shares instead of dividends, raising controversy
M. Ha