Da Nang draws up sea-based economic development strategy
The Da Nang city People's Committee has recently approved a project on developing sea-based economy by 2025 with vision to 2030, aiming to build the central city into a maritime economic hub with explosive growth in companion with environment protection and sustainable development.
To implement the project, the city will need over 19 trillion VND (835.9 million USD) for the 2017-2020 period, 13 trillion VND (571.9 million USD) for 2021-2025 and 17 trillion VND (747.9 million USD) for 2026-2030.
The city targets tourism growth of 13-14 percent during 2016-2025 and 13 percent during 2026-2030, while the output of processed aquatic products for exports would increase by 12-13 percent per year by 2025 and 8-10 percent per year by 2030. Local ports will raise their annual throughput to 12-13 million tonnes of commodities.
Along with branching out new tourism products, yacht industry and coastal tourism infrastructure, the city will focus resources on developing maritime transport. 
Accordingly, Tien Sa port will be reserved to serve cruise ships and Lien Chieu is set to become the major cargo port in the city. More inland container ports (ICDs) will be built to facilitate import-export activities as well as commodity transportation through the East-West Economic Corridor that links Laos, Myanmar, Thailand and Vietnam.
The city has formed policy to support training for logistic human resources and arranged experts to research marine economic development policies. Project on container transportation between Tien Sa and Lien Chieu has been set up to improve speed of the boats.
Regarding seafood exploitation, the city will upgrade Tho Quang fishing port to the top-grade national standard one, aiming to become one of the five fishery hubs in the country. A fleet of high-capacity composite and steel fishing vessels will be developed while equipment, machines and fishing nets will be modernised to improve product quality.
Connections among fishermen, cooperatives and logistics and distribution businesses will be set up as well.
The Da Nang College of Food Industry will be upgraded to university level to train high-quality human resource in seafood cultivation and processing.
The city will pay due attention to enhancing management capacity for fisheries surveillance force, investing in information management system for fishing grounds and communication equipment for fishing vessels to ensure safety for fishermen.
It also works to build a project on tuna exploitation and exports and ask Japan to support local fishermen with tuna fishing techniques.
State-of-the art waste water treatment will be built in Tho Quang boat shelter. The city encourages businesses to use green production technology to reduce waste and sewage, save energy and materials as well as effectively handle pollution.
Vietnam, Algeria promote trade, investment in Biskra workshop
Over 50 local enterprises in tourism, and palm, rice, beverage, building materials and machinery production and business attended a workshop for Vietnam-Algeria trade and investment promotion in Biskra province on October 5.
The event was jointly held by the Trade Office of Vietnam in Algeria and the chamber of commerce and industry in Biskra to give local businesses more information about Vietnam's key export products and boost cooperation in trade and investment between the two countries.
In his remarks at the conference, Vietnamese Trade Counsellor Hoang Duc Nhuan gave the attendees an overview of Vietnam's economy and key export earners, including seafood, garment and textiles, footwear, rice, coffee, peppercorns, fruits, cashew nuts and more.
He invited the local companies to join upcoming expos in Vietnam, such as MTA Vietnam Hanoi 2017 in Hanoi, Aquaculture Vietnam 2017 and Vietnam International Agriculture Fair 2017 in Can Tho, Vietnam Wood 2017 and Vietnam Expo 2017 in Ho Chi Minh City.
According to Nhuan, in addition to their interest in Vietnam's exports such as rice, coffee, machineries, equipment, companies from Biskra hope to export date palm, a local specialty, to Vietnam. 
Vietnamese Ambassador Pham Quoc Tru highly spoke of potential for cooperation between Vietnam and Biskra, saying the event will help accelerate the two-way trade and investment in the future.
Tru later had meetings with head of Biskra province Ahmed Kerroun and mayor of Biskra city Slimani Azzecdine and paid visits to local date palm producers and exporters.
SME transparency a must for loans: experts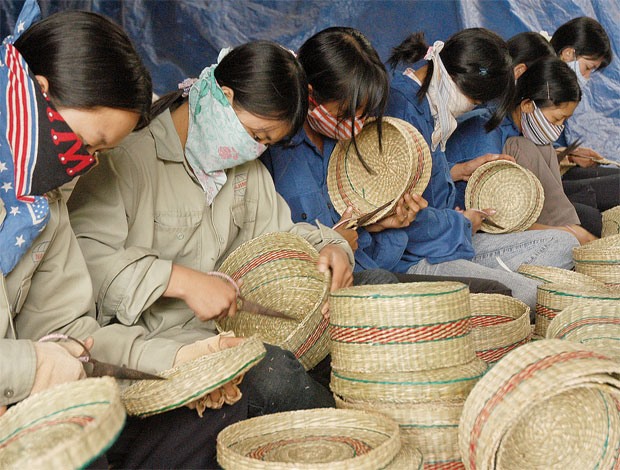 Small and medium-sized enterprises (SMEs) must improve their transparency to enable them to access banking credits, experts said at a conference on Thursday.
The conference was jointly held by the Viet Nam Chamber of Commerce and Industry and the State Bank of Viet Nam to discuss credit boosts for SMEs facing long-standing difficulties in accessing loans.
According to banking and financial expert Can Van Luc, most SMEs have low management capacity and outdated technology, they lack transparency in information and feasible business plans, and do not have adequate assets for mortgages, making them ineligible for banking loans.
Credit institutions are hesitant to lend SMEs money for the same reasons. Luc noted that these problems were compounded by complex banking procedures and a shortage of appropriate loan packages for SMEs.
Mac Quoc Anh, vice chairman of the Ha Noi SME Association, said the efficiency of SMEs is low. "Given the increasingly harsh international competition, points which are often regarded as advantages of SMEs, such as flexibility and low operation costs, are no longer advantages," Quoc Anh said.
Hoang Thi Hong, director of SME Development Fund under the Ministry of Planning and Investment, said improving transparency of SME information was an important solution to enable SMEs to access credit.
"It is necessary to develop a database about SMEs for credit institutions to use in evaluating lending decisions," Hong said, adding that the database should include information about total assets, equity capital, revenue, profit and operations.
Also needed is a credit market for SMEs, with appropriate lending packages based on demand, Hong said. She added that lending should be provided for a group of SMEs which join with each other in a production chain.
In addition, capital raising channels should be diversified, rather than largely dependent on banks, for instance raising capital from the securities market, Hong said.
According to Nguyen Quoc Hung, director of the central bank's Credit Department, SMEs are a driver of the national economy and are among the priorities for banking credits.
Lam Van Chieu, deputy director of Cuong Tan Company which produces rice variety, said that banks should increase trust-based lending, based on the efficiency of firms.
Tran Quoc Toan from the Toan Xuan Company said that reasonable interest rates should be provided for SMEs to encourage their investments and expansions.
Closing the conference, Dao Minh Tu, deputy governor of the State Bank of Viet Nam, said: "If economic conditions allow, the central bank will continue to cut rates."
SMEs account for 97 per cent of the total number of firms in Viet Nam, contributed about 45 per cent of gross domestic product, 31 per cent of the budget revenue and create five million jobs. 
Japanese car chair factory launched     
Japan's Ohtsuka Sangyo Material Viet Nam Company Limited officially launched its US$4.4 million car chair components factory in Ha Nam's Dong Van III Industrial Park on October 5.
The factory specialises in manufacturing, producing and assembling seat pads and seat trim covers for cars. The plant is expected to manufacture six million products per year and to provide some 200 jobs.
Otsuka Keiichiro, president of Ohtsuka Sangyo Material Japan Company Limited, said the company has a history of operating over 30 years in the automotive auxiliary field and currently holds 70 per cent of the market share in Japan. The prroducts made in Viet Nam will be exported to Japan and North America.
Nguyen Xuan Dong, chairman of the Provincial People's Committee, asked the firm to comply with Viet Nam's laws and to ensure its workers well being.
Dong Van III Industrial Park has a favorable location, with preferential policies and technical infrastructure to attract Japanese investors. The new factory is the second Japanese investment in the park. 
Can Tho to begin exporting rice to Iran     
Can Tho City expects to export its first batches of rice to Iran in the last quarter of 2017, Huynh Trung Tru, deputy director of the city's Department of Industry and Trade, said.
At a meeting to review import-export activities organised by the city's People's Committee on Wednesday, Tru said a company in Iran in August directly dealt with a rice firm in Can Tho to finalise a contract to export to Iran 100,000 tonnes of rice from now until the end of the year.
"Previously, Can Tho did not export rice to this market," the official said.
According to Tru, if rice shipment to Iran meets favourable conditions, the city hopes that the partner will sign a longer term contract next year.
Tru said demand for rice imports has increased in many markets such as Bangladesh, the Philippines and Iran.
For the Bangladesh market alone, the country needs to import some 500,000 tonnes.
"Particularly, in October 2017, they demand for 250,000-300,000 tonnes," Tru said, adding that local firms have probably registered with the Viet Nam Food Association (VFA) to participate in bidding for the shipment of rice.
In the first nine months of 2017, the city's total rice export volume reached over 638,000 tonnes, bringing turnover of US$262 million, up 22 and 20 per cent year-on-year, respectively.
According to reports of the city's Department of Industry and Trade, the locality's export revenue from January to September reached over $1 billion, a surge of 16.9 per cent compared with the same period last year.
The city also imported goods worth $321 million, up 47.6 per cent from the same period last year, driven by the increased purchase of equipment and machines for production.
According to VFA, in the first nine months of the year, the country exported 4.57 million tonnes of rice, reaping a turnover of $2.02 billion, rising by 20.8 per cent in volume and 18.6 per cent in value against the figures of the corresponding period last year.
The association forecasts that in 2017, the country's rice exports will reach some 5.7 million tons, including 1.8 million tonnes in the last quarter, and 800,000 tonnes higher than 2016. 
Private sector invests in APEC infrastructure     
Several private companies have invested in building infrastructure for the 2017 APEC forum.
The Ariyana Da Nang Convention and Exhibition Centre has got investment of VND35 billion (US$1.5 million), mobilised from the socialised fund. The three-story building has a main convention hall which can accomodate more than 2000 people. It is just one of the many event venues to hold events under the framework of the APEC Economic Leaders' Week.
Matthias Wiesmann, director-general of Furama Resort Da Nang which is the main investor of this project, said construction would be completed prior to the start of the 2017 APEC Economic Leaders' Week.
"A momentous event like APEC is a tremendous opportunity for Furama as well as the Ariyana Da Nang Convention and Exhibition Centre to create a new image. Ariyana considers itself the event venue of Da Nang City, and not only of Furama," Wiesmann said.
Answering the call for private funding for Da Nang City, many enterprises and companies have invested billions of đồng in building convention halls and hotels.
The project of Da Nang Airport's International Terminal has attracted more than VND3,500 billion ($154 million) from the Da Nang International Airport Investment and Exploitation Joint Stock Company (AHT). It is the first socialised project in the aviation sector to serve APEC.
According to Ho The Anh, vice director of AHT, the international terminal is not only the first destination of visitors to Da Nang City, but is also a key construction project of the city.
"We fully guarantee the project's schedule, quality and aesthetics. The project has enjoyed generous support from the city's authority as well as the Ministry of Transport," Anh said.
The APEC Economic Leaders' Week will take place in November with the participation of leaders from 21 member-economies. The main construction facilities serving this event have been completed.
Nguyen Ngoc Tuan, deputy head of Da Nang City People's Committee, highly appreciated the contribution of the private sector to the APEC Economic Leaders' Week.
"The reception has to be both professional and economical. On the one hand, the city has mobilised capital from the State budget. On the other hand, it has raised funds from the society. This is Da Nang City's responsibility and opportunity to promote its image," Tuan said. 
Can Tho hosts events to attract Japanese investors     
Two important events will be held in the southern city of Can Tho, this month and next month, with the aim of luring more investment from Japan.
This was announced by Trương Quang Hoai Nam, vice chairman of the Can Tho City's People's Committee, at a press conference on Tuesday.
Accordingly, the committee will cooperate with the Viet Nam Chamber of Commerce and Industry's (VCCI) Can Tho branch to organise the Viet Nam-Japan Trade and Cultural Exchange Programme and the fifth annual conference on investment promotion in the Mekong Delta region.
Nam said that the 5th investment conference in the Mekong Delta and the third Vietnam-Japan Trade and Cultural Exchange Programme have been taking place in Can Tho City in the past few years and have achieved results.
These are just two events in a series of activities aimed at enhancing the understanding, exchanging, promoting of cooperation between Viet Nam and Japan, and attracting investment in trade and tourism from Japanese enterprises in Can Tho City, in particular, and the Cuu Long (Mekong Delta), in general.
Nguyen Phuong Lam, deputy director of VCCI's Can Tho branch, the third Viet Nam-Japan Trade and Cultural Exchange Programme will take place from November 3-5. This year, the programme has a larger scale, with 120 booths, 30 booths more, as compared to the last time, with an area reserved to introduce Japan's new technology.
The technology centre will have 10 Japanese companies participating in introducing smart technologies, automation and artificial intelligence.
This year's programme, for the first time, will see the participation of the Japanese national tourism promotion centre, which will introduce Japan's tourism sites and promote tourism cooperation between the Mekong Delta region and Japan.
There are about 40 art and cultural performances that will be staged during the programme, with famous Japanese singers participating in the show.
Within the framework of the programme will be a conference calling for investment in agriculture, and another specialising in Asian culture and trade. These two meetings will attract around 40 Japanese businesses.
Relating to the fifth investment conference in the Mekong Delta region to be held on October 25, the theme of this year's conference is "Attracting Infrastructure Investment - Mekong Tourism Development Platform", with an aim to call for investment in infrastructure development, commercial services, hotels restaurants and entertainment areas to help tourism development.
At this conference, 13 provinces and cities in the Mekong Delta region will introduce and call for investment in 24 tourism development projects, with a total capital of VND7.8 trillion (US$346 million) and 33 real estate projects, with a total capital of VND176 trillion.
In the first six months of 2017, tourism in the Mekong Delta attracted nearly 21 million visitors, increasing 17 per cent, bringing a revenue of VND6.5 trillion, up 22 per cent over the same period last year.
According to Lam, by the end of August 2017, the Mekong Delta region attracted 1,398 FDI projects with a total capital of $19.85 billion. Japan has 159 investment projects with a capital of $2.1 billion, focusing mainly on manufacturing, processing, coal, science and technology and waste water treatment.
Regional hub for German investors
With Vietnam's significantly improved business climate and large consumer demand, Germany's investment and goods flows into the country – one of their most important markets in Asia – are set to grow. Thanh Dat reports.
German-backed lighting supplier Osram Vietnam is busy completing a contract for a large project which will provide lighting consultancy and equipment for Sala City in Ho Chi Minh City's Thu Thiem New Urban Area over the next few months. Sala City is one of the biggest property projects in southern Vietnam.
"Aside from Sala City, Osram is supporting many key projects in Vietnam such as the Saigon Seaport, the Tan Hoang Minh building, Gold Plaza, the InterContinental resort on Phu Quoc, and many factories in Vietnam," the firm's CEO Do Huu Hau told VIR.
Osram Vietnam, which currently accounts for 30 per cent of Vietnam's LED lamp market, plans to expand its LED product portfolio in the country with several hundred new product types.
Osram considers Vietnam its key growth driver in Asia as the country is one of the two markets with the highest growth in sales in the region. "We continue to expect a growth rate in the double digits this year, as our growth rate has been over 20 per cent annually over the past 10 years," Hau said.
According to Germany's Federal Ministry for Economic Affairs and Energy, thanks to its central location in the Asia-Pacific region and a large number of agreements, Vietnam provides good business opportunities for many German firms wishing to invest, especially in the manufacturing sector and in transport and energy infrastructure.
The growth potential for exporting companies is particularly great in the fields of machinery, chemical products and pharmaceuticals, motor vehicles, and electrical engineering.
Bosch Vietnam told VIR that it wants to expand its business and investments in Vietnam, which is one of its growth drivers in Southeast Asia. "In the fiscal year 2016, Bosch recorded growth of more than 40 per cent in Vietnam. Bosch will continue to develop new business opportunities and increase its market presence for all business segments within the country," said Guru Mallikarjuna, newly-appointed managing director of Bosch Vietnam.
In 2017, Bosch is investing $47 million in our plant in the southern province of Dong Nai, and plans to increase the capacity and competency of its research-and-development workforce.
"We look forward to joining hands with the local government and businesses to develop tailor-made solutions for smart homes and buildings, smart cities, connected mobility, and Industry 4.0 to improve the quality of life for city-dwellers," he said.
Siemens Vietnam president and CEO Pham Thai Lai said that, as one of the fastest-growing markets in the region, Vietnam is strategically important for Siemens – especially given its large population. According to Lai, Vietnam also serves as a regional hub, due to a number of trade agreements between Vietnam and global markets, such as the EU-Vietnam Free Trade Agreement. These will further boost the economy and make Vietnam an even more attractive investment target in the future.
In September, Vingroup and Siemens signed a memorandum of understanding (MoU) to promote technological co-operation, with both parties agreeing to consider feasible business models for co-operation in order to develop sustainable infrastructure and industries in Vietnam, including the automobile industry.
In early July, during Prime Minister Nguyen Xuan Phuc's visit to Germany, nearly 300 representatives of German and Vietnamese firms participated in a German-Vietnamese business forum focusing on business opportunities. At the forum, 28 co-operation agreements collectively worth €4 billion ($4.8 billion) were signed.
Vietnam's FPT Group, for instance, inked strategic co-operation deals with Siemens and BPCE International. FPT will co-operate with Siemens to utilise MindSphere, an open Internet of Things (IoT) platform based on cloud computing. The two will train some 1,000 workers in Vietnam. FPT will work with BPCE International in developing solutions for digital banking.
Phuc met with leading German firms including Siemens, BMW, Deutsche Bank, Talanx, Schaeffler, Philips Lighting, and BPCE International.
The German firms expressed their wishes to co-operate with Vietnam in the areas of healthcare, high-tech agriculture, renewable energy, education and training, and smart power-saving solutions.
According to these firms, Vietnam has many advantages, such as a workforce very keen on knowledge and development. Additionally, Vietnam's urbanisation and industrialisation are taking off strongly and the country is envisaging a smart economy.
These trends offer great opportunities for companies to widen their product offerings, especially in the areas of connected solutions for smart cities and Industry 4.0.
Bayer Healthcare Pharma chief financial officer Julio Triana said the firm has been operating in Vietnam for 20 years and hopes to make a stronger investment in healthcare and agriculture.
Philips Lighting DACH's CEO Karsten Vierke affirmed his company's wish to invest in human resources training and developing smart cities using its latest technology, which can reduce electricity usage by up to 65 per cent.
Meanwhile, Deutsche Bank expressed its wish to expand investment in the finance and stock sectors in Vietnam.
In July, many German packaging and printing firms came to Vietnam in search of investment and business opportunities, especially amid the country's rising demand for consumer goods and in the pharmaceutical and food sectors. The firms include CGS, Heidelberg, HP, KBA, Kurz, and One Vision.
In May, executives from 20 firms in Germany came to Vietnam seeking investment opportunities in the sectors of high-tech wastewater treatment, air treatment, and environmental pollution reduction technology.
Vietnam's Ministry of Planning and Investment reported that, as of August 20, Germany had 288 valid investment projects in Vietnam, registered at nearly $1.7 billion. German investments in Vietnam can be found in many sectors, including automobile production, energy, and machinery.
Do Huu Hau from Osram Vietnam said that his firm "has great expectations for Vietnam's economic prospects and investment climate, which are significantly improving".
"Next year, Osram will continue implementing many key lighting projects in Vietnam, such as the VietinBank tower in Hanoi, and Tam Truc Temple – the biggest one in Asia – in the northern province of Ha Nam," Hau said.
Meanwhile, according to Bosch Vietnam, Vietnam is experiencing a robust urbanisation and industrialisation, with a positive outlook towards a smart economy. "This will help us offer our customers and partners connected cross-domain solutions from a single source. And we are willing to work closely with them," said Bosch Vietnam's Guru Mallikarjuna.
In a bid to facilitate German investment and trade flow into Vietnam, Germany's Baden-Württemberg state, the GDP of which hit $552 billion in 2015, established a representative office in Vietnam in July. Located in Ho Chi Minh City, the office provides advice to firms about the market, business, and investment environment in Vietnam. It also assists Baden-Württemberg businesses in finding partners and exploring Vietnam's investment environment.
According to the AHK World Business Outlook survey released last year by German Industry and Commerce in Vietnam (GIC/AHK Vietnam), more than half of the German firms surveyed are upbeat about Vietnam's economic prospects. About 60 per cent expect a good business performance this year, while 58 per cent perceive their business outlook as "positive". Some 54 per cent are considering an increase in their investment in Vietnam.
"German enterprises are now seeking investment opportunities and further investment in Vietnam, because they see Vietnam as an attractive destination in terms of encouragement by the country's government and other location advantages," said GIC/AHK Vietnam's chief representative Marko Walde.
EVFTA to bring in Hungarian meats
Hungarian firms are seeking to intensify their agri-food presence in Vietnam, in response to growing demand and upcoming slashed tariffs under the EU-Vietnam Free Trade Agreement.
Executives of 60 Hungarian firms, including nearly 20 agri-food ones, came to Vietnam last week to hunt for investment and business opportunities in the country, which is expected to sign the EU-Vietnam Free Trade Agreement (EVFTA) with the EU next year.
These agri-food firms want to take advantage of EVFTA's tariff cuts (see box for details) and Vietnam's growing demand for safe agri-food products, which is rising by 15-20 per cent per year. They met with hundreds of Vietnamese partners at a Vietnam-Hungary business forum last week in Hanoi.
Sándor Horváth, president and CEO of Integrál Zrt, said Vietnam is a very important market to his firm, which produces and exports goose and duck liver, leg, and breast meat. "We see that Vietnam's people like these products very much, and that's our opportunity to export products to Vietnam. First we want to establish a firm network of distributors here, and then we may think about establishing a joint venture or even building a factory in Vietnam," Horváth said.
In its business plan, Integrál Zrt will expand its market share in Vietnam by taking advantage of tariff cuts under the EVFTA, which Hungary's government is pushing other EU nations to ratify as soon as possible.
In another case, Kometa Co., Ltd. – Hungary's preeminent pork processor – is seeking Vietnamese partners to distribute its pork products in Vietnam, where the firm sees a huge demand for pork consumption.
"Under our new business plan, Vietnam is a key market in Southeast Asia. We want to establish long-term partnerships with Vietnamese firms. EVFTA will be a very good tool for us to do this," said the firm's export director, Larissza Barakka.
Kometa has a slaughtering capacity of 800,000 pigs annually and a processing capacity of more than 20,000 tonnes of pork over a wide range of cooked and matured meat products.
Master Good Kft, a producer of feed, breeds, hatched chicken, broilers, and meat products, is also exploring opportunities in Vietnam.
"Master Good Group is the largest broiler company in Hungary, accounting for more than one-third of Hungary's production. In Vietnam we see many supermarkets selling broilers, and we want our products to be consumed in the country," said the firm's managing director, Lászlo Bárány.
According to the Hungarian National Trading House, Vietnam's rising demand for agri-food products and EVFTA's tariff reductions are drawing not only Hungarian firms into the country, but also those from other EU markets.
A representative from the EU Delegation to Vietnam said that many EU firms stand ready to invest in Vietnam's agri-food sector once EVFTA takes effect in 2018.
"EVFTA is expected to help Vietnam attract more EU agri-food investment and products thanks to tariff elimination by Vietnam for EU agri-food products," the representative said.
The average tariff on agricultural items will drop from the current 67.7 per cent to 31.3 per cent in the third year of EVFTA's entry into force, then to 17.9 per cent in the fifth year, 4.7 per cent in the seventh year, and down to 2.6-4.6 per cent by the 10th year.
Meanwhile, the average tariff on fishery items will drop from the current 86.7 per cent to 0.4 per cent in the third year, and 0 per cent in the 10th year.
Forty-two EU agri-food firms came to Vietnam recently in search of investment and business opportunities. These firms have a total revenue of €170 billion ($188.8 billion) per year, and sought to ink multi-million-euro deals to either establish joint ventures or distribution channels with Vietnamese enterprises. Last year, firms in Vietnam spent nearly $11.4 billion importing goods from the EU, more than $1 billion of which was for buying agri-food items, while the rest was for importing machinery, equipment, services, and other industrial products.
Putting an end to long-delayed thermal power and port projects
Tan Tao Investment and Industry Corporation (ITACO)'s $2-billion Kien Luong 1 thermal power plant and $800-million Nam Du deep water seaport projects located in Kien Giang province, will have their investment certificates revoked due to the long delay in construction.
Deputy Prime Minister Trinh Dinh Dung has assigned the Ministry of Industry and Trade (MoIT) to collaborate with relevant ministries and the Kien Giang People's Committee to complete the procedures to revoke the two projects, according to newswire Dantri. 
Licensed in January 2008, ITACO planned to develop Kien Luong power and port complex under the build-own-operate (BOO) format on an area of 555.9 hectares. The project includes an industrial park, an urban area, a deep water seaport, and a power plant with a total generation capacity of 4,400 megawatts.
According to plan, the construction of ITACO's Kien Luong complex was expected to start in 2009 and be completed in 2018. However, ITACO could not keep the plan on track for the deadline to launch commercial operations in 2018 due to the group's troubles in mobilising funds for the project.
In 2013, to address the investor's problem and get the project back up and running again, the Vietnamese government allowed ITACO to modify its investment model from BOO to build-operate-transfer (BOT), so that it could receive government guarantees to realise the project.
In 2014, ITACO sought partners to establish a consortium to implement the project. Leading French energy company EDF and Korean Samsung and Hyundai groups have expressed to join. Previously, the Kien Luong 1 thermal power project was also considered by UK investor Graham Bell & Associates Limited. However, ITACO declined to disclose the official partner.
It was not until December 2015 that the silence was finally broken, when ITACO and MoIT signed a memorandum of understanding on developing the BOT project, paving the way for its resurgence, following six years of financing trouble.
Under the latest MoU, Kien Luong 1 was scheduled to start generating power by February 2025. The plant would have two generators with the combined capacity of 1,200MW, representing a total investment capital of more than $2.4 billion. However, the project has yet to take a single step forward.
The Kien Giang People's Committee has proposed the PM to withdraw the license of the project for numerous reasons. Notably, the investor had delayed starting the construction, thus it was withdrawn from the government's adjusted master plan on electricity development in the 2011-2020 period with orientations to 2030. 
Besides, the province is concerned about the environmental pollution caused by using coal for its operations, hampering the development of tourism in the province.
In addition, local residents heavily protested handing over agricultural fields to the investor due to the long delays. They were hoping that they would be provided with jobs once the plant comes into operation. However, the project has yet to be implemented, leaving locals hanging.
Regarding Nam Du deep water seaport, in July 2010, ITACO and Royal Haskoning Vietnam Co., Ltd. signed an engineering consultancy agreement for the project. Accordingly, the construction of the project with the total investment capital of $800 million would be divided into two phases.
The first phase was expected to be implemented in 2010-2013, allowing the port to accommodate vessels of up to 80,000DWT. In the second phasebetween 2014-2022, the port could deal with 150,000-200,000DWT vessels.
However, to date, the port project is still immobile.
NPL regulations are not enough
Although Vietnam is struggling under the weight of its bad debts, before others can help, the country must further improve its legal framework and develop its distressed securities market to support the debt trading process.
When Resolution No.42/2017/ QH14 came into force last month, some mechanisms were put in place to improve the handling of non-performing loans (NPLs) in the system. NPLs can now be traded at market price and the Vietnam Asset Management Company (VAMC) can sell bad debts to entities including those without a debt trading licence. The transfer of land use rights and ownership of assets to the buyer is also allowed in the new regulation. Shortened court procedures in dealing with collateral should also speed up the process of seizing collateral for NPL holders.
The  new regulation is supportive, but not enough for Vietnam to deal with its NPLs on its own, or  be attractive enough to entice foreign investors or the private sector to become involved with the NPL trading process.
As the transfer of the title or ownership of collateral – which often involves real estate – is not allowed in Vietnam for foreign investors, the challenge for them to enter Vietnam's debt market still remains, according to Alwaleed Fareed Alatabani, lead financial sector specialist for Finance and Markets at the World Bank Group (WB).
"That's what kept many foreign investors away, in addition to the issue of the insolvency regime that is incomplete in the case of Vietnam," he said on the sidelines of a NPL workshop held last week in Hanoi by the State Bank of Vietnam, WB, and IFC. "Domestically, if you look at the track record, most of the loans actually go back to the banks, and these banks are pursuing these loans because they have the relationship with the existing clients that took out these loans in the first place."
"And we're not seeing a significant amount of private asset management companies (AMCs) flourishing to try to tap into this type of business yet, since banks own AMCs and bank staff is to get collection on some of these debts."
According to Dao Thi Thien Huong, partner in Deals and Business Restructuring Services at PwC, in more developed markets, the debt trading platform has been put up and accompanied by the diversification of products and the participation of NPLs on both the buy and sell sides. In Vietnam, VAMC and bank-owned AMCs mainly trade debts or collateral assets related to the debts as individual loans themselves.
"In a developed distressed asset market, NPLs can be sold in batches, in portfolios, or as securitised debt products. Why is it important to have a wide range of products on offer? It's because the diversification of products will attract a diversified range of investors," Huong said. 
Selling NPLs in batches can attract large-scale NPL buyers as each transaction, either small or large, often incurs high costs in terms of valuation and administration. And conversely, these buyers are mainly looking to buy in a batch format.
Jakub Zalio, country manager of APS Vietnam, a wholly foreign-owned subsidiary of Czech-based debt recovery and investment specialist APS Group, noted that the key enablers for effective NPL treatment in Vietnam include no or limited barriers for investors to enter the market, simple and understandable legislation in terms of collateral seizure, and working legal and bailiff procedures.
To draw investors's attention, especially international ones, to Vietnam's debt market, it comes down to a sound legal framework that can do the job of drawing in NPL investors, according to Sumant Batra, managing partner of India-based corporate and commercial law firm Kesar Dass B & Associates.
"This is a chicken or egg situation," Batra told VIR. "For foreign investors to come in and invest in distressed asset markets, what you need is a really reliable insolvency system.
"Because if you don't have a good insolvency system, you will not be able to resolve NPLs efficiently and quickly, and therefore no investors would want to come to invest in the economy, in the NPL, if the insolvency law doesn't enable them to dissolve and turn around those non-performing assets quickly."
NPL investors, as he noted, want to make money in the short term of three to five years, and they put in a lot of effort and money to turn around the distressed assets that they bought. "But for that you would need a legal framework. Without that the challenge will always be that you will never attract enough players in the market. So you need a whole ecosystem, you just can't have one law come up and the others left behind."
First Code Academy seeking franchisees in Vietnam
First Code Academy (FCA), one of Asia's largest coding schools, is searching for franchisees in Vietnam with the VF Franchise Consulting Company, to provide young Vietnamese learners with digital literacy and computational thinking skills and empowering them to become creators with technology to enter the world's digital era.
Founded in Hong Kong in 2013, FCA now has over 5,000 students taking regular semester classes and holiday camps in learning centers in Hong Kong, Singapore, and Taiwan. Using proprietary curriculum adapted from Silicon Valley high schools, FCA's after-school learning programs are designed to stimulate inquiry-based learning, logical thinking, and creative problem-solving.
The ideal partner must share its vision and mission to educate the next generation to be creators with technology. "We are looking for partners with a passion for education and an entrepreneurial spirit, who are eager to drive the next wave of education and technological change in Vietnam," Ms. Michelle Sun, FCA's CEO and Founder, told VET. "We see a lot of potential in Vietnam for coding education, and are looking for a partner who is committed long-term to grow and expand the business locally."
There is a need to understand the market differences as parents are at different stages of prioritizing coding education and have different perspectives on integrating coding into their children's development. "That is a major criterion in our selection of a local partner in Vietnam," Ms. Sun said. "Our ideal partner is someone who has a good understanding and long experience in Vietnam, who will be able to identify needs and concerns unique to parents and education here, so that we can tailor our services to the market."
Vietnam has always been education-focused, with rapid growth from education providers offering courses in English and math, according to FCA. With rapid development, economic growth, and a young and growing population, the education sector is set for exponential growth as more young families look to invest in their children's education.
"We see this trend as well in other countries in Asia, where after-school programs and academic and non-academic classes are in high demand and continue to grow each year," Ms. Sun added. "With relatively few market leaders and education subjects, there is a lot of room for more education providers in a range of services, from academic to non-academic subjects in broad and niche areas."
Coding education in Vietnam is a relatively new service, with schools only just starting to look into incorporating technology-related education into their programs. In its experience in Hong Kong, Singapore and Taiwan, FCA found that in the initial stages, educating the public about the importance of coding literacy is an important first step.
At the same time, demand for STEM (science, technology, engineering, and math) and coding education often grows in parallel with various factors such as economic growth and technological improvements and it can be seen that there is rising demand for engineering talent to drive growth in the technology sector. With development in all these areas locally and a global focus on STEM education, demand for coding education is poised to grow rapidly in the next few years as parents and students in Vietnam increasingly prioritize coding literacy as an important skill for the 21st century. 
MekongInvest 2017 on horizon
The 5th Annual Mekong Delta Investment Forum 2017 (MekongInvest 2017) will be held at the end of this month and the 3rd Vietnam-Japan Cultural and Business Exchange Program will be held in November, both in the Mekong Delta's Can Tho city.
MekongInvest is an annual regional investment promotion forum organized by the Vietnam Chamber of Commerce and Industry (VCCI) Can Tho, in cooperation with the Trade, Investment and Tourism Promotion Centers of the 13 cities and provinces in the Mekong Delta.
With the theme "Attracting Investment in Infrastructure - A Platform for Mekong Delta Tourism Development", the forum will see 200 participants, including leaders of the Southwest Steering Committee, the People's Committees of cities and provinces in the region, representatives from the Foreign Investment Agency at the Ministry of Planning and Investment, diplomatic missions, international promotion organizations and enterprises, and domestic and foreign investors.
Cities and provinces will invite investment in 24 tourism development projects with total capital of VND7.8 trillion ($343.2 million) and 33 real estate and infrastructure projects with total investment of VND176 trillion ($7.74 billion).
Mr. Nguyen Phuong Lam, Deputy Director of VCCI Can Tho, said that open mechanisms and policies to attract investors will also be discussed at the forum, with detailed information provided on the projects calling for investment, and domestic and foreign investors will be connected with local authorities.
Within the framework of calling for investment in the Mekong Delta, the 3rd Vietnam-Japan Cultural and Business Exchange Program will take place in Can Tho from November 3 to 5.
The event will gather leaders of cities and provinces in the region, the Consulate General of Japan in Ho Chi Minh City, the Japan Trade Promotion Agency (JETRO) in Ho Chi Minh City, the Japan Tourism Promotion Organization (JNTO) in Vietnam, and a Japanese business delegation.
The event features 15 booths introducing Japanese culture and products, 15 introducing Vietnamese culture and products, and 90 for Vietnamese and Japanese businesses to exhibit products and services, including in agriculture, industry, tourism, logistics, education, pharmaceuticals, and consumer goods.
The Mekong Delta has 159 investment projects with total registered capital of $2.1 billion, mainly focusing on processing, manufacturing, mining, and wastewater treatment. While agriculture is a strength of the region, current investment from Japan in the field is low. The event is therefore expected to be a good opportunity to attract more agriculture investors from the country.
Hanoi & HCMC retail see no new supply in Q3
No new shopping centers were completed in Hanoi's retail market during the third quarter of this year, according to the latest report from JLL.
Total stock remained unchanged, at nearly 970,000 sq m in 24 projects. In terms of location, Thanh Xuan, Hai Ba Trung and Long Bien districts accounted for 70.9 per cent of the total.
More than 16,700 sq m of retail space was taken up in the third quarter. The overall occupancy rate continued to increase, from 80.3 per cent in the second quarter to 82 per cent in the third quarter, thanks to promotional programs in new shopping centers and lower rentals in older malls.                                   
In terms of pricing, the overall gross rental was $28.7 per sq m per month as at the end of the third quarter, a marginal decline of 0.4 per cent quarter-on-quarter, as many promotions and attractive rentals were offered to attract tenants.
Trang Tien Plaza still achieves the highest rentals, due to its prime location.
Convenience stores continued to boom in Hanoi's retail market, with an increasing presence by both international and local brands. The average size of these stores was approximately 40 to 50 sq m in the non-CBD sub-market.
Total supply in Hanoi's retail market is likely to increase significantly in 2018, with 322,000 sq m to enter the market. Until the end of 2017, only 2,000 sq m of premium retail space is expected to be put into operation.
Some international brands will enter the market. In particular, Zara Vietnam will open its first Hanoi store later this year, and two huge projects - AEON Mall Ha Dong and Ciputra Mall Hanoi - expected to enter the market in 2019 and 2020.
The expected lower-than-average rents in new projects and the abundant supply are likely to result in downward pressure on market rentals in the future.
Similarly, in the third quarter of 2017, retail supply in Ho Chi Minh City was relatively constant, as there were also no new completions.
The occupancy rate was down slightly, by around 35 basis points quarter-on-quarter. Occupancy levels at CBD shopping centers were flat, at 87 per cent, while in non-CBD projects they reached 92.8 per cent, down just 0.4 per cent quarter-on-quarter.                                        
Overall, the gross rental of city malls averaged around $47 per sq m per month, up 2.4 per cent compared to the previous quarter. In the CBD sub-market, rents in prime shopping centers grew notably thanks to the presence of experienced brands such as Zara, H&M, and Old Navy, helping to boost foot traffic.
Premium retail supply is expected to welcome more than 75,000 sq m, mostly from the non-CBD sub-market, over the remainder of the year. F&B, entertainment, and experience-oriented retailers will be the main drivers of leasing demand.
Rents will likely move upwards until the end of the year, especially in the CBD, with major advantages from healthy foot traffic driven by anchor tenants.
The occupancy rate in new suburban projects is projected to face challenges in achieving expected performance, due to the weight of new supply against demand.
VNA/VNS/VOV/SGT/SGGP/TT/TN/Dantri/VNEVET