Sacombank sells VND2,580 billion deep debt to VAMC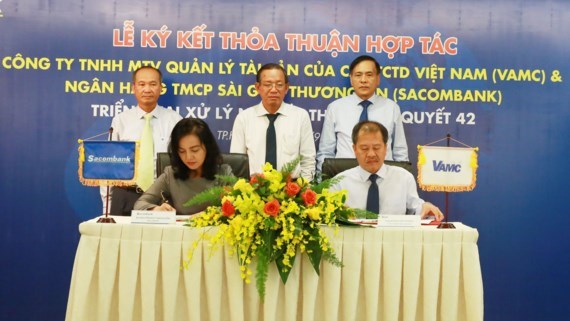 Sacombank and VAMC representatives sign the cooperation agreement
Saigon Thuong Tin Commercial Joint Stock Bank (Sacombank) has also signed contracts to sell three debts worth VND2,580 billion (US$114 billion) to Vietnam Asset Management Company (VAMC).  
These bad debts will be purchased according to market value. Their mortgages are real estates, machines and equipment in Da Nang and HCMC.
The two sides yesterday signed a cooperation agreement on handling bad debts and asset backlog. According to the agreement, Sacombank and VAMC will work together to build a roadmap to handle debts every year.
Sacombank will propose the list of bad debts which will be sold to VAMC through special bonds and those which will be traded according to market value.
This year, they have set a target of tackling VND15-20 trillion of deep debts. Of these, at least VND1 trillion will be traded according to market value.     
Toyota recalls 20,000 Vios, Yaris cars for airbag problem

The Competition and Consumer Protection Agency has received a report from Toyota Vietnam Company about the recall of 20,000 Vios and Yaris cars to examine and repair the inflator modules of front passenger airbags. 

According to an announcement from the Ministry of Industry and Trade yesterday, 18,138 Vios cars locally assembled and 1,877 imported Yaris cars will be recalled.
The inflator modules of front passenger airbags will be replaced free of charge to ensure safety for passengers.
 
GDP growth rate strongly increases in third quarter

Gross Domestic Product (GDP) growth rate has been up quarter by quarter this year and reached 7.46 percent in the third quarter, a strong increase compared to 5.15 percent the first and 6.28 percent in the second quarter.
 
That was announced at a meeting presided over by deputy Prime Minister Vuong Dinh Hue, chairman of the Advisory Council on National Financial and Monetary Policies, yesterday afternoon.

The meeting was organized to estimate macroeconomic norms in the third quarter and the first nine months of 2017, aiming at providing the Government with estimations and advises in macroeconomic management at the regular cabinet meeting in September which will take place next week.

At the event, council members estimated that monetary and fiscal policies have been run stably in a harmonious way contributing in positive changes of macroeconomic norms.
Inflation rate continued being curbed below 4 percent. It increased 0.59 percent in September mainly because of petrol price adjustments. Core inflation averaged 1.45 percent in nine months, forecast to approximate 1.5-1.8 percent this year, below the assigned norm of the National Assembly.
In addition, capital mobilization for the economy via Government bonds during the nine months reached VND147 trillion (US$6.47 billion), accounting for 80 percent of plan, thanks to stable interest rates.
Foreign direct investment (FDI) attraction hit a record high. As of September 20, there was $14.6 billion newly registered capital and $6.8 billion additional capital. Total new and additional funds rebounded 21.7 percent over the same period last year.
Although the Government has permitted the State Bank of Vietnam to increase the credit growth rate from 18 to 21 percent this year, council members said it is still needed to keep a close eye on the market to prevent fluctuations and pay attention to credit quality to ensure the progress and quality of projects.

They proposed the Government and the Prime Minister to continue administrative reform, reduce business and investment procedures to create advantageous conditions for enterprises, quickly amend and issue policies to lure investment in agriculture and rural development, require authorized agencies to further cut interest rates and lower costs for production and trading activities.

Thua Thien – Hue: offshore fishing fares well

Total seafood output from both fishing and aquaculture in the central province of Thua Thien–Hue reached 40,166 tonnes in January-September, up 15.6 percent, including 28,777 tonnes of wild catch, up  19.7 percent.

Vice Chairman of the Thuan An town People's Committee Ngo Van Du attributed the increase to the high-capacity fishing fleet and modern logistic system, which helps lengthen an average fishing trip to at  least 10 days and preserve catch better.

So far this year, the province has earmarked 13.6 billion VND (599,500 USD) and 1.6 million VND (70,928 USD) for Phu Vang and Phu Loc districts, respectively, to implement policies to support local  offshore fishermen and fish farmers.

Under Decree 67/2014/ND-CP on policies for fisheries development, the province has collaborated with communal administrations and banks to help local fishermen access preferential credit, thus building  and upgrading 40 vessels.

Communication work has been strengthened to encourage local fishermen to repair and build high-capacity fishing steel vessels to develop offshore fishing while also contributing to protecting the nation's  sea and island sovereignty.

The natural resource and environment sector has focused on monitoring the sea and lagoon environment to ensure stable livelihood for fish farmers and socio-economic development in the locality.

Reference exchange rate revised down

The State Bank of Vietnam adjusted the daily reference exchange rate for VND/USD to 22,468 VND on October 5, down 5 VND from the previous day. 

With the current trading band of +/-3 percent, the ceiling rate applied to commercial banks during the day is 23,141 VND and the floor rate 21,875 VND per USD. 

The rates listed at major commercial banks in the morning of October 5 continued to stay stable.  

Both Vietcombank and Vietinbank listed their buying rate at 22,690 VND and selling rate 22,760 VND per USD, unchanged from October 4. 

At BIDV, the greenback is being bought at 22,695 VND and sold at 22,765 VND, the same as on October 4.

Japanese firm to build 10-mln-USD factory in Vinh Phuc's IP

Tsuchiya TSCO Vietnam Co., Ltd has entered a land lease contract with Thang Long Industrial Park (TLIP III) in the northern province of Vinh Phuc to set up a 10-million-USD facility.

Tsuchiya TSCO, a member of the Japan-based Tsuchiya TSCO Group, is among first companies signing a lease with the industrial park, according to the provincial People's Committee.

Founded in 1990, the group manufactures home appliances, electronic and automotive parts. It now has 11 subsidies at home and 14 others overseas.

Its 4-ha factory in the TLIP III will produce automotive parts and industrial products.

Construction on the TLIP III started on September 21 this year, covering 213 hectares in Thien Ke and Tam Hop communes, Binh Xuyen district. It is expected to draw about 80 FDI projects from Japan and  create jobs for thousands of labourers once put into service.

The industrial park gives priority to hi-tech and environmentally-friendly projects, support industries, and spare parts production in service of the auto-motorcycle and precision engineering sectors.

Thua Thien – Hue: registered capital of new firms doubles

As many as 491 enterprises were established with total chapter capital of 4.8 trillion VND (211.2 million USD) in the central province of Thua Thien – Hue in the first nine months of the year.

This was a two-fold increase in registered capital.

In addition, the province lured 50 domestic investment projects, worth 5,671 billion VND (249.5 million USD) and three foreign investment projects.

The provincial Department of Planning and Investment has launched its public services portal. One-stop administrative procedure services have benefited local firms.

In the same period, the provincial industrial production index (IPI) climbed 15.2 percent year-on-year. In which, the processing and manufacturing sector surged 11.19 percent; water supply and waste  collection up 3.56 percent; electricity production and distribution up 66.75 percent.

An increasing trend was also witnessed in aquatic product processing, paper and paper products, and pharmaceuticals.

According to Director of the Department Nguyen Thanh, the IPI increase was buoyed by the local power production and enhanced capacity of aluminium factories, and the operation of the Vitto Phu Loc Tile  Company.

Tetra Pak builds packaging factory in Binh Duong

Sweden-based food packaging and processing company Tetra Pak started the construction of its plant worth 110 million USD at the Vietnam-Singapore Industrial Park II in the southern province of Binh  Duong on October 4. 

This is the first factory in Vietnam that will produce packaging for liquid food and will produce 20 billion units per year to serve domestic and export demand. 

The plant will sit on an area of 100,000 sq.m and is scheduled for completion in early 2019. 

Tetra Pak President for South Asia, East Asia and Oceania Chiris Kenneally said the Binh Duong facility will be the company's fourth packaging factory in the region to meet rising demand for dairy and  beverage packaging in Vietnam and the Asia-Pacific. 

He noted that with a sustainable development strategy, the factory in Vietnam will be the greenest in the Tetra Pak factory system and will use the world's most advanced technology and equipment, therefore  meeting the highest environmental standards. 

Deputy Minister of Planning and Investment Nguyen Van Hieu said with an investment of 110 million USD, Tetra Pak's factory is the biggest among 54 projects undertaken by Swedish investors in Vietnam,  and pledged all possible support to the project.-

Thailand launches Bangkok – Phu Quoc flight route

Bangkok Airways recently launched a direct flight between Thailand's Suvarnabhumi airport in Bangkok and Phu Quoc International Airport in Vietnam's Kien Giang province.

The launch ceremony on October 3 was attended by Vietnamese Ambassador to Thailand Nguyen Hai Bang and Bangkok Airways President Puttipong Prasarttong-Osoth, among others.

The Vietnamese Ambassador highlighted the tourism potential of Phu Quoc, with the island designated a special economic zone.

The flight route will not only boost tourism, but also facilitate trade links and investment in the Mekong Delta province of Kien Giang.

For his part, the Bangkok Airways President hailed the beauty of Phu Quoc, saying it's Bangkok Airways second destination in Vietnam, following the central city of Da Nang.

The airway's first flight to Phu Quoc will depart on October 29, he added.

Known as a tourism paradise, Phu Quoc is endowed with long, white-sand beaches and clear waters, while numerous high-end facilities have been developed to serve tourists.

In the first seven months this year, Phu Quoc received nearly 1.2 million tourists, accounting for 87.5 percent of the target set for 2017, including 200,000 domestic visitors.

Vietnam Cycle 2017 to open in Hanoi

The Vietnam Cycle 2017 expo will take place at the Hanoi International Exhibition Centre from November 16-19.

The 150-booth exhibition is expected to attract 50 major manufacturers from France, Italy, Japan, the Republic of Korea, China and Vietnam.

Organisers noted that the event will give a boost to the trend of riding bicycles and promoting green energy in big cities today.

It is also an opportunity for Vietnamese manufacturers to promote trade linkages and seek domestic and international partners and distributors while enhancing brand identification and connecting enterprises  and Vietnamese consumers.

A seminar on bikes and a cycle fashion show will be organised. Visitors can also experience new lines of bicycles during the exhibition.

Vietnam Cycle 2017 is organised by Vinexad and the Vietnam Auto Motorcycle and Bicycle Association (VAMOBA), under the patronage of the Ministry of Industry and Trade in collaboration with the National  Traffic Safety Committee.

Last year, the event drew 10,000 foreign and domestic visitors. Over 400 bicycles were sold and 47 contracts were signed during the exhibition.

Vietnam makes good use of Japan's ODA: FEC deputy chief

Vietnam has effectively used Japan's official development assistance in building infrastructure, said Vice President of the Japanese International Friendship Exchange Council (FEC) Yoshihiko Nakagaki.

Nakagaki, who has led FEC delegations to visit Vietnam several times over the past 7 years, made the comment at a meeting with Deputy Prime Minister Trinh Dinh Dung in Hanoi on October 4.

He said the good use of the ODA has contributed significantly to the country's socio-economic development, but noted that as the Vietnamese economy expands, adjustments to the current usage are  needed for better outcomes.

Deputy PM Dung said he welcomes FEC member businesses making annual visits to Vietnam to learn about local policies to attract Japanese investors and discuss measures to boost Vietnam – Japan  economic ties.

Highlighting robust growth of the Vietnam – Japan extensive strategic partnership, Dung said Japan is the top ODA provider and 4th biggest trade partner of Vietnam.

Japanese investors have made good reputation in Vietnam and contributed to the local development, the official added.

He underscored the commitment by the Vietnamese Government to complete policies and legal framework that improve business climate and facilitate foreign investors, including those from Japan.

Both host and guest agreed on untapped potential for Vietnam – Japan trade cooperation thanks to prospects brought about by the formation of ASEAN Community and progressive negotiation of the  Regional Comprehensive Economic Partnership (RCEP). 

Established in 1983 as a non-profit international exchange organisation, FEC works on promoting friendship and cooperation between Japan and foreign countries.

Vietnam welcomes Japanese investment: PM

Vietnam is committed to create favourable conditions for Japanese businesses to invest in the country, Prime Minister Nguyen Xuan Phuc stated while receiving Kanji Hayama, former President of the  Japanese construction contractor Taisei Corp., in Hanoi on October 4.

Recalling the company's efforts in handling the collapse of Can Tho Bridge 10 years ago, Phuc lauded Taisei's contributions to Vietnam's socio-economic growth via its construction of many large-scale  infrastructure projects.

He said Vietnam highly values its extensive strategic partnership with Japan, which is the country's leading ODA provider and 4th biggest trade partner. Japan is also the second biggest foreign investor in  Vietnam.

The Government leader stressed his hope that Taisei continues its good performance in Vietnam in contribution to Vietnam – Japan ties.

For his part, Kanji Hayama expressed his gratitude for support from the Vietnamese Government toward his company's operation in the country, particularly in dealing with the past collapse of Can Tho Bridge.

He said he visited Vietnam every year to pay tribute to victims of the accident.

Kanji Hayama said he believes in Taisei's commitment to support future development of Vietnam.

Vietnam, German share experience to develop agricultural value chains

The Vietnam Farmers' Union (VFU) and German Farmers' Association (DBV) held a workshop in Hanoi on October 4 to share experience in developing value chains in agricultural production.

Vice Chairman of the VFU Leu Vu Dieu said Vietnam is modernising agriculture and rural areas while actively promoting integration in the global economy, and the formation of value chains in agriculture will  be the key for success in this task.

The country has implemented the "New Vision for Agriculture" initiative from 2010 with a view to developing comprehensive and sustainable agricultural value chains in line with global value chains and climate  change response, he added.

So far over 10,000 farmers have joined technical demonstration models and applied sustainable standards for some agricultural products with the cooperation of multinational groups, according to Dieu.

Many cooperative groups and cooperatives have been formed, helping farmers connect with each other and with the market, he noted.

However, the VFU made it clear that the formation of value chains in agriculture has faced many difficulties, the greatest of which is capital shortage, hence the few number of value chains in the country.

Former Secretary of the DBV Helmut Born stressed that in a value chain, the customer has the decisive voice, so farmers must understand better customers' needs in order to meet demand.

Based on opinions raised at the workshop, the VFU will make recommendations to the Party, State and Government to improve policies and mechanisms encouraging farmers to set up cooperative groups  and cooperatives, and businesses to invest in agricultural production value chains.

Tra fish fair to take place this week in Hanoi

The Vietnamese tra fish (pangasius) and seafood fair is scheduled to take place at the Hanoi-based Agricultural Exhibition Centre from October 6-8.

The fair is expected to attract more than 100 booths of domestic and foreign enterprises, according to the Directorate of Fisheries under the Ministry of Agriculture and Rural Development (MARD). 

Within the framework of the event, there will be a seminar on tra fish production and consumption, and a food court introducing dishes made from tra fish. 

Tra fish is a popular choice of housewives thanks to its high nutritious values, especially its fat which comprises up to 80 percent of polyunsaturated fatty acids and no cholesterol. 

Tran Thi Hoa, from Thanh Xuan district, Hanoi, said she buys tra fish because this kind of fish is good for health and it is already processed, helping her save cooking time. 

Vietnamese tra fish has been shipped to 150 countries and territories nationwide, including choosy markets like the US and the Europe. Vietnam's tra fish export to China, the Association of Southeast Asian  Nations (ASEAN), the Mideast, Brazil and Mexico has also increased recently. 

The Vietnamese Government has listed tra fish in the National Product Development Programme by 2020. 

Tran Dinh Luan, deputy head of the Directorate of Fisheries, said the MARD has assigned the directorate to establish a public-private partnership group in fisheries, which will coordinate with the Vietnam  Pangasius Association, the Vietnam Fisheries Societies, the Vietnam Association of Seafood Exporters and Producers, and a number of non-governmental organisations, to organise a club of tra fish  businesses. 

The group will also connect with supermarkets and restaurants to promote tra fish consumption, he said. 

Apart from 60 kinds of tra fish products, there are oil and collagen extracted from tra fish.

Tien Giang shifts to growing fruit trees with high value

The Mekong Delta province of Tien Giang has replaced rice by fruit trees in over 2,300ha of land since the start of the year, said Cao Van Hoa, Acting Director of the provincial Department of Agriculture and  Rural Development. 

The cultivation of fruit trees with high economic value is part of the province's efforts to restructure agricultural production toward improving products' quality and values.

Tien Giang has zoned off more than 7,000ha in Cai Lay district, Cai Lay town and surrounding areas for growing durians. Over 5,000ha of dragon fruit trees have been grown in the districts of Cho Gao, Go  Cong Tay and Tan Phuoc.

Durian and dragon fruits have become major products of Tien Giang with high export values. Local farmers earned between 800 million and 1 billion VND (35,200-44,000 USD) per hectare in the recent  crop.

Cho Gao dragon fruits and Ngu Hiep durians of the province have recently been registered for the collective trademark.

Ngo Van Cung, a farmer in Long Tien commune of Cai Lay district, grows durians on an area of 5,000 sq.m. He harvests about 13 tonnes of the fruit each year, raking in around 400 million VND.

To date, Tien Giang has expanded its orchard area to nearly 74,000ha, or 98 percent of  the annual plan and a rise of 1.3 percent year-on-year.

According to the provincial Department of Agriculture and Rural Development, the locality reaped more than 1.2 million tonnes of fruits since the beginning of 2017, reaching 86 percent of this year's plan and  up 4.7 percent compared to the previous year.

Can Tho to ship first rice batch to Iran

The Mekong Delta city of Can Tho has signed an agreement with Iran to ship 100,000 tonnes of rice to the country, said Huynh Trung Tru, Deputy Director of the Department of Industry and Trade on October  4.

According to Tru, rice import demand has surged in Bangladesh, the Philippines and Iran.

Bangladesh needs to import about 500,000 tonnes of rice, with more than half of the volume in October alone, Tru said, adding that local firms have registered with the Vietnam Food Association (VFA) to join  bidding.

The city hopes to sign a longer contract with Iran next year, Tru said.

In the first nine months this year, the city shipped more than 638,000 tonnes of rice abroad, worth 262 million USD, up 22 percent in volume and nearly 20 percent in value year on year.

According to the VFA, a total of nearly 5.16 million tonnes of rice was signed to be shipped abroad up to the end of August.

The city earned more than one billion USD in export revenue, accounting for 75.8 percent of the yearly target, up 16.9 percent year on year.

The city also imported 321 million USD worth of goods, accounting for 84.5 percent of the yearly target, up 47.6 percent from the same period last year, driven by increased purchases of equipment and  machines for production.

PetroVietnam's 9-month results exceed assigned plans

Việt Nam National Oil and Gas Group (PetroVietnam)'s financial targets surpassed assigned plans, with the group earning VNĐ367 trillion (US$16.15 billion) in revenue in the first nine months of 2017.

The revenue exceeded the group's set plan by 16 per cent, contributing VNĐ68 trillion (some $3 billion) to the State budget, 21 per cent above the target.

According to statistics announced by PetroVietnam earlier this week, domestic crude oil output of the group exceeded the Government-assigned plan by 297,000 tonnes, significantly contributing to the growth  of the country's Gross Domestic Product.

Total output of oil reached 19.01 million tonnes, meeting 73.6 per cent of the year's plan.

Specifically, oil production during the period hit 11.7 million tonnes, an excess of 2.8 per cent in comparison with the set target. Domestic production was at 10.25 million tonnes, exceeding the plan by three  per cent, or 297,000 tonnes, and foreign production was at 1.46 million tonnes, surpassing the plan by 1.4 per cent.

In addition to crude oil production, PetroVietnam also surpassed other output targets, including nitrogenous fertiliser production (1.32 million tonnes, exceeding the plan by 10.1 per cent) and petroleum  production (4.46 million tonnes, surpassing the plan by 22.6 per cent).

PetroVietnam will focus on synchronously implementing necessary measures to ensure domestic crude oil production in 2017, in accordance with the plan assigned by the Government for the year-end  months.

In addition, the group will work actively and closely with relevant agencies in deploying its business production and investment activities, contributing to affirming Việt Nam's sovereignty.

Further fee cuts needed to support firms

The Việt Nam Chamber of Commerce and Industry (VCCI) said that the Ministry of Finance's proposed fee cuts was a positive move, but stronger cuts or even abolishments were needed to support  businesses.

The VCCI said that many kinds of fees were unnecessary, such as the fee for certifying business information, which was VNĐ20,000 (US$0.9). Although the fee was low, it was unnecessary, VCCI said,  adding that it was compulsory for firms to publish their information on the national portal about business registry.

So, paying fees to get this information is unreasonable, it said.

Regarding the fee for verifying the origin of fishery raw materials, the finance ministry proposed a cut by 10 per cent from VNĐ700,000 to VNĐ630,000, which was still high and burdened businesses, the VCCI  noted.

The VCCI said that a small-sized fishery processing company must have around 220 certificates about the origin of materials for exporting to the European markets per year, which would cost the firm  VNĐ154 million overall.

The fee remained a burden to businesses, especially exporting firms, the VCCI said, adding that the firms proposed to cut the fee to around VNĐ100,000 to VNĐ350,000 per certificate.

Đậu Anh Tuấn, head of the VCCI's Legal Department, expected the Ministry of Finance to implement more fee cuts. "In the short term, fee collection might drop, but in the long term, the fee cuts will promote  the development of businesses, and as a result, tax collection will improve and jobs will be created for the sustainable development of the economy," Tuấn said.

It was estimated that the collection of fees and charges accounted for 3 per cent to 5 per cent of the total budget revenue.

The Vietnamese Government has targeted the year 2017 to reduce the costs of businesses.

However, the ministry has proposed to increase the value-added tax from 10 per cent to 12 per cent to cope with the shrinking budget revenue and public overspending.