To complete the construction of an approximately 700-kilometre section of North-South four-lane expressway in the east, worth VND130.2 trillion ($5.7 billion) by 2020, specific policies to attract foreign and domestic investments are necessary.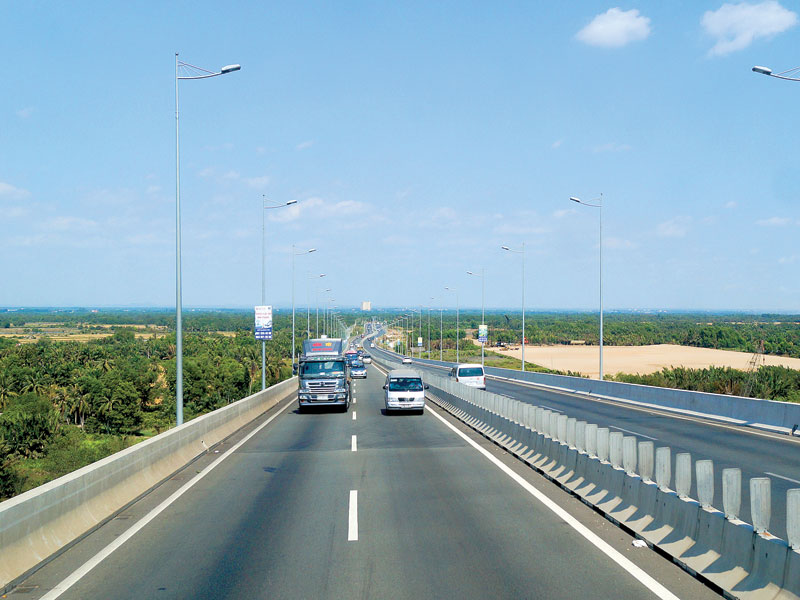 A section of Ho Chi Minh City-Long Thanh-Dau Giay Expressway, part of North-South Expressway
Consensus
The Ministry of Transport (MoT) has recently proposed that the government office consider drafting a resolution of providing investment incentives for the construction of the eastern route of North-South Expressway.
In late August, under the directions of the prime minister on finalising the pre-feasibility study report of this particular section of the North-South Expressway project, MoT reported to the PM on the project status and filed a proposal to the Party Central Committee concerning project investment guidelines.
Nguyen Nhat, Deputy Minister of Transport, stated that throughout the inspection conducted by the Economic Committee of the National Assembly, several delegates presented proposals assuring that the investment guidelines are imposed.
Earlier in May 2017, to speed along the drafting process of the National Assembly resolution, the Government Office collected government members' views on a number of key policies that it saw as prerequisites to calling for domestic and foreign private investment in order to specify the target of finishing the construction of the eastern 700-kilometre route by 2020.
Forecasted transportation demand for certain sections of North-South Expressway

Route

Length (km)

Traffic volume count (PCU/day)

By 2020

By 2030

By 2040

Ninh Binh Highway 45

63

20,876

40,258

52,352

Nghi Son-Dien Chau

50

11,667

26,836

46,247

Vung Ang-Bung

60

9,756

19,317

36,454

Cam Lo-La Son

102

13,069

25,772

39,263

Quy Nhon-Tuy Hoa

100

10,917

22,500

34,279

Nha Trang-Phan Rang

80

12,523

25,810

39,322

Phan Thiet-Dau Giay

98

18,813

35,178

55,210

*PCU: passenger car unit, a metric used in transportation engineering to assess traffic-flow rate on a highway
Particularly, MoT achieved a consensus of seven policy groups, requesting that the National Assembly or the PM issue guidelines. The request laid particular emphasis on increasing the service charge set by the feasibility study report, as well as the fixed charge specified in the contract the project contract.
Besides, they proposed the National Assembly to assign the government to implement independent component projects after the investment guideline is issued, while simultaneously approving the processes of capital mobilisation and construction implementation.
Nhat also noted, "In addition to policy constraints, like extra charges and price control, capital mobilisation from foreign credit organisations and investors needs government support to share risks due to low national credibility. Thereby, the issuance of specific policies for this large-scale infrastructure construction project is crucial."
Draw attention to the project
The government drafted a proposal to direct the State Bank of Vietnam to build solutions to resolve investors' existing difficulties so that they can access loans from banks and can implement the construction, while  simultaneously assisting investors with access to foreign loans, including loans from Asian Infrastructure Investment Bank (AIIB). MoT suggested several further tasks for SBV.
MoT filed a proposal asking the government to set a return on equity (ROE) of 14 per cent per year in order to estimate the official ROE of investors (whose identity will be decided by tender later on).
To clarify profitability of the component projects under the public-private partnership (PPP) model, MoT has temporarily calculated an ROE of 14 per cent per year, a return on investment (ROI) of 10.37 per cent per year, and service charge of VND1,500/PCU/km ($0.07/PCU/km).
These rates will be in effect from the date the project starts operation. These numbers are expected to be adjusted upwards 12 per cent every three years. Investors are offered a return on investment within 24 years.
Earlier in June, the government suggested that the National Assembly should permit MoT to decide on the rate of road service charge increase specified in the feasibility study report and project contract.
Nhat also noted, in accordance with the Pricing Law, service charges are determined to cover appropriate actual production and business costs, with reasonable profit, and are adjusted when project components change.
Based on this principle, the charges for North-South Expressway specified for reimbursement amount up to VND2,500/PCU/km ($0.11/PCU/km). 
In order to reduce pressure on transportation firms, MoT suggests a reasonable charge of VND1,500/PCU/km ($0.07/PCU/km), along with a more restrained growth roadmap.
"If charges are not determined, calculating the financial plan for the entire project life cycle will be impossible, leaving no basis for tendering to select investors," Nhat added.
VN Economic Times