US President Donald Trump's announcement of tightening control over money outflows from the US, gave rise to concerns over possible impacts on inward remittance flows to Vietnam. Financial expert Huynh Trung Minh scrutinises the issue.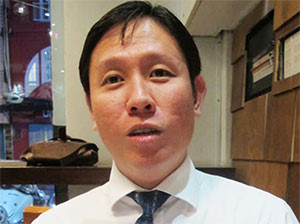 Financial expert Huynh Trung Minh
What's your assessment of inward remittance flows to Vietnam in the latter months of this year?
Official data is still not available at the moment. According to the State Bank of Vietnam's Ho Chi Minh City branch, the city received about $3 billion in these funds in the first eight months of the year, a 5 per cent jump on-year.
This indicates that the volume of inward remittances continues on its growth momentum, albeit at a slower rate than previously. 
Therefore, I believe the US President's announcement will not be a large influence on money flows into Vietnam or will only have a psychological effect. 
More important is how the economy impacts the income of overseas Vietnamese living in other countries which will directly affect their money transfer to their relatives in Vietnam.
Have inward remittance flows been slowing down? How about the real estate field, where it previously was particularly strong?
In fact, remittances keep flowing into Vietnam for investment targets. However, beside this kind of money, growing outbound investment has also been recorded. 
In addition, investors may engage in internal transactions, making it difficult to provide accurate statistics.
Inward remittance flows, particularly from the US, are predicted to decline in the upcoming time. In your view, why is this so?
The is still responsible for the lion's share of inward money flows to Ho Chi Minh City, with about 60 per cent, while the EU accounts for 19 per cent. 
Besides, natural calamities have been wreaking havoc throughout the US in recent months, so it may prove hard for overseas Vietnamese living at these locations to send home money.
Exchange rates are relatively stable and there is a zero per cent deposit rate on the USD. How do receivers usually use remittances, do they convert it into Vietnam dong or keep it in foreign currencies?
They mostly convert it into dong as the exchange rate has been kept stable in the past year and the deposit rate on USD is held at zero per cent, making it more beneficial to keep dong at this point of time.
In fact, so far during the year, the exchange rate inched up more than 1 per cent, while short-term dong-denominated deposits fetch 6-7 per cent per year.
Compared to the zero per cent on dollar deposits, keeping dong is more beneficial.
VIR