Vingroup officially appointed James B. Deluca, the former executive vice president of General Motors' (GM) global manufacturing operations, as CEO of VinFast on Monday.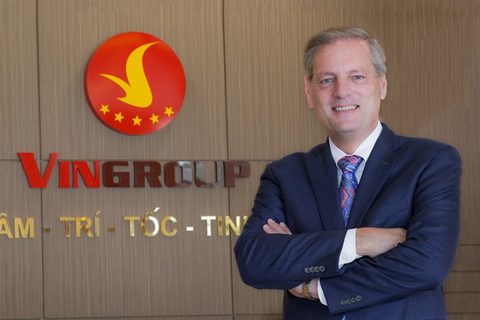 VinFast is the first Vietnamese automobile manufacturing complex in the Dinh Vu – Cat Hai economic zone in the northern city of Hai Phong. It has total investment capital of US$3.5 billion.
With 37 years of experience in the field of car quality control and production and having managed more than 200,000 engineers at 171 plants in 31 countries, Deluca will contribute to the development of VinFast vehicles and ensure they are world-class in safety and quality.
Deluca will be responsible for the construction, operation and development of VinFast's automobile manufacturing (excluding electric motorcycle).
On his first working day in Viet Nam, Deluca said he was very honoured and looked forward to working in a professional environment, with passionate individuals who were aspiring to make history for the Vietnamese automobile industry - it is the production of a brand name for the country.
He said he would like to bring his knowledge and experience across the globe in general, and the United States car market in particular, to develop VinFast and to create luxury, safe and world-class cars.
Deluca is a well-known and respected name in the global automotive industry. Under his leadership, GM has made significant improvements in quality and cost of production, and launched 19 new models in international markets.
Deluca said Viet Nam was a country with great potential in the field of automobile production. It is expected that by 2020, the domestic market demand will be some 450,000-500,000 units and will increase to 800,000-900,000 units by 2025.
Viet Nam is trying to join the global production network. Therefore, VinFast will strive to achieve the goal of launching the car in September 2019, said Deluca.
Vingroup said it believed that through his experience in the automotive industry and relationship with global partners, Deluca would contribute to promoting Vietnamese cars in world markets.
The group said the goal of VinFast is to become the leading automobile manufacturer in South East Asia, having a design capacity of 500,000 units per year by 2025. Its main products are automobile engines, internal combustion engines, automobile electric engines and environment-friendly electric motors.
In the first phase, the plant will roll out five-seat sedan, seven-seat SUV and electric motorcycle, with a capacity of 100,000-200,000 units per year. For this, key components such as engines and main structural systems will be purchased from leading European and American designers. VinFast automobiles will meet Euro 5.0 and Euro 6.0 emission standards.
The VinFast project consists of automobile plants, motorbikes and training and research centres. Construction of the project officially started on a total area of 335 ha in Dinh Vu - Cat Hai Economic Zone on ​​September 2, 2017.
Earlier, Vingroup had appointed Vo Quang Hue as the Deputy General Director of the VinFast project. Hue used to be the General Director of Borsch Vietnam, prior to September this year.
VNS