VietNamNet Bridge – The Government has had many policies encouraging the development of the private sector. But the sector continues to face many Government-created hurdles, including regulations and required licences and certificates.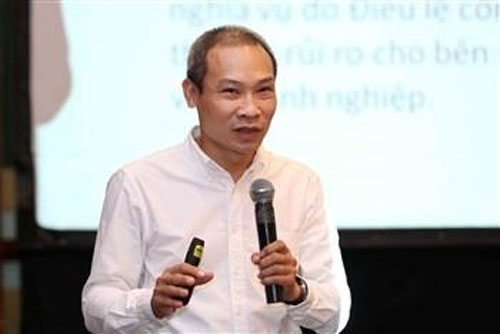 Phan Duc Hieu
Phan Duc Hieu, deputy director the Ministry of Planning and Investment's Central Institute for Economic Management (CIEM) discussed with the Vietnam News Agency some potential solutions to those issues.
What do you think about the Government's efforts to promote development of the private sector in the recent past?
In recent years, the Government has made great efforts, as expressed by the Prime Minister's messages, or resolutions in monthly regular meetings of the Government, or Resolutions 19 and Resolution 35 on reforming business environment and giving supports for businesses.
I have seen the change in the business environment and the determination of the Government on developing the private economic sector. Local enterprises have also seen those.
However, I think, these supports for the private sector are not meeting the expectations of businesses and the Government's targets.
CIEM has released a report on business conditions. How do business regulations or sub-licences affect private businesses?
When we reviewed more than 4,000 business conditions, I read all of these conditions. If I was in the private sector, I would feel frustrated after reading about the business conditions and regulations. I have to worry about how to meet these business conditions.
Regarding the impact of the business conditions, our report found five major impacts on businesses from unreasonable business conditions, including the creation of risks in business, limited entry into markets, limited creativity in business, and unfair competition. The conditions also create disadvantages for small- and medium-sized enterprises (SMEs) because the same rules may be good for large businesses but not good for SMEs.
According to a survey by the Vietnam Private Sector Forum (VPSF), 44 per cent of businesses said they have missed opportunities because of legal barriers and restrictions on the market. What do you comment on this result?
I think this figure can be trusted because if we look at all business conditions, we will see how those conditions impact the businesses.
Viet Nam has many regulations that are not in accordance with international regulations, including those on minimum capital or legal capital or requirements for human resources.
All such regulations have created inexplicable and unsuitable barriers for businesses. Unfortunately, such regulations are not few. According to our statistics, more than 50 per cent of the unreasonable conditions need to be abolished as soon as possible.
The Ministry of Planning and Investment proposed to remove nearly 2,000 business conditions in ministries and sectors that have caused difficulties for enterprises. What are the business conditions?
Through a preliminary review, it is possible to list some barriers that can be removed, including business conditions requiring enterprises to have at least two people or to have minimum capital, and business conditions about requirement on minimum capacity, business scale, quantity, and production ability.
These are disadvantageous conditions for businesses, creating barriers in doing business, and risks such as limitation in business and in creativity of enterprises. These conditions need to be removed.
The review and elimination of business conditions relate to different ministries. Are there different opinions during this process from the ministries, sectors?
It is not easy to reform the business environment and reduce unreasonable business conditions. Renovation of business conditions was implemented many years ago. During the process of the reform, there have been different opinions from ministries and sectors. The reform is never easy.
Therefore, this time, if there is not strong determination from the Government, it will be very difficult to implement the reform. 
VNS