The Vietnamese economy is facing a major contradiction as it is striving for economic growth but the national budget is very limited. Neutralising this conflict and bringing about a higher growth rate is definitely not an easy question. 
Resolving the contradiction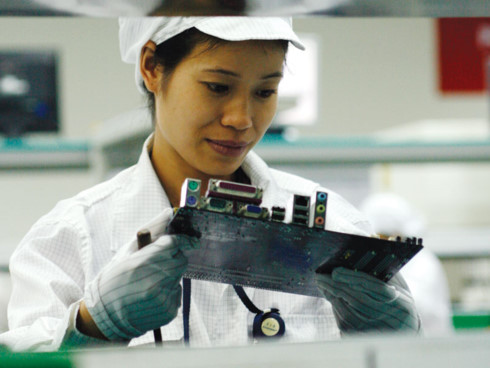 Certainly, it was not by accident that at a seminar organised by the Ministry of Planning and Investment yesterday (September 19, 2017) quite a number of speakers mentioned the government's recent proposal to raise taxes and fees during a panel discussion on "Realising Growth Targets in the Context of Limited Budget Resources."
In addition, Dau Anh Tuan, head of the Legal Department at the Vietnam Chamber of Commerce and Industry (VCCI), told a story about a businessman in the northern province of Thai Nguyen who had just emailed him to complain about the enormous seaport service charges imposed on enterprises at Haiphong's ports.
According to him, the total cost of VND300-400 million ($13,216-17,621) is too large. Given this company's annual revenue of VND800 billion ($35.24 million), it currently pays VND30 billion ($1.32 million) to the state budget per year. However, the Haiphong authorities' decision to implement such high charges has depressed this businessman, forcing him to even consider scaling down his business.
"It is true that seaport infrastructure charges are a big revenue source for Haiphong, but had anyone considered how it would affect the competitiveness and performance of enterprises? It might increase revenues for the local budget, but will exert a substantial impact on businesses. In this particular case, at least, it can gather VND30 billion ($1.32 million) to the national budget from a single firm. Has common interest ever been taken into account?" Tuan said and also mentioned recent suggestions by the Ministry of Finance on the revision of tax policies, which has shocked many businesses.
This is an important issue, according to Tuan, that needs to be carefully considered. For example, the increase of excise tax on beverages might reduce consumption, which in turn will affect value added tax and corporate income tax revenue or distress firms operating in the sugar industry, wholesale distribution companies, and retailers.
"When deciding to raise taxes on any item, it is necessary to study both the direct and indirect effects," Tuan said.
Virginia Foote, chairman of the US-Vietnam Trade Council, pointed out that no company wants to pay taxes, only the government wants to raise revenue. This is the conflict that Vietnam must address. If enterprises can expand their production, the government can also increase budgetary revenue.
"The private sector needs to see that the policies being implemented are beneficial to them so that they can invest more in production and business, thereby boosting economic growth," said Foote.
In fact, in the current context of limited budget resources, a number of solutions to boost revenue, including the adjustment of tax policies, have been proposed, which is understandable. However, it will surely do more harm than good if they only focus on increasing the budget revenue without nourishing the sources.
Nevertheless, regarding this issue, Tran Quoc Phuong, director general of the Department for National Economic Issues under the Ministry of Planning and Investment, confirmed that the government agreed not to raise taxes and fees in 2017. Besides, the prime minister also requested relevant agencies to study and assess the proposal's potential impacts as well as collect comments from businesses before making important decisions.
When all conflicts are resolved and policy transparency is guaranteed, the business community will gain more confidence and motivation to jointly undertake the task of promoting economic growth with the government.
Vo Tri Thanh, former deputy director of the Central Institute for Economic Management (CIEM), said that regardless of their goal to increase or reduce taxes, these policies should be transparent and ensure predictability.
"More importantly, Vietnam needs a comprehensive reform programme on taxes, budget revenue and expenditures, recurrent expenditures and public investment, coupled with the reform of the state apparatus. Reforms should be conducted in a thorough and systematic manner to persuade the whole society and the people of its positive impacts," said Thanh.
Pursuing a long-term vis
Statistics on the socioeconomic situation of the country during the first nine months have not been released yet, but Tran Quoc Phuong is quite optimistic about achieving the 6.7 per cent growth target for this year, the goal which, as guided by the government, "will not be achieved at all costs." Rather, the government has determined to "take advantage of every opportunity to promote further growth."
Still, Duong Duy Hung, director of the Planning Department under the Ministry of Industry and Trade (MoIT), said that a longer-term vision is necessary and the strategy cannot simply focus on economic growth of this year.
Hung mentioned a recent story when MoIT announced the removal of a series of business conditions to create a more open business environment for enterprises. Apparently, this was an important condition to promote economic growth.
Yet he did not put much emphasis on how many procedures had been cut. Instead, the story highlighted the innovative thinking of the ministry, especially after it set up special departments to take charge of issues related to the digital economy or trade defence. These are the challenges that the Vietnamese economy will have to face in the coming time.
Sharing the same view, though highly lauding the government's recent efforts to improve the investment and business environment, Vo Tri Thanh said that these reforms were mainly aimed at the "entering the market" stage and they have not paid much attention to subsequent stages, despite the wave of enterprises withdrawing from the market.
"We have only been focusing on improving what have on our plate, while it is also important to simultaneously prepare for what might happen in the future," Thanh said.
VIR