VietNamNet Bridge - Vietnam has exported its first consignment of 300 tons of chicken to Japan, described as a 'historic milestone' for the livestock industry.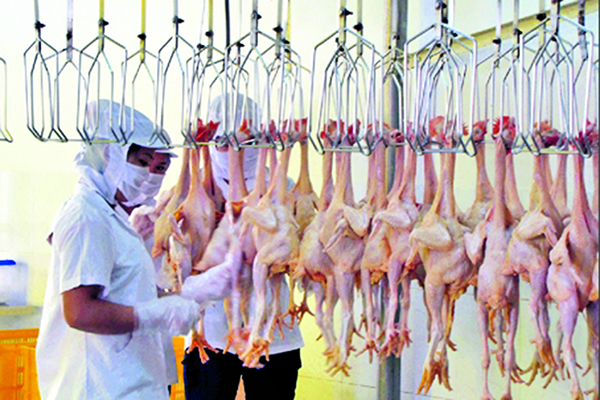 Local newspapers all reported about the export, commenting that the acceptance by Japan, one of the choosiest markets, shows the competitiveness of Vietnam's livestock products in the world market.
The newspapers quoted high-ranking officials as saying that the exports will pave the way for Vietnam's other livestock products to enter Japan and other choosy markets. 
The acceptance by Japan, one of the choosiest markets, shows the competitiveness of Vietnam's livestock products in the world market.
Gabor Fluit from De Heus Asia affirmed that not only Japan but other markets also want to import chicken from Vietnam, including the EU and others.

The high demand in the world market is good news for Vietnam's livestock industry which has seen productivity exceeding demand. Vietnam now can produce 5.2 million tons of animal & poultry meat and eggs, but the export volume remains modest.

Vietnam has 30 million pigs, but it mostly exports pigs to China across the border gate. The market at one time unexpectedly stopped importing pigs from Vietnam, which led to a dramatic fall in pork price. 

The situation was so serious that relevant ministries had to meet to discuss solutions to rescue farmers. If Vietnam can find new export markets, the oversupply will not occur in the future.

However, many analysts say they are not optimistic about the exports, because the achievement doesn't bear the quality of Vietnamese farmers and businesses. 

The supply chain that provides chickens to the Japanese market includes Japanese and foreign companies, while what Vietnamese do just breeding and provide labor. 

The chicken farms that have joined the supply chain are all big farms owned by 'farmer billionaires' which are managed like enterprises. 

Analysts commented that only a few out of millions of farming households throughout the country can work together with global conglomerates.

The 300 tons of chicken exported to Japan are products co-generated by Hung Nhon Group (Vietnam) and three other foreign companies – De Heus (the Netherlands), Bel Ga (Belgium) and Japanese Koyu & Unitek. Of these, De Heus provides feed while Bel Ga provides breeders. 

Feed and breeders account for 70-80 percent of the production costs.

Vietnamese perform breeding services in the supply chain, for which they can earn only a modest sum of the total value of the products.

Most industrial livestock like white chicken, pigs and chicken eggs produced in Vietnam have production costs higher than average prices in the world. Vietnam has no advantage in the livestock industry, and it has to import nearly all input materials needed for breeding, from feed to technology.
RELATED NEWS
Vietnam's chicken industry takes flight
Kim Chi