VietNamNet Bridge - By the end of November 2016, Vietnam had 324 IZs, including 220 operating with an occupancy rate of 51 percent, according to MPI's (Ministry of Planning & Investment) IZ Management Board Department.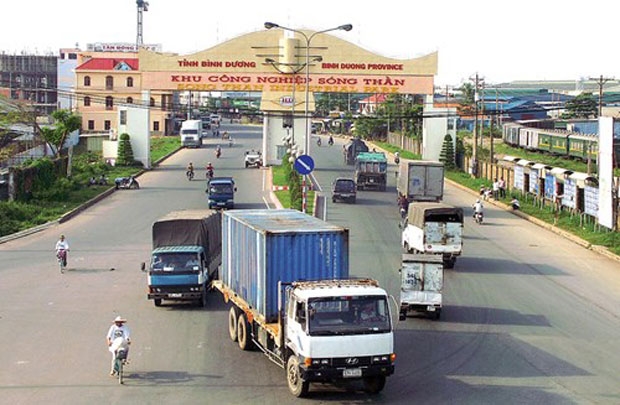 Sembcorp Development, a 100 percent foreign owned company belonging to Singaporean Sembcorp Industries, is a 'veteran' in Vietnam.
Through the Vietnam Singapore Industrial Park JV Co. Ltd (VSIP), a joint venture of Sembcorp Development, Becamex IDC and other partners, the Singaporean investor has poured money into many IZ projects with the VSIP brand. 
After the first VSIP IZ in Vietnam was established in Binh Duong in 1996, six others were developed in Binh Duong, Bac Ninh, Hai Phong, Quang Ngai, Hai Duong and Nghe An.
The seven IZs, covering a total area of 6,660 hectares, have attracted 718 secondary investors from 22 countries and territories to lease land. The investors committed  capital of $9.9 billion for the projects which create export value of $84 billion and generate 198,021 jobs.
In late 2016, Da Nang City authorities instructed relevant agencies to allocate the land plot in the southern part of Thuan Phuoc Bridge to Sembcorp which plans to develop a 20-hectare smart integrated software park.
By the end of November 2016, Vietnam had 324 IZs, including 220 operating with an occupancy rate of 51 percent, according to MPI's IZ Management Board Department.
The conglomerate's 2016 annual finance report showed that VSIP signed MOUs with the Binh Duong and Bac Ninh provincial People's Committees on the expansion of IZs in the localities. It is expected that the total land area to be added into the land fund will be 1,500 hectares.

The 2016 finance report showed that revenue from land rent in Vietnam was more satisfactory than other Asian markets in which the conglomerate invests. 

The leased land area rose by 9 percent in the year, from 149 hectares to 163 hectares thanks to the sharp increase in land demand in VSIP IZs.

Doanh Nhan Sai Gon cited reports by market analysis firms as showing that the low labor costs, tax incentives and the proximity of Asian countries all make Vietnam attractive to foreign manufacturers.

Investors from Japan and China have also been increasing their investments in IZs. Long Duc Investment Co Ltd, a company run by Sojitz Corporation, Daiwa House Industry, Kobelco Eco-Solutions and Donafoods, are planning to expand Long Duc IZ in Long Thanh district in Dong Nai province. 

The existing IZ is nearly fully occupied with manufacturers from Japan.

Chinese investors are showing their interest in IZ projects in the central region and southern key economic zone.

RELATED NEWS
Vietnam plans to prioritize ecological IZ development
Chinese FDI in Vietnam: It is time to tighten, experts say
Dat Viet