Members of the National Assembly Standing Committee (NASC) have proposed that the Ministry of Finance (MoF) be the main agency responsible for assisting the Government in the management of public debt, instead of three bodies as currently stipulated in law.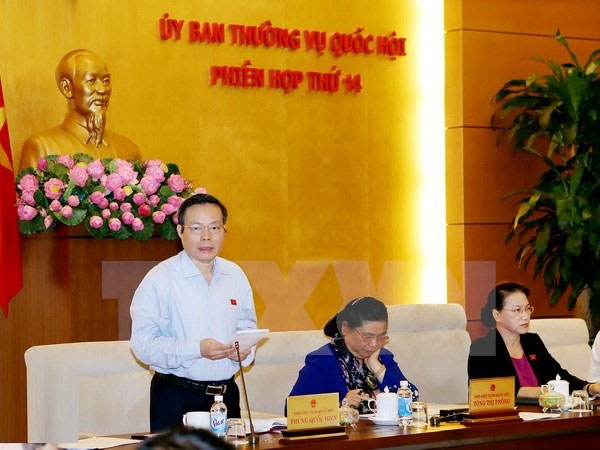 NA Vice Chairman Phung Quoc Hien delivers speech yesterday as the NASC and representatives of the Government discussed the revised Law on Public Debt.— VNA/VNS Photo
The idea was put forward yesterday as the NASC and representatives of the Government discussed the revised Law on Public Debt.
Chairman of the NA Committee for Finance and Budget, Nguyen Duc Hai, said the committee thought that having a single body managing public debt is necessary to restructure the State budget, better manage public debt and ensure a stable national finance system.
The committee proposed the MoF shoulders this responsibility, which involves both the tasks it is currently performing and new ones. Under current law the additional tasks belong to the Ministry of Planning and Investment (MPI) and the State Bank of Vietnam (SBV).
These include the mobilisation of domestic and foreign loans, the management of borrowed capital, monitoring debt payment obligations, negotiation and signing of domestic and foreign loans, including ODA, preferential loans and foreign commercial loans, among others.
Other ministries and ministerial-level agencies would be responsible for co-operating with the MoF in public debt management, the committee suggested.
The proposal was put forward despite the fact that the Government still wants to maintain the status quo, citing a wish to avoid causing organisational reshuffling and instability at the three agencies involved.
Under the Law on Public Debt 2009, the MPI is responsible for issues relating to ODA while the SBV is assigned to work on negotiations and the signing of agreements between Viet Nam and international financial and monetary institutions.
NA Vice Chairman Phung Quoc Hien mentioned concerning incidents, such as the sharp increase in public debt and excessive ODA loans over the past few years, attributing them to shortcomings in public debt management.
He said there existed overlapping roles in public debt management and proposed a review of the articles involving the role of MPI and SBV in the current law.
NA Secretary General Nguyen Hanh Phuc agreed: "We are carrying out administrative reform. How can we call it 'reform' while one job is assigned to three agencies?"
It is not the first time that this idea has been proposed. It was in fact raised by many deputies at the debate on the revised law during the third session of the NA in June.
As the NASC and the Government still haven't been able to come to an agreement, NASC members suggested asking for the Politburo's opinion regarding the issue. 
VNS