VietNamNet Bridge – No transport constructions carried out under the build-transfer-operate (BOT) and build-transfer (BT) mechanisms in Viet Nam have been carried out with bidding, according to the Government Inspectorate.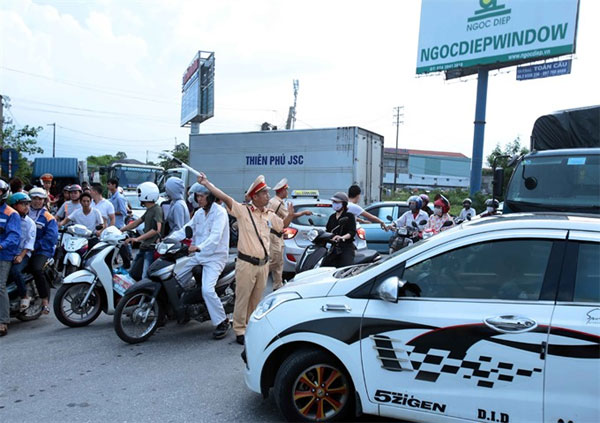 Police of Hung Yen Province, about 60km to the southeast of the capital city, direct traffic near the build-transfer-operate (BOT) toll station No 1 on the stretch of National Road 5 in the province's Van Lam District. Since late Monday drivers have been using bank notes with small value to pay tolls at the station, causing traffic congestion. — VNA/VNS Photo
The ministry-level agency on Wednesday announced the results of their inspections of a number of BOT and BT projects in transportation on the Viet Nam Government Portal (chinhphu.vn).
Their report pointed out five major shortcomings in the implementation of these projects, with one contractor appointment.
The contractors for more than 70 BOT and BT transport projects were appointed by their investor, the Ministry of Transport (MoT), without bidding. Some of them were not capable of implementing the projects, proposing several items whose costs did not correspond to budget estimation.
Second, MoT did not announce project portfolios for public-private partnership (PPP) investments in January each year as required in order to call for investments in time.
Third, some of the MoT's investment decisions were illogical and unable to maintain a consistent investment master plan.
Fourth, the process of determining the value of BOT constructions was not done properly. Most of the completed projects that are in use have been collecting toll fees longer than planned.
Fifth, capital investment for these projects was not mobilised from a variety of sources and economic sectors, and their financial plans were developed in an incomprehensive manner and inaccurate manner.  
Recommendations
Based on the inspection, the Government Inspectorate proposed Prime Minister Nguyen Xuan Phuc direct collaboration between the transport, construction, finance, and planning and investment ministries to adjust regulations on PPP investments.
Contractor selection must be done through bidding, not appointment, they proposed, while the feasibility of projects that attract only one contractor should be reconsidered.
Regulations on determining, approving and managing construction costs should be revised, with focuses on unit price and market price index.
Inspection, supervision and management of the BOT constructions' quality, total value, toll fee and toll collection duration must be done under the same mechanism as constructions that use State funds.
Criteria for toll stations should be added to the national plan for the transport system and toll stations in unreasonable locations should be removed, according to the report.
Toll collection should be supervised with advanced technologies to ensure complete transparency. Electronic toll collection (ETC) should be made compulsory. 
Toll fees on the BOT renovated stretch of the Phap Van-Cau Gie Highway should be adjusted as soon as possible according to its capital investment. Toll fees on the stretch have been reported to be equal to that on the newly-built BOT Cau Gie-Ninh Binh Highway.
Since late Monday, drivers have been using small change to pay tolls at the BOT toll station No 1 on the stretch of the National Route 5 in Hung Yen Province's Van Lam District, some 60km to the southeast of Ha Noi.
Some drivers said they did so to object to toll collection at two toll stations on the route, Colonel Do Dinh Hao, police chief of the province, told Zing.vn online newspaper.
The manager of the toll stations on the route, the Viet Nam Infrastructure Development and Finance Investment JSC, requested the Government to investigate the case, according to the report.
VNS