Despite having fallen to the fourth position in terms of foreign direct investment in the first eight months of 2017, the real estate sector remains the second-biggest recipient of this type of investment to date.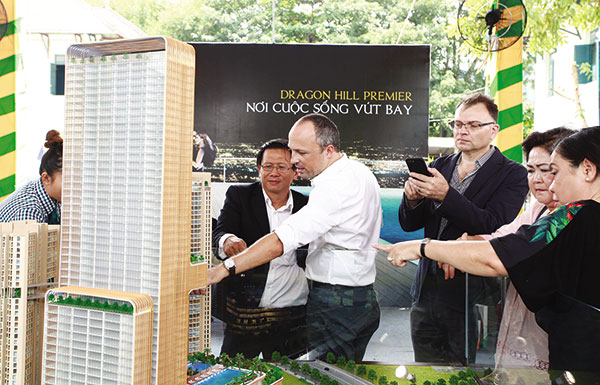 Though realty is fourth in FDI for eight months, it remains the second-largest earner overall 
According to the Ministry of Planning and Investment's Foreign Investment Agency, between January and August 20, the real estate sector stood in fourth with regards to foreign direct investment (FDI) inflows – with 46 newly-registered projects and 15 others increasing their capital, totalling more than $1.16 billion.
Real estate FDI is behind the sectors of manufacturing and processing ($11.69 billion), power processing and distribution ($5.36 billion), and mining ($1.28 billion).
Cumulatively, as of August 20, investment capital in the real estate sector remained firm in the second-highest position, with 618 projects in total and $51.2 billion worth of investment capital.
According to Su Ngoc Khuong, investment director of Savills Vietnam, the strong inflows of FDI in the manufacturing and infrastructure sectors have been driving more FDI into the real estate sector.
In May, Thai firm Hemaraj Land & Development and Vietnam-based Cienco 4 secured approval for their $1 billion joint-venture industrial park, covering 3,200 hectares in central province of Nghe An, Khuong said. "Beyond industrial developments, FDI is also a contributing factor to the growth of other sectors of the property market. Both the office and hospitality sectors are showing high occupancy, increasing office rents and room rates."
While these sectors are gaining more and more traction among developers, the focus from investors is still on operating assets, with the exception of developments in prime locations in major cities like Ho Chi Minh City and Hanoi, Khuong added.
Last week, South Korea's Shinhan Investment Corporation reportedly teamed up with Vietnam's leading asset management firm VinaCapital to establish a $100 million private equity fund to invest in Vietnamese real estate developer Novaland.
Japanese investors, meanwhile, remained active in the market, with a range of names such as Nishi Nippon Railroad and Hankyu Realty, Maeda, AEON, and EXS pursuing real estate projects.
Many other foreign investors are coming from China and Hong Kong. Prominent names include China Fortune Land Development Group and Elite Capital Resources Ltd., which have both recently acquired major projects in Vietnam.
According to Jones Lang LaSalle (JLL), Southeast Asian countries, including Vietnam, are increasingly attractive to real estate investors. Stronger exports coupled with rising capital expenditures from companies across industries in recent months are positive growth indicators,
"Hong Kong and mainland Chinese investors active in Singapore are also looking at Indonesia, Vietnam, and the Philippines," said Regina Lim, head of Capital Markets Research, Southeast Asia at JLL.
"We're seeing growing interest from large-scale mainland Chinese groups looking to invest in Indonesia, as well as Vietnam and the Philippines. These investors are keen to tap Indonesia's attractive economic and demographic profile. In Jakarta, we expect advance purchases of office assets under construction to remain the most likely point of entry," Lim said.
"We anticipate continued interest in industrial and logistics assets in the next six to twelve months, as they're seen as an avenue to leverage the growth in manufacturing and e-commerce in Southeast Asia." she added.
VIR