Without consumers of ash, Mong Duong 1 thermal power plant is facing possible closure, wasting VND37 trillion ($1.6 billion) of state investment.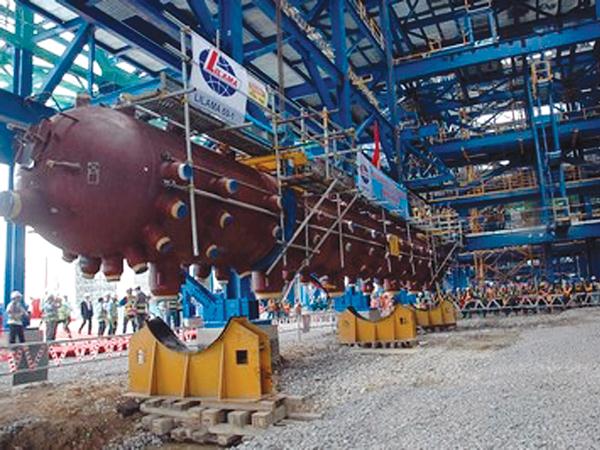 As reported by newswire VnExpress, at the August 29 "Thermal power plant development and solutions for environmental protection" seminar, Nguyen Tien Thanh, general director of Mong Duong 1, said that since the official operation at the end of 2015, the plant has teamed up with many units to draw out solutions for reusing ash.
At present, the ash at the bottom of the plant (about 400,000 tonnes per year) was purchased for cement manufacturing and concrete mixing, while the fly ash (about 600,000 tonnes per year) proves difficult to find buyers.
According to Thanh, Mong Duong 1's ash dump site has a volume of 2.25 million cubic metres, but 1.8 cubic metres have already been used.
"In eight months, this thermal power plant will face the risk of closure, meaning that VND37 trillion ($1.6 billion) of state investment will be wasted," Thanh said and proposed related agencies to approve the construction of the second ash dump site to contain fly ash, while finding consumers for this material.
Similarly, thermal power plants Duyen Hai 1 and 3, every year, discharge more than two million tonnes of ash. There are few consumers for the ash discharged from these two plants, so it is forecasted that within two years, without any solution, the plants' ash dump sites be filled to the brim and start causing pollution.
Tran Van Luong, head of the Industrial Safety Techniques and Environment Agency under the Ministry of Industry and Trade, admitted that ash consumption is a difficult problem to thermal power plants, especially for those in Southern Vietnam due to lower demand for ash in the area.
There are 21 thermal power plants in the country. Annually, they consume about 45 million tonnes of coal, discharge 16 million tonnes of ash, and it is estimated that the discharge will increase to nearly 23 million tonnes within the next three years.
"Selling ash of thermal power plants is facing obstacles from both sides, including the market demand and related regulations," Tran Van Luong said and added that his agency will propose the Ministry of Natural Resources and Environment and the Ministry of Construction to adjust regulations and discover uses for ash from thermal power plants as material in the construction industry.
In the seminar, Associate Professor, Dr Truong Duy Nguyen, chairman of the Vietnam Thermal Science and Technology Association, said that operating thermal power plants as a replacement for hydroelectric plants is a common trend.
"In the world, electricity mainly comes from thermal power plants. Only when countries get richer will they develop renewable power and restrict the usage of thermal power plants," Nghia said.
In 2015, hydroelectric and gas power plants generated 67.5 per cent of total electricity in Vietnam, while coal fired power plants generated 30.4 per cent, but this number is forecasted to increase to 49.3 per cent in 2020 and 55 per cent in 2025. 
VIR