VietNamNet Bridge - Phu Quoc Island in Kien Giang province, together with Van Don in Quang Ninh and Bac Van Phong in Khanh Hoa, has been chosen to develop a SEZ in the future.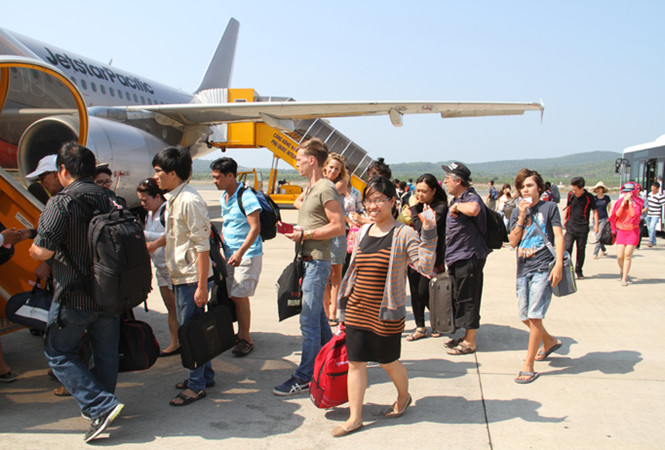 Investor Viet Hong, for example, is developing the Isabella resort in Cua Duong Commune, about 10 kilometers north of Phu Quoc Island's center. 
Covering an area of 6,000 square meters near the sea, the project, which kicked off in 2016, is nearly complete. Hong believes that Phu Quoc has great potential to develop tourism. 
The island, which is now a district and will be a city and an SEZ in the future, will attract tourists from all over the world.
Hong revealed that he has poured VND100 billion into the project and targets guests from Europe, and, in particular, Russia and Turkey.
Other investors have also been flocking to Phu Quoc, especially since 2014 when the island began receiving electricity from the national grid.
Investors have been flocking to Phu Quoc, especially since 2014 when the island began receiving electricity from the national grid.
On the major route from Duong Dong Town to the southern part of the island, many complexes of hotels, restaurants, apartments and resorts have been taking shape. Many real estate giants have poured money into Phu Quoc, including BIM Group which is developing Phu Quoc Marina; CEO Group the Sonasea Villas & Resort; and Muong Thanh Group the Muong Thanh Phu Quoc. 

Many resorts and entertainment complexes of all sizes have also arisen in the northern part of the islands, such as Vinpearl Phu Quoc, Vinpearl Safari and Grand World.

Head of Phu Quoc EZ Management Board Nguyen Thong Nhat said there are 265  valid investment projects which cover an area of 10,500 hectares, of which 31 projects have been put into operation and 24 are under construction. Foreign investors have registered 26 projects capitalized at $290 million in total.

A series of public investment projects are being implemented, making Phu Quoc ready for tourism development, including the second phase of the Phu Quoc Airport with investment capital of VND3 trillion; 51.5 kilometers long (VND3.011 trillion); the upgrading of An Thoi fish port; the breakwater and Duong Dong estuary passage dredging project; the Ganh Dau fish port & boat shelter; and the Duong Dong international passenger port.

Together with the capital influx, the flow of travelers to Phu Quoc has been increasing rapidly. The local economy has been witnessing stable high growth rate of 30 percent and the number of travelers in 2016 increased by 63 percent compared with one year before.
RELATED NEWS
Swiss billionaire praises tourism potential of Phu Quoc's Kem Beach
Ministry proposes permanent residence cards for foreign investors on Phu Quoc
Thanh Mai