An increasing number of new players are entering the Vietnamese beauty market as local consumers are becoming more conscious of beauty treatment and products.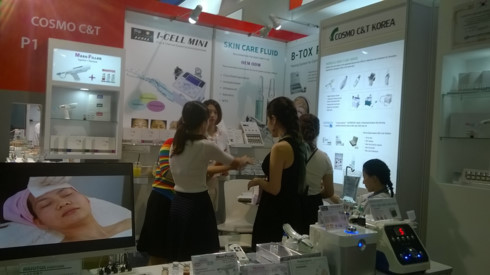 Nguyen Van Minh, vice chairman of the Vietnam Essential Oils, Aromatherapy and Cosmetics Association, is confident that the market will maintain its bullish trajectory in the coming years. 
In 2017, around 200 foreign beauty brands have entered Vietnam, especially Thai and Korean companies.
"The Vietnamese beauty and cosmetics retail market is estimated at US$1.2 billion in 2017, which is expected to reach US$2.2 billion by 2020. Vietnamese consumer spending is only 40% of regional markets. Thus, the market holds ample opportunities for both local and foreign companies to tap into the rising spending on beauty products," he said.
To grab a piece of the lucrative market, more than 200 international beauty brands have gathered at Vietbeauty 2017 in Ho Chi Minh City this week. 
The expo, organised by UBM Asia, is set to be the most comprehensive beauty platform for industry professionals to expand in this promising market.
In addition to excited foreign companies, local firms are also stepping up their market presence. Phan Anh Thu, director of Beauty Queen, said that the competition in the beauty market is becoming stiff due to the entrance of foreign brands. 
In addition, some local companies are selling fake and low-quality products which also dampens the reputation of local beauty brands.
"To tackle these challenges, we have invested in international-standard technology to produce high-quality products in Vietnam. The firm has just launched two beauty brands, including Beauty Mall and Hot Care to cater to local clients," he said.
According to market research provider Euromonitor International, colour cosmetics registered a growth in value of 13% in 2016. This growth rate was among the strongest in the beauty and personal care category. 
In addition to dynamic promotional events, varied brands and product types and the expansion of internet retailing helped to boost the sales of colour cosmetics.
Euromonitor forecasts that international companies are set to continue their dominance in colour cosmetics due to their huge financial resources and globally-popular brands. 
Most companies tend to target young generations—especially white-collar workers in big cities—and will continue to invest in promotional events to attract consumers.
Moreover, both existing and new competitors are expected to develop and launch products with new added functions to address higher consumer demands. Thus, the category is predicted to be more competitive in the future.
VIR