VietNamNet Bridge - Formerly a country that exported crude oil at low prices, Vietnam now produces petroleum products which can satisfy half of domestic demand.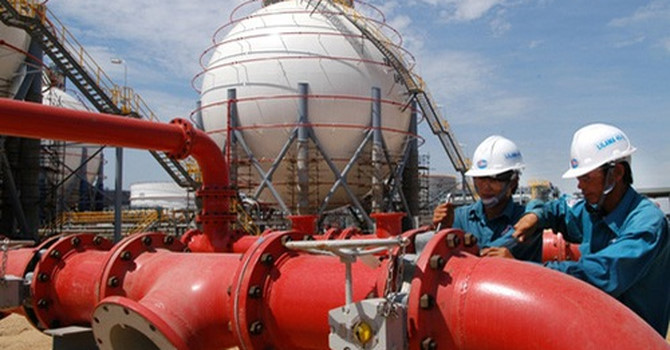 Vietnam's oil refining industry is built based on two huge projects capitalized at multibillion dollars – Dung Quat Oil Refinery and Nghi Son Petrochemical & Oil Refinery Complex.
In 2009, the $3 billion Dung Quat Oil Refinery began to use crude oil from the Black Tiger oil field. From May 30, 2010, Dung Quat officially entered the commercial operation period.
Despite the huge investment capital and big preferences offered by the state, Dung Quat still incurred huge losses in the first phase of operation. In a report to the government, PetroVietnam, the investor, said BSR, which runs Dung Quat, incurred the loss of VND3.2 trillion in 2010, VND4.8 trillion in 2011, VND6.4 trillion in 2012, VND6 trillion in 2013 and VND7.1 trillion in 2014. 
Formerly a country that exported crude oil at low prices, Vietnam now produces petroleum products which can satisfy half of domestic demand.
As such, just after four years of commercial operation, BSR incurred a loss of VND27.6 trillion, or $1.2 billion.

However, thanks to the preferential policy applied to Dung Quat, under which Dung Quat could retain money equal to 3-7 percent of import tax, BSR could ease its loss. The refinery reported the profit of VND6.169 trillion and VND4.492 trillion in 2015 and 2016.

Dung Quat became commercially operational at the time when Vietnam signed a lot of FTAs with commitments on sharp tax cuts on products, including petroleum. The tax cuts on petroleum imports from ASEAN and South Korea placed big difficulties on Dung Quat. 

Finally, the government has decided to remove the required contributions from Dung Quat, thus creating special advantage to Dung Quat's products when the import petrol from ASEAN and South Korea still bear the import tariff of 10 percent.

In 2013, PetroVietnam contributed 25.1 percent of capital to Nghi Son Complex project. The project has total investment of $9 billion and is believed to have the largest production scale in Southeast Asia. 

The two other major shareholders are Idemitsu Kosan (Japan) and KPI (Kuwait), contributing 35.1 percent for each. Another Japanese partner contributes 4.7 percent.

According to VPI, in 2018-2022, the domestic demand for petroleum products would be 15 million tons per annum. The domestic supply now can satisfy 40 percent of the demand, while the figure would be 80 percent in the years to come.

However, experts warned that after 2024, when the import tariff on imports from ASEAN is cut to zero percent, the competition in the domestic market would be stiff. Nghi Son will have to compete with Dung Quat and both will have to compete with imports.
RELATED NEWS
Vietnam prepares for opening of petroleum market
What's the future for the Vietnam petroleum market after 2018?
Thanh Mai