Stock analysts remain cautious on the market outlook this week in the context of a deficiency in supporting information as well as the weakening participation of foreign traders.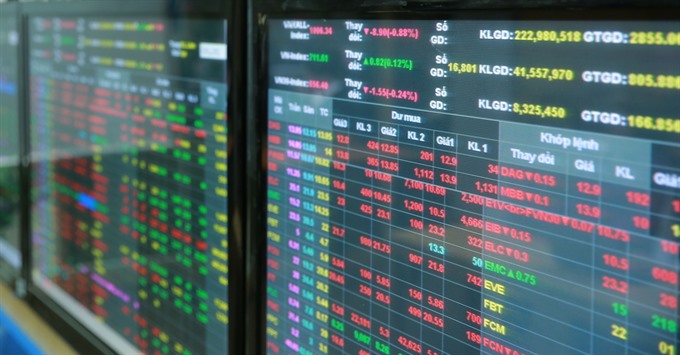 "I still foresee a negative outlook for the market this week. There were signs of a technical recovery in the weekend session but they were wobbly in the context of a hunger for support information while global markets were fragile due to geopolitical factors," said Nguyễn Ngọc Lan, head of brokerage services at Agribank Securities Co.
The local stock market fluctuated last week on rising investor prudence and it was only cushioned by the growth of several heavyweight shares.
The benchmark VN-Index edged down 0.4 per cent for the week with three rising trades and two falling sessions on the HCM Stock Exchange. The index dropped below the support threshold of 770 points, settling Friday at 768.97 points.
On the Hanoi Stock Exchange, the HNX-Index closed almost unchanged compared with the previous week, ending at 100.83 points on Friday.
Bank shares, which provided momentum for the past rallies, slumped.
Two of the three biggest lenders by market value – Vietinbank (CTG) and BIDV (BID) – decreased by 2.1 per cent and 2.7 per cent for the week. Other smaller banks like Eximbank (EIB), Sacombank (STB) and Nam Việt Bank (NVB) fell by between 1.7 per cent and 3.8 per cent.
Even Vietnam Prosperous Bank (VPB) which made debut of 1.33 billion shares on Thursday also plummeted 4.6 per cent.
 "I don't recommend bank stocks in the current period. The Government's resolution of bad debt settlement still needs a longer time to penetrate into banks' operation and market," Lan told tinnhanhchungkhoan.vn.
Lan also said the impact of VPBank's listing was insignificant as bank stocks are relatively sensitive now and likely to be under selling pressure when negative rumors or information appears.
Last week, trading was busy on some specific stocks while large-cap stocks saw big divergence, even in the same industry.
Steel shares were among biggest gainers with the two largest listed steelmakers – Hòa Phát Group (HPG) and Hoa Sen Group (HSG) – increasing 3.4 per cent and 2.9 per cent.
Meanwhile, divergence was seen clearly in energy and food-beverage sectors. While Petrolimex gained 2.5 per cent last week, PV Gas (GAS) and PetroVietnam Drilling and Wells Service (PVD) and PetroVietnam Technical Services (PVS) declined.
Similarly, Vinamilk (VNM) slipped 0.2 per cent while Masan Group (MSN) picked up 4.3 per cent.
According to Viet Dragon Securities Co (VSC), stock indices are currently heavily dependent on the movements of large-cap stocks but these stocks experience high divergence and profits depend on the selection of the right stocks.
"But this is quite difficult in the context of a deficiency of supporting information in this period," VSC said and noted the release of first-half earnings has almost finished.
Rising investor caution showed in declining liquidity. An average of 238.7 million shares worth VND4.24 trillion (US$186.8 million) were traded per session last week, down 22.3 per cent in volume and 9.8 per cent in value compared to the previous week.
Meanwhile, foreign traders reduced their buys in the local stock market. They were still responsible for total net buy value of nearly VND1.5 trillion ($66 million) on the two exchanges last week. However, their buys focused on VPBank in which they disbursed over VND1.4 trillion.
This demonstrated foreign interest in Vietnamese stocks. The State divestments in many listed companies is providing opportunities for foreign investors to increase their portfolio exposure and thus improving market liquidity, BIDV Securities Co wrote in its weekly report.
"However, in the short-term, we maintain a cautious view and propose keeping low stock exposure as the downward trend has showed no signs of stopping, as investors are prudent with negative rumours," they said.
The Vietnamese derivatives market closed its second week on a positive note with 9,422 futures contracts being signed worth a total VND705 billion, up 35 per cent on average per session.
VNS