VietNamNet Bridge - More and more Vietnamese enterprises are exporting goods via foreign supermarket chains.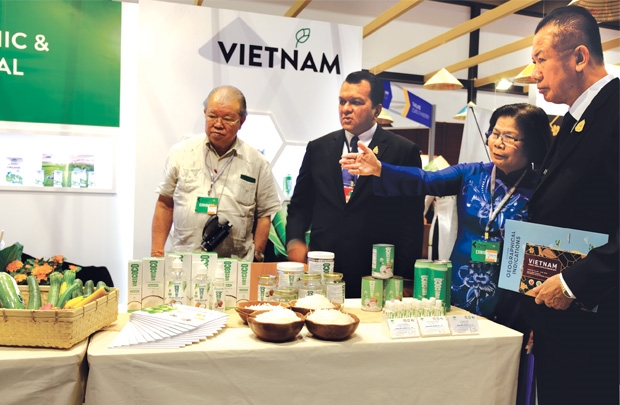 In late June, Luc Ngan litchis were on sale at Tops and Central Food Hall, the food retail chain owned by Central Group, in Bangkok.
Also in the month, Lotte Mart exported consignments of food products, washing liquid and kitchenware from the Choice L brand, worth VND1 billion, to Myanmar.
More and more Vietnamese enterprises are exporting goods via foreign supermarket chains.
Lotte Mart Vietnam's Yoon Byung Soo said in 2016 Lotte South Korea imported VND1.3 trillion worth of goods from Vietnam. 

The value of the goods available at Lotte's distribution chain is expected to increase to VND2 trillion this year, with a focus on bananas, mangoes and dragon fruit.

In the last few years, Aeon, through its supermarket network in Asia, has been importing Vietnam's products in large quantity. 

Aeon Vietnam's Nishitoghe Yasuo commented that the quality of Vietnamese products has improved significantly and Aeon imported $200 million worth of products from Vietnam in 2016. 

The imports were mostly garments and food, which were sold at Aeon's 14,000 shops in Asia, including Japan.

Dang Hoang Hai, director of the European Market Department under MOIT, emphasized the importance of the export of goods via foreign distribution chains. The method allows to bring Vietnam's goods directly to foreign customers.

The program on exporting Vietnam's goods to other countries via foreign supermarket chains is receiving support from agencies and associations. 

In an effort to export Vietnam's products to distribution chains in Thailand, the Vietnam High Quality Product Enterprise Association arranged a working visit for businesses to the ASEAN-India international trade fair in Thailand on August 2-5.

At the event, Vietnamese businesses reached initial agreements on bringing Vietnam's goods to the largest retail chains in Thailand such as BJC, CP ALL Public Company Limited (7-Eleven), Fresh Mart International Public Company Limited (which runs 200 FreshMart convenience stores) and Central Group.

Some Central Group activities scheduled to take place in the time to come will bring opportunities to Vietnamese enterprises to export products to Thailand. 

On August 17-21, at Central Plaza Ladprao Bangkok, one of the biggest shopping centers in Bangkok, the Vietnamese Goods Week will be organized by Vietnam's MOIT and Central Group.

Experts warned that most Vietnamese businesses are small in scale with small capital. They can only get payment from foreign supermarkets 1-3 months after delivery. This may lead to a lack of working capital. They also have to pay for discounts and advertisements.
RELATED NEWS
Fruit growers in Vietnam over-reliant on Chinese buyers
Vegetable and fruit exports face tough competition from imports
Kim Chi