The capital volume registered by foreign investors to acquire Vietnam Prosperity Joint Stock Commercial Bank (VPBank)'s shares reached a record $1.2 billion, marking the largest transaction on the stock exchange to date.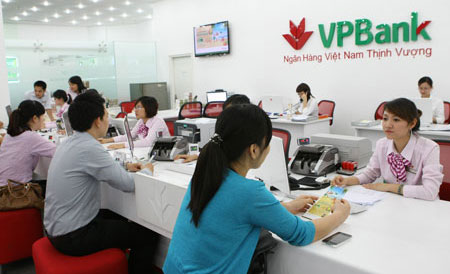 The information was published at the conference introducing investment opportunities for VPBank shares, according to newswire Vnexpress.
According to To Hai, director of Viet Capital Securities (VCSC), VPBank's shares are listed on the Ho Chi Minh City Stock Exchange (HoSE) at the price of VND39,000 ($1.7) per share, however, numerous foreign investors registered to buy at higher prices.
Notably, $500 million was registered to buy at VND44,000 ($1.94). However, the consultancy unit VCSC and VPBank still decided to sell shares to foreign investors at the initial price of VND39,000 ($1.7) apiece so that investors will benefit from the purchase.
Accordingly, VPBank general director Nguyen Duc Vinh said that the bank was surprised by foreign investors voracity for VPBank's shares. The registered share volume is four times higher than what was put on sale. To date, 78 foreign investors registered and submitted deposits to acquire the shares.
Vinh added that in order to stimulate more foreign investment, VPBank will organise working sessions between representatives of foreign investors and the board of directors, as well as visits to VPBank's branches, along with negotiation, to ensure that foreign investors truly understand the works at VPBank.
Almost all foreign investors registering to buy VPBank's shares are large-scale enterprises, however, small-scale enterprises still have the opportunity to pick up shares.
The registered share volume far exceeds the shares put on sale, thus the board of directors is convincing existing shareholders to decrease their holdings in the bank. At present, the existing 78 foreign investors are holding more than 22 per cent, while the remaining shares are owned by private investors, domestic shareholders, and domestic organisations.
On August 11, VPBank officially announced its listing on the Ho Chi Minh City Stock Exchange (HoSE) under the ticker VPB.
In particular, HoSE published Notice No.856/TB-SGDHCM on the receipt of the first listing registration of VPBank. Accordingly, more than 1.3 million VPBank stocks will be listed at the price of VND39,000 ($1.7) per share. In total, VPBank is valued at nearly VND52 trillion ($2.3 billion), overtaking Millitary Bank (MB) as the private commercial bank with the highest capitalisation value on the stock exchange.
VPBank stocks were listed on HoSE on August 8, but they are officially available for trading from August 17. The consultation unit for VPBank's listing plan is VCSC, one of the fastest growing securities companies in Vietnam.
As of June 30, 2017, VPBank's total assets were VND249 trillion ($11 billion), a growth of 9 per cent compared to the end of 2016. Its deposits sharply increased from VND172 trillion ($7.6 billion) at the end of 2016 to VND195 trillion ($8.6 billion) as of June 30, 2017, up 13 per cent.
In 2017, VPBank targets to take in more than VND217.7 trillion ($9.6 billion) in deposits and to hold nearly VND200.6 trillion ($8.8 billion) in outstanding loans and bonds.
VIR