VietNamNet Bridge - The share prices of many securities companies have increased since the beginning of the year thanks to the rising stock market.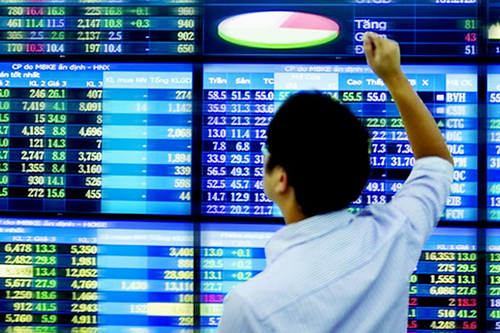 The VN Index of the HCMC Stock Exchange increased by 17 percent this year, up even higher than in the entire year of 2016.
If compared with penny stocks, which saw sharp increases in prices, and stocks of banks & finance companies, which have become the 'center' of the stock market, the shares of securities companies only saw modest price increases, just several percent per trading session. 
However, with the steady price increases, the shares have seen value increasing by tens of percent, or even by 2-3 times within the first half of 2017.
The share prices of many securities companies have increased since the beginning of the year thanks to the rising stock market.
The share price increases have helped the capitalization value of many securities companies increase by nearly VND1 trillion just after six months. The capitalization value of the 10th securities company in top 10 has reached VND1.15 trillion.

SSI tops the list of the securities companies with the highest capitalization value of VND13 trillion. Its share price has soared by 36 percent so far this year. The second position belongs to the HCMC Securities Company with the share price up by 44 percent from VND27,000 per share to VND44,000 per share.

VSI share of the Ban Viet Securities Company, which made its debut some days ago, has also seen the price increase by 5 percent to VND61,000 to become the share with the highest market price among securities companies. 

Among the shares with low market prices, SHS, MBS, AGR and CTS saw the sharpest price increases several times. SHS shares of Saigon Ha Noi Securities, for example, have increased by 4 times in prices since late 2016. The shares are being traded at around VND16,900 per share. Meanwhile, MBS, VDS and CTS prices all have increased by 100 percent.

Analysts said securities companies would make double benefits from the bounce of the stock market. The share prices of securities companies have been increasing also because investors believe once the market performs well, securities companies will make fat profits.

Thanks to the market performance since the beginning of the year, securities companies all have seen revenue from brokerage services increasing sharply. 

If noting that the average trading value is $200 million per session and the average fee is 0.15-0.3 percent, the revenue from brokerage service of the whole market would be $300,000-600,000 a day.

According to Ban Viet Securities, the good market performance at this moment is quite different from the hot 'bubble' days in 2007-2008, so investors have high confidence in the market. 
RELATED NEWS
SSC to terminate 28 securities companies
Securities companies afraid of becoming 'foreign owned'
M. Ha