VietNamNet Bridge - The State Bank of Vietnam is determined to get rid of cross-ownership status at banks, but  the achievements remain modest.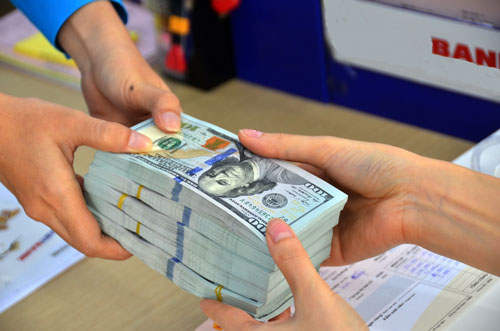 Duong Cong Minh, former chair of LienVietPost Bank, before running for the post of chair of Sacombank, sold all the shares he was holding in LienVietPost Bank. And so did Him Lam Group.
Him Lam, the founding shareholder and the largest shareholder in LienVietPost Bank which held 14.98 percent of the bank's charter capital (96.77 million shares), is no longer a shareholder of LienVietPost Bank since June 24.
The State Bank of Vietnam is determined to get rid of cross-ownership status at banks, but  the achievements remain modest.
Minh and his Him Lam Group had to divest from one bank before Minh became the chair of another bank as stipulated in the central bank's Circular 36 on the permitted ownership ratios. The number of banks with cross-ownership fell from seven to three.
SBV recently took strong actions to reduce the cross-ownership at banks
However, the cross-ownership still exists. Circular 36 stipulates that one bank can hold shares of no more than two other banks and the amount of shares it can hold is less than 5 percent of total shares.
Before the circular was issued, Vietcombank held 9.8 percent of MBB shares, 8.2 percent of Eximbank shares, 5.26 percent of Saigon Bank and 4.6 percent of OCB shares. And by July 18, the bank still held 7.16 percent of MBB, 8.19 percent of Eximbank, 4.3 percent of Saigon Bank and 5.7 percent of OCB.
Lawyer Truong Thanh Duc from Basico Law Firm commented that the settlement of cross-ownership has been going slowly because of the lack of serious measures. Circular 36 clearly sets the deadline for banks to complete the cross-ownership settlement, but banks fail to meet deadlines.
Explaining the slow process of divestment to reduce cross-ownership, Nguyen Tri Hieu, a banking expert, said it is not easy to divest shares now. Investors need to find those who accept their shares, since they cannot give back the shares to the banks they invest in. 
And the share selling prices must be at least equal to the prices at which they bought shares before. Investors don't want to sell shares once the market prices go down.
Meanwhile, the current financial market is no more favorable than it was 10 years ago, which hinders investors' disinvestment plans. 
He went on to say that in some cases, members of the board of directors don't want to eliminate cross-ownership, because it gives them some power. They, for example, may dodge laws and borrow huge amounts of money though they cannot meet requirements to be eligible for loans.
RELATED NEWS
Cross-ownership status in banks difficult to stop
Unravelling cross ownership in the Vietnamese banking system
Chi Mai