The price of pepper in Vietnam has gone up and down recently, allegedly due to unexpected Chinese purchases.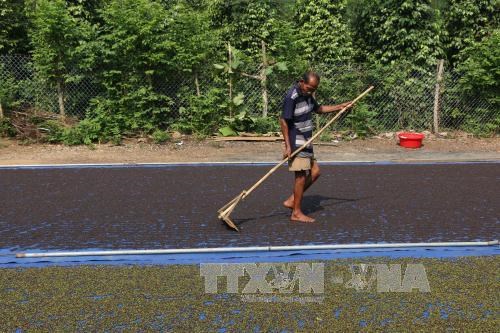 Pepper harvest at Loc Phat cooperative in Loc Hiep commune, Loc Ninh district, Binh Phuoc province
According to the Vietnam Pepper Association (VPA), the pepper market has witnessed fluctuations of between 10-20 percent in pepper prices since late July.
Tran Huu Thang from Xuan Tho commune, Xuan Loc district, the southern province of Dong Nai said the pepper price in the province hit 95,000 VND (4.18 USD) per kg on August 8, climbing from 75,000 VND (3.3 USD) per kg a month ago. Sometimes, the pepper price moved by 10,000 VND (44 cents) a day, Thang said.
According to pepper exporters, a group of Chinese businessmen offered to buy a large quantity of pepper at any price, and asked local businesses to deliver the goods as soon as possible, prompting the business to purchase from farmers at higher prices.
At the same time, the Chinese businessmen had promised to sell pepper to local dealers at low prices. However, they only sold a small amount at low prices, then raised the price claiming scarcity.
Hoang Phuoc Binh, Vice President of the Chu Se district's VPA chapter in the Central Highlands province of Gia Lai said the Chinese tricks were not new, however, farmers and local businesses still fell for it.
Nguyen Mai Oanh, VPA Vice President said the association has called on its members to be cautious when dealing with Chinese pepper traders.
According to the Ministry of Agriculture and Rural Development, in the first seven months of this year, Vietnam exported 145,000 tonnes, worth 800 million USD, up 20.4 percent in volume, yet falling 18.2 percent in value year on year.
The average export price of pepper in the first half this year was 5,662.6 USD per tonne, a fall of nearly 30 percent year on year.
VNA