VietNamNet Bridge - The products which bear retailers' own private brand account for a small proportion in the Vietnamese market.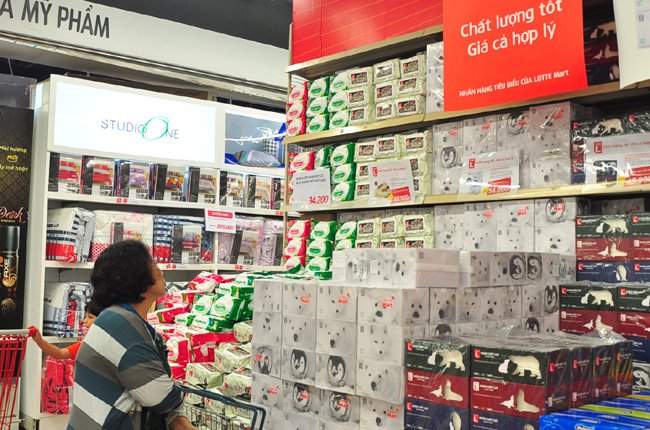 Nguyen Huy Hoang, a senior executive of Kantar Worldpanel, a market analysis firm, said the products with private brands make up 0.6 percent of total products available in the market, compared with 50 percent in France and other European countries.
However, the modest proportion is commonly seen in Asian countries, where the figure is 1.2 percent on average. The figures are a bit higher South Korea (2.7 percent) and Malaysia (2.2 percent in urban areas). In the Philippines, Indonesia and China, the figure is 0.2 percent only.
The products which bear retailers' own private brand account for a small proportion in the Vietnamese market. 
Though the proportion is low, Kantar Worldpanel has found that 38 percent of Vietnamese buy products with private brands because they have confidence in retailers. The most wanted products with private brands are washing liquid and toilet paper. Private packaged food products, however, are not popular, such as milk and soft drinks.

Researchers have found that products with private brands are declining, even though the products have big advantages in display and marketing campaigns.

The survey showed that manufacturers now have big opportunities to compete but face big challenges as well.

Analysts said that products with private brands are used around the world, and this will be exploited by retailers in Vietnam to increase their market share.

A lot of private brands of retailers have been launched into the market over the last few years. Metro Cash & Carry, for example, has Aro, Fine Food, Fine Dreaming, HoReCa, H-Line and  SIGMA, while Big C chain has Wow, Bakery by Big C, Casino, Big C, Huong vi (flavor) Big C.

Cao Tien Vi, general director of Saigon Paper, said Saigon Paper accepts outsourcing for supermarkets to better use its production lines and get extra income.

Making products for supermarkets is not the thing manufacturers want, but this is really a profitable choice. With the big outsourcing orders from the distributors, manufacturers can live well.

Dish washing liquid, detergent products that bear supermarkets' private brands such as Co-op Mart, Big C or Metro have been recently made by Lix Company.

However, manufacturers will have to improve package designs and create new products based on research & development (R&D) – to compete with products with private brands. 

The weak point of products with private brands is the less attractive packaging of products, because retailers have to cut production costs and prices to lure customers.
RELATED NEWS
Central Group rejects rumor that Chinese firms own Big C Vietnam
Big C Vietnam sold to Thailand, Vietnamese retailers in danger
Kim Chi